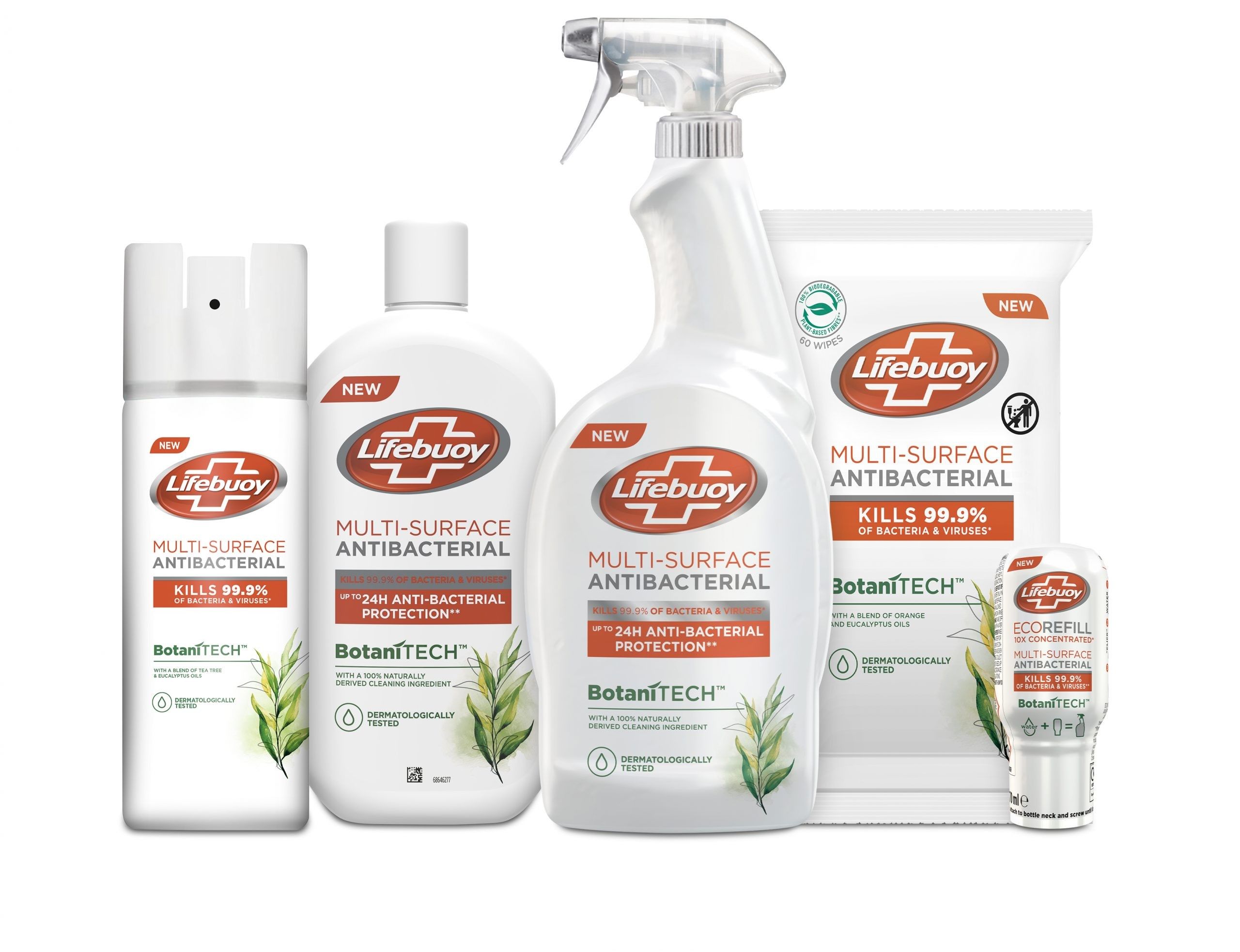 Soap brand Lifebuoy is bringing its hygiene expertise to the home-care category with a first-to-market range of dermatologically-tested cleaning products. The new five-piece multi-surface antibacterial range is the perfect solution to provide daily effective disinfection, suitable for a range of surfaces including baby-related and food preparation areas.
Lifebuoy Botanitech kills 99.9 per cent of bacteria and viruses, is dermatologically tested and is the perfect solution to provide daily, effective disinfection with a 100 per cent biodegradable fragrance. The new line-up includes a 735ml Lifebuoy Multi-Surface Antibacterial Trigger Spray, Ecorefill and a 440ml General Purpose Cleaner – which also provides up to 24-hour Antibacterial Protection and contains a 100 per cent naturally-derived cleaning ingredient. Also within the range, Lifebuoy has a pack of 60 wipes and a 400ml Surface Spray.
"We're passionate about helping people stay safe, whether at home or on-the-go, which is why we're using our world-leading hygiene expertise to expand into the home care category offering a range of products to suit all occasions," said Benoit Roger-Machart, Marketing and Business Development Director for Lifebuoy in the UK&I. "We know disinfecting has become a number-one priority for people over the past year, but two thirds are concerned about the number of chemicals in the products they are using. Our unique Botanitech range contains no harsh chemicals, so people can feel assured they are using a natural, but highly effective range of cleaning products for the home. As the world's number one hygiene soap brand, we are expanding the category by offering retailers the broadest range of hygiene products for their customers."
The new Lifebuoy Botantitech range joins the brand's established personal care range which includes hand sanitisers and hand cleansing. To support the launch, Lifebuoy will be investing in an £8M marketing campaign across TV, Radio, OOH and Instore, set to launch on 26th July.
The Lifebuoy Botanitech range is now available.