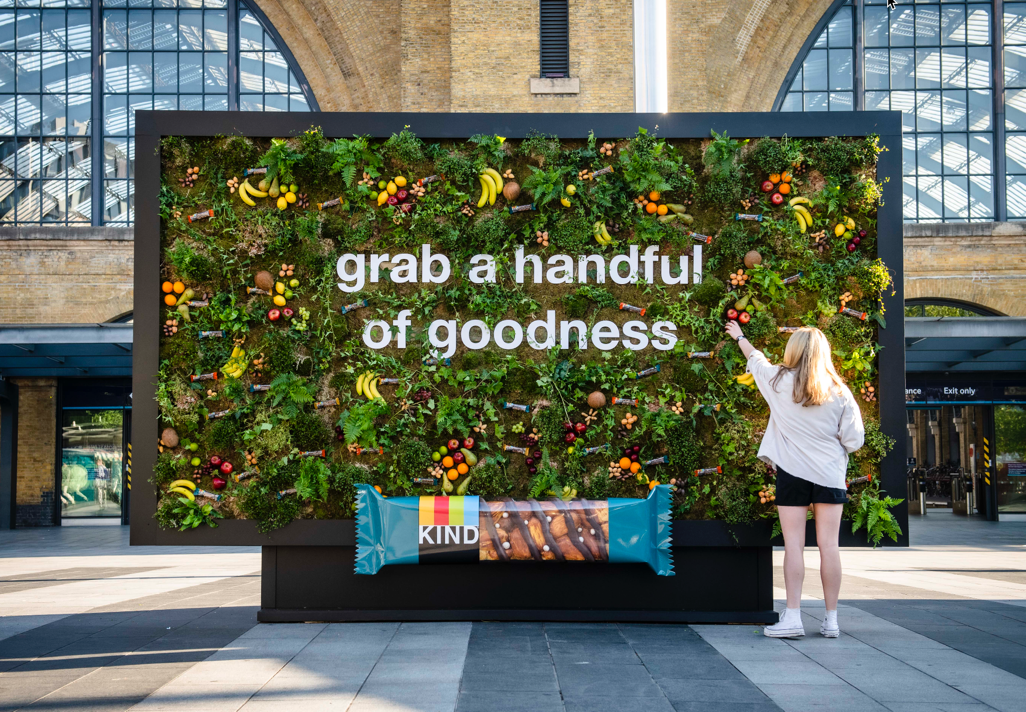 KIND Snacks launched the KIND Grab & Go Billboard today, a billboard made up entirely of garden fresh produce to help and encourage Londoners to consume their daily recommendation of whole ingredients- your five a day and handful of nuts.
­­­Situated in front of Kings Cross station the billboard, which spans over 4m in length and 3m in height, was overflowing with garden-fresh, nutrition-boosting ingredients that were available for the public to take, grab and go. Featuring over 500 fruits (including pears, bananas and peppers) and KIND bars, the board was in position from 7am – 7pm so commuters, tourists and passers-by can take full advantage of the kind offer.
The KIND Grab & Go Billboard comes as research estimated that while a huge 90 percent of Brits are aware that you should consume your 5-a-day, just 8 percent of children (11-18 y/o), 27 percent of adults (19-64 y/o) and 35 percent of those 65+ actually consumed them.
Furthermore, KIND Snacks' research revealed just 13 percent of Brits followed health advice and consume a daily handful of nuts a day – showing the country is in a huge nutritional deficit despite decades of promotion. Almost half of Brits (47 percent) admitted they would eat nuts more often if they were reassured that they are a healthy option, showing Brits need further education on how to achieve a healthy diet.
The KIND activation highlighted how nuts should be regarded in the same way as fruit and vegetables when it comes to maintaining a healthy diet: necessary. KIND recognises that grabbing your handful of nuts a day can be tricky and proposes the KIND bar as the solution, with each bar containing your daily handful of nuts (40g) and comprising of solely whole ingredients.
Audrey Arbeeny, Head of Marketing at KIND Snacks UK, said: "At KIND we have long been advocating the nutitional benefits of nuts but our research has revealed that the majority of people aren't consuming their recommended daily intake. Our Grab and Go billboard demonstrated in a simple, engaging moment that nuts shouldn't be left by the way-side when it comes to conversations about nutrition.  In fact they should be elevated on a par with other nutritious, whole foods such as fruits and vegetables."
"It has been great seeing the reaction to the billboard with thousands of consumers coming up to take away free fresh fruit and KIND bars.  Many had no idea about the nutritional value of nuts so it has been a great educational and sampling opportunity combined in one."
"KIND's Grab and Go billboard is just one part of the brand's mission to encourage the nation to add more nutritious foods to their diets."