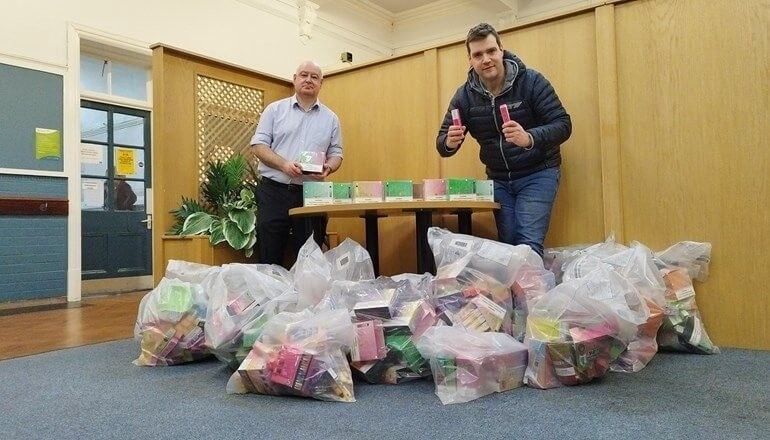 Trading standards and police officers have initiated a joint operation in response to the complaints about the sale of vapes to children, some as young as 12, and the supply of over-strength vapes in Darlington.
Operation Automn will see trading standards officers from Darlington Borough Council's Community Safety Team and Durham Police officers carry out several days of action over the coming months in a bid to stop such sales and crackdown on the organised criminals behind the illegal trade.
The first day of action took place on 13 January, seizing illegal stocks from Puff Puff Vape in the Cornmill Centre; Brinkburn Stores, in Brinkburn Road; Food Plus, in North Road and Neasham Road Mini Market.
Illegal cigarettes were also found in one of the premises. In total, more than £37,000 worth of illegal vapes and cigarettes were seized from these four traders removing them from sale.
The council said the premises were all visited following complaints from members of the public. All traders were given advice on the law, particularly in relation to underage sales and reminded of their obligations.
More than 2,200 illegal, over-strength vapes were seized, ranging from 2,500 puffs to 10,000. Vapes with the legal 2ml tank size provide only 600-800 puffs.
Shaun Trevor, who led the operation on behalf of the council's trading standards team, said: "If you sell illegal vapes, especially to children, then expect a visit from us. It is clear from the bright colours and designs that these products are being aimed at children. The seizure of illegal vapes hits these traders in the pocket.
"We encourage residents to report any concerns about any suspected illegal products. We take complaints seriously and will investigate them all and take action where appropriate."
Cllr Mike Renton, cabinet member for stronger communities, said: "Trading standards in conjunction with officers from Durham Constabulary will continue to work closely together in order to tackle the sale and supply of illegal vapes and tobacco products in the town, particularly to children.
"We will continue our efforts to monitor and visit stores which sell illegal products, and don't comply with age restrictions, and will use all available measures including prosecuting those responsible to put a stop to this trade.
"What people don't realise, when they think they are bagging a bargain on these cheaper vapes or cigarettes, is that they are not only funding organised crime, but they are also hurting honest traders in the town who lose business to illegal sales elsewhere."
Inspector Peter Newman, from Durham Constabulary, said: "Illicit and dangerous tobacco can not only cause serious harm to people's health, but the proceeds are often invested into organised crime and can help fund more serious offences.
"This joint operation was carried out as a result of intelligence gathered by our officers and would not have been possible without the support of local people who have come forward with valuable pieces of information."