We cannot say for certain how far along the road to ending lockdown we will be by the evening of Wednesday 12 May – step 3 of the government's easing measures commences "not before 17 May", but we know that already hospitality is open again, for serving meals outside, although the "rule of 6" still applies inside.
Thanks to the vaccination programme, the pandemic appears to be in full retreat, with infection numbers plummeting by 90 per cent and death rates dropping precipitately, so that Covid will soon be merely "endemic" rather than pandemic. Perhaps the government will decide to address the encouraging statistics and hasten to open the country ahead of the original schedule. Who knows?  But with Covid-19 hospitalisations now down by around 98 per cent, there are reasons to be optimistic – especially in terms of Eid sales.
"To celebrate Eid-al-Fitr, many observers typically meet up with family and friends to share food and drink in a party-like setting," saysChris Walker, Offline marketing lead at Nisa. "Shoppers begin stocking up on staple ingredients up to two weeks before the event, meaning retailers need to have their shelves stocked with products such as rice, oil, sweets, yoghurt and fizzy drinks to ensure their customers are catered for."
Eid is eagerly awaited among the UK's Muslim population, and the fact that more than usually it will be celebrated in private dwellings rather than restaurants and public venues means that retailers have a great chance to make excellent sales for the 2021 feast.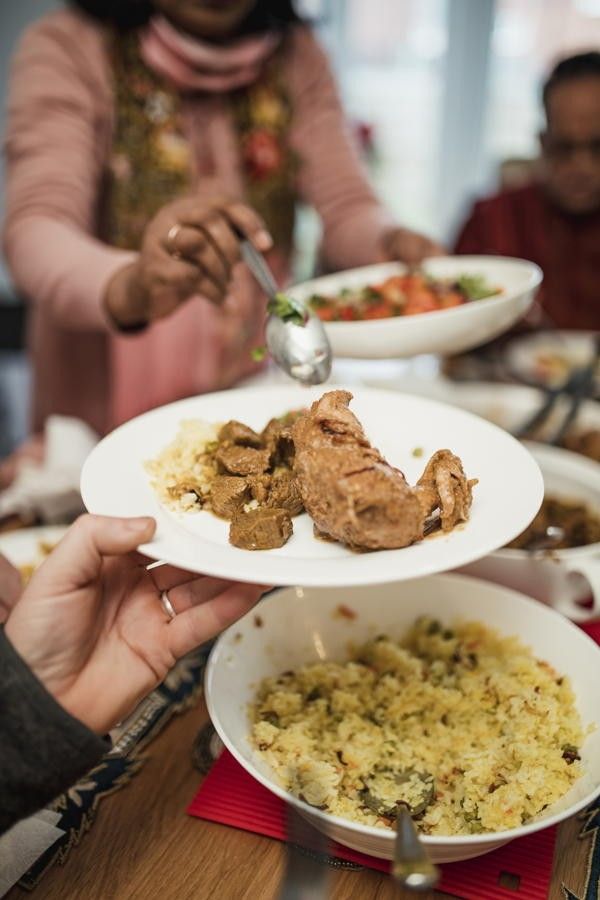 Vijay Vaidyanathan, Chief Commercial Officer at Vibrant Foods, remarks that due to the growing multiculturalism of the UK, ethnic food has been surging in popularity for some time. Mainstream supermarkets are cashing in by selling some ethnic foods,while more and more ethnicstores and supermarkets are appearing.
Compounding that growing ethnic food market, Vaidyanathan sees further paths to sales and profits through the marketing – especially at events such as Eid – of specific ethnic ingredients and spices in new blends and multipacks, as well as suggesting recipe inspirations for new customers.
He also advises that indies should try to stay ahead of trends –one big pandemic fashion being people becoming part-time vegans (or flexitarians), with a record number of people – 500,000–taking part in Veganuary this year.
"Our heritage at TRS and East End Foods revolves around plant-based eating," he says."This means not just that we understand how Asian ingredients benefit our health and wellbeing, but also how to make plant-based food delicious, and this can be seen across our range of pulses and spices."
He notes that while convenience is experiencing something of a golden age right now, it is still vital they keep up the competition with supermarkets, and world foods combined with occasions such as Eid are one way of doing it.
"For independents to compete during Eid, it is vital they offer a range of ethnic products that appeal to consumers from a wide variety of cultural backgrounds," says Vaidyanathan."The Vibrant Foods portfolio appeals to a large audience by offering not just a diverse range of lentils, spices and snacks, but also frozen food, spice blend stocks, grill kits and authentic marinades.Independents also need to make sure that they do not neglect logistics. If they are well-stocked, consumers will perceive them to be a reliable shopping option."
Winning against the mults
Jon Roberts, Brand Manager at Cofresh, says that with Eid fast approaching, now is the time for retailers to capitalise on the feel-good factor by stocking up on all the festive favourites so enjoyed by families and friends celebrating the end of Ramadan with the traditional breaking of the fast.
"Food plays a big part in traditional Eid celebrations so it's a great opportunity for independent retailers to steal a march on the multiples by making the most of this relatively short but intense selling period," he says. "Stocking up on popular lines during the run-up to Eid ensures you're ready for when fasting breaks!"
His point that Eid, like the Ramadan period preceding it, is a better opportunity for independents reflects the fact that in any year the wider and more selected range of products and ingredients stocked by local shops helps their sales disproportionately.
This year, after the pandemic has thrown the population back on its local amenities, and where affection has blossomed, the potential for Eid sales in convenience rather than big supermarkets is even more pronounced than usual.
"The multiple supermarkets are likely to promote the key lines only, such as oil, rice and flour, whilst independent retailers can be a bit more niche with what they promote across World Foods and they will also know many of their customers personally and can stock the products to support their needs," says Haroon Saeed, Category Manager – World Foods, Catering Own Label and Fresh Produce at Bestway Wholesale. "Independent retailers should highlight and signpost the range in store to make it easy to shop – particularly during the Coronavirus lockdown when customers will be keen to shop more quickly."
It is through personal knowledge of their customers and access to cash and carries that supply the ingredients and delicacies Muslim communities are looking forward to, that puts indie store owners at a big potential advantage over the mults, whose "ethnic aisles" might still rely on national purchasing and big standard skus for bulk sales, when the best margins are in the minutiae and detailed knowledge and of traditional and regional tastes and dishes.
Cofresh is the perfect example of a company existing in a mainstream category – crisps and snacks – that has grown and prospered by recognising in greater detail the tastes and demands of the Asian community – and of course the many other Brits who find such flavours and textures irresistible. ("A brand like Cofresh is also well-suited to busy consumers because it has a broad selection of pack formats and sacks, including potato snacks, nuts and savoury mixes," enthuses Vaidyanathan.)
Lord Noon was the trailblazer when he popularized Bombay Mix in the UK in the 1970s, and Cofresh have deepened the flavour-texture legacy with some of the most popular and best-selling Asian snacks, perfect to introduce a welcome Eid get-together.
To help retailers make the most of Eid, Cofresh is offering some of its most popular snacks – as well as some new "limited edition' collections – in share pack formats (one consequence of the stay-at-home pandemic year) for extra convenience and value, all of which combine tradition with exciting new formats and flavours.
"'Must haves' for Eid include three Cofresh 'classics' – Bombay Mix, Chilli & Lemon Bombay Mix and Hot & Spicy Bombay Mix in 325g packs – as well as the best-selling Chilli & Lemon and Jalapeno Grills, and Hot Chilli Hoops, in 80g sharing bags," says Roberts.
Specially for Eid, Cofresh have added new Masala Chips and Chilli Chips (120g), new "Party Mix" packs of assorted Grills, Spirals and Hoops (in three punchy flavours – Cheese & Jalapeno, Sweet Chilli and Sour Cream & Chive, all 120g)Chilli & Lime and Hot & Spicy Corn Crackers (120g), and Mango Chutney and Chilli & Lemon Poppadums (100g).
"These are all perfect both for Iftar and during Eid when consumers will be looking for tasty and traditional snacks to share when they get together to celebrate with friends and family," Roberts adds. "Eid gives retailers a great opportunity to highlight their own occasion-specific offering and helps them stand out from the multiples."
Eid is a natural big snacking occasion as families gather prior to the main celebration meal, and as the range of available ethnic snacks increases each year, they are also the perfect on-the-go fare to promote in convenience around Eid.
"Nuts are nutritious and filling and therefore a great option for on-the-go and impulse shopping," adds Vibrant Foods' Vaidyanathan."They are also easy to eat while on the move. FUDCO" – the London-based ethnic snacks supplier which was acquired by Vibrant Foods in March– "offers a great selection of nuts, including an Assorted Nuts Mix and Cashews."
The main event
Ramadan and Eid means rice sales and Jonathan Calland, Head of External Affairs at Tilda, is keen to stress the great opportunities that Eid offers to independent retailers.
Ramadan is one of the most important festivals of the year and is celebrated across the globe," he says. "Family and friends gather to celebrate the end of the fast and vibrant dishes such as Biryani are served."
Of course, the perfect frame for the Eid meal, whether the popular Biryani or almost any other traditional dish, has to be the best rice money can buy – and that is where Tilda, with its long and special relationship with the independent sector, comes in.
"With Covid-19 having impacted many consumers' plans throughout 2020, Eid 2021 is set to be a bigger cause for celebration, with friends and families across the nation hoping to get together should the lockdown ease," he continues.
"Over the past couple of years, the lead-up to the festivities has continued to be a very important period for the [rice] category, with 30 per cent of sales during this period going through Convenience," he says, revealing that sales of Basmati rice, in particular, also peak significantly across all retailers during this time. In fact, the festival trading period accounted for 39 per cent of the total annual volume of Big Bags in 2019 alone, something which was even higher in 2020 due to the pandemic.
"It is no secret that Covid-19 has had an impact on sales of goods over the last year," says Calland, "especially for store cupboard essentials such as rice. The rice category experienced significant growth throughout 2020, specifically through periods of lockdown, partly due to increased bulk buying, as well as an increase of at-home consumption, replacing meals out, and rice being seen as a healthy choice. However with the pandemic ongoing, there is still much unpredictability and there is likely to be continuing fluctuations in demand throughout 2021."
The pandemic has also placed many families in financial jeopardy, and at a time of charity and thoughtfulness such as Ramadan and Eid, Tilda has been actively supporting ongoing projects with The Felix Project (as has Bestway Wholesale, which recently donated 80 tonnes of flour) and the World Food Programme.
"Ramadan provides a great opportunity to highlight the convenience and versatility of the rice category," Calland continues,"as a base for many meals that are often enjoyed with family and friends. Stocking larger pack formats of dry rice is key for retailers looking to maximise sales in the Ramadan period, particularly for retailers with stores located in large Muslim communities."
Aside from traditional Ramadan foods including sweets, nuts, dried fruits and herbs and spices, Calland stresses that Basmati rice is an essential must stock product at this time, as the remarkable growth in sales demonstrate:"Tilda has long been the UK's number one dry rice and Basmati brand, with the latest MAT showing its value at £44.9m which is a growth of +32 per cent."
Used by the vast majority of communities, Calland says that Basmati rice plays a particularly central role due to its natural versatility and ability to complement a variety of different flavours. As more Brits cook more world food, the value to them of Basmati is only going up.
He points out that sales of larger formats, such as Tilda Big Bags, peak at this time due to the excellent valueformoney they represent for those feeding their friends and family over the festival period: "With the Big Bags format now worth £2m and growing by 18 per cent YOY in convenience, Tilda continues to lead the way as a 'must stock' brand for independents, with annual value sales of its Big Bags reaching £511k and growing at 3.5 per cent YOY."
Yet small packs are also a key sales driver during Ramadan and into Eid, as more consumers opt for the best quality brands on special occasions and pick up the necessary amount for a meal as they pop into a local store.
"With over 80 per cent of consumers recognising Tilda as a high quality, genuine, trustworthy brand, it is vital for retailers to consider stocking a range of Tilda products, such as Tilda Pure Basmati, Tilda Grand Extra Long Basmati, Tilda Grand Sella Extra Long Basmati, Tilda Golden Sella Basmati across a variety of pack sizes, as part of any Ramadan offering to help drive incremental sales at this time," says Calland.
With so much to cook over the Ramadan period, some shoppers may be looking for convenience, so retailers should ensure they have a core range of ready to heat products available, such as Tilda Pure Basmati, Tilda Brown Basmati and Tilda Coconut and Tilda  Pilau.
Current condition mean that retailers should hedge their bets by widening their range, says Calland. "With the situation around Covid-19 still uncertain, it is hard to predict whether consumers will be able to celebrate Ramadan with larger groups of friends and family, so retailers should consider preparing for all outcomes to ensure their rice offering meets the needs of a range of sizes."
Rice must be a carefully considered part of an independent retailer's Ramadan fixture and ranges should include Big Bags, small packs but also Ready to Heat (RTH) options to provide convenience, exciting tastes and versatility.
"Tilda would recommend stocking a range of formats, says Calland."Tilda Pure Basmati is available in the following pack sizes: 500g, 1kg, 2kg, 5kg, 10kg and 20kg. These pack sizes cater to different consumers.
During Ramadan and into Eid, sales data suggest shoppers usually trade-up to the larger packs –  formats like the 5kg, 10kg and 20kg.
The perfect Eid
Speaking of the availability of dishes and and ingredients growing ever more widely, it is worth mentioning developments in Halal cuisine that benefit all members of the family, including the smallest ones, and that may also prove a great idea for increasing Eid sales.
For example, after seven years of serving Muslim households via the major UK supermarkets, baby food supplier For Aisha has just announced that it is launching into UK Independent stores.
From early May, retailers will be able to order For Aisha infant meals simply via a forthcoming trade option link and the meals will be delivered straight to their business outlet. For Aisha meals are all ambient and come in convenient shelf-ready packaging. The company is also looking to include free delivery within their service.
"We're excited to finally have a solution to service the UK Independent Sector," says Mark Salter, founder of For Aisha. "Many Muslim families like to shop locally for their Halal foods and we've always wanted to launch in this sector but (until now) finding a way to service regular small orders to each Independent retailer has been a challenge."
Salter says that now, with the rise of courier services and the growth and simplicity of online ordering, this will be possible. "We very much look forward to serving local Muslim communities across Britain from the end of Ramadan. This is excellent timing as travel restrictions ease and parents need convenient meal solutions for their busy lives."
For Aisha meals are Dietitian approved and made with only natural ingredients, free-from dairy, soya, gluten and eggs, and are designed to broaden the taste repertoire for little ones (from 7 months and 3+ years of age), encouraging them to develop their palate and to eliminate fussy eating. Eid could be the perfect time to give them a try.
As a final checklist of what to make sure you have in store for Eid, Haroon Saeed recommends the following: "Retail packs of rice, tinned chick peas/tomatoes, vegetable oil, sunflower oil, atta flour, gram flour, desi ghee, dates, retail spices, lentils and rooh afza [rose syrup]. The shopper mission during Eid will be to stock up on ingredients, sharing snacks and drinks such as Rubicon, to cater for family and friends. A popular Eid meal choice is Biryani, a dish of meat and rice. Highlight rice and Halal meat products within your store as well as cupboard goods if you are stocking them."
He says that products should be displayed near the front of the store with correct POS highlighting prices and promotional prices. "Let customers know outside the store if you can, that you are stocking a suitable range," adding thatfamilies also often share gifts during Eid – highlight a few last minute options in store such as boxed chocolates, non-alcoholic sparkling celebration drinks and Eid cards if you stock them.
"Similar to last year, observers may be forced to feast with the people closest to them via virtual video calls to comply with social distancing rules," concludes Nisa's Chris Walker. "But if the government's roadmap out of lockdown goes to plan, we will be in a position where all legal limits on social contact have been removed. This will mean the Muslim community will be able to come together and celebrate the holy occasion as they typically would for the first time in almost two years."
Let's hope that's the way the "roadmap" goes – but whatever happens, be sure to have a fabulous Eid.