Independent testing in an accredited laboratory has confirmed that vape devices using Feelm Max's ceramic coil disposable solutions can consistently deliver more than 800 puffs from a fully compliant 2ml tank, the vape tech brand said.
Feelm, the leading closed vape system solution provider from global inhalation technology leader Smoore, added that it has shared the results of the Inter Scientific testing with both the Medicines and Healthcare products Regulatory Agency (MHRA) and the Chartered Trading Standards Institute (CTSI).
The brand termed the setting of a new legal 800 puff benchmark standard for single use devices in the UK as a milestone development in the vaping sector, adding that these devices will be extremely attractive to supermarkets, convenience stores and specialist vape retailers looking to win new market share by providing consumers with fully legal added value products.
"It is great to have independent verification of our own internal testing from such a well-respected independent laboratory such as Inter Scientific," Rex Zhang, assistant president at Feelm said.
"Our own internal testing showed that we could consistently produce 800 puffs so we are not surprised by these results but we welcome independent confirmation that devices using our ceramic coil technology sets a new benchmark for 2ml tanks by increasing the puff count from 600 to over 800."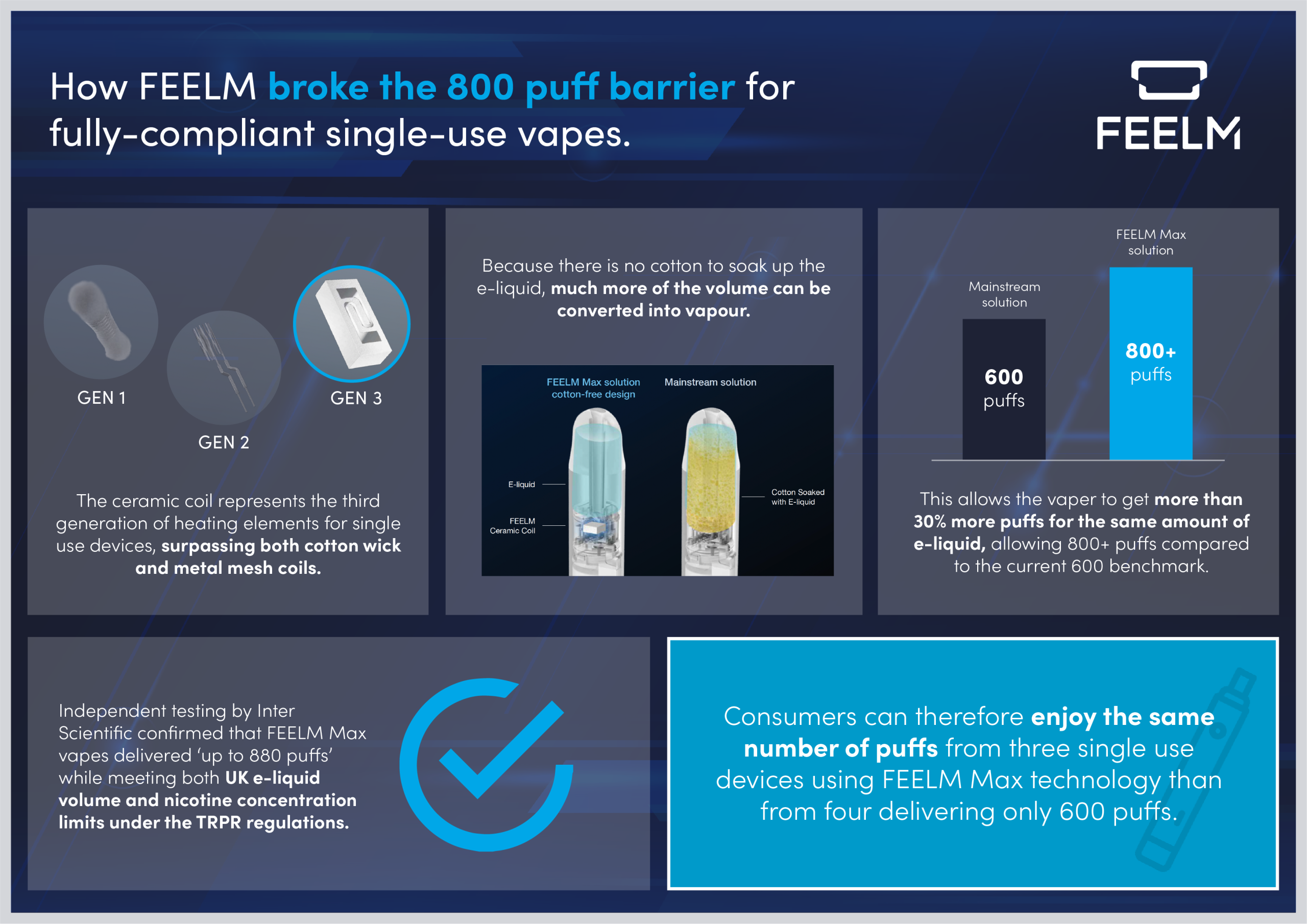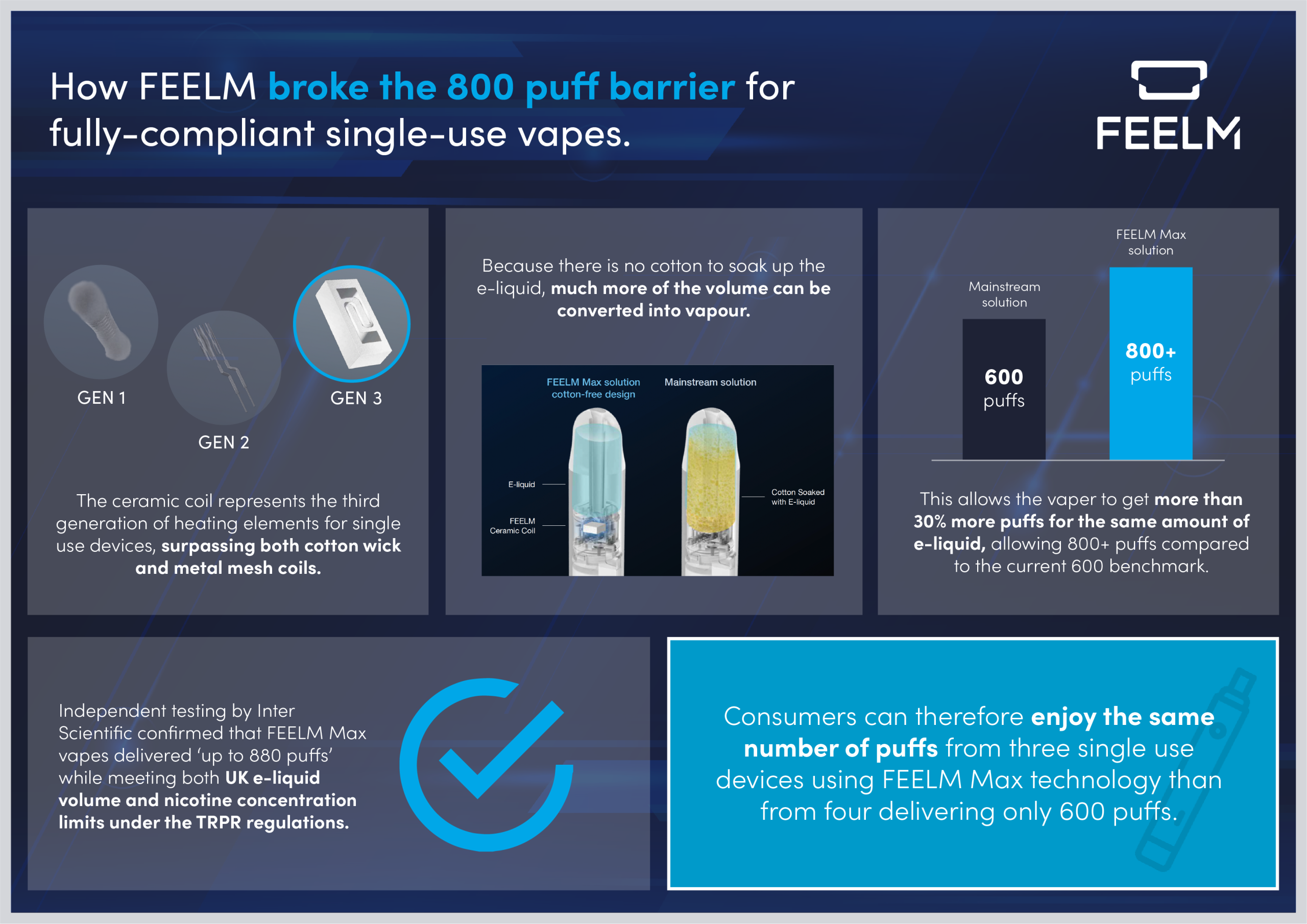 Smoore has invested more than £160m in 2022 in perfecting game changing cotton-free technology which produces 20 per cent more vapour from 2ml of liquid than systems using mainstream heating solutions.
Months of internal testing at their labs re-engineered the heating coils to use every available drop of e-liquid while a new fully automated production facility guarantees consistent results.
Independent lab tests carried out by Inter Scientific measured e-liquid fill volume, nicotine concentration and the density of the e-liquid to determine whether the devices could produce 800 puffs while complying with UK regulations under the Tobacco and Related Products Regulations 2016 (TRPR 2016).
Inter Scientific, which is accredited by UKAS and certified by the MHRA, tested several devices for puff count based on a delivery of 26ml vapour volume over one second at the rate of two puffs per minute.
The tests found that the devices produced an average of 893 puffs, with the lowest and highest measured counts of 880 and 920 puffs respectively. In addition, both vapour and taste have demonstrated exceptionally high levels of consistency.
Inter Scientific concluded: "The mean puff count achieved with the Feelm Max device was found to be consistently high. A puff count claim of 'up to 880 puffs' is therefore considered to be justified for the Feelm Max device based on the minimum number of measured puff count."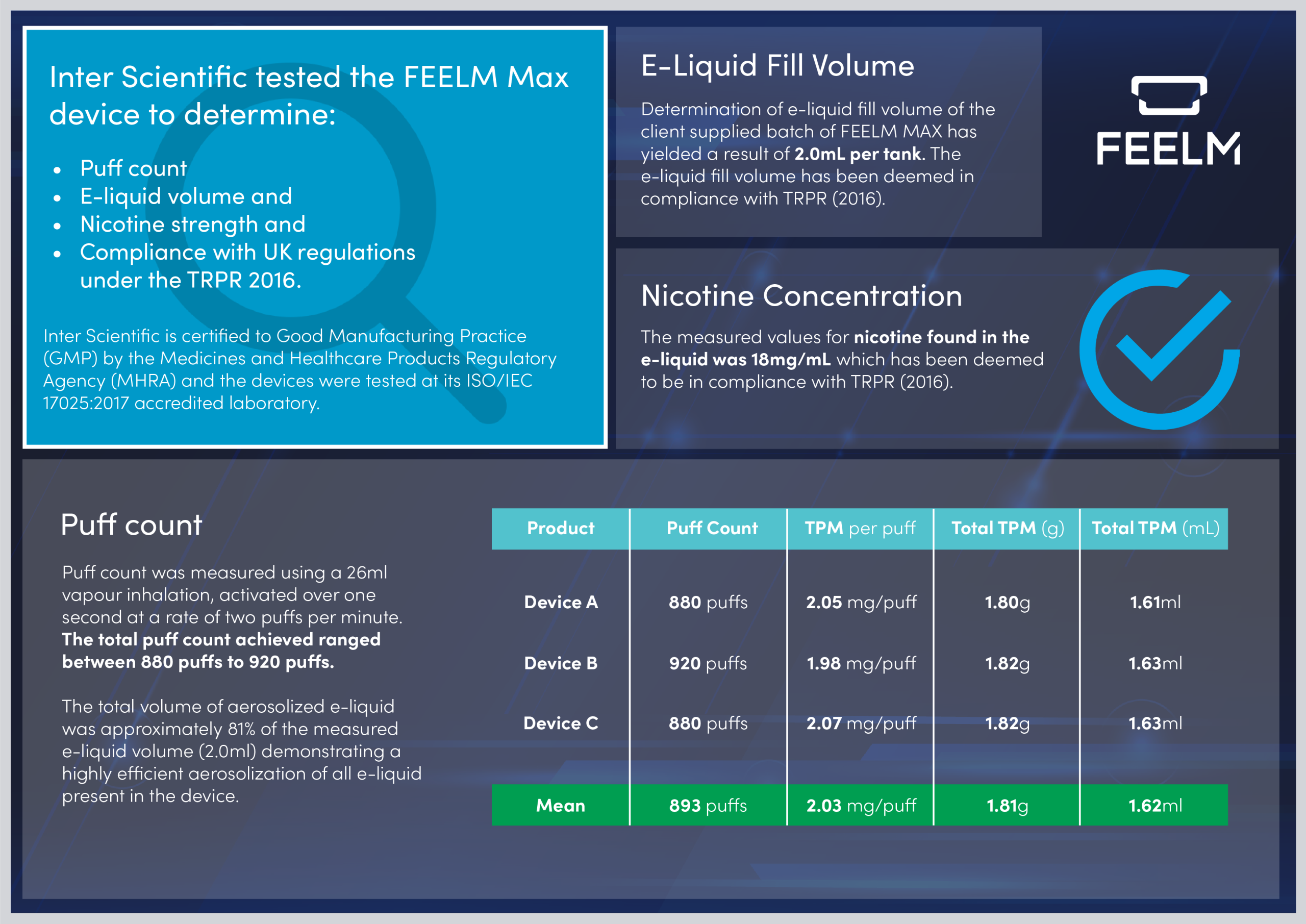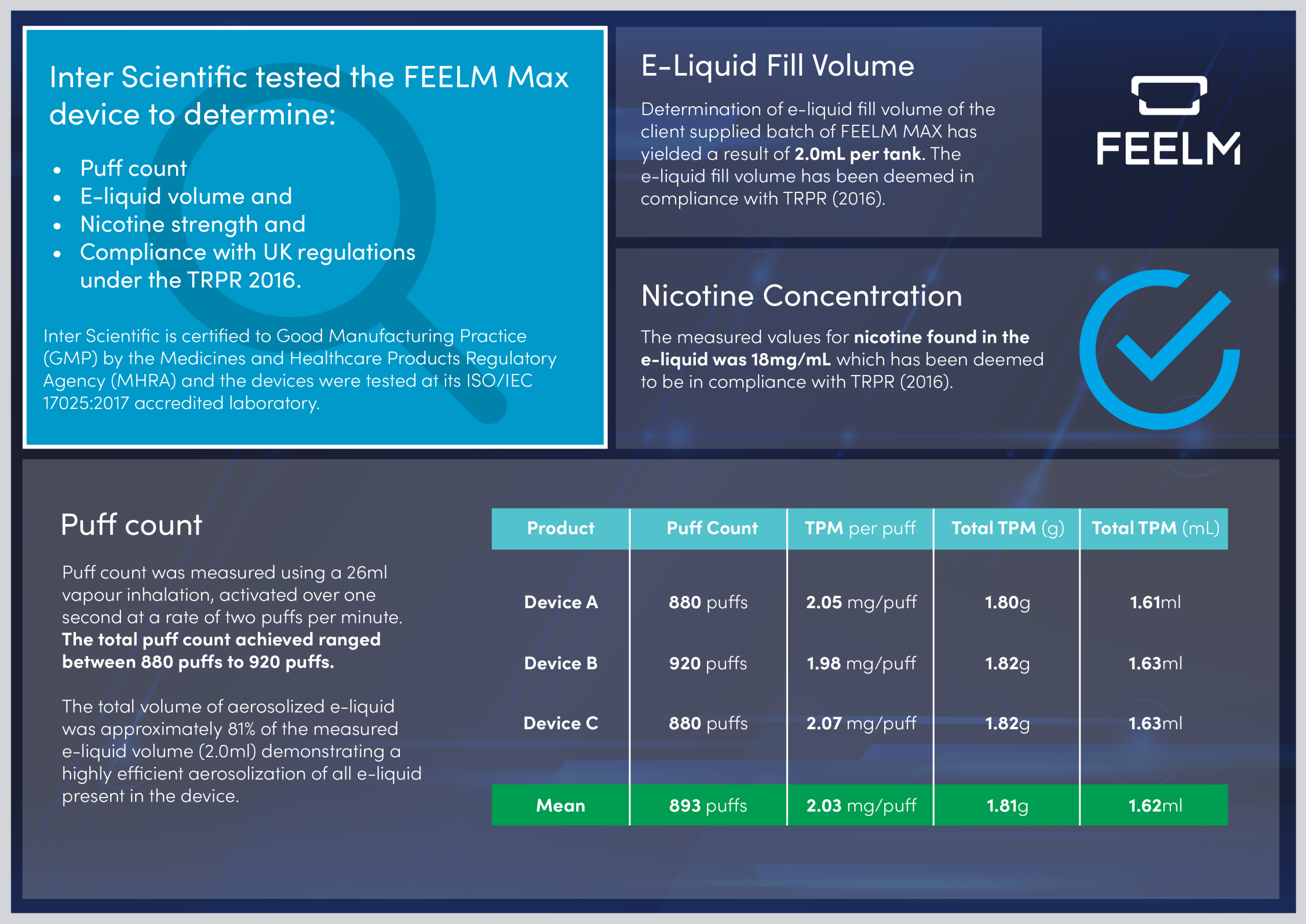 Further analysis showed a total e-liquid fill volume of 2.0ml and a nicotine concentration of 18mg/ml which were both fully compliant with UK vaping regulations.
Zhang added: "One of the main design parameters for our ceramic coil solution was to produce as many puffs as possible and keep a great consistency while always remaining compliant with all regulations and we are delighted with the results we have received.
"The new 800 puff benchmark means that every three products using Feelm Max technology is equivalent to four products using mainstream solutions. Not only does this give better value to consumers, it also has less impact on the environment."
John Dunne, director general of the UK Vaping Industry Association, added: "Innovation in the vaping sector is critical to encouraging more smokers to make the decision to start their quit journeys using vaping as their method of choice. It is well evidenced that vaping is the most effective way to give up conventional cigarettes."