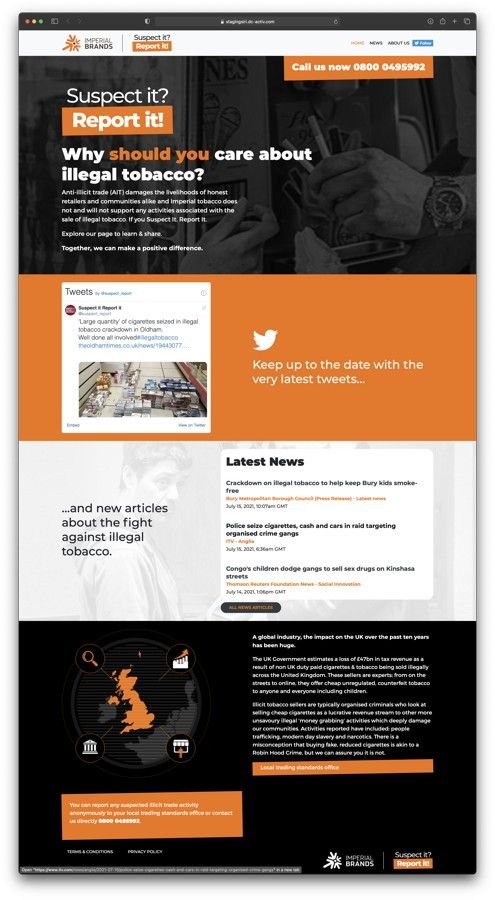 Imperial Tobacco is set to launch its new and improved anti-illicit trade website as part of its continued 'Suspect it? Report it!' trade campaign to tackle illegal sales of tobacco.
The redeveloped website, launching on 1 September, will continue as a resource for information about the illegal tobacco problem in the UK, with the site containing information about the latest developments in illicit tobacco via an updated news page and Twitter feed.
James Hall, anti-illicit trade manager at Imperial Tobacco UK, said: "Illicit tobacco remains a serious problem. Between 2018-19, estimates show 8 per cent cigarettes and 33 per cent hand-rolling tobacco were non UK duty paid, meaning the Government lost £1.9bn in tobacco tax revenue. That means that since 2000, £47bn in tax revenue has been lost as a result of non UK duty paid cigarettes or tobacco being sold in the UK.
"With many illicit tobacco sellers having links to other organised crime activities, the money raised from the sale of these "cheap cigarettes" is often funneled towards other illegal operations. It is therefore vital that staff are educated and aware of the signs, so that they, alongside the store owners, can keep a watchful leye and notify the relevant authorities."
Hall noted that 78 per cent of those who are aware of illicit tobacco being sold in the last 12 months haven't reported it.
"Our aim is that this redeveloped site will help retailers to remain vigilant and raise awareness of the scale of the problem at hand. As well as keeping retailers informed, we want to encourage retailers to report any suspected sellers in their area to our sales force through our dedicated SARA (Suspicious Activity Reporting App) trade platform, or our anti-illicit trade hotline," he added.
Since the site's initial launch in 2018, there has been a steady increase in reporting, with percentages rates rising year-on-year and over 2,858 reports shared to date. To find out more visit www.suspect-it-report-it.co.uk and follow @suspect_report on Twitter.