About £100,000 of illegal cigarettes and tobacco were seized from multiple shops in an East Yorkshire town last week. This seizure joined a slew of other similar operations across the country including cigarettes and rolling tobacco worth around £28,000 being seized from East Sussex, seizure of £10,500 worth of illicit cigarettes and tobacco from Derry City and from Bolton shops over the last few days. And many more are being reported at the moment.
In fact, under Operation Cece, more than five million illegal cigarettes have been seized from local retail outlets in Wales and England during the first six months of the year as part of the operation. 
In the first year of a major Trading Standards operation, 13 million cigarettes and 4,300 kilos of hand-rolling tobacco worth more than more than £7 million have been seized across the country. The actions involved raids on shops and homes in England and Wales, with seizures at the border of smuggled tobacco and cash and the closure of illegal factories abroad. 
However, authorities are prodding at just the tip of the iceberg.
Tobacco and e-cigarette products represent the largest annual sales category for both independent retailers (34 percent) and the overall convenience market (21 percent), according to the Association of Convenience Stores.
Clearly, the illicit cigarettes and tobacco trade continue to have an extraordinarily negative impact on retailers. The issue is a constant thorn in the business, eating out both on the profit of convenience stores as well as of the government in the form of lost taxes.
According to the most recent HMRC Tax Gap data, illegal smuggling and consumption of illicit tobacco cost the government £2.3 billion in lost revenue 2019-201. In total, the government has lost close to £49 billion in revenue since 2000, that equates to £2.45 billion in lost tax every year, which could be spent on vital public services.
Startling Revelations!
As illicit tobacco and cigarettes continue to be seized from across the country, the problem seems like an endless vicious loop. While the supply here definitely does not seem to be an issue, it is shocking to see equally-high demands!
As per the findings of Tobacco Manufacturers' Association's annual survey unveiled recently, almost one-third of smokers in the country have brought illicit tobacco in the last 12 months. 
One major challenge which emerges here is that few consumers have moral reservations about purchasing illicit products. A whopping 68 percent of survey participants said they had no issue with buying tobacco this way, says the report.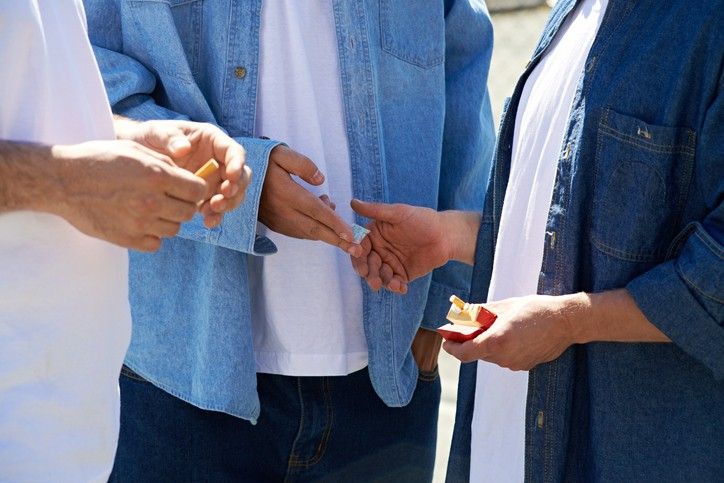 The findings are based on the responses of 12,000 smokers taken in November and December 2021. While 71 percent of those surveyed bought tobacco in the last year that was not subject to UK tax, one in five smokers claim to only buy 'branded' tobacco even though it has been illegal in the UK since 2016.
As the inflation in the country reaches 30-year-high levels, the lower price of such products seem to entice smokers. Pricing seems to be the key here. Since illicit cigarettes are available at £4 and £6 as compared to legit cigarettes that are priced at £10 to £12, it is no-brainer that these sell like hot cakes.
Not only are these illegal cigarettes available at half the prices, they are known to offer better margins for retailers and store-owners. 
However, over the last five years, the awareness level has increased. Today, about 32 percent of those surveyed reported illicit tobacco when they were aware of it – compared to 12 percent in 2017.
TMA's survey's finding further adds that 37 percent of respondents were aware that illicit tobacco is used as a front for other illegal activity such as people trafficking or modern slavery compared to 25 percent in 2020.
Lack of awareness among smokers certainly does not seem to be that huge an issue here than mere indifference on their part.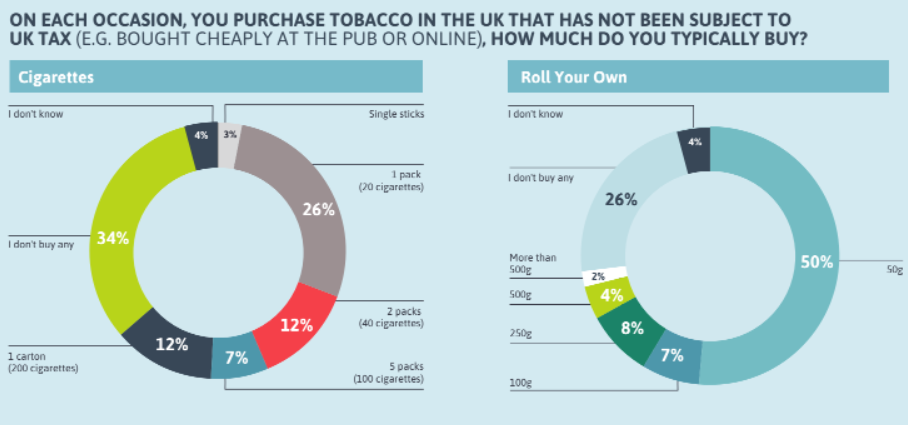 Although the size of the illicit tobacco market is on the long term decline, as shown in national statistics from HMRC, the fact remains that the scale of the problem is still very huge and complex.
According to the latest KPMG report on illicit tobacco, the UK is ranked second for illicit cigarette consumption out of 30 European nations included in the study. More than 17 percent of cigarettes here were recorded as counterfeit and contraband (C&C) – that's a staggering 5.2 billion individual cigarettes. 
Scotland's consumption of C&C soared from 9 percent of all cigarettes consumed in 2019 to 15 percent in 2020 – the highest rise recorded for any part of the UK last year.
Within the UK, northern parts are more notorious when it comes to this illegal trade. A report by KPMG has found that illegal cigarettes are a bigger problem in the north east of England than other parts of the UK.
The report released recently, which was commissioned by cigarette manufacturer Philip Morris, said that Yorkshire and the Humber are among the worst-hit regions for illicit sales.
The KPMG report also says that although cigarette consumption in the UK was down 7 percent to 30.6bn in 2020 compared to 2019, the proportion of contraband cigarettes was up. It rose 17.1 percent to 5.2bn, with £2.2bn lost tax revenue as a result.
The KPMG report says a growing proportion of counterfeit cigarettes are made in illegal factories within the European Union. 
New Age Problems
Illicit tobacco products are now readily available to purchase with little effort and minimal risk – through online marketplaces, purpose-built hosted websites and social media platforms especially Facebook.
TMA's survey findings also suggest a surge in online activity over the last two years. As per the report, social media is seeing a surge in illicit tobacco sales with 19 percent of respondents buying from social media and/or websites advertising cheap tobacco. This figure was just 4 percent before the pandemic.
Social media, the growth of e-commerce, and the proliferation of postal and small parcel delivery services are in fact revolutionising illicit trade in tobacco products. Small parcel delivery service in particular, has emerged as an issue of great concern.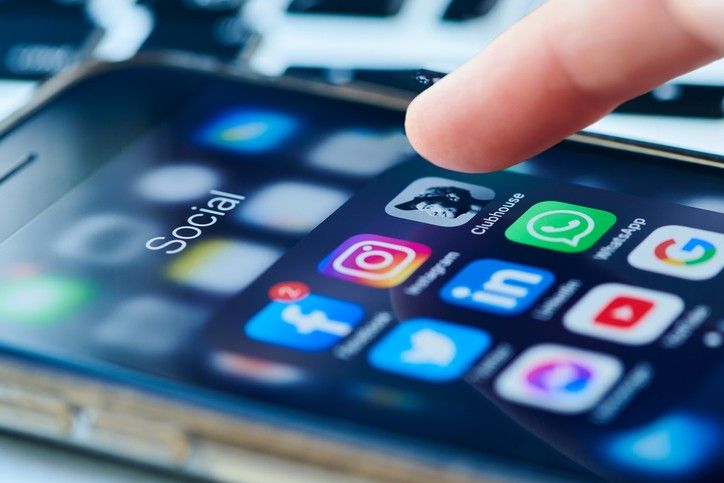 Evidence suggests that there are two distinct types of offender selling illicit tobacco products online- opportunist individual sellers with no links to organised crime and organised criminals with international contacts, access to a steady supply of illicit products, and sophisticated distribution networks.
In fact, in a few of the seizures that happened over last year, the traders were using social media to find buyers. One of the largest seizures done by Trading Standard over the past one year was the one where more than 680,000 cigarettes with a market value of up to £200,000 was found in a house at Banbury, Oxfordshire- it was advertised on Facebook.
The exploitation of the internet and delivery services to sell and transport illicit tobacco products in Europe are trends that are set to persist in the coming years. Evidently, existing responses are arguably not well suited to combat these new smuggling methods.
Wrap
JTI, Imperial Tobacco and other leading tobacco companies are known to regularly undertake test-purchasings to identify retailers that are selling illegal tobacco. The info is then passed on to law enforcement agencies and local councils after which corrective actions are taken, that include imposing fines and cancellation of trading licence.
Shops suspected of selling illegal tobacco can be subject to raids by HMRC or trading standards with sniffer dogs. Apart from potentially losing their alcohol licence or lottery terminal and loss of reputation, shops caught dealing in trading illicit tobacco can face:
A hefty fine or up to two years imprisonment for breaching Standard Packaging of Tobacco Products Regulations 2015 or Tobacco and Related Products Regulations 2016.

Up to £5,000 fine for sale of tobacco without a fiscal mark.

Up to £1,000 for sale of loose cigarettes

Up to £1,000 for failure to display the correct statutory notice

Up to £2,500 fine for selling tobacco to under 18s: Repeat offenders risk a restricted premises order, a restricted sales order or both. Breaching these can mean a fine of up to £20,000.

The maximum penalty for trade marks offences is 10 years imprisonment
Retailers here can play their part by reporting any signs of such trading immediately to the right authorities like trading standards or the Keep it Out website or local council. They can also contact HM Revenue & Customs' Fraud Hotline on 0800788887, Trading Standards via the Citizens Advice consumer helpline on 08082231133 or the independent charity Crimestoppers anonymously on 0800555111.
Retailers should also report and red-flag social media accounts selling cigarettes or tobacco with attributes like "cheap" or fake or "duty free stock bought in error", if they happen to come across any.  
To identify the authenticity of the products, retailers are advised to look out for:
Branded, non-standardised packaging

Unfamiliar brand names

Foreign health warnings and no picture warnings

Flaws in packaging

Tobacco being offered by unexpected sales people – most likely linked to criminals

Cheaper prices – usually around half the price of legal tobacco
Assessing illicit tobacco trade is no easy task. As a clandestine activity by definition, illicit trade remains hidden until discovered. At the end of the day, the trade in illegal tobacco is underpinned by criminals who want to make money and consumers who are looking to save money by buying cheaper versions- the ones who also ironically continue to believe that the purchase and consumption of illicit tobacco is largely a victimless crime.