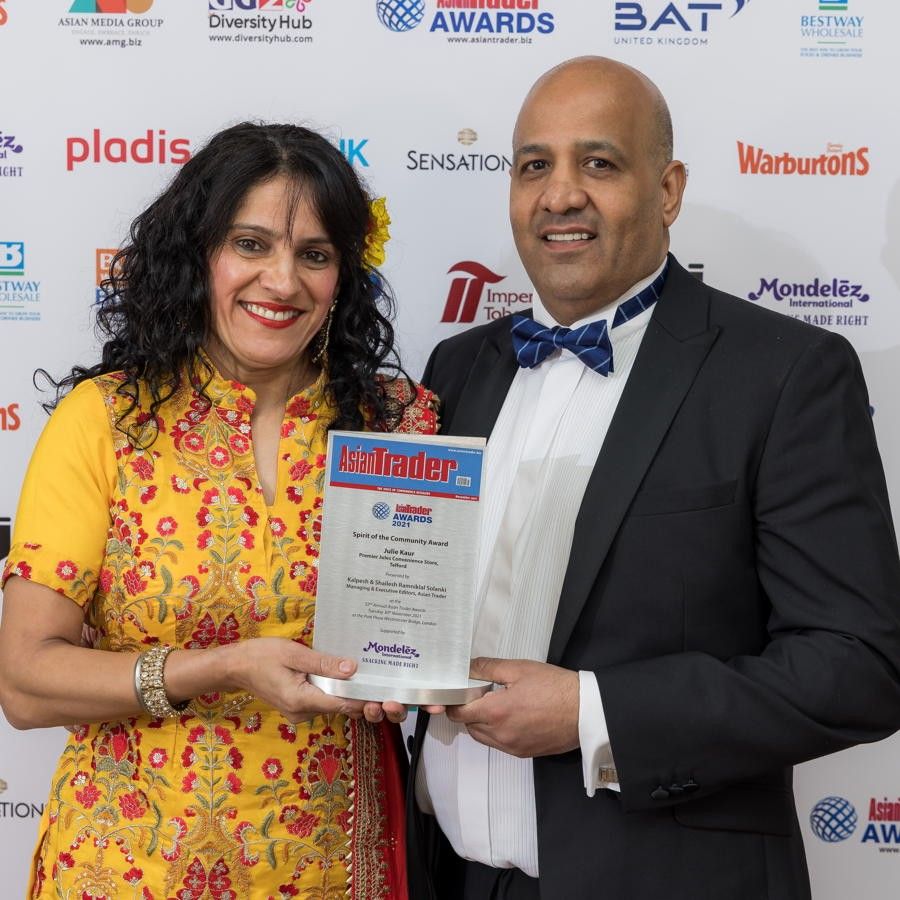 Julie Kaur, who runs Premier Jules Convenience Store in Hadley, just north of Telford in Shropshire, has won the Spirit of the Community Award at the 2021 Asian Trader Awards.
The Award, supported by Mondelez, recognises a store which is truly at the heart of its community, going beyond the call of duty to help customers and the neighbourhood, and Julie stands tall among those retailers who cherish the loyalty and support of their customers.
She has completed 30x10km runs last year to mark her 30th anniversary as retailer, raising funds for three charities. She has committed to running 50x10km races by end of this year, as she celebrates her 50th birthday, to raise funds for another three charities, including the local Age UK charity, where she serves as a trustee. Severn Hospice in Telford and the NFRN Ratcliffe Fund are the other two.
"Last year, I was 49, and the team set me a challenge of fifty 10km races to do within a year. So I will have 50 at the end of this year and I'm currently on 29 as we speak," she reveals. "We're aiming to raise £6000 and we're on £3200 at the moment."
So, she has crossed the half-way mark in just three months, and given her enthusiasm for fitness as well, it should not take much longer to hit the target. And, she is not stopping there. She has already secured a match-funding commitment from the West Midlands district council of the Federation of Independent Retailers (previously known as NFRN) – she is the district president of the trade body – and is waiting for confirmation from Booker on another. "Hopefully I should hit £18,000, [and] I can push it to £20,000," she is confident.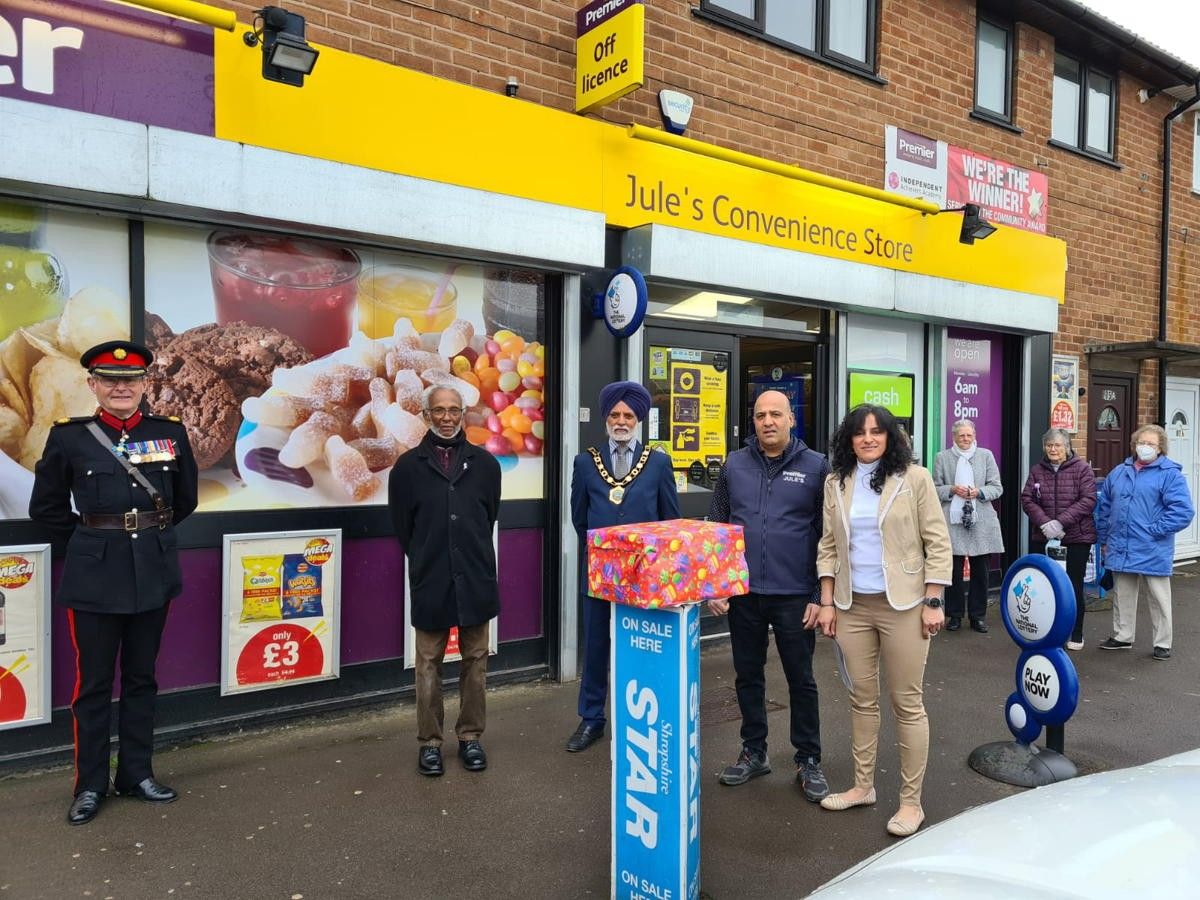 Community work has always been very important to Julie, and this is in fact a regular feature of the store. Recently Julie helped install three bleed control units in the locality, two of them outside their store and another Premier store respectively. In December, they had a Santa visit the shop, with three teddy bears, and delivered goody bags to the elderly.
"We went round to the elderly, probably 80 houses, with a goodie bag at Christmas. Yesterday was Mother's Day, [and] we did a free afternoon tea to help the next door cafe between two and four o'clock," she says.
Mondelez supported her with free stock for Christmas hampers. She also uses the store's earnings from the rewards schemes by suppliers like Mondelez, Haribo and JTI within local community projects. She has continued this when she won the top prize of £20,000 in the 'Local Legends' competition by Boost Drinks in November last year, announcing plans to pay tribute to her roots by paying the money back into her community.
Julie is a keen fundraiser, raising money for many different local charities and causes. "We generally do quite a lot of fundraising in store. We have a target in January of how much we want to raise every year. Then we choose the charities, these are normally closest to people's heart, one local, one national. And then there's a few challenges I set myself," she explains.
Julie is also heavily involved in the local Sikh community – she serves on the local gurdwara committee – and has covered the funerals during lockdown. "During the pandemic, it was very hard because the temple has elderly, so they needed people to cover the funerals. It's only half a mile away. I was available," she says, unassumingly.
This meant ensuring temperature tests, signage, number restrictions and social distancing rules were adhered to. "We worked together, making tea, coffee. The temple has a service every week, you can say no to the weekly service. But you can't to the funerals."
"I try to strive to live my life based on Sikhism beliefs. These beliefs are: to keep connected to the divine in our heart with every breath, earn our living honestly and to share what we earn with others, and view the interaction of daily life as opportunities to serve," she adds.
Julie has taken her community work and charity fundraising efforts to another level during the Covid-19 pandemic. She worked tirelessly to support her local community, taking it upon herself to reach out to the elderly and vulnerable by paying them visits and offering a delivery service to local residents who were unable to shop for essentials.
"There are five of us in the team. We might be probably four or five times in the year going round individually with slices of cake, hot cross buns, and ice cream and just checking on them. There are a lot of single pensioners in the vicinity, and their children, family come in and say keep an eye on them," she says, adding that the community is very grateful for what they did as a store, going the extra mile, and the respect is "the greatest."
In addition they sent monthly food donations to Telford food bank and raised over £7000 for three charities: Children with Cancer UK, Age UK, Severn Hospice doing various charity events. They also raised £1800 for Noah, a local child who was diagnosed with Duchenne Muscular Dystrophy and needed a powered wheelchair, surpassing their goal of £1,000.
Julie is born and bred in Leicester, and moved to Telford when she got married, at 18, to her husband, Joey, who already had a convenience store. "We then built the store from strength to strength, making it a one stop shop for the community," she says. They have three children, who help them in the store.
Joey notes that they have been able to maintain the pandemic sales momentum to a large extent even after the restrictions have lifted.
"At the height of the pandemic, we were close to double, but then I think we kept about 65 per cent of it," he says. "We were slightly worried that when the pandemic is all over, we go back down to pre pandemic figures."
The big difference that the pandemic has made is that, he says, the people has opened their eyes to the small shopkeeper, who has everything they want.
"People have appreciated you. We're not that expensive. The range is good. The convenience is very good. Wonderful standards," he says. "And after all that -we've always been there – when you get them through that door, they think 'wow this is a breath of fresh air, that you can have a conversation with somebody who will talk to you and take time out and say hello' and you know you don't get that in a supermarket."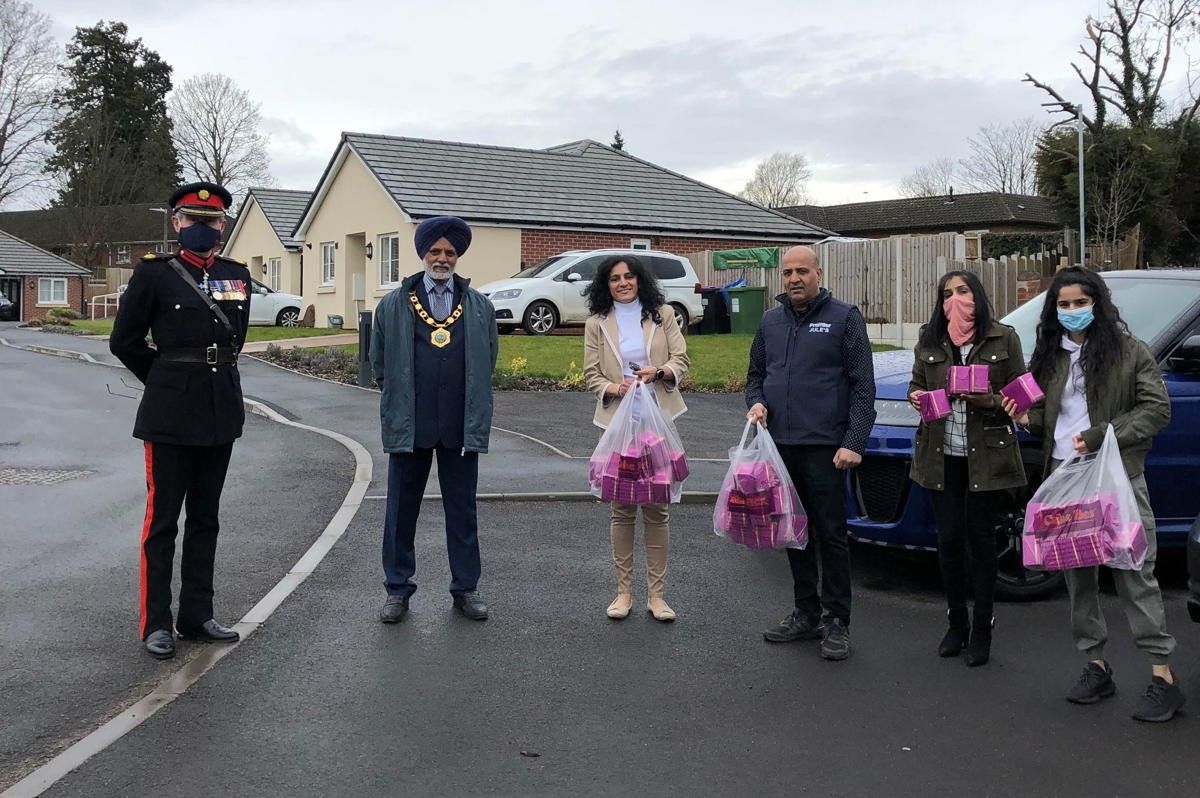 An increase in levels of violence and abuse against shopkeepers has been a recurring issue during the pandemic, and they too had the odd one. But, being in the area for 30 years, they are well-known and Julie says people don't really mess up at store. "Because we've made it their community shop, not our shop, their shop," she says.
Yet, they have taken proactive measures to avoid any flare-ups and effected changes to better respond to incidents. These included making masks available at the counter and then putting signs to alert those without one.  "We thought nobody had to tell them. That makes it a bit vulnerable for us behind the counter," Julie says.
They have also asked customers to avoid wearing caps or hats in-store. "We had one incident and that's all it takes, if you have an incident, you have to implement a different rule," Joey says. "And our rule after that was no caps and hats. I mean, if you go back, there were signs in shops to say no helmets. And if you have a mask and a hat on, that's similar to a helmet, you aren't going to recognise."
They find the inflation as a major challenge, but Joey feels that there could be an opportunity for local stores amid the ongoing cost of living crisis. "The disposable income in people's pockets is being eroded and you have to stretch it, you have to stretch your money. So, they may well make more trips to the local shops as they have to make their money stretch. It may work in our benefit," he reasons.
The couple complements each other, even as they bring different perspectives to the table, evident in their take on home delivery.
"We kept it to a minimum, because there's always going to be an outlay of picking it up, drivers, going out with one of the cars. So we just held on to the elderly pensioners with three to five six deliveries a day free of charge," Julie says.
Joey is open to exploring delivery apps like Snappy Shopper and Jisp.  "You've got to get a member of staff to do it, but if people need it, I can do it," he says.
Julie, however, is keen to retain footfall. "I want to see people for their mental health and their well being," she says.
Joey suggests that it can be a secondary business, "a store within a store almost," but Julie still thinks of the impact on her community.
"People get lazy," she notes. "They are lazy," comes the quip from Joey, but she holds her ground: "they can be lying till stuff coming to their door, too much obesity and I don't want to encourage it"
They have a local college nearby, and energy drinks is their best-selling category as the students love their range. "Because we get the flavour they want," Julie says. Confectionary and crisps and snacks also sell well, as well the vape range. "The Elf Bars are taking off very well. It's a profitable segment. We have got quite a good range," Joey says.
They have a simple three-point strategy to stand out from the competition: "service, stay well stocked and competitive prices." That's easier said than done, but Julie has a tip for fellow convenience retailers. "Keep smiling. Work with the parish council, police, community. Talk to people, that is key, get knowledge out of people."