Breakfast is one of the top reasons for which a shopper walks into a local convenience store- be it a quick run for eggs, milk, bread or cereals or on a look-out for easy to make quick recipe. Stocking a wholesome breakfast range can do wonders for a store's sales, making it a one-stop destination of morning meal needs.
According to a recent survey, UK's favourite breakfast items are eggs (39 per cent), bread and toast (38 per cent), bacon (35 per cent), cereal (33 per cent) and sausages (25 per cent). Not to forget the accompanying products like butter, spreads, jams, jellies.
According to Mintel, convenience is still highly valued with easy and quick to prepare breakfasts remaining the most important qualities. 67 per cent of UK adults agreeing that it is important that their diet is healthy- something that has been further exacerbated by the pandemic and has now become evident in some consumers' healthier breakfast eating habits and preferences.
iStock imageAccording to Globaldata, UK breakfast market size was valued at GBP 2.61 billion in 2021. The market is expected to achieve a CAGR of more than 4 per cent during 2021-2026. The fastest-growing segment of the breakfast cereals market between 2016 and 2021 was hot cereal.
Some of the leading brands in the UK breakfast cereals market are Kellogg`s, Weetabix, Oat-so-Simple, Crunchy Nut, Special K, Cookie Crisp, Coco Pops, Corn Flakes, and some ranges from Premier Foods.
Bakery
Bakery is one area which presents perfect opportunity for convenience stores to drive sales and bring-in footfalls.
Rachel Wells, UK Sales Director, St Pierre Groupe, states that retailers can benefit by stocking popular and familiar brands so stores need to be aware of bestselling SKUs while following wider sales trends.
Looking at the wider sales trends, the total bakery category turned in sales of £3 bn for the year to end September, according to Nielsen sales figures. Morning goods, where the St Pierre brand is strong, have slipped 5 per cent in unit sales and gained 5 per cent in value to £1.1bn, representing a slight decline allowing for inflation.
The last 12 weeks have seen the sweet treats subcategories outperform traditional in both value and volume, says Wells. Brioche, croissants, sweet buns and pains au chocolat have seen growth of 21, 18, 14 and 21 per cent respectively. Both croissants and pains au chocolat have achieved double digit growth over last year.
Rolls are also a major part of the breakfast opportunity, particularly for shoppers with time for extended breakfasts at home- an area where the St Pierre brand is strong.
Stocking a wide variety of morning goods and bakery items offers huge potential for convenience retailers. Bread volume sales are down but St Pierre Groupe's Baker Street brand is back in value growth due to an upturn in sales of both white and brown sliced loaves, says Wells.
Retailers should also consider part baked bread, a subcategory where St Pierre Groupe has a presence with its Paul Hollywood brand.
Furthermore, as consumers continue to seek more variety and quality in their food, they are increasingly drifting towards grab-and-go category as a solution to their meal and snack needs.
Retailers can look to maximise the opportunity by offering a range of ready to serve sweet and savoury products such as viennoiserie, Danish pastries and savoury pastries.
"Retailers can help entice shoppers to the fixture and secure those all-important incremental sales by baking little and often throughout the day, keeping the appeal of the freshly baked aroma," Samantha Winsor, Marketing Manager at Lantmännen Unibake UK told Asian Trader.
Retailers should also stock a range of Danish Pastry products. Schulstad Bakery Solutions offers a variety of quality products, including its Maple Pecan Plait, Cinnamon Swirl, Vanilla Crème Crown and Mini Danish Selection, which includes bite size versions of its Maple Pecan Plait, Cinnamon Swirl, Vanilla Crème Crown, Apple Coronet and Raspberry Crown. These can be packaged to offer a multipack option.
Consumers respond well to recommendations, so using POS to suggest flavour pairings are likely to encourage dual and incremental purchases.
Retailers should also keep in mind the popular flavours here. Almost 36 per cent enjoy custard fillings the most, while 32 per cent enjoy cinnamon and 27 per cent favour maple flavours, Winsor said, so it's no coincidence that Schulstad Bakery Solution's Maple Pecan Plait, Cinnamon Swirl and Vanilla Crème Crown are the brands best-selling SKUs.
Maple Pecan Plait, Cinnamon Swirl, Vanilla Crème Crown and PlainAll Butter and Filled Croissants work best as grab-and-go solutions due to their hand-holdable shapes and flaky texture.
Another major name in the bakery section is Hovis, the fastest-growing brand in the total bakery market, increasing value +4.9 per cent.
"The Hovis Bakers Since 1886 artisan-inspired range, launched in April 2021, is a driver of this success and is already worth nearly £11m over the latest year," Hovis' spokesperson told Asian Trader.
The Hovis Bakers Since 1886 range includes half-cob loaves, muffins and crumpets for breakfast as well as tea cakes, burger buns, hot dog rolls and bake-at-home products. Its crumpets were launched in November 2021, complementing English Muffins with Cheddar Cheese as part of the breakfast range.
Other new launches include new Granary Cob, new Premium Hot Dog Rolls and Premium Teacakes, along with Rustic White Rolls, Rustic Seeded Rolls and Baguettes.
"In addition to these, we launched Hovis Nimble Malted Danish, which is ideal for those looking for a lighter eat or a product to help manage their calorie intake," Hovis' spokesperson added.
Initially launched via a celebrity led TV campaign, Hovis' recent targeted support in store has been fully-branded FSDUs, gondola end displays and promotional shelf POS to encourage shopper trial at point of purchase.
Sweet cakes and pies are always on the grocery-list of young families and that's where Premier Foods' Mr Kipling products came in handy.
The maker has recently launched Mr Kipling Deliciously Good, a better-for-you range, delivering both a healthier and great tasting product. The range is Premier Foods' first full range of non-HFSS (high fat, salt & sugar) branded cakes. This range contains 30 per cent less sugar, and up to 10 times the amount of fibre than standard Mr Kipling ranges.
Another notable new launch here is Mr Kipling Deliciously Good Toffee Apple Pies. This product is made with real fruit and have 30 per cent less sugar than standard pies, making them a popular choice for shoppers.
Cereal and Eggs
Cereals still dominate the breakfast aisle with this sub-category touted as worth more than £70m in the total impulse category.
Darryl Burgess, Head of Sales for Weetabix, explains how lockdown saw a once in a generation boom for breakfast cereal sales, with many people eating breakfast at home as well as using cereal as a snack throughout the day.
"We've worked closely with our wholesale and convenience partners to ensure product availability over the past year, as well as offering advice to retailers so that they stock the top-selling cereal brands to cater for the rise in at-home breakfasts," Burgess tells Asian Trader.
Weetabix-branded kitchen-cupboard classics are already HFSS compliant, including its more indulgent products such as Weetabix Chocolate, Chocolate Crispy Minis along with new launches- Weetabix Melts and Oatibix Nutty Crunch.
As a nation of egg lovers, eggs are the king of shopping baskets and are often purchased as part of a top-up in local shop. More than 7 billion eggs are sold at retail every year, with a significant proportion through the independent sector.
Andrew Joret, British Egg Industry Council Chairman, states that Brits want British Lion eggs, with awareness of the British Lion mark at around 80 per cent.
"With all multiple retailers stocking eggs produced to the world-leading food safety standards of the British Lion, consumers also expect this to be the case when they visit independent retailers," Joret states, adding that British Lion eggs are approved by the Food Standards Agency to be eaten runny by vulnerable groups, including pregnant women, infants and the elderly.
Almost half of parents of under-two actively look to purchase eggs carrying the Lion logo. Retailers should make more of this opportunity by displaying the advice clearly at point of purchase.
Drink-it-up
Breakfast and dairy drinks continue to perform strongly in the impulse channel, with Weetabix OnThe Go accounting for 86 per cent of breakfast drink sales in convenience.
"Although we see a lot of our consumption taking place in the home, the return of more on the move behaviours and more hectic mornings post-lockdown has helped to boost breakfast drink sales in the past few months," says Burgess.
Along with Weetabix On-The-Go Caffé Latte, retailers must stock Weetabix's new launches such as Alpen Oat Blends or Alpen Light White Chocolate and Raspberry – the latter of which is already worth more than £1.6m RSV since launching a year ago.
Butter and spreads are furthermore key breakfast items. Though butter dominates the market in traditional convenience, contributing 64 per cent of revenue, spreads too remain an important sector.
Fruits and fruit juices are other integral breakfast items.
In fact, latest data from Mintel shows that fruit is the fourth most popular food to be eaten at breakfast, after cereal, bakery and porridge.
Andrew Bradshaw, UK Sales Director at Dole Sunshine Company, feels that as the current cost of living crisis continues to bite, it's safe to assume that consumers are likely to continue to change their shopping behaviours and be more conscious of product value for money incorporating quality, waste, convenience and choice.
"Shoppers understand that ambient goods not only offer good value and have longer shelf lives, but in the case of our Dole packaged fruit range, can also be one of your five-a-day and a healthy part of their overall diet," says Bradshaw.
Consumers are now looking for breakfast items that are not only easy to prepare and healthy, but also convenient and can be consumed on the go.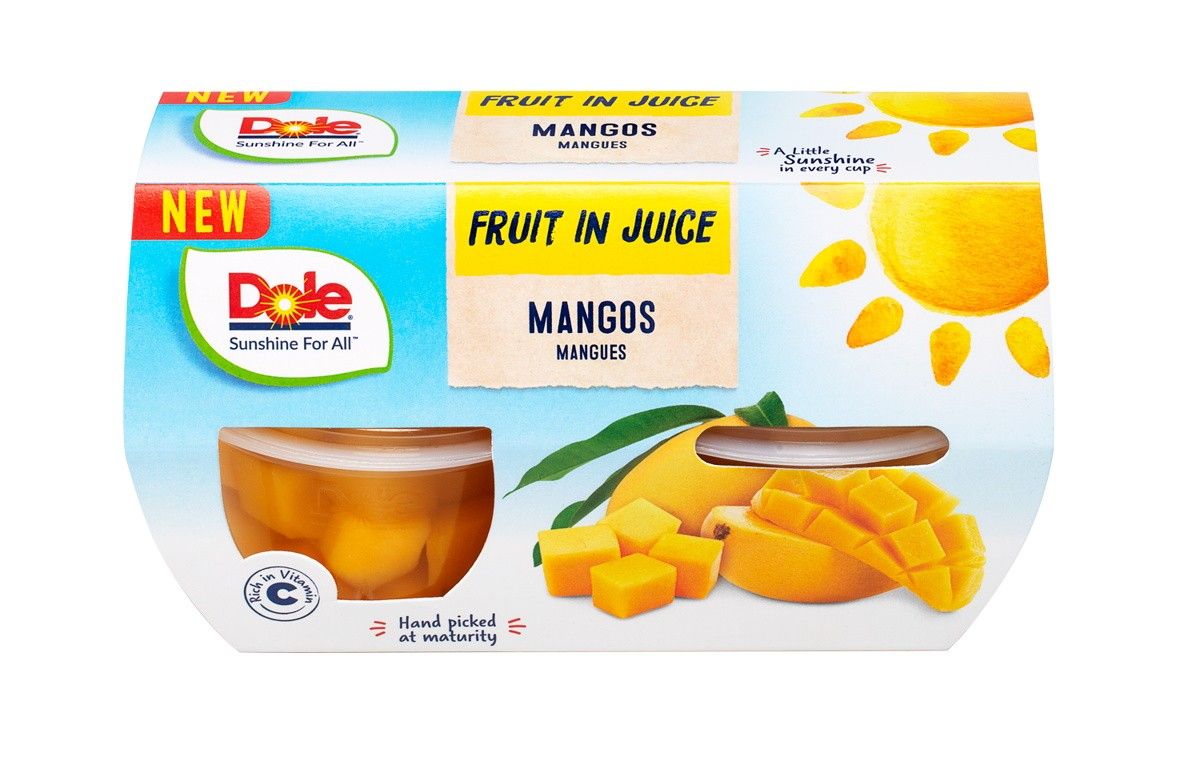 Dole fruit cups are available in a range of pack sizes from single 113g, single 198g and in multipacks. Dole Sunshine Company's entire product range contains "100 per cent real fruit, with no added sugar in any of its fruit in juice range", says Bradshaw, adding that the maker has a 60 per cent value share of the fruit in juice cups category and a 77 per cent value share of the fruit in jelly cups category.
Dole has launched two new flavours- Mango and Pear to complement the existing range of Tropical Fruit, Peach, Pineapple, Mandarins and Mixed Fruits in juice cups.
Retailers should not overlook vegans here as they looking for dairy alternatives to accompany their breakfasts.
The plant-based milk category is rapidly increasing with the category up 104 per cent since 2019 while oat milk category alone is set to grow by +15.4 per cent by 2024.
Interestingly, over 80 per cent of the oat milk sold in the UK is imported. However, a research states that 73 per cent of consumers want to buy British while 50 per cent say they would be happy to pay more for British produce. Clearly, there is a significant opportunity for retailers who provide UK dairy alternatives such as product line from Glebe Farm.
From oat breakfast shakes to convenience oat lattes and oat yoghurt granola pots, there is endless possibility to expand the plant-based breakfast offering by including the innovative product line from Glebe Farm.
Post-lockdown Trends
With hybrid working now firmly established, retailers should take note that consumer purchasing patterns at set times of day are blurring and so is the distinction between convenience and food to go.
Wells from St Pierre Group adds here that shoppers are visiting local convenience stores for morning goods and other bakery item as well as stores on their way to work or near their workplace. These two drivers are increasing the number of possible purchasing opportunities for retailers to capitalise on.
There is an opportunity for bakery brands with long-life multi-pack formats, like those from St Pierre, Baker Street and Paul Hollywood, to help convenience retailers, grow their breakfast business, both for eating at home and on the go.
"Products that offer an extended shelf-life are a must-stock for convenience retailers, allowing them to provide a strong bakery offering throughout the year – minimising the risk of wastage – but are also a key consideration for the modern shopper, too," says Wells, adding that all of the St Pierre Groupe brands offer an extended shelf-life.
Mintel also predict that in the short-term there will be an increase in consumption of breakfast on-the-go as people work in offices more frequently than they did a year ago. In the longer term, there will be a continuation of the trend towards working from home, which in turn will be beneficial for retail sales of foods for breakfast and brunch.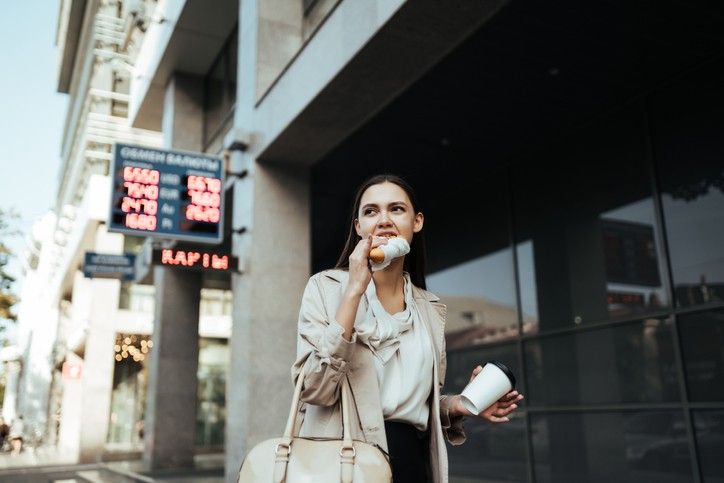 Hovis anticipates that shoppers will look to make more of in-home eating occasions, while looking to manage their budgets carefully. Many shoppers are changing some of their purchase habits like switching from large loaves with seeds and grains to large white loaves, the spokesperson said, adding that this trend will continue as consumers continue to navigate a period of high inflation.
Also, consumers are now placing an even higher focus on their wellbeing more than ever before. In fact, 25 per cent of shoppers are more influenced by health when shopping than pre-pandemic.
Recent research has found that 19 per cent of people are paying more attention to the nutritional value of their food than they did before the pandemic and that aspiration for healthier eating often takes most prominence in the morning.
Recognising the importance of nutritious snacking, belVita biscuits by Mondelez have a carefully crafted composition. Their trademark recipe includes five whole grains, including wheat, oats, barley, spelt and buckwheat or rye – ingredients which make the biscuits high in slowly digestible starch, fibre and magnesium, ideal for on-the-go energy.
"belVita is the only biscuit range with this proven slow-release benefit, and with the highest scores in taste credentials within its category, is the UK's number one healthier biscuit brand," – Susan Nash, Trade Communications Manager at Mondelēz International, told Asian Trader.
Kick-start sales
To help maximise basket spend and overall sales, convenience retailers should be strategic with their in-store merchandising to encourage up-selling.
Grouping products together can help to speed up the customer journey, says Wells from St Pierre Groupe. Eye-catching displays play an important role in prompting spontaneous purchase decisions in convenience and inspire shoppers to trade up.
"Convenience retailers should cross-merchandise products to inspire consumers to trade up, such as St Pierre's Brioche Buns, eggs, avocado and bacon for an on-trend breakfast sandwich," says Wells, adding that St Pierre offers a choice of attractive freestanding display units.
Retailers could also merchandise simple breakfast solutions next to each other.
A simple way to do this is to put spreads next to the bakery section rather than with home baking products. It's also important to stock the essentials, like sliced loaves, as well as products that fit current trends, such as brioche which helps to elevate traditional dishes.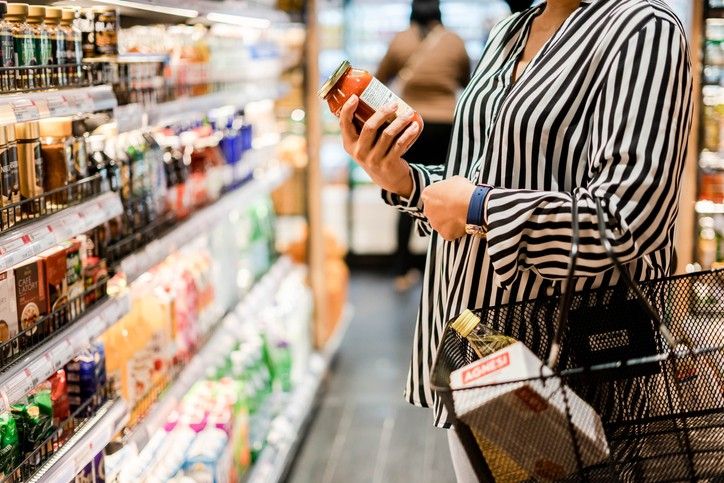 A core staple of the fresh top up shop, butters and spreads are 'must haves' on the breakfast shopping list and should be central to every retailer's fresh and chilled breakfast range.
Consumers respond well to recommendations, Winsor said, so using POS to suggest flavour pairings, such as a light and flaky Maple Pecan Plait, matched with a rich and velvety Vanilla Frappuccino or adelicious Apple Crown coupled with a Caramel Frappuccino, are likely to encourage dual and incremental purchases.
Where possible, retailers should focus on stocking essential foods items like bread, eggs, milk, close together, as they can be bought during the same shopping trip. These essentials should be placed in prominent, easy-to-spot, high-footfall sections of the store, so they're hard for consumers to miss, Joret tells Asian Trader.
Hovis recommends stores to enhance their pre-packaged bakery wherever possible and merchandise them with complementary products to create inspiration for meal ideas.
Rise and Shine
Bloomberg's monthly Breakfast Index shows that the cost of basic ingredients that go into an English "fry-up" have all increased significantly from a year ago, with milk jumping by 51 per cent and butter up 31 per cent.
Mintel's breakfast eating habits market research identifies that inflation will impact consumers' choice of breakfast foods by curbing demand, particularly in the more expensive out-of-home market, in addition to dampening consumers' ability to buy more premium breakfast items during their weekly shop. Brands can respond with affordability and versatility to continue to appeal to consumers.
Be it quick to prepare easy breakfast solutions or speedy grab-and-go breakfasts for families battling the school run or more leisurely in-home breakfasts, this morning meal occasion is here to stay and continue to rise.
Since more than half of consumers who work from home buy breakfast and lunch from local retail outlets, retailers should look to make most of this with an appropriate range of wholesome, healthy, popular yet competitively-priced breakfast lines.