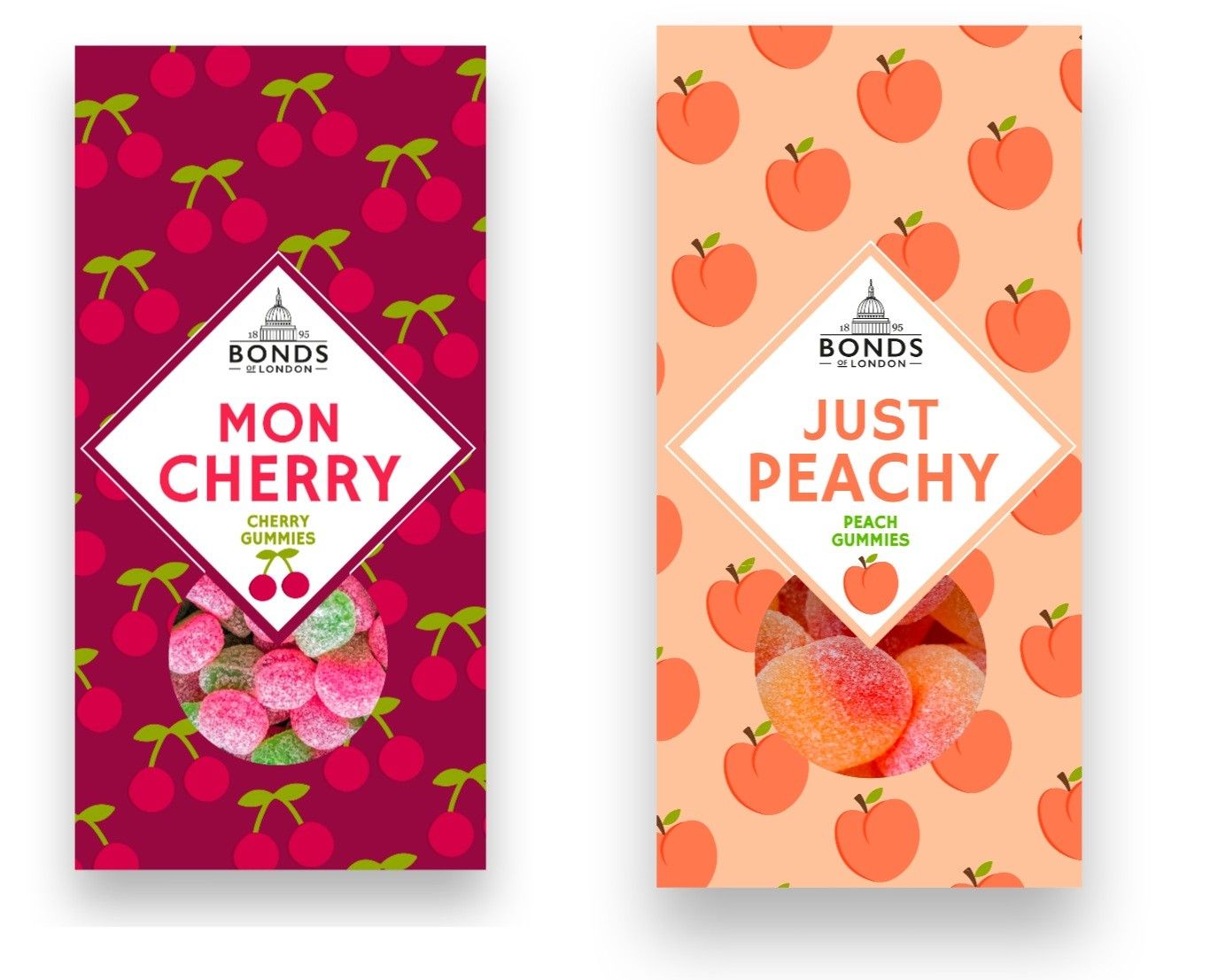 Leading confectionery wholesaler Hancocks has revealed two brand new additions to their popular Bonds Pun Box range.
An ideal addition to gifting ranges thanks to their colourful designs and playful puns, all boxes are filled to the brim with the most popular pick n mix options and with a variety of boxes to choose from.
The eye-catching boxes add character to shelves and are easy to merchandise, which explains why they're so popular among customers and retailers, with an 18 per cent growth in sales last year.
The newest arrivals to the range are the Just Peachy and Mon Cherry boxes (RRP £2.00) which contain popular, fast-growing pick n mix flavours – fizzy peach and fizzy cherry.
Mon Cherry is French for 'my dear' and Just Peachy means 'everything is great', so both boxes make wonderful and affordable gift options for those who want to surprise that special someone with a sweet token of their affection.
The Mon Cherry sweets are suitable for vegetarians, so they're great for retailers who wish to expand their vegetarian-friendly selection.
"Gifting products make up for a large portion of confectionery sales, as they're an affordable way to show affection to your loved ones," Kathryn Hague, Head of Marketing at Hancocks said.
"Pun Boxes are especially popular ahead of holidays, such as Valentine's Day, Mother's Day and Easter, but there will also be shoppers on the lookout for funny and sweet gifts for birthdays, anniversaries and other celebrations all year round."
Other customers' favourites in the range include the One in a Melon and Eggstra Special Pun Boxes that will appeal to the fans of fruity fried eggs and sour watermelon slices. Popular choices also include Froggin' Awesome and Flocking Fabulous boxes with fruity gummy flamingos or frogs, and Shrimply The Best and Turtley Love You gift boxes with raspberry flavour foam shrimps and fruity gummy turtles with a jelly centre. The Beelieve in Yourself irresistible milk chocolate-coated honeycomb pieces packaged in a stunning gift box is ideal for those who are looking for gift options for chocolate lovers.
"This range of giftable boxes is suitable for many occasions and recipients, which means that being stocked up on Pun Boxes can help retailers boost confectionery sales," Hague added.
"Their bright packaging and funny slogans will immediately stand out on the shelves and catch the eyes of shoppers. To further maximise the sales of Pun Boxes, make sure you display them with a clear and attractive POS."