October has always been an interesting month, full of ghosts and shadows. For independent retailers, this is even more exciting since it marks the beginning of incremental sales as households stock up on sweets, chocolates, food and alcohol for trick and treats, Bonfire nights and beyond.
As everyone gets creative and dresses up to enjoy food, drink and music with friends and family, exhilaration hangs in the air. Retailers can tap into this excitement and sense of occasion by making sure they have a wide range of fun, thematic sweets, food and drink well-stocked in their stores.
Halloween has lately become a key social occasion for Britons as well and continues to grow in popularity. In fact, UK shoppers spent £419 million on Halloween in 2021 compared to £400 million in 2019, with a major chunk (40 per cent) being spent on sweet treats. This year, Britons are projected to spend £687 million on Halloween.
It is no secret that confectionery is the king of Halloween. In fact, the confectionery category benefits strongly from the Halloween occasion, with the category bringing in £39.6 million in incremental spend, the largest of all Halloween categories. To make the most of the opportunity, convenience retailers should look to stock a wide range of consumer favourite products as well as new launches to meet all consumer needs.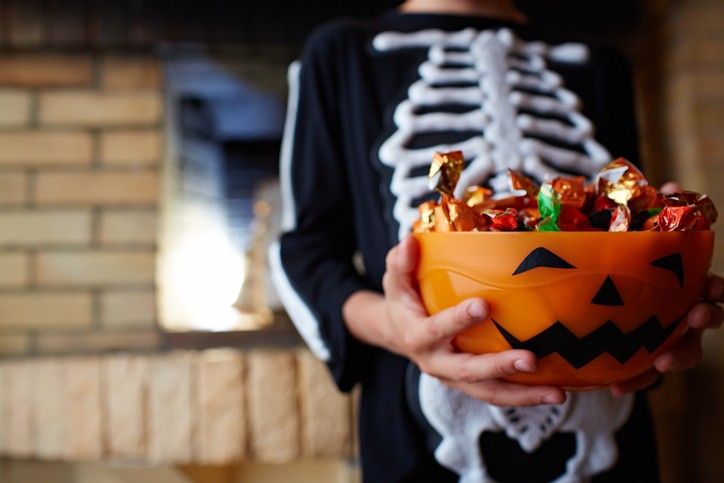 Sophia Padt, senior brand manager (Easter & Halloween) at Mars Wrigley, stated that last year, seasonal confectionery sales grew by 27 per cent around the Halloween occasion. This growth is expected to continue with trick-or-treat participation growing in popularity after two years of restrictions.
Fun-size SKUs, sharing bags and tubs prove to be particularly popular for Halloween in convenience stores as they cater to all seasonal shopper missions.
Chris Smith, Marketing Communications Manager at Hancocks, reminds retailers to get ready to cater to demand for both Halloween and Bonfire Night as they both are two big events within the space of a couple of weeks and the majority of Brits will certainly be celebrating one of the two events.
Meanwhile, Nicola Randall, Head of Marketing, Brothers Drinks Co, points out that Halloween is no longer just about children; instead they should also know their other key audiences well – Gen Z and Millennials.
"Cider tends to be popular amongst Gen Z and Millennials, and this is driven by fruit cider in particular, with 45 per cent of those who consume fruit cider being under 35," Randall told Asian Trader.
Johnny Dennys, Head of Brand and Trade Marketing- Mast-Jägermeister UK, is hopeful for good Halloween sales, acknowledging the role of the spook-fest in the convenience store business.
"With studies showing that 30 per cent of consumers drinking spirits when celebrating, and the occasion being closely linked with big nights in or big nights out, it is set to provide a significant sales opportunity for retailers," Dennys said.
Halloween Must-Stock
Halloween provides a great opportunity for consumers to celebrate together, so retailers can drive sales at this time of the year by stocking consumer favorite brands, such as Jägermeister, which are synonymous with consumers' best nights in – and out.
With its dark colour, elixir properties and somewhat gothic appearance, Jägermeister is a natural partner for any Halloween occasion, making stocking full-size SKUs of both Jägermeister and Jägermeister Cold Brew Coffee essential for retailers.
Jägermeister's 2cl Gravity Pack is a must stock for independent retailers who want to drive impulse sales, with the smaller formats being ideal for consumers looking for a portable SKU of their favourite spirit.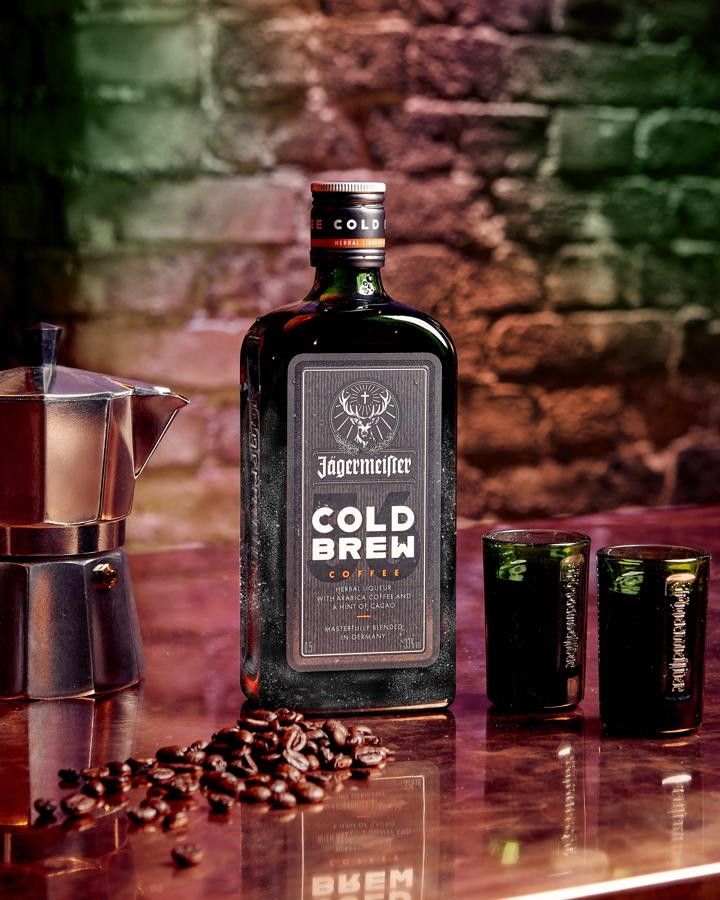 There has been a change in consumer habits in alcohol consumption as consumers move towards pre-batched bottled cocktails which are easy to prepare at a lower cost. Kenton Burchell, Group Trading Director at Bestway Wholesale, states that this Halloween season, consumers will be indulging in making their own cocktails and mixing their own drinks at home.
To cater to this increasing demand, Bestway has a range of Ready to Drink canned cocktails, in addition to the bottled pre-mixed cocktails and spirits. The wholesaler is also running seasonal product campaigns offering new product lines for beers and spirits.
With Halloween popular among Millennials as well, retailers should keep in mind their appetite for exciting and innovative flavours for fruit ciders.
Brothers' Toffee Apple is the ultimate Halloween drink and is a consumer favourite at this time of year. The brand's hero Halloween variant is the perfect option for consumers to enjoy at parties, events and get-togethers, and provides consumers with an exciting and unusual flavour.
It is also important to remember to cater for the increasing number of consumers opting for alcohol-free alternatives, making low and no alcohol a key category. In fact, the category has risen from £22.8m value last year to £28.9m in the latest figures.
"With this in mind, last year Brothers launched its first alcohol-free cider, Toffee Apple Alcohol Free. This variant provides cider drinkers with all the flavour they expect from the leading variant Toffee Apple, but without the alcohol, and it is also gluten free and vegan friendly," says Randall, adding that Brothers Drinks has developed a range of winter warmers to bring the brand's innovative flavours into the cooler months too.
Drinks may play a crucial role in Halloween but at the end of the day, it is all about candy – a fact that makes it obvious for retailers to reassess their confectionery stock.
Mars Wrigley had a 60 per cent share of chocolate fun-size for the Halloween occasion in 2021, making it vital for retailers to stock fun size formats of the brand's top products.
The Maltesers portfolio offers chocolate fun-size range in terms of scale and return on sales for retailers. Skittles is another key must stock for retailers, with the brand being the number one fruity fun size format in terms of value sales, and number one recruiter to the fruity confectionery category.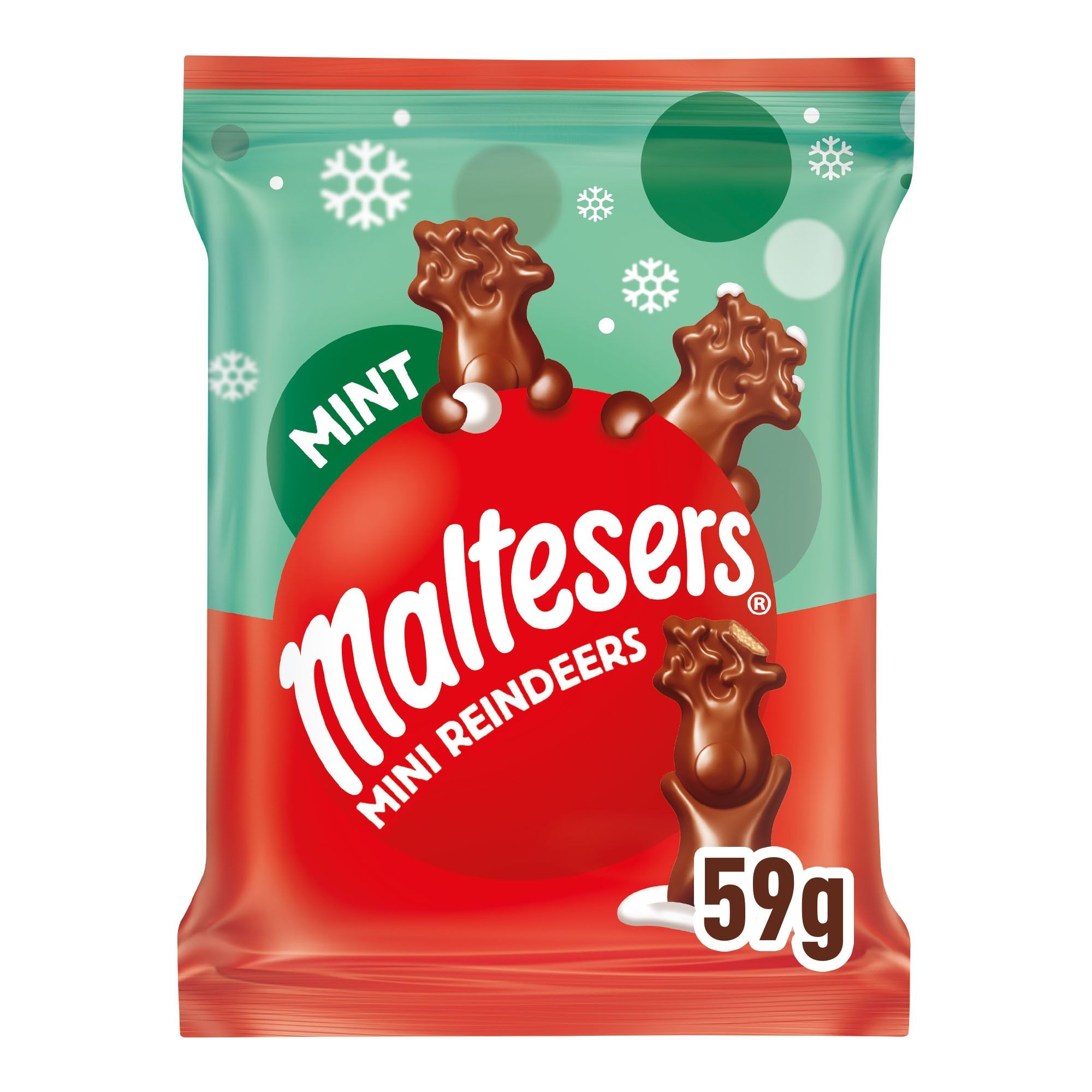 Bitesize is the fastest-growing segment in chocolate, and with the format working perfectly in spooky bakes, stocking consumer favourite ones in these formats like Mars Wrigley's Maltesers and M&M'S will be important for this occasion.
Tubs are another format that retailers should consider for their Halloween ranges. Retailers should keep in mind that Celebrations tub was the number one value sku between 2018- 2021, over the Halloween period.
Popular multipacks are also must-stock. It is good news that HARIBO Trick or Treat, HARIBO Starmix and HARIBO Share the Happy are hitting shelves. The HARIBO Trick or Treat multipack offers a spooktacular selection of mini bags that are ideally portioned. Containing a magical mix of fruity jellies, one can find a bat, broomstick, frog, and spider shaped pieces in 160g and 512g multipacks holding 10 or 32 mini bags.
Multipacks are available with either 11 or 22 mini bags containing Starmix, Tangfastics, Supermix and Giant Strawbs. This delicious combination adds variety to the Halloween cauldron.
In the words of Catherine Johnson, the company's Customer Marketing Controller, HARIBO has something "terrifyingly tasty to add childlike happiness and spooky excitement" to this Halloween.
New Arrivals
Halloween 2022 is going to be extra special as the nation is going to be back to celebrations after a gap of two years.
"After many consumers missed out on trick or treating in 2020 and 2021, Halloween 2022 is set to be bigger than ever," says Gabriella Egleton, Senior Brand Manager at Kervan Gida UK Ltd., owners of the Bebeto brand. "We predict that take-home packs for parties and smaller formats to hand out to trick or treaters will be the go-to confectionery lines sought by shoppers."
Bebeto Spooky Mix, a brand new 150g sharing bag targeting the Halloween opportunity, containing a selection of fun, Halloween-shaped soft fruity gummies, is the latest launch from the leading confectionery challenger bran. These tasty treats are a limited seasonal addition to the ever- popular and successful Bebeto Gummies 150g sharing bags range, which includes Fizzy Watermelons, Big Fizzy Mix, Strawberries and Big Mix.
Free from artificial colours and flavours, Bebeto Spooky Mix is vegan, approved by the vegetarian society, and also Halal certified. Each pack of spooky-shaped gummies contains four flavours – blackcurrant, apple, orange, and strawberry.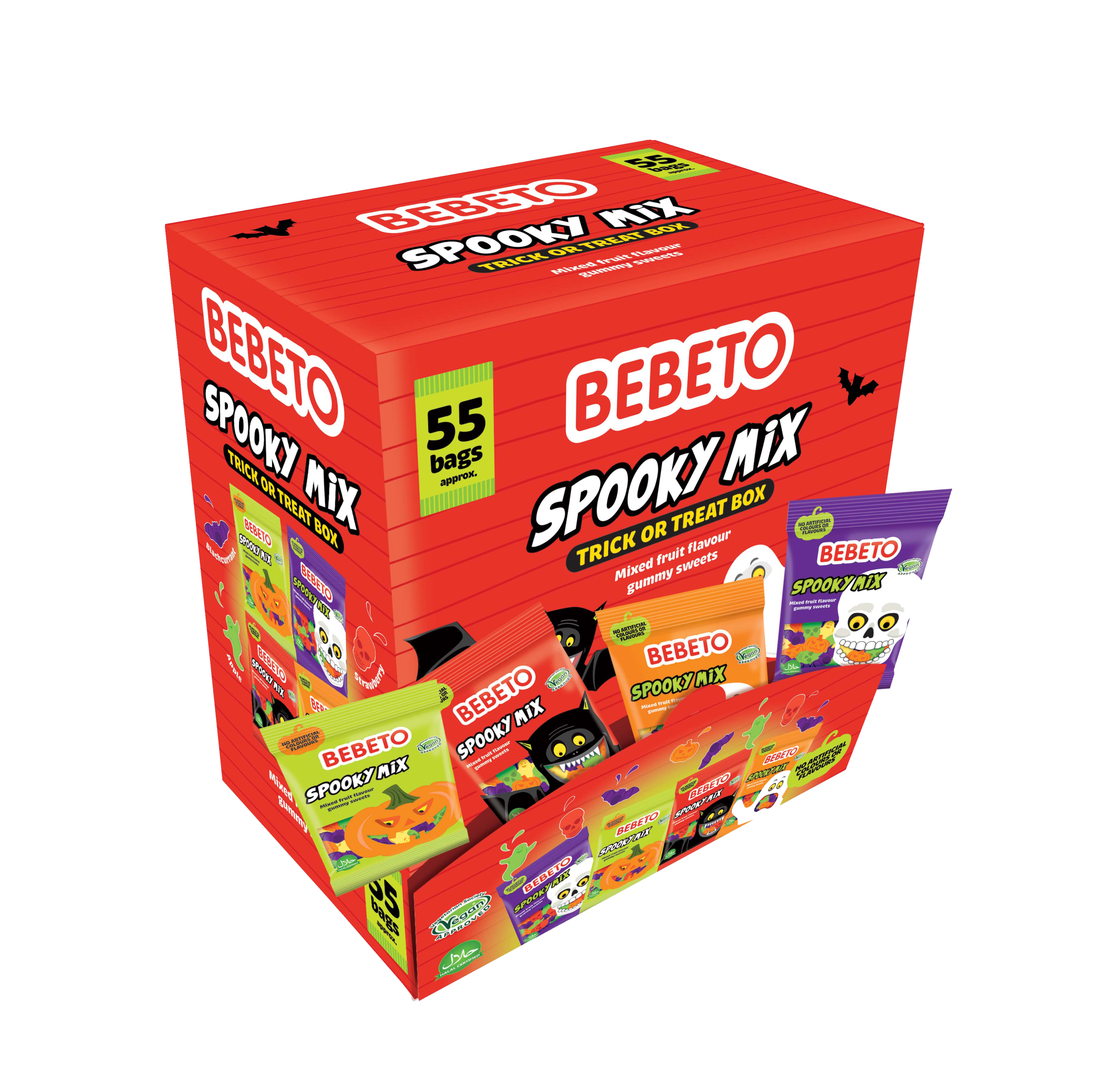 Kervan Gida UK is also introducing the Bebeto Trick or Treat Party Box, new for 2022. Each party box is 825g and contains 55 x 15g miniature bags of spooky mix. Its package format is perfect for consumers who want a hygiene-friendly option to hand out to trick or treaters who come knocking at their doors.
This year also sees the return of Bebeto's popular 150g Halloween-themed vegan sharing bags, which include Bebeto Monster Spaghetti, Bebeto Fizzy Fangs, and Bebeto Gummy Brains. Also returning for Halloween 2022 is Bebeto 750g Trick & Mix.
Speaking about multipacks, Soreen is back this year with a "spooktacular limited-edition" Halloween Scream multipack, with their new flavored Cherry Jellies Mini Loaves, packed full of spooky enjoyment.
Soreen's additional "terrifying" Toffee Apple Scream flavour, which is bursting with apple and gooey flavoured toffee pieces, is perfect for a healthy Halloween snack.
Soreen's Lunchbox Loaves is also going to catch shoppers' attention due to its eye-catching Halloween-themed packs, which are individually wrapped making them an easy snack to grab on-the-go or as a sweet after dinner treat. They are also under 101 calories per bar, making for a truly satisfying but healthier treat.
Soreen's Marketing Director, Liz Jacobs, informs Asian Trader that this year, the maker's Halloween range features a new Cherry Jellies flavour with highly impressive health credentials.
"The beauty of these snacks for parents is that they are delicious and treat-like for children, but also highly convenient as they are HFSS-compliant, a great source of fibre and low in saturated fat. Therefore, an ideal healthy treat and a great alternative to sweets over the Halloween period," says Jacobs, adding that they are vegan-friendly and can also be enjoyed by those who need to follow a dairy-free diet.
Soreen's mini loaves are also claimed to be "healthier than sugary confectionery" due to which its appeal with consumers and retailers alike has widened.
This year, HARIBO and MAOAM are set to unveil a trio of terrifying treats this Halloween, with three new sharing packs joining the seasonal range- HARIBO Sour Skeletons, HARIBO Monsters Z!ng and MAOAM Pinballs Halloween.
Johnson from HARIBO states that 2022 range has been designed to excite and delight retailers and shoppers in a "scarily good way!"
With three of top five Halloween products being from Swizzels, store owners should expect consumers to be seeking this product in anticipation for the season. Perfect for all sharing occasions, Swizzels' Variety bags have recently been rebranded to include everyone's favourites in three different packs- Luscious Lollies 176g, Scrumptious Sweets 173g, and Curious Chews 171g.
Another product from Swizzels that is perfect for selling over the Halloween period and beyond is the Sweet Shop Favourites Tub- a popular product that contains a variety of individually wrapped favourites including Squashies, Love Hearts and Refreshers. A perfect hanging bag for Halloween and Bonfire night is Marvellous Mallows.
Hancocks is offering the new Scary Pumpkins Shaker Cup 8 x 220g from Bonds of London, which is packed to the brim with jelly pumpkins. These are in addition to the Spooky Mix Shaker Cups, filled with Halloween themed pick and mix sweets – a great option for sharing and gifting over Halloween.
Another new offering from the Bonds Halloween range is the Bonds Monster Mash bag 12 x 105g, RRP £1. On display, this bag will definitely stand out and its bright blue packaging and fun characters will certainly appeal to children, making it a great impulse buy.
New Bonds Halloween Mallow Pops and the Bonds Halloween Mallow Skewers are expected to attract eye balls and induce impulse purchase.
Hancocks also has new Crazy Candy Factory Bone Breaker and Halloween Pumpkin Light Pop. The Halloween Pumpkin Light Pop is just perfect for those planning on throwing a Halloween party for their children. These pops are each topped with a different pumpkin head that lights up, making it really popular amongst kids.
Wholesaler Bestway is well-stocked in individually wrapped sweets and snacks for children for trick or treating including the range from Mondelez International's Cadbury treat size bags and Swizzles' selection of sweet shop favourites.
For Halloween 2022, Premier Food's Mr Kipling has launched Deliciously Toffee Apple Pies. They are made with real fruit and have 30 per cent less sugar than standard pies, making them a popular choice for shoppers looking for healthier options.
"We're also bringing back some of our family favourite Halloween products across both the Mr Kipling and Cadbury ranges. This includes our Cadbury Mini Bonfire Logs, Cadbury Pumpkin Patch Cakes, Mr Kipling Terrifying Toffee Whirls and Mr Kipling Fiendish Fancies," said Mathew Bird, Brand Director for Sweet Treats at Premier Foods.
Spook them out
Price-marked packs can be effective at driving sales throughout the eerie season, as they offer reassurance to consumers that they are paying a fair price for a high-quality product. Jägermeister's range of PMPs are bestsellers, posting double digit growth across 20cl, 35cl and 50cl last year, making them perennial must stocks for retailers.
Denny advises retailers to consider stocking full-size bottles in the aisles as well as smaller formats by the till area to increase overall basket spend.
With restrictions on the placement of HFSS products in stores of 2,000 sq ft and over coming into force in October 2022 as planned, less healthy promotions will no longer be featured in key locations, such as checkouts, store entrances, aisle ends, and their online equivalents.
These changes are set to have a huge impact on retailers with larger stores this coming Halloween, where elaborate store entrances and end-of-aisle displays will no longer be able to be dominated by themed confectionery.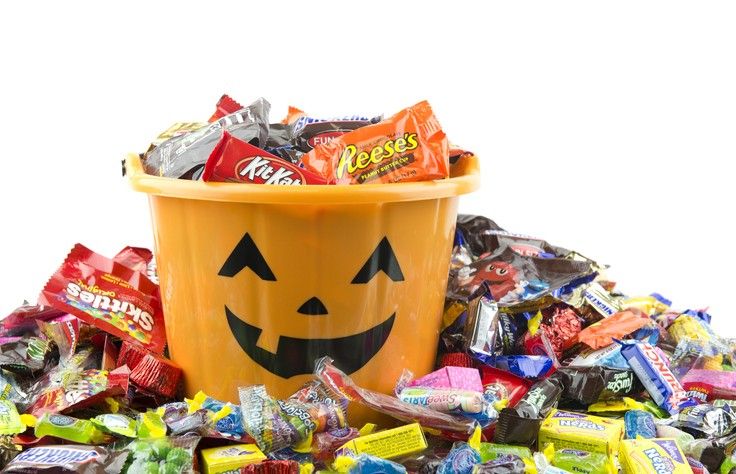 Egleton from Kervan Gida urges retailers to promote Bebeto range through key messaging in shop windows and via online advertisements, plus give key space in the confectionery aisle to sharing bags, multipacks, and themed Halloween lines.
"Ensure the display is clean and shoppable and segmented into occasions, perfect for parties and perfect for trick or treaters. What's more the majority of our packs have an 18–24-month shelf life, so there is an opportunity to utilize them across more than one season," Egleton tells Asian Trader.
Smith from Hancocks is encouraging retailers to stock up on fun products like novelty confectionery and share bags because shoppers will be looking for products for fun in-home themed events for their children, family and friends.
Randall from Brothers Drinks feels that merchandising with themed decorations always helps to draw sales in, and cross-merchandising with food brands will help to encourage consumers to experiment with different pairings.
Retailers should also ensure they have drinks stocked in the chiller to cater for any last-minute plans with cold drinks.
Happy Haunting
After the past two years, retailers are once again facing this huge opportunity to make the most of Halloween euphoria. As Britons continue to reel under the cost-of-living crisis, value-for-money confectionery continues to be a hugely popular choice for shoppers.
Smith from Hancocks, however, believes indies have an edge this time as prices at independents are much more attractive than larger supermarket chains and with the current cost of living crisis, people are actively trying to make small changes to save on pennies.
People will be throwing Halloween parties which in turn provide a great opportunity for independents to merchandise pick and mix for customers to make creepy themed sweet tables or place into bags to give out to guests.
Until October 31, shoppers will be visiting their local stores to pick up trick-or-treat bags, sharing bags and novelty confectionery all in last minute-preparation. So it is important that retailers keep a tab on their stocks until the very last day. Decking out the store as well as getting into a character on the day are some fun ways to add extra zing and attract new buyers.
This October, when the world will turn upside down — in a good way — for one velvet black night, it is up to retailers to play along, stock well, sell well and make merry!