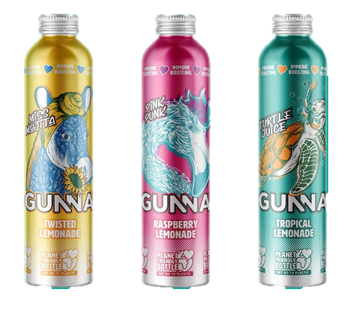 Anti-plastic campaigning soda brand Gunna Drinks has launched a range of aluminium bottled soft drinks, billing it as the UK's first.
With around 70 per cent of soft drinks currently bottled in single use plastic, the brand hopes the move will act as a catalyst for change in the sector.
Utilising a larger, resealable 500ml format, versus a standard 330ml can, Gunna has initially launched three immune boosting lemonades in the bottles, tapping into the burgeoning demand for functional food and drink.
With health and wellbeing playing more of a role in consumers' shopping choices than ever before, Gunna is launching five new immunity boosting sodas with added vitamin C and zinc.
Three flavours – Tropical Lemonade, Raspberry Lemonade and Twisted Lemonade – will launch in the new aluminium bottles (RRP £1.99), as well as being available in 330ml cans (RRP £1.10). Aside from immune boosting benefits, which Gunna's own research found to be the number one health benefit consumers are looking for, each also uses high-quality, natural ingredients and is free from artificial additives.
With aluminium being infinitely recyclable, the bottles have strong environmental credentials which when paired with their wellness proposition, align with two of the biggest consumer demands in soft drinks right now and make for a compelling proposition for retailers, the brand noted.
"Putting the planet first is at the heart of Gunna's company ethos and we're proud to be the first-to-market with aluminium bottled soft drinks," Melvin Jay, founder of Gunna Drinks, commented.
"We've invested heavily in this new planet-friendly packaging and although this comes at a premium, costing around 10 per cent more than other formats, our research resoundingly shows consumers are prepared to pay a little more to avoid plastic.
"Coupled with the new immune boosting sodas, we believe this is a compelling proposition for retailers, with average spend on functional wellness drinks currently more than twice the average price per litre spent on soft drinks. We hope to see other brands follow suit and switch to an aluminium bottled format in place of the hugely damaging single use plastic that is all too common. We're confident that this new packaging option will be a game-changer for our business, our customers and our planet."
When it comes to environmental credentials, Gunna is double carbon negative, meaning it offsets 2g of carbon for every 1g that's created making Gunna's drinks. Each year Gunna also invests in The Clean Oceans Project, picking up tonnes of competitors' plastic waste from the world's beaches.