St Patrick, for those who are not of a Catholic caste of mind, is the patron saint for the island of Ireland. His most famous act was to rid the land of poisonous snakes, which is why of course there are none in the Emerald Isle today.
His life and sainthood is commemorated each year on 17 March (the day he is said to have passed on) – and it constitutes another welcome little celebration before the sun really comes out that can help to boot retailer's sales. This time, you should really be thinking not of chocs and flowers but beer and Irish whiskey – don't forget the "e", which is what distinguishes the name from Scotch.
Recent historical research* has established that St Patrick was not (whisper it) actually Irish at all, but rather a Brit, captured and enslaved by Irish raiders on the mainland in the lawless final days of the Roman Empire in Britain. Patrick escaped back home, then later returned to Ireland to spread Christianity and ended his days as the Bishop of Armagh.
It is said that the origin of the Irish shamrock – the three-leafed clover – comes from St Patrick's attempt to help his parishioners understand the nature of the Holy Trinity.
These days, of course (the first was in 1903), we have traditional St Patrick's Day parades, which take place in Ireland – obviously – and especially in traditionally Catholic cities such as Boston in the USA, where the fountains run green on that day and everyone wears a leprechaun's hat atop a green wig and a ginger stick-on beard.
Britain does not have quite so much a tradition but the celebrations are growing steadily each year, prompting the opportunity for a sales boost for all things Irish – meaning chiefly Guinness and Jameson!
St Patrick's Day is also important for independent retailers as a pearl on the necklace of important celebration days that can be strung together – especially in the winter and spring months –  to make a chain of extra sales days that can "train" shoppers to look to your store for some fun and uplift.
We have just had Pancake Day and before that Burns Night and Valentine's. Next up is Mother's Day: all these are feel-good, revenue-boosting occasions if merchandised correctly. As Ben Blake, Head of Marketing at Treasury Wine Estates tells us, "Retailers must be well-prepared for the coming months as consumers continue to enjoy key celebratory periods such as Mothering Sunday, Easter, the Queen's Jubilee and Wimbledon. Whether these are being celebrated at home or in public places, retailers must create an offering for all types of consumers."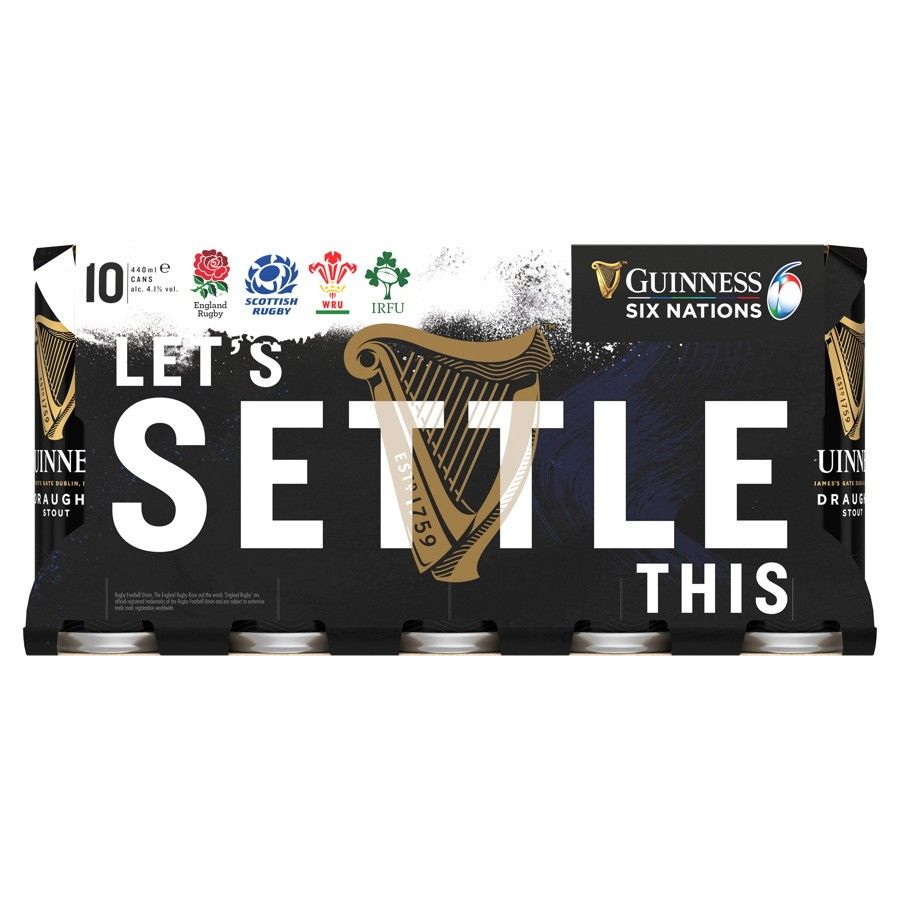 This year, the blessings of St Patrick that celebrations miraculously coincide with the Six Nations Rugby Championship (it ends on 19 March)– which is the perfect promotional opportunity, and one that the sponsor, Guinness has taken full advantage of, by launching launched limited edition packaging.
As the Official Beer of the Four Home Unions (WRU, SRU, IRFU and the RFU), the brand said it will work closely with the Unions and Six Nations Rugby to ensure fans have epic match day experiences.
The limited-edition look captures the brand's association with the tournament and celebrates the 'fanticipation' by proudly displaying the attention grabbing 'LET'S SETTLE THIS', providing strong stand-out on shelf.
"Guinness is strongly associated with the Guinness Six Nations, Women's Six Nations and partnerships with the Home Unions, and has been for many years," John Burns, Head of Guinness GB said.
Retailers can also take advantage of various multipack sizes for calendar moments like St. Patrick's Day. For example, Guinness Draught in Can is available in four-pack, 10-pack and 15-pack formats meaning that with space permitting, retailers can offer customers a large choice. Maintaining a selection of multipack formats also increases customer basket spend and research has shown that listing a 10pack with a 4pack drives 30% of incremental sales.
"Guinness is a high-quality and trusted beer choice, accounting for 92% of total off-trade stout brand sales, making it a must-stock," says Lauren Priestley, Head of Category Development Off Trade at Diageo. "Also, sales data has revealed that Guinness accounts for 98% of total stout sales in the four weeks leading up to St. Patrick's Day."
Jameson, meanwhile, has launched a major new international brand campaign, "Widen the Circle", that will help to boost sales around St Patricks's by putting the eponymous whiskey out front and proud. The new multi-media campaign is spearheaded by a TV ad called "That Spark", featuring Irish actor, writer and comedian Aisling Bea, the creator and star of BAFTA award-winning show "This Way Up" and Netflix's "Living With Yourself".The ad has been made by Emmy and Grammy nominated director Jake Scott – it's a feelgood scene-setter for St Patrick's Day celebrations.
"Our campaign will challenge people to look for the shared values that unite them, making the world feel like a smaller, friendlier place by encouraging individuals and communities to make new connections. It will not only demonstrate the accessibility of our whiskey, but also the larger idea it can bring of inclusiveness, kinship and belonging," says Brendan Buckley, Global Marketing Director at Jameson owner Irish Distillers.
It seems like the perfect note to strike up a St Patrick's Day party.