It's always an exciting time when the schools holiday draws to a close and stores start bracing for the new session. According to Mintel, Brits spend £1.2 billion on sending kids back to school, which is hailed as the third biggest shopping event of the year – after Christmas and Easter.
For convenience stores, back to school season majorly means more demand of snacks, ready-meals, single serve items, juices, fresh fruits, sandwich ingredients, yoghurt and frozen food. Some stores also keep basic line of stationery- sets of pen and pencil along with notepads and basic calculators-as well to cater to the seasonal demand.
Lunches were always parents' priority but post pandemic, more parents now intend to send their kids to school with a packed lunch.
Nutritionally packed lunches are buzzing words of the time, thanks to Ofsted's Common Inspection Framework calling for "healthy packed lunch policy". Retailers here can stay ahead there by stocking and offering healthier as well as convenient and most-importantly value for money lunchbox options.
While younger children do not have much say what goes in their tiffins, store owners should keep up what is "hot" among teens so as not to lose any opportunity there. As many older students shop alone looking for affordable, single-serve meals which suit their on-the-go lifestyle, brands such as Rustlers can play a key role in attracting them to the store.
Ross Davison, Head of Convenience at Kepak (Foods Division), home of Rustlers, forecasts the rise of the 'fake away' trend (recreating takeaway favourites at home) is set to continue as shoppers seek credible grocery alternatives – such as Rustlers – instead of eating out.
As inflation continues to play a bummer, parents too continue to cut costs wherever they can and are on the lookout for "cheaper products".
In the words of retailer Maki from Sandpit Service Station in Coventry, who prepares for back-to-school season by updating fixtures and distributing promotional leaflets, parents are actively looking to cut the spending this year.
"The only trend this season is price. Parents are only concerned about budget and are looking at price as they want cheaper products," Maki told Asian Trader.
Alistair Gaunt, Commercial Director at Hovis, feels the same when she states that homemade lunchboxes will be the 'go-to' solution for many parents looking to save money this year.
Recent research has shown that a good majority (72 per cent) of consumers believe that a home-made sandwich for lunch is unbeatable. With sandwiches often a core component of any lunchbox, stocking a range of quality wrapped bread should be a focus for any retailers looking to cater for the back-to-school occasion.
Must Keeps
Back to school is a hugely important time of the year for the cereal category as there is always a notable uptick in cereal sales.
"Last year, September registered the highest volume sales of the last 12 months, with a 4 per cent increase in sales versus the summer months. Buyer numbers for cereal also peaked in this period, as did total number of trips," states Lorraine Rothwell, Head of Marketing at Weetabix Food Company.
Weetabix's partnership with the FA is back this summer for the third year running, with a brand new on-pack promotion to celebrate the FIFA Women's World Cup 2023.
"With the FIFA Women's World Cup being hosted in Australia & New Zealand this year, kick-offs will be at breakfast time, giving the beloved breakfast cereal the competitive 'Weetabix advantage' over other categories," states Rothwell, pointing out that this will also be running during cereal's second biggest trading period – back to school.
Best-selling products from the Weetabix portfolio – including Weetabix Original, Weetabix Banana, Weetabix Chocolate and Weetabix Protein – will feature the hero campaign from July through to the end of September. Any shoppers purchasing any of these packs will be in with the chance of winning an official FA shirt, with a new winner every 90 minutes.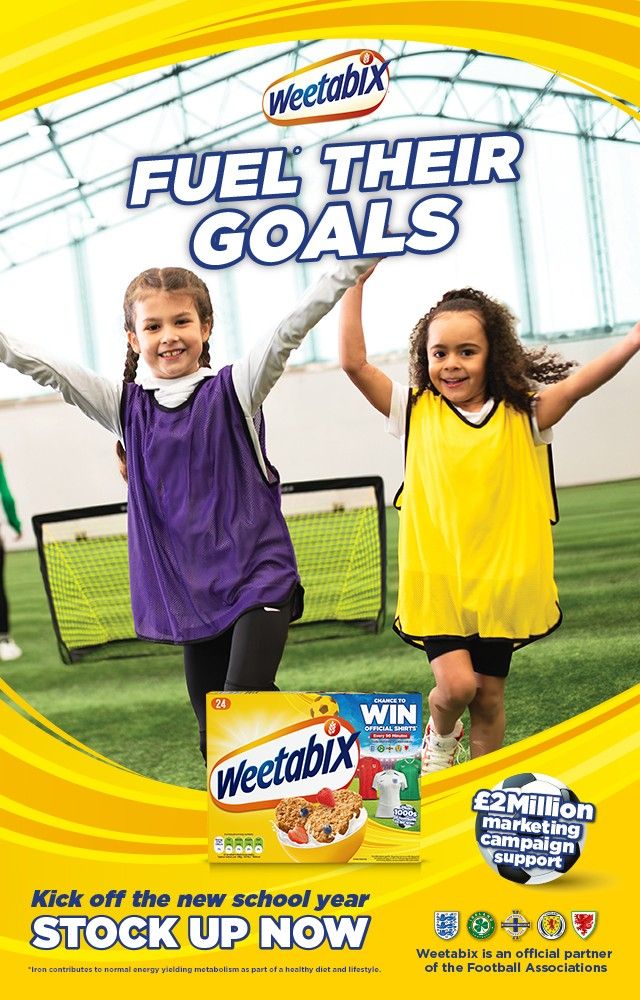 Given the current economic climate, many shoppers are buying fewer different types of bread for their households and are increasingly moving towards pre-packaged white bread. It is therefore clearly important for retailers to stock white bread as it is a potential "crowd-pleaser" for everyone in the household.
Another great option here Hovis Best of Both combines the great taste of white bread with wholemeal flour and delivers a source of fibre. It has recently been relaunched in a new 800g loaf with a refreshed pack design.
Gaunt recommends stocking Hovis' best-selling products such as Hovis Soft White 800g medium-sliced, Hovis Soft White 800g thick-sliced, Hovis Wholemeal and Hovis Seed Sensations.
Stocked by more than half of convenience stores in the UK, most retailers recognise Rustlers' pulling power among students. Student shoppers are extremely brand loyal and, coupled with the fact people aged 16-24 are the main consumers of Rustlers, convenience and independent retailers can stock Rustlers in the knowledge that it will appeal to students who shop there.
Noteworthy here is health remains a top priority for consumers, with parents seeking out healthier options for their children's lunchboxes and after-school snacks.
"At KP Snacks, we offer a broad portfolio of tasty and permissible snacks, including over 100 non-HFSS SKUs, the equivalent of a quarter of our portfolio. We believe that snacks can be enjoyed as part of a balanced lifestyle, and we are continuously working to provide snacks that are both delicious and permissible," says Matt Collins, Trading Director at KP Snacks.
"Our non-HFSS products include Hula Hoops Puft. Worth £9.2m, Hula Hoops Puft is a deliciously light, low-calorie snack. Coming in at just 72 calories per pack, Hula Hoops Puft offers a great option for a healthier lunchbox snack in tasty flavours- Salt & Vinegar, Salted and Grilled Beef.
"Worth £30.2m RSV and growing in value +25.2 per cent, our POM-BEAR brand is the perfect choice for family shoppers. POM-BEAR contains fewer than 100 calories per pack, with 5.7m households consuming the brand every year," Collins tells Asian Trader.
Andrew Bradshaw, UK Sales Director at Dole Sunshine Company, seems to completely agree on the importance of health-quotient here, saying that the desire for many parents to want to give their children a healthy lunch has come into even sharper focus since the start of the pandemic.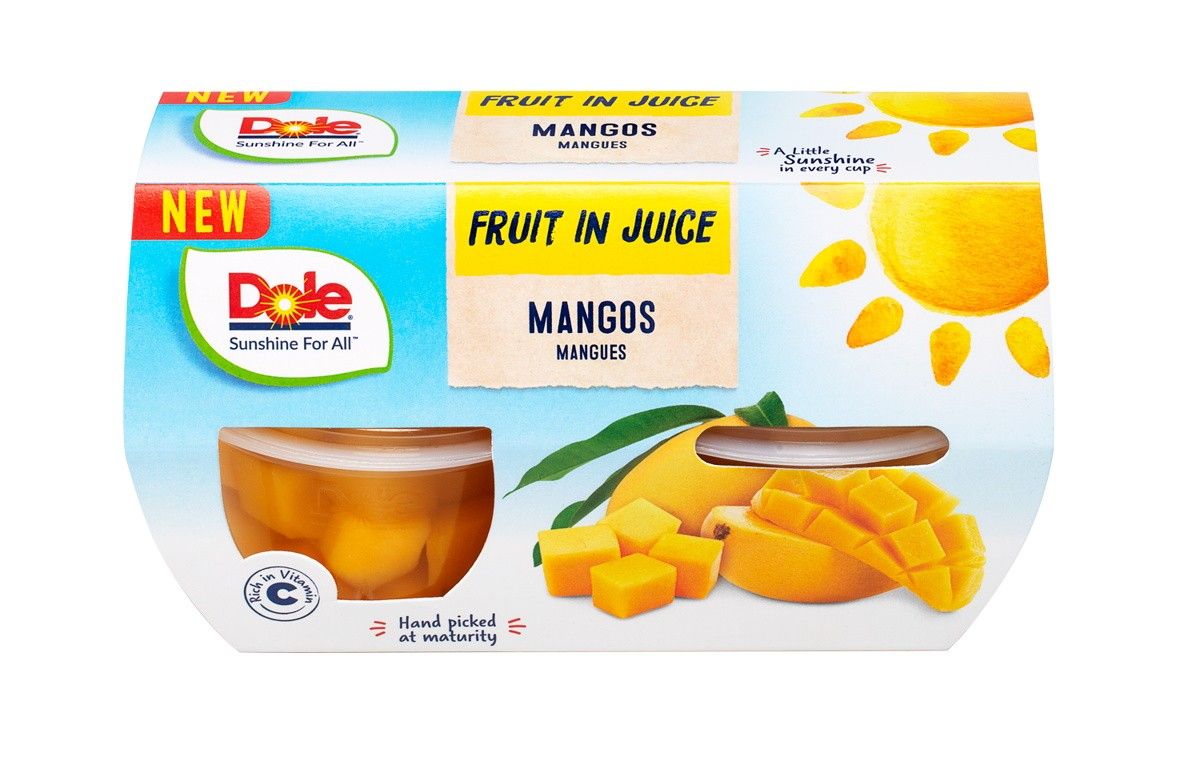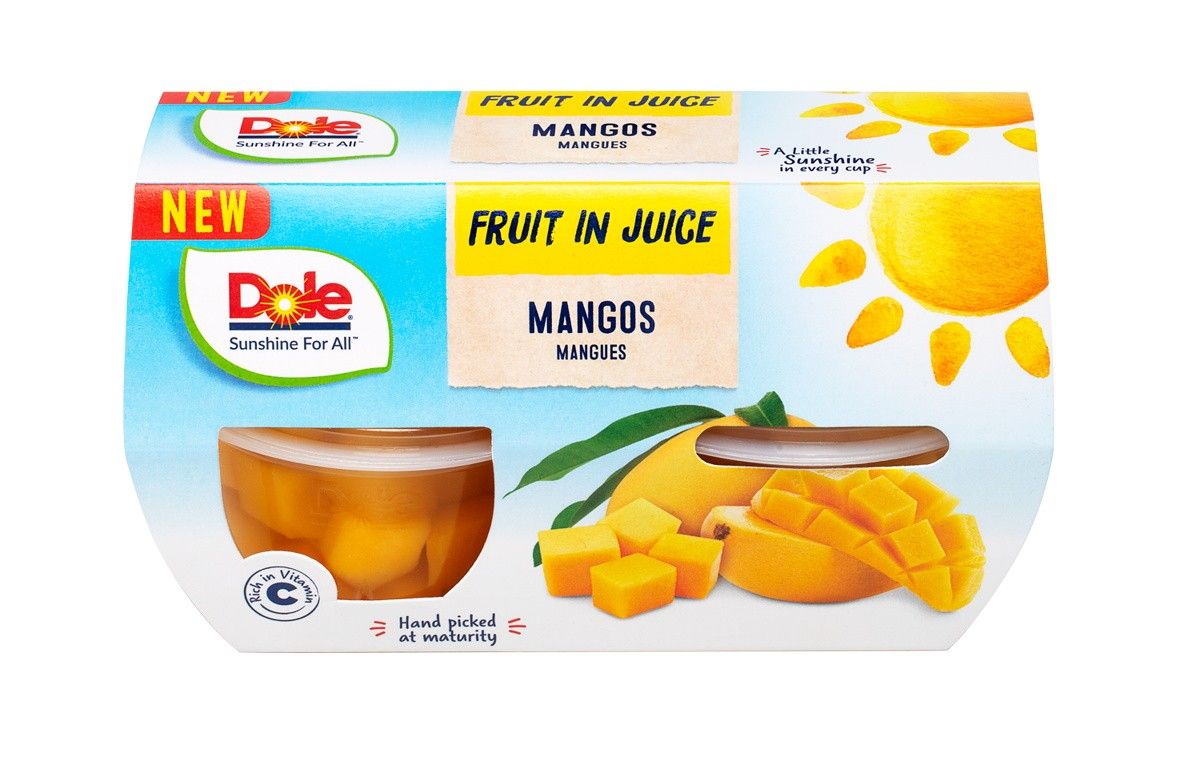 Citing a recent survey's finding that nearly half (47 per cent) parents feel "five-a-day" as the most important factor in their child's diet, Bradshaw recommends including packaged fruit snacks in lunchboxes.
One particularly good lunchbox option for kids is Fruit in Jelly range which features products like pieces of peach in a strawberry flavoured jelly or pieces of mandarin in an orange flavoured jelly. Another newcomer to the Dole portfolio is Fruit and Cream dessert range, which is also a very credible option for a school lunchbox. It combines sun-ripened fruit with a tasty and smooth plant-based cream and is available in two delicious flavours- apple and cinnamon along with peach and vanilla.
Bradshaw adds that for older kids with larger lunchtime appetites, or perhaps as a post-school healthy snack, the maker has recently launched 198g Dole Tropical Gold Pineapple or Dole Tropical Fruit in Juice packs, which are also the perfect portable and healthy snack for on the go.
Smart choices
With the rapidly increasing number of vegans in the UK, it becomes imperative to stock a few lines of meat-free plant-based items as well to cater to a wider market. Quorn is a leading brand here and tops the list of must-stocks.
Stating that the meat-free category is now worth £578 million, Gill Riley, Marketing Director at Quorn Food, states that the brand brought "half a million new shoppers into the meat free category in January".
"We ended last year on a high with our market share up 2.5 per cent in the last quarter alone, and we've been building on that success in 2023, with our market share up to almost 30 per cent in the first quarter," Riley states.
Taste remains one of the most important factors when it comes to meat-free mealtimes, which is why Quorn invests heavily in research and testing to ensure our products are the best on the market.
"To make mealtimes more exciting and sustainable, whilst keeping up with ever-changing trends and dietary habits we are constantly innovating with our super-protein, Quorn mycoprotein.
Turning it into delicious new products that appeal to the whole family, we are giving shoppers more choice and variety at the meat free fixture than ever before," Riley tells Asian Trader.
As schools reopen and mornings become chaotic while evenings busier, people will be on the lookout for quick, delicious, healthy and easy meals.
To tap into this, Quorn has expanded its popular nuggets range with Roarsomes and UniQuorns, specifically developed to engage with and appeal to a younger audience. The dinosaur and unicorn vegan shaped nuggets continue to perform well and have brought in more than £3.4m worth of sales collectively.
"We're meeting the needs of these shoppers with our 'big bag great value' range. The range of big bags is perfect for families looking to stock up and gets the best value for money. The range has already grown by 4.5 per cent in value and our full Quorn Ingredients range is performing ahead of total market," points out Riley.
Joss Bamber, Head of Convenience at Birds Eye, stresses the importance of keeping in mind the health quotient, saying shoppers are still looking to provide nutritious diets rather than compromising with possibly cheaper but less nutritious products.
"Health continues to be high on the agenda for many consumers, so it's essential that retailers offer a range of evening meals that deliver nutrition as well as convenience. Our core range includes both meal centres (such as fish, meat and vegetarian alternatives), as well as a range of vegetable and potato sides.
"Our Birds Eye fish portfolio is non-HFSS and sustainably sourced, including all our fish fingers which are a great way to get the entire family enjoying fish in a healthy, yet accessible, way," says Bamber.
Resonating with his fellow food maker from Quorn, Bamber too states that retailers should consider stocking meat-free alternatives to cater to shoppers' expectations.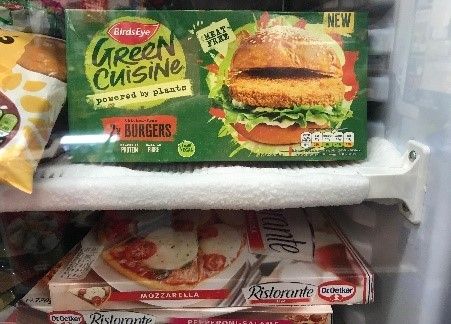 "Last year we relaunched platform of our Green Cuisine range by putting children's attitudes at the forefront. Setting out to reappraise and challenge consumers' eating habits, we launched a new campaign, 'Welcome to the Plant Age', which introduced animated characters to help children, and adults, understand the meat-free category and encourage shoppers to give plant-based a try," informs Bamber.
This year, Birds Eye partnered with shopt to give ten independent stores the chance to win a variety of prizes to maximise their frozen food offering and support them through challenging times. At the same time, they also donated £5 to GroceryAid for every valid entry.
As schools kick back into routine, parents will also be on the lookout for good sports drinks and juices. Boost product lines is the perfect answer here as it comes with assurance of quality.
"Boost Sport takes pride in its strong positioning within the Sports Drinks category," Adrian Hipkiss, Marketing Director at Boost Drink, states, adding that Boost Sport is currently one of the leading sports drink brands in value and volume.
Demand is on the rise for drinks that incorporate natural ingredients, provenance and nutritional benefits. Rio, with its blend of five fruit flavours and sources of vitamin C, is a top five ranked SKU in Fruit Carbonate and this shift in consumer appetite is only set to grow.
Rio offers huge growth opportunities for retailers. With a range of products such as Rio Tropical- which comes in both price-marked can and 500ml bottle formats- and Rio Tropical Light, there's a selection of products on offer to suit varying consumer needs.
Boost's Juic'd is jam-packed full of flavour, with real fruit juice refreshment but at the same great Boost value price point for consumers. The maker has introduced a new flavour to its successful Juic'd range in June 2023- Blood Orange & Raspberry Crush. The new Blood Orange & Raspberry Crush flavour will join Boost Drinks' Juic'd range – Mango & Tropical Blitz, Watermelon & Lime Twist, Pineapple & Guava Punch, and Tropical Fruit Sour Punch – which are available in wholesalers nationwide in 12 x 500ml cases.
Merchandising Tips
With 19 million families bracing for a new session, this period presents a huge opportunity for retail, especially local convenience stores as they often end up becoming the savior of last-minute goof-ups. Key is here to stock a wide range to cater to various needs- meals, juices, yoghurts, and even basic stationery lines.
In the words of Bamber from Birds Eye, stocking a range which covers the different tastes and family occasions – such as 'meat-free Mondays' – is vital.
"If your store allows, it would be best to have a dedicated section within the frozen aisle showcasing your frozen family mealtime offerings, which will help retailers capitalise on the opportunity that children going back to school brings," he tells Asian Trader.
Retailers should also use creative bundles to inspire shoppers in store. Offering meal deals within the frozen category, utilising the flow of products, and the right adjacencies within the freezer aisle, can inspire shoppers and help them add to their basket, advices Bamber, citing example of Fish Fingers beside frozen peas.
A recent survey by StreetBees of nearly 50,000 consumers showed that 'no added or low sugar' content is increasingly gaining prominence in buying decisions.
"At Dole, all our fruit snacks non-HFSS, and we have also recently begun to put Nutri-Score ratings on the front of all our branded products which reflects our commitment to good nutrition and informed food choices," Bradshaw tells Asian Trader.
Gaunt from Hovis recommends cross-category promotion.
"Stocking the best-selling pre-packaged breads and a strong range of complementary products, such as favourite sandwich fillings, fruit, and soft drinks, is a great way to build customer loyalty."
As a result, best-seller's availability is key so it's crucial not to run out as ultimately, shoppers may go elsewhere to stock up on their favourite products so out of stock can be a costly error for any retailer.
Offering cross-category promotions that deliver visible value for money can also encourage shoppers to return to the same store. Demand for lunchboxes is all year round so it's worth considering retaining any meal deal promotions throughout all seasons.
Recent research commissioned by Hovis showed that the top sandwich fillers are still some of the all-time favourites- ham and cheese, egg with mayo or cress and BLT.
"In order to effectively attract lunchbox shoppers, retailers need to offer both breadth and depth within their ranges by including household favourites such as Hovis Soft White, Hovis Best of Both and Hovis Wholemeal. Offering a visible range of a diverse selection of pre-packaged quality breads, sandwich fillers and snacks, will allow retailers to cater for a wide range of customer tastes and encourage repeat visits from shoppers," Gaunt tells Asian Trader.
Unitas suggests creating back-to-school goody bags and catering to pocket-money budgets this year.
"The back-to-school period is very busy for us," said Asiyah Javed of Day-Today Alloa Road, Stenhousemuir, Falkirk. "We'll hand out free goody bags to children in the first week back. The bags will contain a bottle of flavoured water, fruit, and snacks. They don't cost us very much to make, but the loyalty it fosters makes it invaluable."
During the back-to-school period, retailers have more success when stocking sugar singles such as Chew Bars, to cater for those consumers who have a smaller amount to spend, said Ben Cooper, national account controller at Swizzels.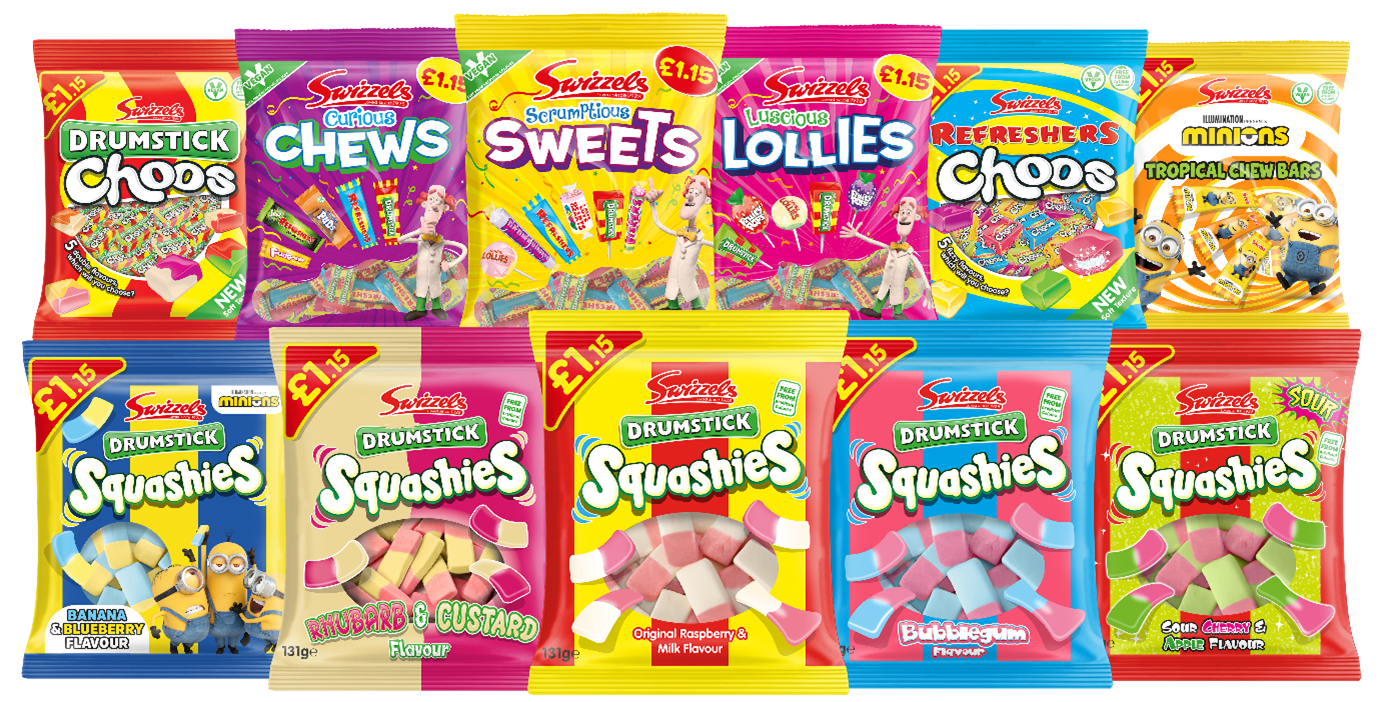 "Keeping price points at less than £1 ensures that products are still affordable for those who are working with a pocket-money budget."
Sweet bags are another area to target here. Stocking the £1.25 price-marked format drives sales by clearly communicating the price to customers and reassuring them of value for money, said Adam Williams, national accounts manager at Haribo.
Unitas Wholesale has launched a new Plan for Profit Focus On guide, to help its members' retail customers prepare for the busy 'back to school' and 'back to higher education' period in August and September.The guide will be available online and from selected Unitas Wholesale member depots from Aug 7.
Tracey Redfearn, Plan for Profit Category Controller at Unitas Wholesale, informs that highlights in the guide include a breakdown of the 35 must-stock kid's confectionery lines, top 15 snacking SKUs and top five sweet bags. Retailers will also find advice on food to go, healthier choices and merchandising.
Think Beyond for extra marks
The cost-of-living challenges have already made a noticeable impact upon consumer shopping behaviours. However, when it comes to food and drink, one just needs to tweak its offering to match the current requirement.
Shoppers have on average £88 less to spend per week than this time last year so shoppers will actively be looking for the best deals, states Rothwell from Weetabix, adding that brands must clearly communicate value across the various touch points.
Going beyond stocking snacking options, retailers can consider offering readymade packed lunches every morning containing some crisps, fruit, a sandwich and a juice. Parents can order for a week and collect the same in the morning all the way to school.
Apart from snacks and packed lunch ideas, it's a great idea to keep an eye open for backpacks from popular characters as well as basic stationery, depending upon the kinds of shoppers a store gets. A simple line of value for money stationery can bring new footfall to the store, opening up the chances of impulse purchase.
In today's time and age, it is crucial for store owners and managers to be keep themself aware of the current trends and fads- be it health consciousness, sustainability quotient or cool new stationery or even popular characters for bag pack collection such as Harry Potter, My Little Pony, Spongebob Squarepants, Barbie or even Marvell range.
Creating personalized back to school kits can also help your business address the individual needs of your customers and gain their trust. Generate interest in your store by offering small yet thoughtful freebies to build word-of-mouth and awareness. Consider offering student discounts to appeal to budget-conscious parents and/or schoolteachers too because why not!
So, take a good look at inventory, stock up well and add your own flair to the new term. Good luck!