With a gross value addition of approximately £14.5 billion per year (as per figures from GOV.UK), the country's food and drink wholesale sector is a behemoth, that is feeding supermarkets, retail and convenience stores across the nation along with cafes, restaurants and catering operations in the public and private sector. 
Despite its colossal size, scale and operation, the wholesale sector has proven surprisingly resilient and adaptable to changing times – be it technological evolution, the pandemic, or more recently the "pingdemic".
Where the wholesale sector is headed is, however, remains blurred and can't yet be seen clearly – but there are interesting signs along the road.
Delivered versus cash and carry
A sector that was dominated by cash and carry is seeing a spike in the popularity of the delivered model with many big wholesale players switching their business model towards the latter.
With a revised minimum wage regulation, convenience retail owners have reduced manpower, forcing them to do many essential tasks themselves, including fetching and unloading. Delivery in such circumstances is welcomed.
"Independent retailers mainly in rural locations do not want the hassle of collecting their orders," Paul Hargreaves, CEO of Cotswold Fayre – a delivered-only wholesaler – told Asian Trader.
Reluctant to stray from their stores to shop in a cash and carry depot miles away, often taking up a chunk of the working day, more and more retailers now prefer their supplies delivered, something which many wholesale giants have realised, and they are changing gears to give their clientele a good delivery experience.
Cash and carry giant Booker has been moving towards a delivered model for quite some time now. Market reports stated that while cash and carry made up 53.6 per cent of its business in 2018, it has now reduced to a 50.8 per cent share, with the rest of the business being taken care of through the increasingly-used delivered model.
Booker's transition appears to have busted the myth that traditional cash and carry wholesalers are reluctant to accept the shift in approach and also that even if they do, they are rarely able to deliver (pun intended).
The Federation of Wholesale Distributors (FWD) also agrees that the current trend is towards delivery, with wholesalers selling more to retailers "via online platforms than they do in a depot, and delivering more than is collected". 
"Last year, in-depot sales actually grew faster than delivered, but there were very unusual circumstances, particularly around the availability issues in March and April 2020," an FWD spokesperson told Asian Trader.
However, FWD also pointed out that the current shortage of haulage drivers may hamper the spread of the delivered model.
"Unless the shortage of delivery drivers becomes a major long-term issue, it's likely that the delivered option will return to growing faster than cash and carry," the FWD spokesperson said.
Balancing act
As the inclination towards the delivered model continues to grow, other wholesalers are left with no choice but to offer the same service to their clients. 
However, not many of them are ready to give up on cash and carry this early. Most want to give their convenience-retail clients flexibility, so they are balancing the two options.
Bestway is another wholesale leader transitioning towards a delivered model, though it is still keeping cash and carry as its business core along with offering 'click and collect' as well. Evidently, the group is trying to be as flexible as it can and is not sticking to traditional practices.
"It is easier to offer cash and carry. However, some retailers prefer deliveries, and this is why we offer them as well," Dawood Pervez, Managing Director of Bestway Group told Asian Trader, adding that the company tries to cover a wide variety of retailers with "a wide variety of preferences".
Bestway's Van Direct service – picked up from Palmer and Harvey's post-bankruptcy – does not only deliver food and drinks to retailers but also advises on category, managing the fixture, rotating stock and helps in putting up PoS.
Pointing out that the delivery method comes with its own set of service issues, Pervez explained the scenario where one segment's loss is another segment's gain.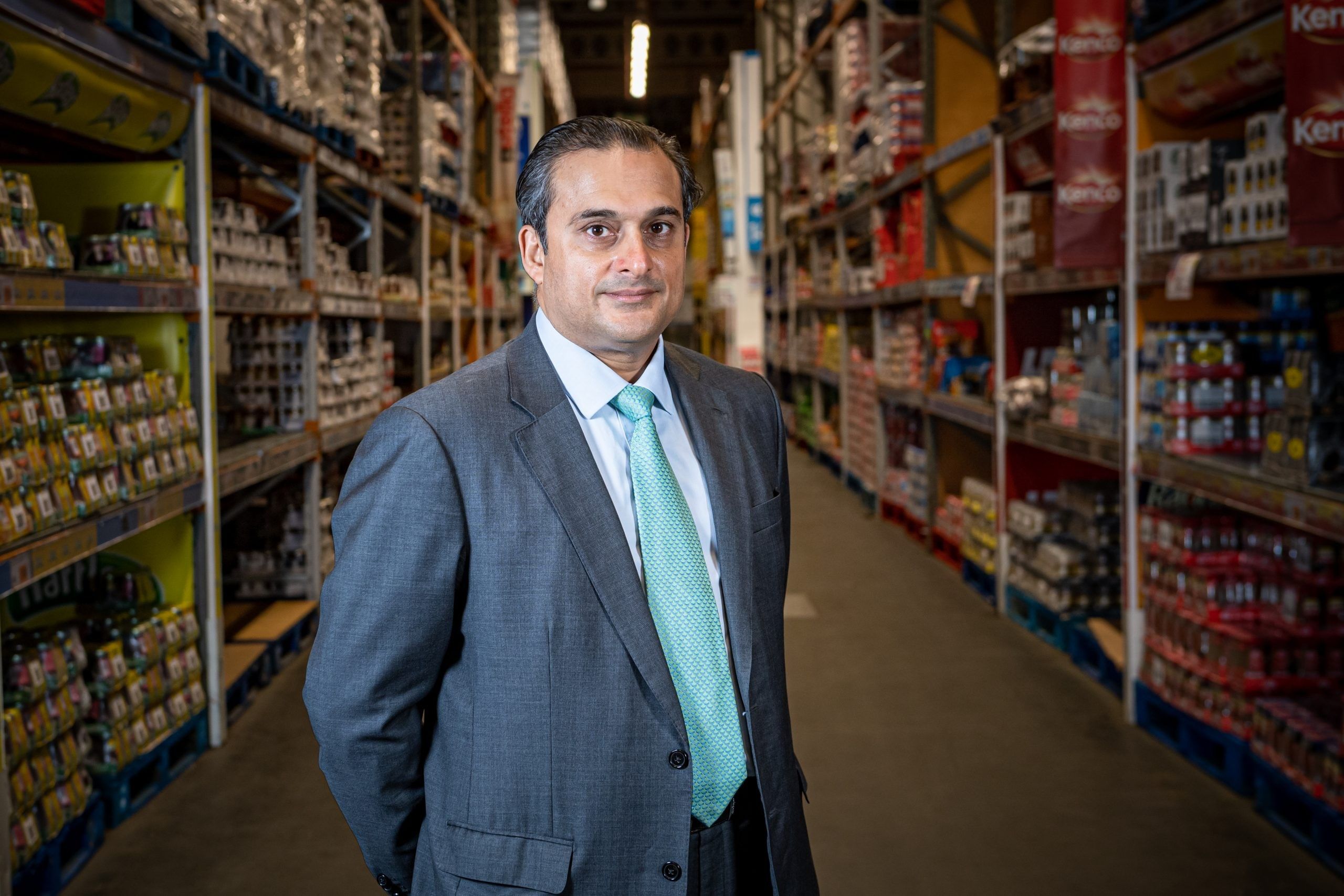 "Some delivered supply chains have repeatedly suffered in terms of service. Hence, we saw a very large uptick in cash and carry sales as those retailers (who are members of other facias) came into our depots," Pervez said.
Some wholesalers claim that relationships that they have developed with retailers are "priceless" so they still prefer to visit the depots.
Typically, retailers also keep all their options open and often choose to buy from a variety of cash and carry and delivered wholesalers as well as from local suppliers. 
Going by FWD's claim, the term "cash and carry may be outdated but there will always be an option to physically select your own stock from a wholesalers' shelves for as long as one wants" – and it still accounts for a third of all wholesalers' sales to retailers. 
"However, we're seeing wholesalers using their depot space differently, to offer a range of options – self-service collect, click and collect, order online for delivery, and even straight-to-consumer online offers," the FWD spokesperson added.
Acquisitions, Collaborations and New Entries
Consolidation impacts the whole grocery ecosystem, from manufacturers to suppliers all the way to the consumers. 
Following the unusual headline-making merger of Tesco and Booker in 2017, the grocery sector in the UK is now seeing a massive wave of collaborations and acquisitions of varied kinds – bigger firms acquiring smaller players, wholesalers joining hands with retailers, wholesalers collaborating with fine food services to woo retailers with a wider range of food and drinks, to name a few. 
The Co-op bought Nisa and signed supplier terms with Costcutter, which is now part of the Bestway Group, following the acquisition last December. 
Brakes collaborated with renowned premium wine and spirits distributor Bibendum, implying it will now offer a complete range of around 100 wines from all key regions of the world.
Earlier, AF Blakemore had acquired Vegan Store, the UK's first independent online retailer and wholesaler of vegan products. The move helped to diversify the Blakemore group's portfolio of brands while adding a purely online division to the business structure.
Asda, the UK's third largest supermarket, was bought in October 2020 from Walmart by the billionaire petrol station tycoons, the Issa brothers and their partner, TDR Capital. The £6.8bn debt-fuelled buyout of the multiple is almost cleared by the competition watchdog as Competition and Markets Authority (CMA) in June accepted undertakings to divest EG Group's 27 sites to proceed with the acquisition. 
Frozen foods specialist Iceland Foods, which holds an almost 2.2 per cent share of the grocery market, is now striving to give a "wholesale experience" in its newly-opened Food Warehouse, which does not require any membership. 
Morrisons is also currently at the centre of a heated bidding war between Clayton, Dubilier & Rice (CDR) – the owner of the discount chain B&M – and Fortress Investment Group, while the third potential buyer, US investment firm Apollo Global, recently backed out and is trying to get in on the Fortress deal. 
On Aug 20, Morrisons' board accepted CDR's £7bn takeover bid, suggesting the company has withdrawn its recommendation for investors to accept a previous £6.7bn takeover deal from Fortress. Morrisons also has a long-standing partnership with Amazon to sell groceries through its online platform.
Amazon, on the other hand, is taking giant leaps into UK grocery, both online and offline. It has boosted its bricks-and-mortar retail business in recent years with its acquisition of Whole Foods in 2017 and the recent launch of three Amazon Fresh till-free stores in London.
Meanwhile, Sainsbury's – the supermarket chain, known for its ambition to become a wholesale force and for kicking off a wholesale partnership with SimplyFresh in January 2020- shockingly announced last month that it is closing down its SimplyFresh operation to focus on its core business, as per market reports.
Latest reports claim that the UK's second-largest supermarket player – which was blocked by the CMA from acquiring Asda earlier – is now being eyed by American buyout giant Apollo which could launch bids worth more than £7bn.
Mergers, acquisitions, consolidation and perhaps exits will continue to happen in the segment. 
As far as small independent wholesalers are concerned, it seems it is only a matter of time.
"Small wholesalers are able to keep a very strong grip on costs, however, for many the value lies in the real estate rather than the business in itself – so it really boils down to a choice of when to realise the real estate value," Bestway's Pervez told Asian Trader, adding that "we have always been on the lookout for opportunities and we will continue to do so."
"There is collaboration via the buying groups already. I can also imagine that there will be consolidation in the part of the channel that serves caterers and on-trade," Pervez said.
Pandemic: desperate measures
When the UK was hit by the Covid-19 pandemic in March 2020, businesses across segments – big and small – had to rethink their way of working within a matter of days. 
With restaurants, pubs and other commercial venues shuttered during the lockdown, many wholesalers in the UK put their techies to work and set up "click and collect" services almost overnight.
Food and drink suppliers, including those supplying meat, vegetables, baked goods and even fine foods, started offering family-size quantities directly to consumers.
Until the coronavirus pandemic forced companies nationwide to temporarily close their doors, popular food wholesaler to restaurants, Natoora, delivered exclusively to businesses. However, the closure of that revenue stream forced the owners to re-think their business model.
Aside from the home delivery service, Natoora also started running a fresh food market for the local population in London.
Not only wholesale suppliers but pop-up restaurants, neighbourhood cafes and butchers were all suddenly assembling food boxes for the end-users as Google searches for "food delivery" and "local food" reached all-time highs in April.
Cotswold Fayre also said that they saw a huge increase in customers ordering online in the last 12 months.
"I expect that to continue, possibly to the point when we can dispense with our catalogue," Hargreaves of Cotswold Fayre said.
Resilience is the key
From a distance, the wholesale sector may seem uneventful but the fact remains that it is undergoing a massive shift. 
The pandemic also exposed several vulnerabilities in the UK food system, such as insufficient capacity in domestic food production, labour challenges, issues in packaging availability, logistics and labelling requirements – areas that collectively led to an increase in food waste and shortages. 
With consumers stockpiling certain goods and the slow reaction of retailers to ration them, the crisis exposed the limitations of the present system. It also highlighted the need for cost-efficient, streamlined and resilient supply chains that need to be agile and adaptable to unforeseen shocks.
Seeing the shocks to the supply chain, Bestway's Pervez believes "collaboratively working with suppliers" is the key to the future. 
"With the incursion of multiple retailers into wholesale, independent retailers were initially open-minded, but the pandemic has shown that multiple retailers always prioritise their own supply chain rather than the one supplying independents," Pervez said, referring to indies being side-lined by big wholesalers during shortages last year. 
He added that the "importance of a strong independent wholesaler which lives and breathes to supply to indie retailers" was highlighted during pandemic times like never before.
Innovation and Digital revolution
Going a step further, a few wholesalers are seen revamping cash and carry depots to generate more footfall. 
Despite seeing a marginal increase in its delivered products, Scotland's United Wholesale invested reportedly £1m to ultra-modernise and redevelop its 170,000 sq ft depot to be a "Warehouse of the Future". It includes a 48-metre screen in the foyer and 14 giant digital screens displaying promotions and supplier messages.
Technological innovations, including digital advancement and e-commerce, will also continue to shape the sector.
Parfetts, which has grown its geographical reach by expanding its delivered service into the Midlands, is also going strong on the digital side which now accounts for about 40 per cent of its weekly orders. Its recently-launched app allows retailers to place orders that can either be delivered or they can opt for "click-and-collect" service.
Currently operating in five out of its seven depots, the group offers a 24-hour model where depots work as cash and carry during day time and then used by the delivery and click-and-collect teams to pick orders through the night. 
There are further new developments in the sector.
Faire, a North American online wholesale marketplace, arrived in the UK in March this year. Claiming to provide a holistic, end-to-end platform for independent retailers, Faire offers a unique range of high-end products from around the world along with flexible payment plans. 
It also offers free returns on opening brand orders, eliminating the burden of inventory risk by allowing retailers to experiment and buy with confidence in an unpredictable environment. 
In the lines of grocery delivery apps for customers, there has been a surge in the apps delivering supplies to retailers as well. 
Apart from placing online orders, Grocemania ("Grocery delivery in minutes") also allows retailers to monitor the national demand of products being sold on the app and adjust their stock accordingly, something which makes product management, and tracking consumer preferences much easier for smaller retailers.
FWD also acknowledges a rise in affordable e-commerce platforms now designed specifically for wholesalers and retailers.
"In our personal lives we're all used to ordering online so why wouldn't retailers expect to have the same customer experience and intuitive interface when ordering for their business?," asked the FWD spokesperson.
And with the rise of "dark stores", this surge is expected to continue in the near future.
However, online ordering is still far from replacing the "experience of wandering the aisles of a cash and carry, seeing new products that aren't on your list, spotting a good promotion, and stopping to chat to depot staff, supplier reps or other retailers", FWD said, adding that "many retailers still see that as a valuable use of their time".
The delivery medium, on the other hand, may soon go green.
Hoping to lead the way, Cotswold Fayre claimed that changes will also be seen in the mode of delivery as many delivered wholesalers will be going green and eventually be switching to electric vans and lorries.
"Possibly, after that, deliveries will be made by drones," CEO Hargreaves told Asian Trader.