In the exciting and quickly developing vape sector, Vuse is the latest stage in a journey British American Tobacco (BAT) began in 2013, with the launch of its first vapour product – the Vype e-cigarette. Since then, the company has invested more than £3.2 billion in its alternative nicotine products to become one of the world's leading vapour companies.
That original Vype innovation is now changing its name and form as it becomes Vuse – but the change from Vype to Vuse is simple evolution, says BAT's Head of UK Trade, the widely experienced Khurram Durrani, who has overseen BAT marketing operations in North Africa, Pakistan and Cambodia.
"It's about serving the same amazing quality vaping, flavours and taste, not in a functional way but as a recognisable global brand which connects adult consumers and retailers wherever they are in the world," he says of the evolution into Vuse. "It's also about driving innovation and synergy, using what we've already learned from our research and a successful Vuse launch in the US market."
What's beautifully simple is that Vype and Vuse products are fully compatible with each other – Vype devices work hand-in-hand with Vuse refills and vice-versa, meaning adult consumers can continue to enjoy a smooth, hassle-free experience.
Innovation is on show in the devices too: the ePen and ePod2 devices are now sleeker and faster to charge. Then there's the striking Vuse packaging – "It's truly unique and a real knockout," says Khurram. "We're very proud to have won a prestigious Pentaward 2020 bronze award for the design and we think it'll really stand out to adult consumers and retailers."
The pod-mod market is becoming a bigger battlefield year-on-year and that growth is not expected to slow any time soon. BAT has invested significantly over many years to achieve its leading position with Vype, and Vuse is simply the next natural stage in that journey.
"It's a fantastic opportunity for retailers to further grow next-generation sales, underpinned by the same cornerstone commitments," says Khurram. "Vuse embodies our commitment and investment in innovation, quality, safety and sustainability, not only in vaping but in every one of our products.As an overall product package for retailers, we don't believe Vuse can be beaten right now."
Innovation motivation
Innovation – both in terms of devices and safety –remains at the core of every phase of BAT's production. A team of more than 50 scientists at its global R&D facility in Southampton are dedicated to creating the most reliable products possible, says Khurram: "We test every product rigorously – a minimum of 1,000 times – before it's cleared to go on sale."
A similar level of dedication on its environmental footprint has seen BAT make significant environmental, social governance (ESG) commitments across its global operations."Vuse will play its part here too," says Khurram.
"We know adult consumers are increasingly passionate about the environment and want products that are more sustainable. Vuse sets a new bar for our vaping products in using as little plastic in its packaging as possible, including eliminating silicon caps in the ePod2 ePen and shrink-wrap from all our Vuse products."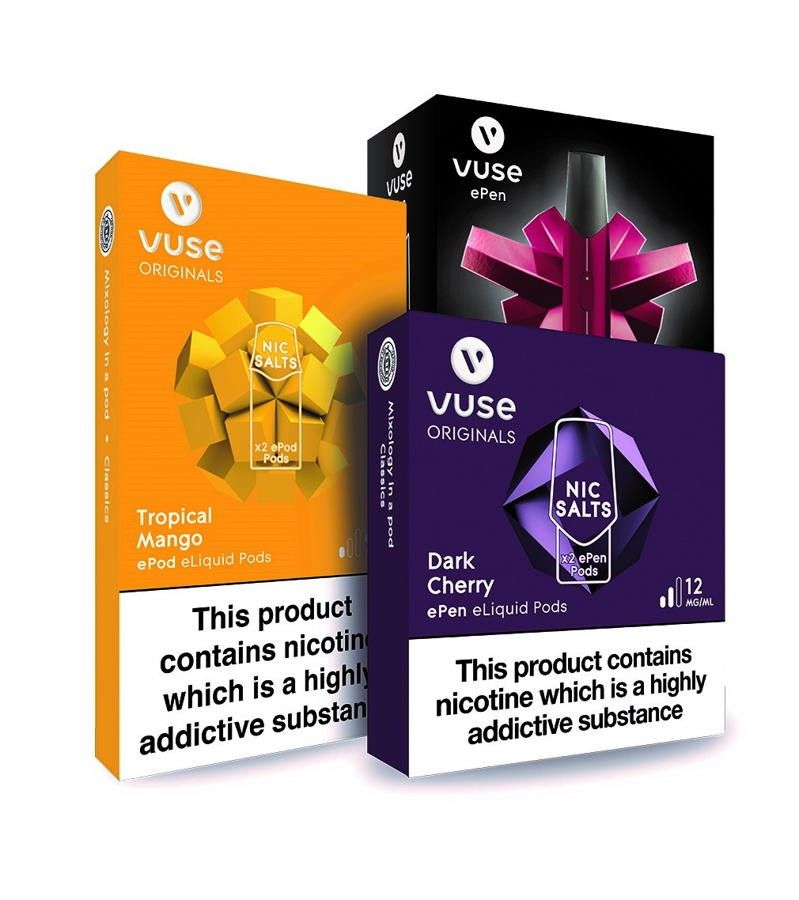 As the natural successor to Vype, Vuse offers significant sales opportunities for independent retailers who want to put adult nicotine consumer satisfaction first. Taken together, the blend of innovation, sustainability and safety creates not only a first-class adult consumer vaping experience but assures retailers that they're serving customers the very best choice of the market-leading vaping product range.
"Adult nicotine consumers have already voted with their feet to make Vype the leading closed-system product by far," says Khurram, "and after strenuous testing and a successful launch of Vuse in the US market, we feel very confident of outstripping the success of Vype in the UK and beyond. It will take a winning combination of investment, credibility, high quality and adult consumer choice to new levels," he adds. "Vuse is not a brand that will sit on the shelves for long. If retailers are serious about seizing the opportunity to grow next-generation category sales, then Vuse will deliver."
Product knowledge – and the confidence to share it with adult nicotine consumers– is at a premium in the vape market. Knowledgeable staff who can explain vaping products and concepts are the key to converting and retaining adult ex-smokers and here, too,BAT takes its educational responsibility very seriously, says Khurram.
"Through our field force and our wider communication, we continue to educate retailers on the many benefits of Vuse, including the full compatibility between Vype and Vuse products, the importance of maintaining availability and our tremendous range of promotions."
Only adults
Public Health England (PHE) has consistently cited the relative lower risk of vaping compared to smoking, but also warned they must be sold responsibly to adults only. "BAT's Verify programme is another big step forward here too," adds Khurram.
"Verify is a comprehensive programme designed to raise awareness of youth access prevention among our independent retailers. We want to ensure none of our products are sold to people under the age of 18 – it's fundamental to our strategy.
"Our communication includes educational material on our new B2B platform, in store and on our websites to remind them of the programme and the importance of the messaging on preventing access to minors."
He stresses that as the global pandemic recedes and adult customers continue to prize their local stores, Vuse promises to make it easy for independent retailers to serve customers what they want.
"Vape adult consumers continue to tilt towards independent retailers," says Khurram. "Lockdown has seen so many people change their shopping habits and increasingly turn towards the convenience channel as they don't want to travel further away than they need to or to visit the bigger crowded stores," he says."Then there's the closure of vape shops during lockdown, which has only increased the trend towards convenience shops."
It is this transfer of custom to independent stores that Vuse can help to make permanent.
A farewell to smoke
Vuse is emblematic of BAT's recent move away from the declining combustible tobacco market to lead the drive for "adult consumer satisfaction" from next generation products including pod-mods, backed by an investment of around £1.7 billion over the past four years.
Khurram says: "At BAT we're building a better tomorrow by reducing the health impact of our business through offering a greater choice of enjoyable and less risky products for our adult consumers. While vaping is not risk free, according to nearly all major public health bodies in the UK, including Public Health England, vaping is around 95 percent less harmful than smoking."
And with just one twentieth of the health dangers, the expectations of adult consumers are increasing alongside fantastic sales in the fast-growing pod mod market."Vuse is well-positioned to meet them," says Khurram.
"First, our pricing is very competitive for the product and choice we're offering. Vuse is also a high-quality product backed by strenuous safety testing. Its size in the market already means it is proven with adult consumers and has great credibility. We fully expect Vuse to continue to grow strongly."
BAT is serious about making Vuse a big deal in the UK market – and supporting retailers to grow sales in next-generation products."That means a route-to-market approach that includes giving adult nicotine consumers and retailers absolute clarity when it comes to understanding the evolution from Vype to Vuse," says Khurram. "We've engaged with adult consumers first to deliver the right messages through key accounts, starting with Sainsbury's stores in early April. It means there should be no surprises for adult consumers when they see Vuse in independent and vape stores.
"We've invested heavily to ensure the right messages and information is seen in-store, as well as having constant dialogue and discussion with retailers. All that activity is being reinforced by our field force representatives on their monthly visits to independent retailers."
He says that BAT is better equipped than ever to stay close to retailers to help them seize the initiative with Vuse. A new B2B programme, My BAT Rewards, was upgraded to a new website and Android app from May. Members get exclusive discounts and offers as well as product training to help expand and support their customer base. On top of that, there's exciting incentives and the chance of rewards such as premium city breaks and top tech – including TVs and Apple watches –in prize draws each month.
The My BAT Rewards platform allows members toeasily trackthe value of their annual contracts and see any monthly compliance or performance payments earned for the variety and volume of their BAT products.Any retailers interested in signing up to My BAT Rewards are encouraged to email [email protected] or contact their local BAT representative.
A bright future
The Vuse market drive in the UK is bolstered by a more strategic field force that has recently doubled in size. Around 110 sales representatives visit retailers regularly, but now offer the option to purchase BAT's combustible, vapour, and oral category products directly "from the van". They are supported by 55 new territory managers who provide follow-up support including education, PSM andhelp with the My BAT Rewards scheme.
"Our significant investment in key areas means we now have one of the most flexible sales systems in the industry, including a state-of-the-art B2B programme," explainsKhurram. "It's giving retailers new levels of choice and technology with their route to market and making it simpler and faster too."
Then there's the fact that Vuse will be impossible to miss, he adds: "I really believe that the packaging is one of a kind; no competitor comes close to the quality and appeal of Vuse on the shelves."
If Vuse is good for the consumers, it's great for retailers.
"There are also tremendous incentives for our retailers to join us on our successful Vuse journey, from discounts and our new B2B platform to loyalty-based packages and more," says Khurram. "On top of all that, retailers will undoubtedly benefit from riding the wave of a category that is expected to see 30 per cent growth inside the next five years."
The market trend away from combustible tobacco looks irreversible. Closed-system vaping products are fast becoming the driving force within the fast-maturing vaping market. Vuse has a 44 per cent slice of that market already – and BAT is hopeful of making that 50 per cent in the coming year.
Khurram says: "Combustibles is still a massive market but it's declining quite sharply – at around 6-7 per cent a year over the next five years.The vape market is growing fast and will continue to do so, fuelled by rigorous research that tells us vape products are also safer. It's essential that we help independent and convenience retailers understand this fast-moving market as fully as possible."
BAT's commitment to sustainability across all its product development has a knock-on benefit for retailers too, he says. "With Vuse retailers know they are selling something more responsible for adult customers, both from a sustainability and risk perspective.
"That's where the My BAT Rewards programme will really help way beyond just purchasing. Retailers will be incentivised to develop their staff and sales approach in the right way and for the maximum benefit going forward."
So 2021 promises acceleration, innovation and more in the vaping market. BAT expects to be very busy but is nothing but confident it will remain at the forefront of this fast-evolving category.
"Vaping technology gets faster, more efficient, and the devices get smaller and more powerful. We will not stand still with our innovation in devices, products and flavours and will continue to develop world class, quality devices for our consumers," Khurram concludes.
"Vuse is taking Vype to new levels of performance and style. For independent retailers, it's a fantastic opportunity to grow sales and win a bigger share of the vaping community. In short, it's a very interesting and exciting time to join us on our journey."