Four years ago food to go (FTG) was hardly a category. Then it was bacon rolls. Now, it is almost as if the convenience sector is eyeing up the entire, rich panoply of foodservice as new territory of its own.
These days, after all, what is FTG? Is it still only heated, rolls and salad bowls? Is it a whole meal deal or can it be a quick snack? Is it soft drinks as well as coffee and tea? How about RTDs and fresh cocktails? What about cakes and pastries? Protein and choc bars, cookies? And how about ice cream? How do we define the elements that go into an on-the-go meal solution and how does it differ from a shopper's traditional basket?
It matters insofar as you need to know the best products to make and stock, how to range and display them, and how to merchandise them. Apart from those constraints, anything goes: it's a rapidly evolving category.
What's clear is that the upheavals of the pandemic and lockdown have changed perceptions of what FTG is and how it should be sold in response to suddenly-changed habits and consumer demands.
"As shoppers spent more time of their time at home, on-the-go occasions featured less in shoppers' lives, causing a decrease in sales of single-serve products," says Guy Harvey, Impulse Category Management Controller, PepsiCo. "However, this has been replaced by an increase in sharing and multi-packs sales."
Whatever the answer, the category appears invigorated and ready for the return to normality, so what exactly awaits FTG as the economy reopens?
Of course it's impossible to predict the future, but the future is always shadowed in the present, so we can at least take directional bearings; and having consulted the experts, a very interesting picture is emerging, alongside a good measure of broad agreement.
"Over the past few years FTG has been one of the fastest-growing categories in the independent channel, with great margins but risks of wastage for beginners," says Laura Trivulzio, Marketing Director, Peperami & Jack Link's. "During the pandemic and lockdown FTG sales have suffered but will doubtless return to trend during 2021.
In fact, the experts over at Lumina research inform us that the UK FTG market will grow +32% this year, taking it to a £15.3bn. That is still only 72% of its 2019 market value, because the pandemic and lockdown have has a catastrophic effect on the town-centre part of the FTG trade that relied on commuter footfall.
The Covid-19 effect was so incredibly bad that overall, FTG suffered a mind-bending -45.5% decline in 2020, but the numbers lie about the countrywide experience, because beyond the business centres, it has been a watershed year for convenience FTG. Indeed, Lumina is optimistic enough to predict revenue of £22.6bn by 2024, more than £1bn more than the pre-pandemic height of £21bn.
For the sort of collapse in sales experienced by commuter-led FTG, the slack must have been more than made up for by sales elsewhere – and so it was, as homebound workers began using local shops for groceries much more, and then as café and restaurant substitutes while that sector was closed down; and then eventually just as an excuse to get out of the house and to buy rather than make (yetagain) a coffee, snack or meal at home.
"This rapid market revolution has seen foodservice and food-to-go specialists heavily impacted by lockdown rules, with the grocery market and independent retailers being able to recover more quickly as consumers spend with them for both "eat now" and "eat later" meal occasions," says Mike Holton, brand manager at Wall's Pastry and Pork Farms."As the UK prepares for lockdown restrictions to slowly ease, a trend that is likely to continue is the shift to working from home, this will continue to impact the number of out-of-home food-to-go purchases."
Now consumers are used to doing this, goes the theory, they will carry on doing this – not least because warmer weather is on the way: Katherine Prowse, Insight Manager at Lumina Intelligence predicts that over the next few months as social restrictions are eased, "food to go is well placed to capitalise on the outdoor socialising occasion: 21% of consumers say they are likely to purchase food to-go and eat it in a park in the future and this figure rises to 38% for 18-24's."
"The evolution of customers' shopping habits – particularly over the past 12 months – has had a prolific effect on the convenience retail market," says John Miller, Head of Franchiseat One Stop. "Retailers have benefited from increased visits where FTG crosses over with other shopping missions."
He points to Ratheesan Vinayagmoorthy, who runs seven One Stop stores, and in his Chiltern Avenue, Bedford shop has seen a marked change in customer demand. With many food and drink establishments being closed due to lockdown restrictions, Rathee has seen roaring FTGsales.
"We brought into this store a number of providers including Costa Coffee, Tango Ice Blast, Rollover Hotdogs, Fwip Ice cream and F'Real Milkshakes which have all proved to be really popular," says Ratheesan."We get people travelling a long way to come and see us and the children really seem to love the F'Real Milkshakes. It's a treat for them and that brings their parents into store and they naturally go onto purchase more, especially with the strong promotions we have to offer."
If FTG can make your shop a destination store, then it has to be worthwhile to invest in some of the "fairground attractions" that Ratheesan mentions.
Drink and go
If the pattern of work really has changed permanently – and with 34% of consumers now planning to continue to work from home, it very much looks that way – then the whole "coffee-to-go" Pret, Costa (the nation's favourite drink-only brand, representing 23% of all visits) and Starbucks operation will likely see a significant shift.This will mean a change from sit-down cafes – and how many actually queued to sit down there rather than  popped in to collect a cup to go? – to machines in neighbourhood c-stores. In fact, it seems to be already happening, with companies such as Nescafe planning to take big advantage of it with their bean-to-cup machines.We are simply drinking more coffee (and now tea – the first machines are arriving!) as a way to get out of the house.
Coffee has "dominated" FTG lately, making up half of all drinks consumed over the past four months, according to Lumina, who say it is mainly younger consumers "on coffee walks", with almost one in four having picked up the habit of purchasing a hot drink to go "when on a walk with a friend" since March 2020.
The big trend now is for great beverage dispensing machines, and Charlotte Smith, Category Manage, Coffee-to-go, Nestlé Professional UK & Ireland, says "It's essential to assess your customer base and work out which coffee solution fits their needs."
She says the NESCAFÉ &GO Machine is quick and easy and uses a pre-filled cup solution perfect for up to up to 15 cups per day. "Alternatively, the NESCAFÉ Mini Bean to Cup Coffee Machine offers customers a fresh bean coffee-shop style experience – from espresso and Americano, to lattes, cappuccinos and hot chocolate."
As consumers come to rely more on their local shops, it's worth noting that almost a quarter (23%) of people said they would consider purchasing coffee-to-go to take away from their local independent convenience store. "There is a huge opportunity for convenience retailers to fulfil the needs of local shoppers by offering a quality coffee option," says Smith. "Whether you cater for 'grab-and-go' customers or locals looking for a coffee-shop style experience, there is a coffee machine solution to suit your needs."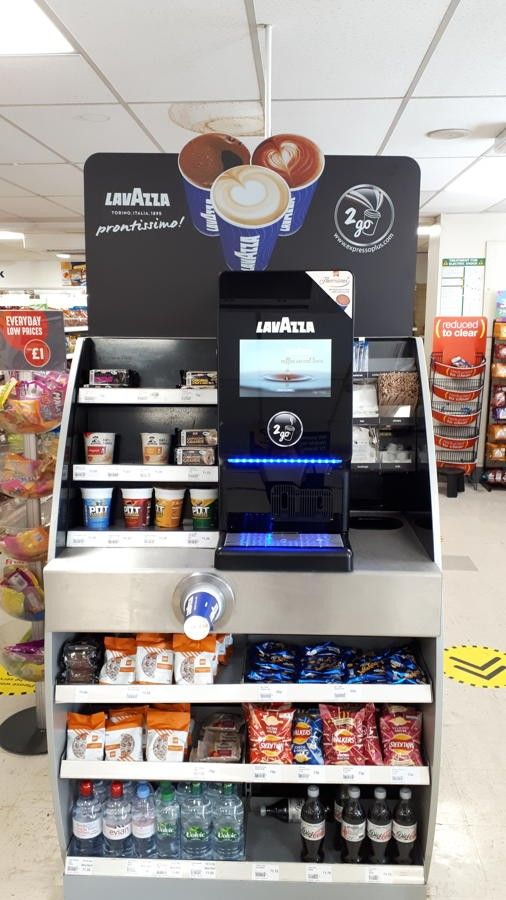 High-tech machines  such as the Lavazza Fresh Milk To Go or Lavazza Lusso solutions (from Expresso Plus) can also be used to cross-sell and up-sell meal deals through on-screen advertisements. The media screen interfaces display customisable images and videos when making drink selections. From a retailer's perspective this is a great investment and opportunity to exploit breakfast and lunchtime trade opportunities.
"Numerous lockdowns have not slowed Brits craving a cuppa," says Charlotte Duhaney, Marketing Manager  for eXpresso PLUS. "We have seen some of our largest clients achieve an increase in Coffee2Go sales during the past few months. And with the majority of eXpresso PLUS machines available on lease that means retailers keep all their profit, creating an additional healthy revenue stream.
Espresso PLUSare now introducing an easy-clean system PG Tips To Go machine to dispense tea to tea-obsessed Brits. So far it has all been coffee – which suits the youthful, urban, commuter vibe. But remember the older demographic out there that shops at convenience disproportionately more than other channels, and they like a nice cuppa and a chat. And not just the older generation, apparently.
The new Lavazza Fresh Milk To Go solution also brews organic Pukka herbal tea in a variety of flavours, "and with 24-35 years olds being the largest growing group of tea drinkers in the UK, accounting for 50% of tea drinkers it's perfect for attracting the millennial market," says Duhaney.
And in addition to hot cup of coffee of tea, there is now an incredibly popular new trend for RTD cold coffees, as Arla's Head of Beverages, Adam Hacking pints out: "Chilled Coffee continues to drive category growth and is now worth £161m, growing at 17.1%. Worth £80.1m  and growing at 25.5%, Starbucks is now the biggest iced coffee brand , responsible for 50% of all iced coffee sales.
He says that with RTD coffee predicted to grow at a minimum 15% CAGR until 2024, it is one of the most lively sub-categories within Soft Drinks. "As such, Starbucks recommends that retailers stock a range of different ready-to-drink products from recognisable brands, in order to appeal to different consumers looking for on-the-go options throughout the day. For example, popular with Gen Z, the Starbucks Frappuccino range has experienced the highest level of growth 53.8%. In addition, retailers should consider stocking a range of formats, including multipacks for consumers stocking up to enjoy at home."
And there is a trend for intensity. In 2020, the brand introduced its Doubleshot: Doubleshot Intenso Black and Doubleshot Intenso Dark with a splash of milk, to cater for customers' turbo-charged, chilled caffeine needs.
Ans since FTG can be anything now – don't forget the energy drinks which can make a perfect accompaniment to an FTG outing. Mark Tanner, Head of Wholesale and Independents at Carabao Energy Drink UK&I, says that "With the increased pressure that the pandemic has put on consumer finances, it is no surprise that value has also emerged as a key consumer trend. Carabao's 'Only 69p' cans give shoppers that instant reassurance they're picking up a great product at an attractive price."
Likewise, Matt Gouldsmith, Channel Director, Wholesale, Suntory Beverage & Food GB&I, recommends positioning Lucozade within the FTG area for extra sales: "Despite consumers continuing to spend more time at home, retailers can drive food to go sales by clearly promoting and signposting their meal deal offers in store for those shoppers on an on-the-go mission,"he says.We've seen strong growth of 12.5%  in Lucozade Energy's drink-later portfolio, including 1L bottles and multipacks,"
Food when you need it
Vast new territories have opened up for FTG, even if it took a hit in 2020. Social changes are in the process of creating a new and as-yet unformed market. At the same time, earlier, established patterns of consumption will re-emerge as part of the new FTG lansdscape as a hybrid development.
"The shift to working from home presents an opportunity for manufacturers and independent retailers to adapt their food-to-go offering in a bid to lure consumers back during their lunch break," says Walls's Mike Holton. "These should include healthier trending foods such as wraps, salads and sushi, as well as hot options which can be consumed both in and out of the home." He recommends both the Wall's and Pork Farms brandsas ideally positioned to support this opportunity.
Pastry competitor Ginsters, meanwhile, is innovating with NPD that add cross-category excitement to the FTG experience. Its latest is Ginsters and Guinness – have joined forces in an exciting collaboration to launch a brand-new Ginsters Smoky Steak & Guinness Slice, which follows on from Ginsters' 2020 partnership with Quorn, to launch the Vegan Peppered Steak Slice and the Ginsters' Vegan Quorn Sausage Roll.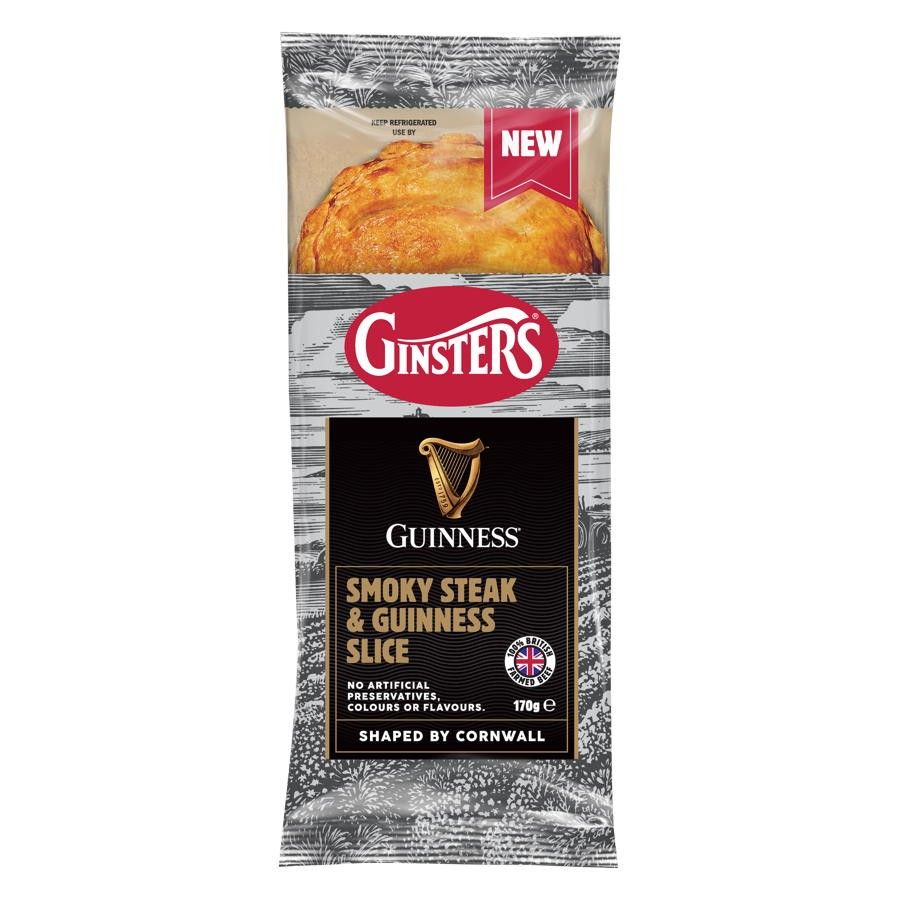 "We're all looking for more excitement at the moment and lunch has become even more important in our day," says Sam Mitchell, Ginsters' Managing Director."We know consumers are up for trying new things and looking for recipes with a difference. It's our job to keep the category fresh and bring flavour-driven innovations to the aisle for shoppers. "
Laura Trivulzio, Marketing Director, Peperami & Jack Link's, notes that shoppers are opting for snacks not just great in taste and high in quality, but are more inclined to purchase brands they trust and are familiar with, adding that with the rise of the on-the-go healthy snacking category, the meat snacking category has grown +33% vs two years ago, with one in four UK households purchasing a meat snack.
"As such," she comments,"Peperami has witnessed repeat purchases from consumers who are loyal purchasers of the brand, following the brand's journey over the years, and identifying with its long-standing heritage. This is due to the convenience, taste and quality credentials of meat snacks, which have become key drivers for the food-to-go category."
Products such as Peperami, high in protein, are increasingly in demand by health-conscious consumers, not all of whom by any means are vegans – so don't go light on the meat!
The versatility of meat snacks, means products such as Peperami's 100% pork salami sticks and range of Chicken Bites made with 100% chicken breast can be enjoyed either as an afternoon snack on the go, or added into wraps or healthy salads, for the ideal picnic staple to share amongst friends and family," adds Trivulzio.
The same goes for Kepak, whose Rustlers brand has been doing extremely well by exploiting the hot snack niche and selling burgers  by the thousands (literally two every second, according to Monisha Singh, Shopper Marketing Manager at Kepak Consumer Foods) – helped by the bespoke, branded Rustlers in-store microwaves which are rolling out now.
"It is more than just equipment," says Ross Davison, Convenience Controller at Kepak Consumer Foods."We will be providing a full FTG solution. We'll work with each retailer on range recommendations and category advice, plus we'll provide a dedicated POS kit and installation as part of each package," says Ross Davison, Convenience Controller at Kepak Consumer Foods.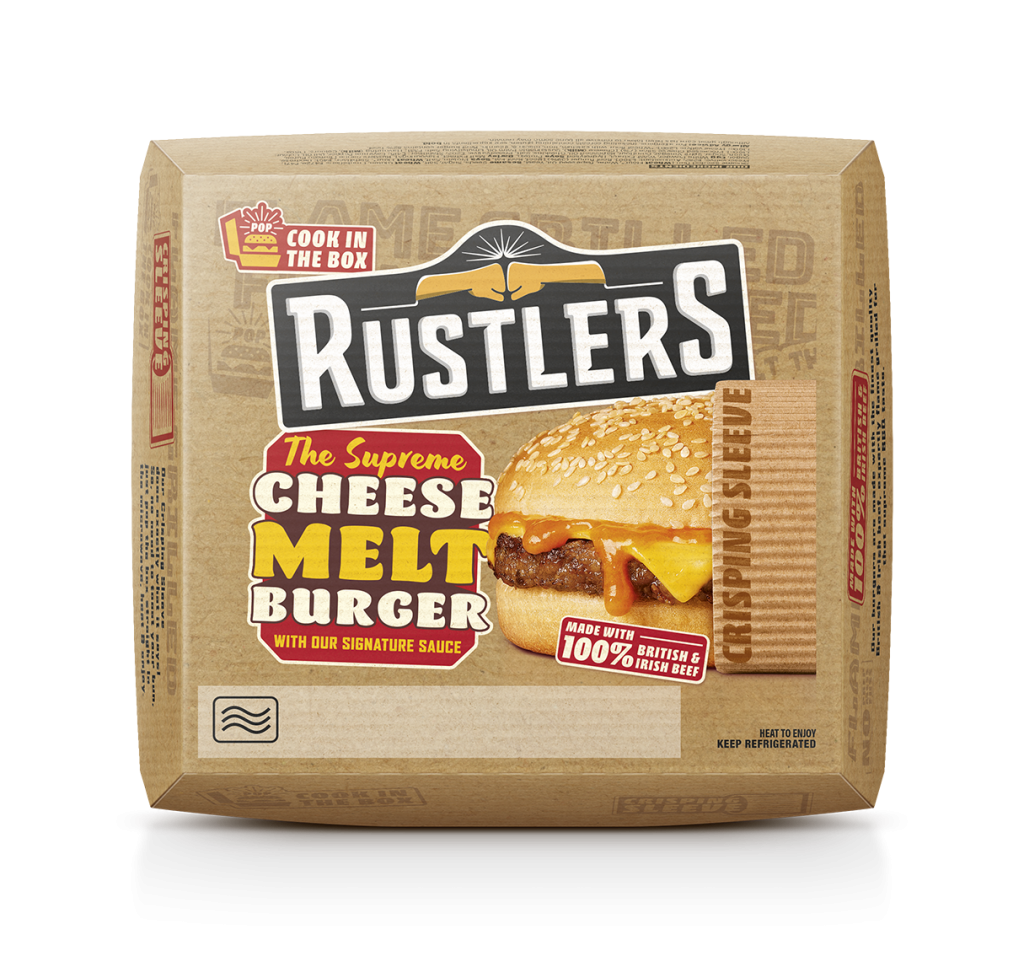 "From a small microwave up to a larger-scale multi-station unit, Rustlers' in-store cooking solutions are proven to boost sales whilst removing any concerns over waste and the additional labour costs associated with food to go counters. Shoppers simply select, purchase and heat the Rustlers product in store, meaning there is no risk of hot products going to waste."
The ovens are already having a marked positive effect on FTG sales. Miv Chahal of Nisa Local, Prudhoe, testifies how "I saw the potential for offering hot food and so bought a Rustlers microwave, which I've sited next to a coffee machine, and it increased sales of Rustlers by about 20%. It shows how many people want hot food that they can eat straightaway, and we don't need to incur costs or meet the many regulations associated with a hot food counter."
Tradition British grub is walking out the door, too. Helen Bowyer, commercial director, Wrights Food Group, which has been making homemade meat & potato pies since 1926, says that, "We have seen a rise in demand for wrapped savoury products in stores and forecourts where retailers want visibly appealing products which give consumers confidence around fresh food hygiene. Our wrapped product sales have increased, notably, since March 2020 and include favourites such as steak pies, a chicken curry slice and a cheese and onion slice."
In the first quarter of 2021 Wrights continued to see big demand for products such as vegan sausage rolls, chicken and mushroom pies and sausage rolls which are baked onsite from frozen. "This brings the retailer the added value of the theatre of that freshly-baked instore bakery experience and maximises the reported increase in top-up shops driving shoppers to convenience stores," advises Bowyer.
And heatable soups and noodles – such as Symington's, whose brands include Mug Shot, Naked and Blooming Good Food Co., are also increasingly popular, according to Marketing Director Kevin Butterworth.
"The popularity of On The Hob (OTH) and Standard Add Water products have contributed significantly to the accelerated growth within instant hot snacks. Our Naked Five-Minute Noodles on the hob format provides consumers with a quick and convenient way to access authentic Asian flavours for an evening meal for two and can also be enjoyed as a snack."
In fact "World FTG" is way up as customers increasingly use c-stores as restaurant substitutes – so be adventurous – not forgetting that a great part of the FTG traffic is going to be breakfasts, lunches and snacks of the kind that use well-loved and tasty products such as cheese as an element of the meal as things get back to normal after the pandemic
"The overall market dynamic has made for a challenging year for our Cathedral City Adult Snacking range, which includes a number of leading grab-and-go solutions," says Anca Lazar, Senior Brand Manager for Cathedral City Snacking."With easing of lockdown measures we will however observe shoots of recovery for our Cathedral City grab and go snacks, with rate of sale climbing back towards pre-lockdown levels." She notes that the category is in fact already back in convenience, with for example the Cathedral City Lunchpack achieving 3% value (+1% volume) growth year on year  by this February (IRI).
Spreadable products such as Dairylea, too, saw strong progress in 2020, and will move to under 100 Kcals in 2021, says Susan Nash, Trade Communications Manager at Mondelēz International."The brand's tasty triangles are already 33kcals per triangle. Made with milk and cheese, it provides the perfect snack for shoppers looking for portion control for their families."
Rounding off with a treat
What is usually treated under snacks, confectionery and bakery is also perfectly cromulent as FTG fare – now more than ever as retailers' offers and combinations soar in variety and innovation as the category grows and develops.
Meal deals and other promotions and offers typically include a bagged snack, and that's another great way to make more sales in the category, of course. To that can be added protein and health bars – an acceptable dessert option for the on-the-go FTG-er, just as could easily be a sweet pastry or cookie/biscuit treat.
Mondelēz broke the mould with belVita, revolutionising breakfast "mobility", and Nash says that "belVita and Cadbury Brunch Bar are ideal for consumers seeking more functional attributes and looking for treats that help keep them going. belVita is the number one breakfast biscuit and gives consumers energy for the whole morning through its five wholegrains."
The snack bar sector is exploding right now, and Cadbury Brunch Bar Choc Chip is the number one SKU in the segment, growing at 11.9%  and with value sales of £17.3M.
Adrienne Burke, Marketing Manager, Snacking at General Mills, explain the health bar popularity partly as a function of the pandemic, and says that the Diet Management category has grown by +2% (now valued at £106m), "as an increased focus on health and limited movement due to lockdown caused shoppers to worry about weight gain."
General Mills's Fibre One has reached £39million and is he fastest growing snack bar in the Weight Management category, following a recipe revamp to contain thirty percent less sugar, with sales value up +18.4%. "In the cereal bar space," says Burke,"our range from Nature Valley, now a £56million brand, meets a variety of need states – from nutrient-packed Nature Valley Protein to the more indulgent '9pm sofa moment' with Nature Valley Sweet and Salty Nut" – for when FTG ends up at home in front of the TV. She also points out that demand for gluten and dairy-free options is increasing, so retailers who such bars, like LÄRABAR (a new General Mills acquisition), "are winning big".
Of course, many customers still want the sweetness of a deeply satisfying snack, or the rich freshly-baked flavours of high-quality pastry. If that's the case then Paul Baker, founder of St Pierre Groupe, is your man. "The St Pierre range, which comprises Butter Croissants, Chocolate Filled Croissants, Brioche Waffle, Millionaires Waffle, Pain au Chocolat and Caramel Waffles, is perfectly positioned to be enjoyed with a hot drink," he advises."It also provides attractive margins for retailers, meaning it can work effectively as part of or alongside a hot drink fixture. The fresh, individually-wrapped bakery products can be consumed with any meal occasion, providing a strong sales opportunity for retailers looking to cater to those working from home throughout the day. The items are also ambient, resulting in no thawing time and have the added benefit of an extended shelf-life, which helps to reduce the risk of wastage in-store." An essential ingredient of the wise retailer's FTG offer, as is Rich Bakery's new range – Baked.
"People are still looking to treat themselves and break-up the monotony of at home meals – this presents a big opportunity to offer delicious, stand-out on the go products that will draw back shoppers week after week," says John Want, Sales, Marketing and R&D Director at Rich's. Baked originally launched in 875 One Stop stores with two cookie products: White Chocolate and the top- Triple Chocolate. The brand has recently extended its partnership CJ Lang (only in Scotland, alas!) with a muffin-rich range that also includesBelgian buns and Cinnamon buns
In a sense crisps and porkscratchings are the original FTG – simple, bagged, satisfying and fill a hole when you need it. Now, as an
Element of an FTG experience, they are again coming into their own.
Matt Collins, Trading Director at KP Snackssays they are a huge opportunity for retailers to drive sales: "The most important factors influencing shoppers to purchase crisps and snacks for the Food to Go occasion are price at 85%, brand at 77% and pack size at 72%. Therefore, it's essential for retailers to stock the best-selling brands, such and McCoy's and Hula Hoops in a variety of sizes and price points." He especially recommends as Must Stock the McCoy's brand and the hot item of the moment (because chili!) McCoy's Fire Pit, which Smith says takes ordinary BBQ flavours to the next level "with three sizzling flavours including Flame Roasted Peri Peri, Flame Smoked Chorizo, and Flame Scorched BBQ Ribs."
Peposico's Guy Harvey FTG recommendation is for Walkers Classic Variety and Quavers Cheese 6-packs – and of course the Walkers MAX range including Kentucky Fried Chicken and the Double Crunch Zinger. He adds that new larger Doritos and Walkers Sensations sharing bags will also launch with an RRP of £2, with pack size having increased in size by 20g. The £2 PMPs will be available across 3 products; Doritos Chilli Heatwave, Tangy Cheese and Walkers Sensations Thai Sweet Chilli, offering better value than the existing 65g bags.
For larger stores, the recent HERO 25 and DRIVE 25 ranges include bestsellers that make up 35% of crisp and snacks sales , "making sure it will capture shopper interest when looking for snacks on the move," Harvey concludes, and Tayto Group's 's Marketing Director, Matt Smith, reminds us that pork scratchings is the fastest growing category (+10.1%) in snacks – although he also points out that  "We have seen very strong growth in our Fun Snacks range,inclucing Tangy Toms, Spicy Bikers, Awesome Oinks and Quarterbacks, as 30p PMPs have been growing faster than the market (82.8% vs 6.4%." Meanhile, Tayto's Ringos and Transform-A-Snack continue to be top performers in the £1 sector "as they deliver Golden Wonder's legendary 'punch per crunch', great branded value, as well as strong margins for retailers."