The magic number is 53. Because, as a result of the UK spending so much more time at home during the pandemic, the BBQ occasion (we will not spell out "barbecue" in this article except once, right here) has gone up by 53% over the summer of 2020. That is over half as many BBQs again as there were the year before – that long-ago, different-world summer of 2019.
What Covid-19 has done is to turn us into a nation of homebirds, but homebirds who still want to have fun.
In that sense, it is about time that we began to see the BBQ for what it is in commercial terms: the out-of-doors, daytime equivalent of that other truly massive and growing event in the convenience consumer calendar: the Big Night In.
BBQ and BNI – those are the pole stars of big basket sales, broadly speaking winter for BNI and summer for BBQ.
The BBQ should be conceived as BNI in the sun – with the difference that, with a BBQ, as it's not late at night, the event more often includes the whole family or tribe, meaning children too. Now pandemic restrictions are sort-of-lifting, the crowd will be larger as well, including a wider circle of relatives and friends/neighbours. But as with BNI there will be a lot of sharing and larger-format packs, snacks, drinks, both alcoholic and non-alcoholic, desserts, fruits and sweets and other treats, not to mention salads, sundries,sauces and condiments – plus all the fuels and accessories man-the-hunter needs to sear his steaks to perfection.
The BBQ, like the BNI but even more so, can be a marathon session, beginning in the early afternoon but possibly continuing until the BNI itself would say goodnight.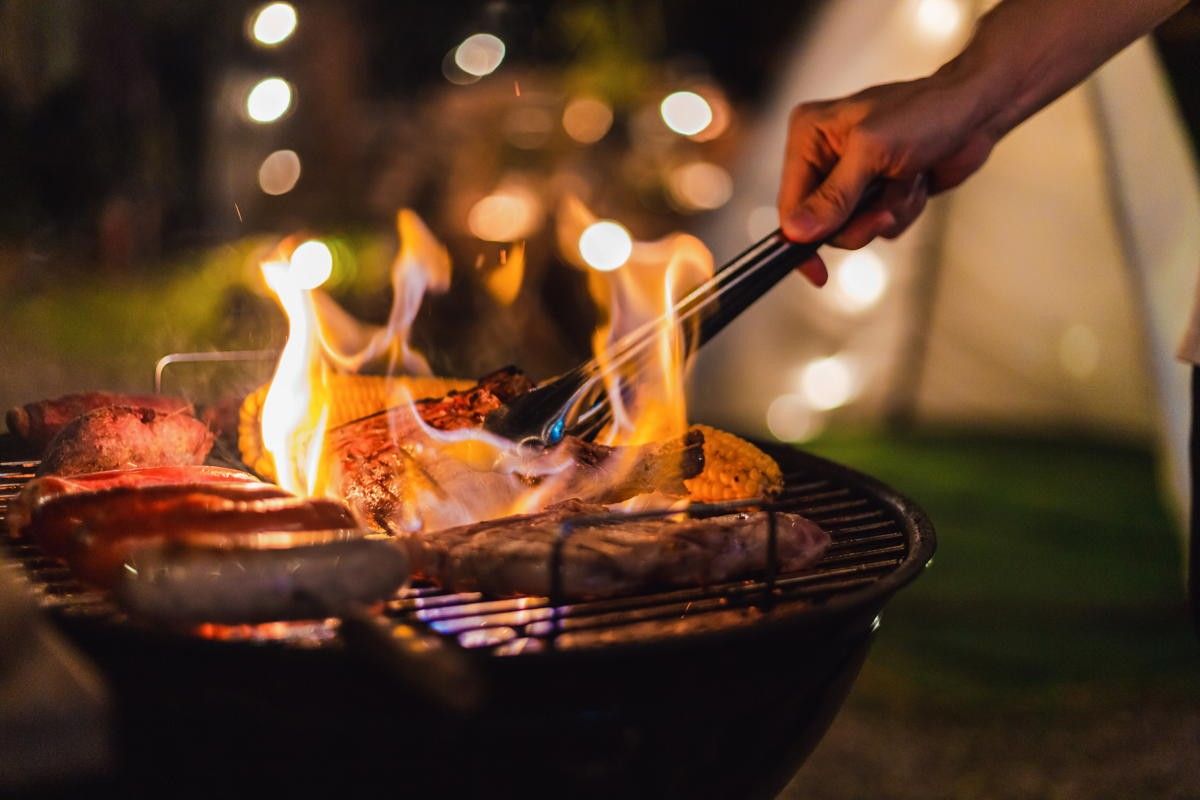 This year, more than the excess of BBQ last summer, there is also the social catching up to do, all the letting-off-steam after a year stuck in isolation.
There is also the summer of sport –Euros, Wimbledon, cricket tests, Olympics – around which to drape classic high-spending, re-stocking BBQ afternoons.
And then on top of that, there is going to be only a very small exodus of people abroad, as the Great UK Staycation looks far more practical and possible for most of us – leading to even more supercharged BBQs.
In short, if the upcoming BBQ season was weather, we would be calling it the perfect storm. Now, indeed, all we ned is the weather – although even drenching rain and cool temperatures are unlikely to put many people off having fun this year. Just be sure to stock parasols, shelters and maybe even gazebos.
An Important date
If the magic number is 53 then the magic date is July 5, which marks the start of National BBQ Week (technically a fortnight, as it lasts until July 18). As the organisers point out, BBQ is a big and dynamic market now worth at least £2 billion, having grown from just 9 million BBQ occasions in 1997 worth around £150 million to around 137 million in 2019: "Following last year's Covid lockdown prompted stay-at-home Easter where a record 11 million BBQ's were held, all indications are that this major growth has continued throughout this summer and will increase again in 2021 as lifestyles continue to be even more home-centric."
Use this opportunity to help boost your sales of BBQ and summer products – we are promised much hoopla and publicity worth £1.6m to help celebrate this silver jubilee of annual BBQ celebrations, including live RoadShows at leading Foodie Festivals, as well as "streamed virtual gallery-style interactive experiential via Grocery Gratis Social-sampling." Go to https://nationalbbqweek.info/ to find out more on what is coming to your area.
Meanwhile, we move onto the great products on offer for suppliers to make your BBQs go with a bang (not literally, of course). It is difficult to fit into a large handspan the categories that could be involved in a BBQ afternoon, but we will try: food, including meats, veg, dairy and bakery, drinks both alcoholic and non- alcoholic, sauces condiments and delicious sides, snacks and crisps to keep everybody going, and the hardware to help everything along. It's quite a shopping list.
Great BBQ food essentials
Of course, the pandemic has made everybody more aware of their health and this has led to an even steeper increase in vegetarian and meat-replacement products, but the traditional meats are also still in great demand for BBQ occasions.
Joanne Cramer, SPAR UK Senior Brand Manager, says that "We believe Summer 2021 offers a great season of sales success for the convenience market with consumers looking to staycation at home rather than abroad,"and she recommends the "Make it your summer here at SPAR" campaign, which is a good pointer to the range you should be stocking in anticipation of summer eating: BBQ meat cuts, sausages and and kebabs, salads, antipasta, new chicken ranges, fish, pies, dairy and more. At SPAR, says Joanne,"it will all be supported by our exciting marketing programme which will make summer for both our stores and customers."
Anne-Marie Cannon, Senior Brand Manager for Cooks&Co (at owner and distributor RH Amar) says that with the number of vegans in the UK estimated to have increased by 419,000, or 62%, in the past year, "It's clear that the growing trend towards veganism looks unlikely to slow down any time soon, especially among younger consumers, as well as those looking to cater for family members following a plant-based diet."
She says it is not just about a trend towards pure veganism, it's also about the many more shoppers who are also looking to reduce their meat intake by choosing easy to cook and convenient alternatives that can help them make a difference, including for reasons of health or sustainability.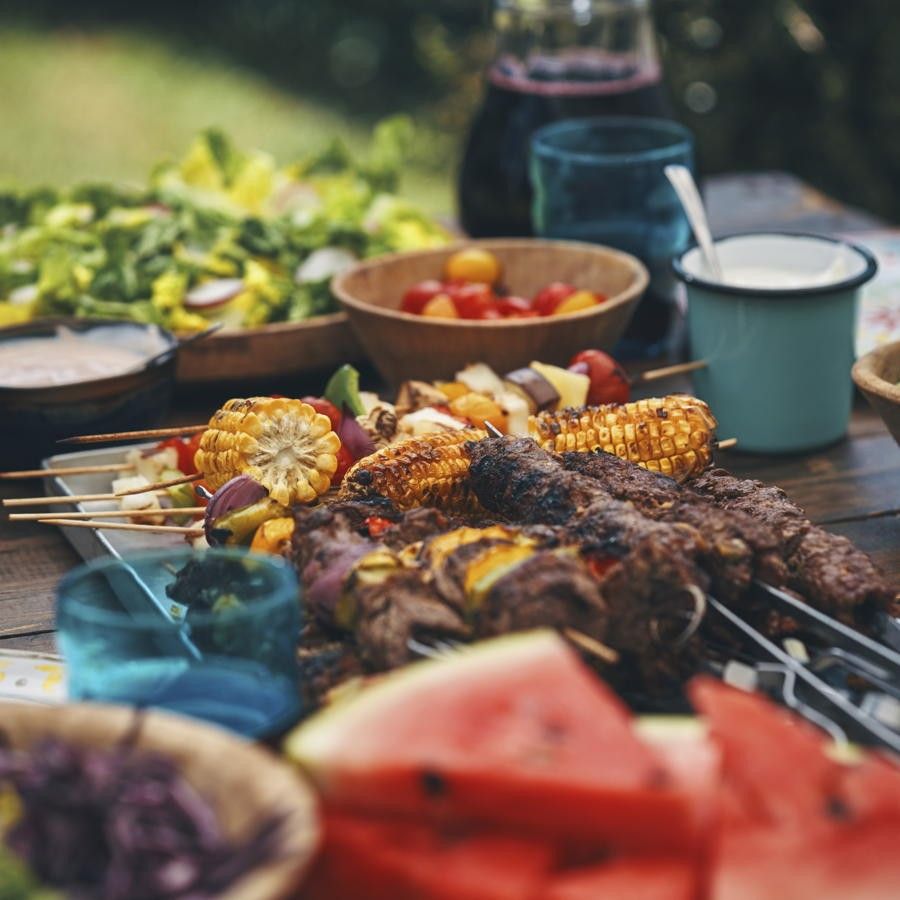 Salad maestro Polly Davies, Florette's Category Controller, is keen to point out how health is looming large on the BBQ horizon. "People are increasingly looking for healthier options, long since gone are the days when consumers are satisfied by bangers, burgers or basic food. As BBQs are becoming more experimental, consumers are turning to fresh produce to add colour, texture and freshness to their plate – and that's where brands such as Florette come into their own."
Bagged salads are in massive growth right now – Davies points out that it is a £598m market – and are perfect for picking up on the way to a gathering: "And that's where brands such as Florette come into their own," she says.
"Offering leafy salads as part of a BBQ solution will pay dividends, evidenced by the fact that one in five BBQ occasions now include leafy salads, up 18% year-on-year."
SPAR's Cramer says that, "Signposting fresh in-store with soft drinks, crisps, snacks and nuts and BBQ accessories like charcoal can also encourage shoppers complete the basket rather than just choosing the essentials." In other words, don't allow the salads to stand alone – rack them up with other products aligned to the BBQ occasion. "SPAR's 'Make it your summer' range will be supported throughout the season with a strong POS package to ensure these products make an impact," she says, because as we head into summer and restrictions are lifted, consumers will focus on more BBQ occasions "whatever the weather", so ensuring stores can be flexible will be essential and a great basket builder for independent retailers,"Whether it's an impromptu burger BBQ with a few friends or a full-on banquet with family."
People will be buying and resupplying more locally than ever, so appealing to them as a one-stop BBQ spot has bags (and baskets) of potential.
Heloise Le Norcy-Trott, Group Marketing Director for Lactalis, underlines the local potential and the chance to sell more things for the big BBQ occasion. "With the ongoing pandemic continuing to impact consumer buying patterns, people are still shopping locally, despite restrictions beginning to ease," she says. "Due to this and the fact that less people will be heading abroad this summer, we predict barbecue and alfresco dining sales opportunities for independent retailers will be at an all-time high this summer."
People will be in a mood to splash out, especially with holiday budgets saved, and they will be buying beautiful products to put on a good summer spread in the garden. "It is therefore essential that c-stores are well stocked up on seasonal favourites like Galbani Mozzarella," says Heloise, adding that, "We have seen an increasing number of shoppers seeking out affordable luxuries, such as premium food and drink, as a way to treat themselves during these difficult times."
Galbani's mozzarella is a bellwether for proving the consumer trend to spend more to celebrate the summer(and their new-found freedom). "One BBQ accompaniment, which traditionally peaks during the spring and summer months, is mozzarella and 2020 was no different," she notes from last year's data."Galbani Mozzarella, Galbani 125g and Galbani Burrata saw phenomenal sales growth during the months of May to August, with an increase of +72%, +94% and +182% in value sales respectively."
The search for increased quality goes for all products. The UK appears to be trading up – certainly on celebration occasions such as BBQs with friends and much-missed family members.
"Three times the amount of barbecues were held in the three months to May 2020 compared to the previous year, benefiting a number of lines, including bakery," says Paul Baker, founder of bakery specialists St Pierre Groupe."Demand for our products increased significantly last year across all three brands, with the business growing by 52 per cent."
St Pierre Groupe is of course, on the leading edge of the burger bun revolution, with its brioche offering taking over and displacing other types vigorously in  BBQs across the land. Their long-life baking also has the advantage that St Pierre products fear nothing either from the sun or rain-abandoned gardens – they are guaranteed to stay fresh for weeks after leaving the depot.
"All of our brands – St Pierre, Baker Street and Paul Hollywood Ready to Bake – work well in convenience because of their extended shelf life," says Baker."This not only allows consumers to stock up on essential barbecue store-cupboard items for use on a sunny day but also, if a planned barbecue is rained off, the extended life bakery items will keep for another day."
"Availability and shelf-life isn't just key for consumers, though," adds Baker's co-founder, Jeremy Gilboy.
"We know from conversations with our retail partners, that forecasting for the summer weather is a challenge every year.Trying to plan for one hot weekend, a sell-out of barbecue products and then manage stock when there's a total wash out means that the trade is wasting a phenomenal amount of bread. Or, on the other side of that, the forecast predicts a wash out and then the sun will make a surprise appearance. Suddenly, retailers are sold out of key products and will have to watch sales walk out the door."
Baker also explains the logic of luxury: "Family and friends will make the most of meeting up this summer and shoppers will, therefore, be looking for ways to elevate their barbecue selection to make these gatherings even more special," he says."One simple way to do this is to trade up to a more premium burger bun or hot dog roll, like brioche."
There will be a big demand for theseproducts as BBQ season gets underway, and Gilboy highlights that the Baker Street range now includes Soft White Bagels (RSP: £1.60 for 4-pack) "to cater for the rise in popularity for alfresco outdoor lunches."
Very saucy!
A lot of sales and revenue from the BBQ category can be had from sides and sauces– what used to be termed "condiments" before a lot of them became food groups in their own right.
Antipasti sales have been elevated by the pandemic, notes Cooks&Co's Cannon, with sales growing by +17.2% in value and +15.5% in volume, whilst the category is up by £7 million in the last two years. "So there is a clear and growing demand for fine foods throughout the year, and especially at peak times of celebration and leisure."
Cannon announces they have a raft of new products and formats "that tap into what are likely to be two of the biggest trends in 2021 – the continuing rise of plant-based, and a growing demand for summer inspiration as people are likely to fire up the BBQ in even greater numbers than they did in 2020."
Cooks&Co have already enjoyed success with their plant-based meat substitutes Young Green Jackfruit and Banana Blossom, and on the tail of that have now introduced Lotus Root as the latest addition to their plant-based line up (RRP: £2.75, 400g).
There is also the new Vegan-Approved Tri-Colour Jalapenos (RRP: £2.40, 290g), traditionally used in Mexican cuisine, (particularly in tacos, quesadillas, nachos, and salsa, but also perfect on pizzas and ideal for adding spice and colour to a whole array of dishes.
"And we are adding to our range of olives ahead of summer with three new olive products," she adds: Whole Kalamata Olives (RRP: £2.69, 250g), Mixed Pitted Greek Olives (RRP: £1.99, 240g), and Green Halkidiki Olives stuffed with Sun-Dried Tomatoes (RRP: £2.79, 230g).
And in addition to the meats and near-meats, there are the infinite variety of sauces, from BBQ to chili, through ketchup and onto the king of mayo, Hellmann's – which saw 27.2%% value growth under the lockdown, and watched its Vegan Mayo become the biggest-selling NPD in the category, with 56.2% share.
Fikerte Woldegiorgis, Foods Marketing Director at Unilever UK&I – owner of Hellmann's – reveals that the original, Hellmann's Real Mayonnaiseis still the market leader in the mayonnaise category with a staggering 51.4% share – over half of all mayos sold.
Last month also saw the introduction of two Hellmann's NPD 250ml squeeze variants: Sour Cream & Chive and Cheese Flavour. "Both are a great accompaniment to burgers, BBQ chicken, chips and Mexican dishes," says Woldegiorgis."What's more, with three months refrigerated storage, they last much longer than chilled dip alternatives, ensuring our fans can keep reaching into the fridge for more."
What else is needed for the perfect barbeque are salad dressings, and Mary Berry's (also owned and distributed by RH Amar) has an extensive range to complement the fabulous, bagged salads customers will be picking up on their way to their back gardens BBQs.
Cannon says that the category benefitted from the lockdown as home cooking (especially scratch-cooking and more ambitiousness in the kitchen) together with healthy concerns, led to more salads being eaten.
"For Mary Berry's, this meant we recorded a significant rise in sales during 2020 with our super versatile Blue Cheese Dressing – a definite BBQ favourite – posting a value sales increase of +126% alone, whilst our other core products were also in high demand across the summer season and beyond."
Premium dressings priced at above £2.50 now account for more than 11% of all sales and Mary Berry's accounts more than two thirds (67.7%) of them, andsales across both independent and symbol group convenience retailers over the last year were up in value by +34.4%.
The snacking effect
With a group of family and friends in the yard until dusk or later, the need for constant snacks will soon become apparent, and it's good to be ready for the extra demand (maybe around the time when the customers turn up again to re-stock with beer).
"To maximise on these shopping missions," says Matt Collins, Trading Director at KP Snacks, "independent retailers should also consider dedicated displays to make shopping as simple as possible." Preferably near to the beer!
"From our best-selling KP Nuts, perfect when paired with a cold beer, to our Tyrrells crisps, perfect for making those special moments feel a little more premium," he says. "We have always been passionate about helping to create special moments, but now more than ever we are looking for ways to enhance the at-home summer experience and time spent with family."
With this in mind, Matt's Must Stocks are a good field guide to keeping the munchies at bay during a BBQ afternoon. He particularly recommends the Tyrrells brand, "a great option when catering for more indulgent sharing occasions" and growing in value +10.1%; McCoy's Muchos (now worth £10.9m) and tapping into the "growing popularity of the Mexican food trend, with Mexican being one of the largest takeaway cuisines in the UK" – and so just the thing for BBQs; KP Nuts – there are times when they are the only thing that will do. "Perfect with a cold drink," says Matt.
He also champions popchips, bought by KP in 2018 and which under their marketing have taken the market by storm – popchips really are a point of difference in the snacks category. The brand already has an RSV of £30.7m, is classed as Better For You, and comes in a "core range" of BBQ, Sea Salt, Sour Cream & Onion and Sea Salt & Vinegar.
At Walkers (PepsiCo), Impulse Category Management Controller Guy Harvey says that Naturally, with the nation continuing to work from home where possible, demand for larger pack formats (sharing bags and multipacks) is likely to remain."
Walkers has introduced new PMPs across a number of multipack and sharing bag lines, and for the first time two multipack products will include a price-marked flash: Walkers Classic Variety and Quavers Cheese 6-packs. New larger Doritos and Walkers Sensations sharing bags will also launch with an RRP of £2, with pack size having increased in size by 20g. The £2 PMPs will be available across 3 products: Doritos Chilli Heatwave, Tangy Cheese and Walkers Sensations Thai Sweet Chilli, offering better value than the existing 65g bags.
With an eye on the upcoming Euros, Harvey says retailers will be able to capitalise on demand for themed snacks in the run up to the summer, "through the fun shape of Cheetos Footballs". Cheetos Twisted, the existing £1 RRP price marked pack, proved a big hit with consumers at launch.
Walkers' recently configured HERO 25 and DRIVE 25 ranges include bestsellers that make up 35% of crisp and snacks sales: "The selected lines, such as Cheetos, Wotsits and Quavers, are ideal for sharing at summer events," says Harvey.
And included with all the potato-and veg-based products are pork scratchings, a particularly good filler at BBQ time.
"The pandemic has driven growth in categories which are sometimes overlooked by retailers. A great example is pork scratchings, which are often seen as the preserve of the pub not the retailer," says Matt Smith, Marketing Director for Tayto Group, who have the UK's top three pork snacks brands – Mr Porky, Midland Snacks and Real Pork Co.2 (Mr Porky is the No. 1 brand with 43% market share).
But Tayto does not only supply scratchings. Other snack brands they own include Golden Wonder Crisps,Ringos, Spicy Bikers andTransform-A-Snack. "To celebrate the Olympics," says Matt, "we've recently launched our limited-edition Ringo Katsu Curry. The £1 sharing bags and multipacks formats are perfect for celebrating the 'summer of sport' with a BBQ. So why not give 'em a go!"
There are also some permanent additions to the all-important £1 PMP snacks segment as Golden Wonder continue to develop their offering, and spicy bikers are firmly in the saddle: "Given the growth of sharing snacks, we've expanded our £1 PMP range to include Spicy Bikers – our best-selling 'Fun Snack'." A PMP launch promotionwill include a chance to win bikes and an independentretailer-focused trade campaign with money-off coupons.
Refreshments needed!
"Soft drinks – and sparkling drinks in particular – help to bring social summer occasions to life," says Amy Burgess, Senior Trade Communications Manager at Coca-Cola Europacific Partners (CCEP). "Colas, flavoured carbonates, mixers and energy drinks all have an important part to play – especially those from leading, trusted brands, which represent guaranteed quality at time when many consumers remain focussed on affordable treats."
Every soft drink category appears to be doing quite well despite lockdown, and what has suffered are the formats favoured by on-the-go and impulse sales – namely single serves. Instead, multi-packs and larger sizes have done better during the pandemic, and these are also the ones that will be in demand for BBQs – along with PMPs of course.
Burgess adds that,"We expect larger packs to remain in high demand this summer as people start to socialise again, and with consumption in and around home likely to continue. Value sales of our Coca-Cola multipacks are up 25.8%."
Phil Sanders, Out of Home Commercial Director at Britvic, confirms that the pandemic has accelerated health trends, with the value of low-calorie drinks up +7.7% in total soft drinks, and low sugar cola sales up 22.4% in the last 12 months."Sugar is a key consideration of shoppers," he says, "It is clearly vital to cater to those looking for low and no sugar alternatives of the core range, with products such as Tango Sugar Free®, Pepsi MAX® and 7UP Free."
He explains that Britvic has updated its 500ml PMP offering to a competitive single price point of £1, across its whole no added sugar range including Pepsi MAX, Pepsi MAX Cherry & Raspberry, Diet Pepsi, 7UP Free and Tango.
Robinsons is gearing up for the summer, and its iconic association with Wimbledon, with a £6.4m"Let There Be Fruit" campaign, and Fruit Shoot is having a "Fruit Shoot for the Moon" on-pack promotion, while on the Wellness front Aqua Libra has added a new flavour – Raspberry & Blackcurrant – to its range, and Purdey's has added two new products – Refocus and Replenish.
The sports theme of the summer also plays the pass perfectly to Carabao, who have a brand-association with soccer through their Carabao Cup sponsorship, but which also aligns them with the feel of sport and health in general. CMU John Luck also points out that their "EDLP strategy has been in place since the pandemic began and presents good value across the board but especially for consumers who are looking for the best tasting product to pick up" – perfect for BBQs. MD David Butcher adds that "We know that PMPs only work if the price point is attractive to shoppers, after all 18% believe that energy drinks are too expensive, especially, during the summer where the UK is likely to still be facing economic recession. By stocking Carabao's 'only 69p' cans, retailers can provide their customers with the option of purchasing a great product at a fantastic price."
Amy Burgess at CCEP sees how BBQ is a good one for the blending of alcohol and soft drinks – mixers and otherwise for cocktails for example, as well as an opportunity to sell RTDs, which are increasingly popular – into the occasion, as well as sophisticated soft drinks that are a good alternative to a treat alcoholic drink:
"Adult soft drinks like Appletiser can offer a sophisticated option to enjoy while others may be drinking beer, wine and cocktails. Made with pure fruit juice, and with no added sugar, Appletiser is particularly appealing to health-conscious consumers and can be enjoyed on its own, as a base for mocktails or as an accompaniment to a variety of spirits."
The Monster Ultra range is now worth almost £76m and isin 19% growth. The Monster Ultra Fiesta, launched at the beginning of this year,blends a juicy mango flavour "which we expect to be popular during the summer months," says Burgess.
Mine's a double
Wine, beer and spirits – especially in the form of cocktails – are a highpoint of BBQs and lubricate the proceedings, especially when there is a lot of food on offer. As such, framing the range to suit extended outdoor fun is a good way to capitalise on all the potential of a summer-long, garden-based celebration of restored freedoms.
Nick Williamson, Marketing Director at Campari Group UK, explains that cocktails are in vogue: 48% of consumers now choose a cocktail to accompany a meal. The demand for spritz serves is also growing. "A third of consumers are opting for sparkling cocktails,while more refreshing cocktails such as the Aperol Spritz are now the preferred choice for 43% of cocktail drinkers," he says
Rum, growing by 11.5% YOY, is also a big hit at BBQs because it lends itself so well to summer-style combinations and has fantastic party overtones. "Wray & Nephew, named as a top 10 must-stock brand for the Convenience channel, is c perfect addition to any summer BBQ," adds Williamson.
James Stocker, Marketing Director for Halewood Artisanal Spirits, explains that flavoured and spiced rums have also seen strong growth, with rum lending itself well to summery, fruity serves. "The latest launch in our Dead Man's Fingers Rum portfolio , our new Banana Rum, is a great choice for shoppers who are looking to entertain at home this summer. It's great for cocktails such as a Banana Daiquiris or a lighter version of a Pina Colada, simply mixed with coconut water and pineapple juice. It also tastes great paired with simple mixers such as Cola, Pineapple Soda, Ginger Ale or Appletiser."
Stocker underlines the RTD opportunities arising from BBQ occasions: "RTDs provide a great option during the summer months. With four fruity flavours – Mango, Cherry, Strawberry and Rhubarb, our new Lambrini cans perfectly tap into this trend."
"We know that the RTD (ready-to-drink) category has allowed retailers to tap into customers' preference towards high-quality and convenient drinks," says Hannah Dawson, Head of Category Development, Off-Trade at Diageo."We recommend stocking a good range short cut drink formats such as Gordon's London Dry Gin & Tonic, Gordon's Premium Pink Distilled Gin & Tonic (5% ABV), Smirnoff & Cola (5% ABV) and Pimm's ready to drink (5.4% ABV) to tap into the convenience trend." The canned cocktail is predicted to be a big BBQ success.
She adds that of course a mainstay of the summer garden, Pimm's should never be neglected: "Pimm's is a must-stock over the summer period and is a great way to drive sales in-store especially as the preference for gin-based drinks and lemonade is growing fast." And look out for the new PIMM'S Sundowner (18% ABV). The fresh new look for the PIMM'S No.1 bottle will be available on shelves in retailers from June and is designed for spritzing (between 5 and 8pm apparently). Again, just right for the BBQ.
Ben Blake, Head of Marketing at Treasury Wine Estates, meanwhile, says retailers should remember that "Summer is a key sales period for Rosé with 44% of sales accounted for during this time. White wines including Sauvignon Blanc, Pinot Grigio and Chardonnay are also top-sellers over the warmer months." He also nods to the mixing trend that will go down well at BBQ-time: "We introduced Blossom Hill Gin Fizz (8.5% ABV), made up of a sparkling blend of crisp white wine, botanical infused water, and a dash of gin – the three flavours include Rhubarb, Lemon & Rosemary and Blood Orange." He also recommends a hearty red to keep the party going. "Most recently added to the successful 19 Crimes portfolio is The Deported, a red wine infused with a shot of cold brew coffee. 19 Crimes has continued to go from strength to strength to achieve strong performance growth of 115% in volume and value."
At E&J Gallo Winery, Sales DirectorMark Stammers has some key lines to recommend, and notes that there has been a strong trend for premiumisation in the wine category over the past 18 months with still wine priced under £7 growing by 9%  on a MAT basis, whereas wine sold at £7+ has been growing more than 5x faster, being up by 46%.  "As we move into summer and start entertaining outdoors, we expect that this trend towards premiumisation in wine will continue to flourish," he says. He points out that Barefoot, the UK's #2 wine brand , is outperforming the category, with Barefoot Pinot Grigio, Merlot, Pink Moscato and sparkling Pink Moscato each hitting the top spots: "Barefoot's broad range offers a wine for every occasion over the summer months and with 56% of  consumers familiar with the brand , it is a must-stock for summer."
Barefoot now has a new 1.5l Bag-in-Box range, Barefoot on Tap (£12.50), which includes Barefoot Pinot Grigio and Barefoot White Zinfandel – just the thing for BBQ afternoons.
Meanwhile, the iconic Dark Horse continues to experience exceptional growth: volume sales increased by 51% in 2020, adding over £10M to the wine category. Stammers also recommends Apothic – he says that Apothic Red is perfect to enjoy with grilled meats.
Of course, no BBQ would be complete without plenty of beer on offer. "Beer is currently ranked the fastest growing category within BWS in the UK and the ongoing popularity of the liquid makes it a must-stock for retailers this summer," says Dawson."Maintaining a range of beer formats during summer barbecue season is a great way to maximise the profitability the liquid."
Ice-cold Guinness goes down very nicely on hot summer days and the portfolio offers various formats and pack sizes. She says that Retailers can look to help consumers recreate the Guinness on-tap experience from the comfort of their own homes with the Guinness Draught in Can 4pack & 10pack. Alongside this, retailers can encourage customers to explore the entire Guinness portfolio by stocking Guinness Original single 500ml bottles and 4x440ml cans as well as Foreign Extra Stout in 650ml bottles, which allow for easy trial.
Heineken has allied itself closely to the Euros and is looking forward to big summer sales, not least across the nation's gardens. UK Category and Shopper Marketing Director, Toby Lancaster, reveals that 22% of Beer shoppers and 20% of Cider shoppers are likely to buy more as they plan to spend time outdoors, at BBQs and socialising with friends and family. Then there is the sport as well.
"Heineken will bring fans from across the world into the spirit of the tournament and is a must stock for retailers over the season due to its synonymity with the sporting world," he says. He also recommends giving chiller space to low and no ("Heineken 0.0 has swiftly become the fastest growing brand in the segment and is the #1 Low & No Alcohol Beer") as well as paying attention to past-growing beers such as Birra Moretti, which is one of the fastest-growing alcohol brands in the off-trade (seeing a "staggering" 122%  growth) and of course the great summer special, cider such as Old Mout, a premium brand has also been experiencing a high volume of sales:
"After the success of Pineapple & Raspberry in 2019, Heineken UK expanded Old Mout's innovative range of fruit flavours in February 2021, with the addition of Old Mout Watermelon & Lime" says Lancaster.
Lighting the fire
A BBQ means nothing without the heat and smells of cooking wafting over the garden, and BBQ fuel and accessories should not be neglected by retailers – they are great distressed purchases, being items that are somehow never around when they are most needed, or they run out faster than expected and need urgent replenishing – which means the local shop.
Bar-Be-Quick's charcoal is second-to-none and head of sales Caroline Morris explains that they were the first UK charcoal supplier to obtain Forest Stewardship Council (FSC) certification for their products back in 1996.
"One of our greatest success stories is our Bar-Be-Quick Briquettes that are 100 per cent sustainable," says Morris. "The Briquettes, which are ideal for barbecues as they develop their heat and burn for longer periods than lumpwood charcoal, are made from sustainable coppiced wood."
Bar-Be-Quick also sells Wood Free Briquettes, which help support production within a developing country and allow waste materials to be reused:"The CO2-neutral briquettes are formulated from entirely natural ingredients including coconut shells, mango stones and corn cobs, that would otherwise go to waste."
Their best-selling product is the Bar-Be-Quick Instant Barbecue, "where it all began," says Morris,"quick and convenient to use for any barbecue occasion, whether planned or impromptu."Compact enough even for indies to stock, perhaps – although you might gaze with desire upon some of their other BBQ rigs, such as the Charcoal Kettle Pizza Barbecue or even the Tandoori Smoker & Grill!
"We would recommend retailers stock up on Instant Barbecues, which offer their customers a convenient solution and save precious floor and shelf space. It is also recommended that independents invest in a range of charcoal and barbecue accessories, e.g. firelighters, skewers etc., to cover those customers that already own a barbecue and are simply looking for products that will complement their current at-home setup."
Sound advice, and as a last-but-not-least detail – be sure to stock something to light the fire with.
In addition to the Classic Clipper reusable lighter, Clipper continues to offer a wider range of lighters and accessories, and now has a brand-new new utility lighter, theTube Plus, which is an improved version of previous utility lighters and is the ideal fire-starter for the BBQ season.Clipper says that not only has the Tube Plus been made with more resistant materials, it also has double the gas capacity compared to the regular Tube. "These improvements, teamed with the ability to refill the gas, means that your BBQ will stay lit for longer!"
It only remains to say that we wish all our retailers a smoking hot BBQ season and hope that your sales will be on fire!