With renewed importance of convenience channel when it comes to grocery and basic household items, many independent c-store owners are opting for a jazzy upgrade to make their stores competition-proof as well as modernised focal points of their respective communities.
Lockdowns functioned as a stark reminder that nothing can beat the presence of a convenience store close to home. In the five years between 2015 and 2020, convenience sector sales grew by 2.6 per cent, according to Lumina Intelligence UK's convenience market report, which also shows that in 2020, sales shot up by three times, rising by 6.3 per cent in just 12 months.
It is not only the shoppers who are once again vouching for their corner shops and local c-stores, but the big supermarket giants are also waking up to this realisation and are in a rush to take advantage of consumers thirst for convenience.
Issa brothers' Asda opened its 150th 'On the Move' convenience store in April, well on its way to its goal of rolling out 200 c-stores by the end of 2023. Morrisons opened its 500th 'Morrisons Daily' convenience store in January this year, whilst Tesco opened its 2,000th 'Express' store in February. With more than 800 c-stores, Sainsbury's is also continuing its convenience rollout.
Clearly, the convenience channel is buzzing. It is no wonder then that symbols and independents are upgrading to offer equal or maybe even better shopping experience to their customer base.
Scotland-based retailer Charanjit Singh Binning has recently opened doors of his refurbished Carrick's Store in North Ayrshire after an extensive renovation project that lasted 10 months, taking its floor space from 850sqft to 1800sqft.
"We have been trading here at this site for 22 years when my parents first took on the store in 2001. We had outgrown the store many years ago and with rising turnover and the addition of a delivery service, we were struggling for space.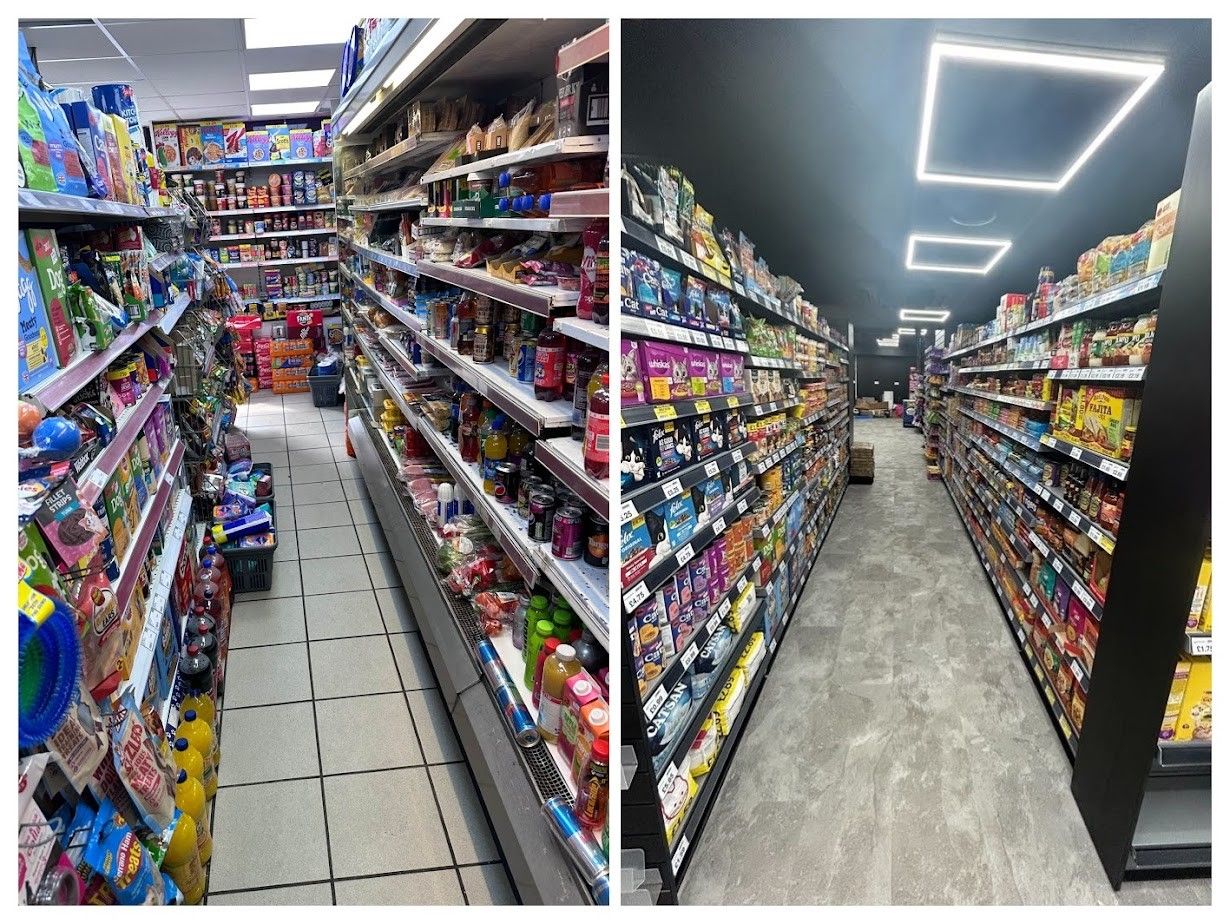 "Also, we wanted to create a store that would be a 'destination' store. We knew there was a gap in the market for such a store and we also knew we could increase both our in-store and online spend," the Premier Express store owner told Asian Trader.
With an aim to create a store with a "wow factor", he installed "new flooring and ceiling, five meters of freezers, 17.5m of refrigeration as well as a walk-in glass chill room for alcohol, a refresh area along with a new bakery unit stocking products delivered every morning".
While going for a refit from scratch or maybe an expansion at such a level is not a feasible idea for every store, it is still good to install some efficient, energy-saving and eye-catching refits for a quick and effective upgrade.
Beer cave, vape displays, automated chiller shelves and LED lightings are some of the latest refitting trends along with new age, AI driven in-store media and display.
James Morgan, business development and project manager at Vertex Scotland Refrigeration and Shopfitting, too lists beer cave and LED lightings as the toast of the season.
"At the moment I am installing a lot of beer caves, vape display solutions, food to go and frozen drink bars. In terms of finishes, black ceilings have been very popular, displaying feature energy saving LED lighting," Morgan told Asian Trader.
Refrigeration and display
Considering the rising energy bills, having a refrigeration system that is energy efficient can be a boon in the long term.
According to Morgan, "remote refrigeration with doors is at least 30 per cent more efficient than a standard unit without doors".
"There is also some really good new energy efficient integral multi decks on the market promising considerable annual savings," Morgan told Asian Trader, adding that "position of the refrigeration within the store, how well the cabinet is lit up with LED lighting and how it has been merchandised" go a long way in pushing impulse purchase.
While it is wise to go for chillers with doors, replenishing, merchandising, and shopping from these types of chillers can mean that the doors are held open for some considerable time, meaning greater loss of energy.
There are several automated merchandising systems available that allow products to be front facing all the time. Automation also reduces the need to merchandise throughout the day, helping to manage stock levels and maintain planogram compliance.
An innovation creating quite a buzz in this category is Roto Shelf by HL Display, a rotating shelving system that can be retrofitted into most cabinets.
Packmoor-based One Stop retailer Dee Sedani as well as Ben Lawrence, director at Lawrences Garages, have got this innovative chilled rotating shelf installed in their respective stores. Both vouch for the same, saying drinks are colder and since they are rotated now, it saves their time that earlier went into rotating stock, as expressed by them on social media.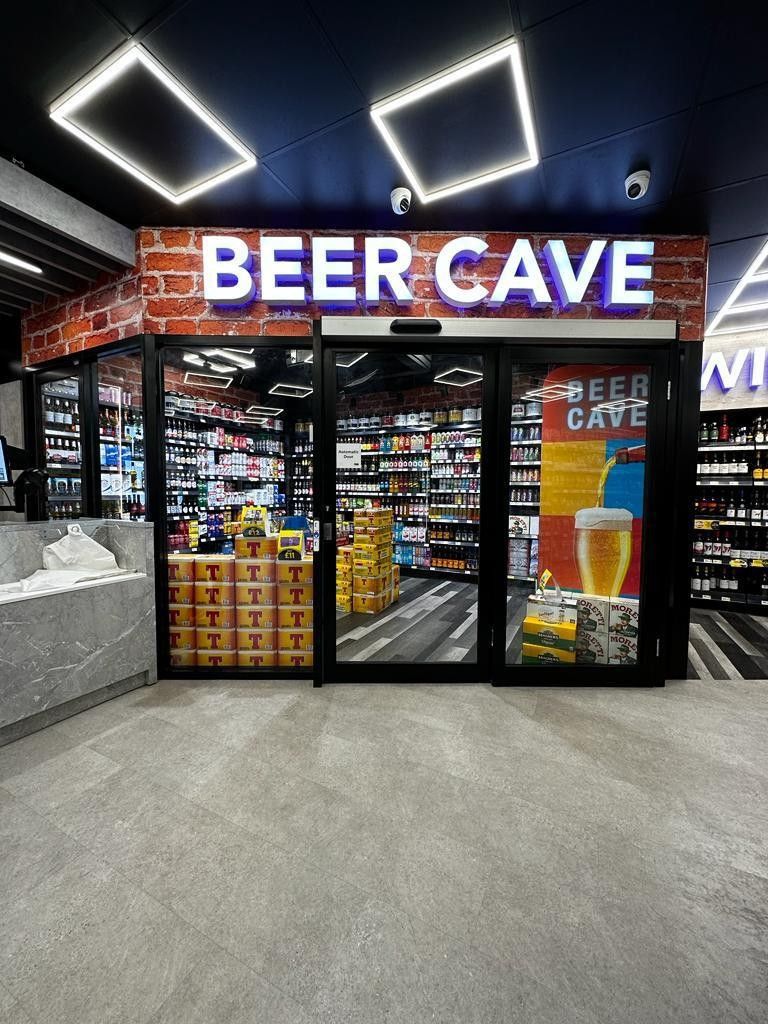 Another buzz word creating quite a wave is beer cave, that is creating a dedicated walk-in, closed space to stock beer-wine-spirit range with a controlled temperature to keep the range chilled.
Glasgow-based Premier retailer Girish Jeeva has just opened the beer cave in his store for shoppers and the response has been "phenomenal".
"It's something different, something which makes us stand apart from other shops in the area. Since everything is already chilled, especially the kegs, customers are thrilled as they don't have to chill it at home," Jeeva told Asian Trader.
Not only his shoppers are in awe of this concept, but sales of the store also have "almost doubled to what we normally do", he said.
Having a beer cave is also helping Jeeva to prevent underage sales.
"Since there is a school nearby, we have lots of teens visiting the store. It is now easy to keep a eye on them as there is a sliding door at the entrance of the beer cave and staff let only adults inside," he said, adding that he hired the services of Vertex Scotland for this makeover.
Shelves and Stacking
Higher and deeper shelves are the toast of the season- a quick and smart trick to broaden the aisle space.
Morgan from Vertex Scotland too echoes the similar trend, saying most retailers now prefer higher and deeper shelving so that aisles can be made wider and there is more space for the customer to shop and spend time in the store.
"The deeper shelving also helps with limiting over-stock in the back store," Morgan said, adding that having a base shelf drawer system for those really lacking space is also a great idea.
An interesting innovation in racks is Vertical Vendor, particularly effective for space-starved stores.
Coventry-based One Stop retailer Aman Uppal vouches for this smart racking system that he got installed in his seven-year-old relatively new and modern store.
"I am always looking for ways where we can innovate in certain categories. I have been looking at how we can introduce more permanent and semi-permanent movable stands to replace cardboard flow display majorly for environmental concerns as I think retailers must be very cautious in looking at this going forward," Uppal told Asian Trader.
Uppal's search ended at eye-catching, self-replenishing shelves by Vertical Vendors that are great for increasing impulse sales and brand awareness. The stand can contain 24-packs of four-can-packs stacked side by side on each layer. When the top stacked packs are picked up, the ones beneath them rise on their own taking the top spot.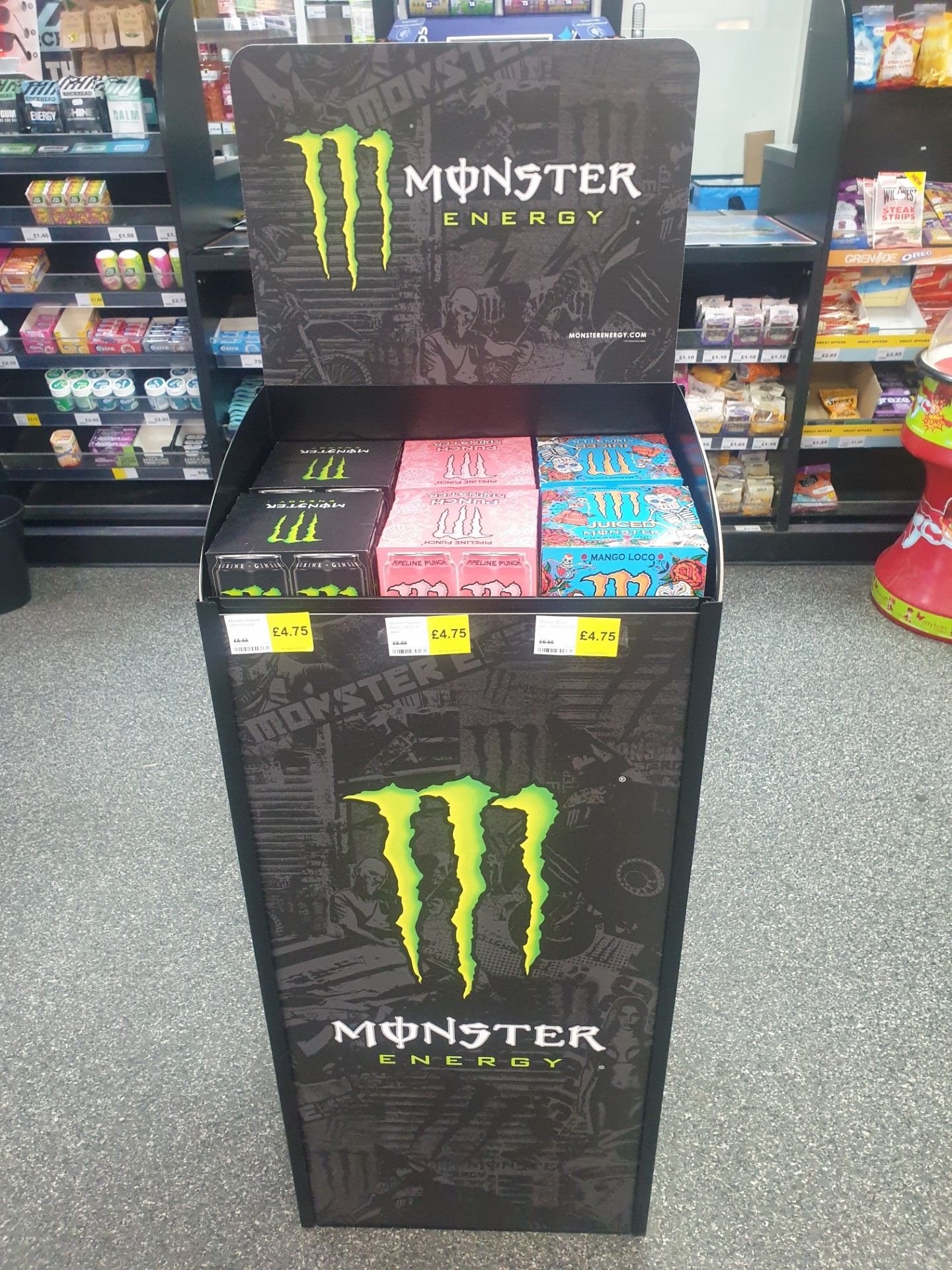 Standing like an eye-candy in the store with a robust Monster branding, customers notice it straightaway, so it is great in not only creating curiosity and increasing sales but also works as a great tool in advertising any product line, Uppal said, adding that since chillers are in the back of his store, Vertical Vendors allows us to bring some of those drinks right to the front of the store.
"It looks great. It's easy to use and saves a lot of staff time as since the stock rises every time a customer picks up, it takes away the need of frequent replenishing," he said.
The fact that display graphics can be changed easily, this display unit can be rebranded.
Uppal has three different sizes of this stand and is now planning to work with his franchise partner One Stop to come up with some artwork showing the partnership and store name so that they can be used more flexibly with other products if they fit within the dimensions of the stand.
Uppal has also installed flexi racks for 150ml-cans. They are designed in a way that when the customer takes one off the rack, another one rolls forward so that they appear always filled up.
Jazz it up
Immersive in-store media and electronic shelf edge labels are also something retailers are investing in for a pleasant yet personalised customer experience.
AI driven brand-audio, like the one developed by Retail Unlimited- one of the suppliers to Binning Premier store, is one of the ways to personalise customers' in-store experience.
Kavanagh Group is reported to have transformed its Belsize Park Budgens store in the London neighbourhood into an internet-of-things (IoT) powered grocery store by installing and utilising electronic shelf labels.
The store's IoT features automated pricing and promotion execution by from SES-imagotag with real-time shelf visibility, which helps to drive sales and prioritise replenishment of high value and margin products.
Morgan feels that the most important reason to upgrade is to modernise the shop to meet the needs of the next generation of shoppers and to stay relevant by implementing what is new and smart thus driving footfall to the store.
Store owner Uppal is satisfied with his new stands as now he can change the front of the store area every two weeks and that makes customer remain curious as what is going to be next on display.
"We are not only trying increase our sales, but we are also trying to elevate the ambience and do our bit in reducing the harmful impact on environment," he said.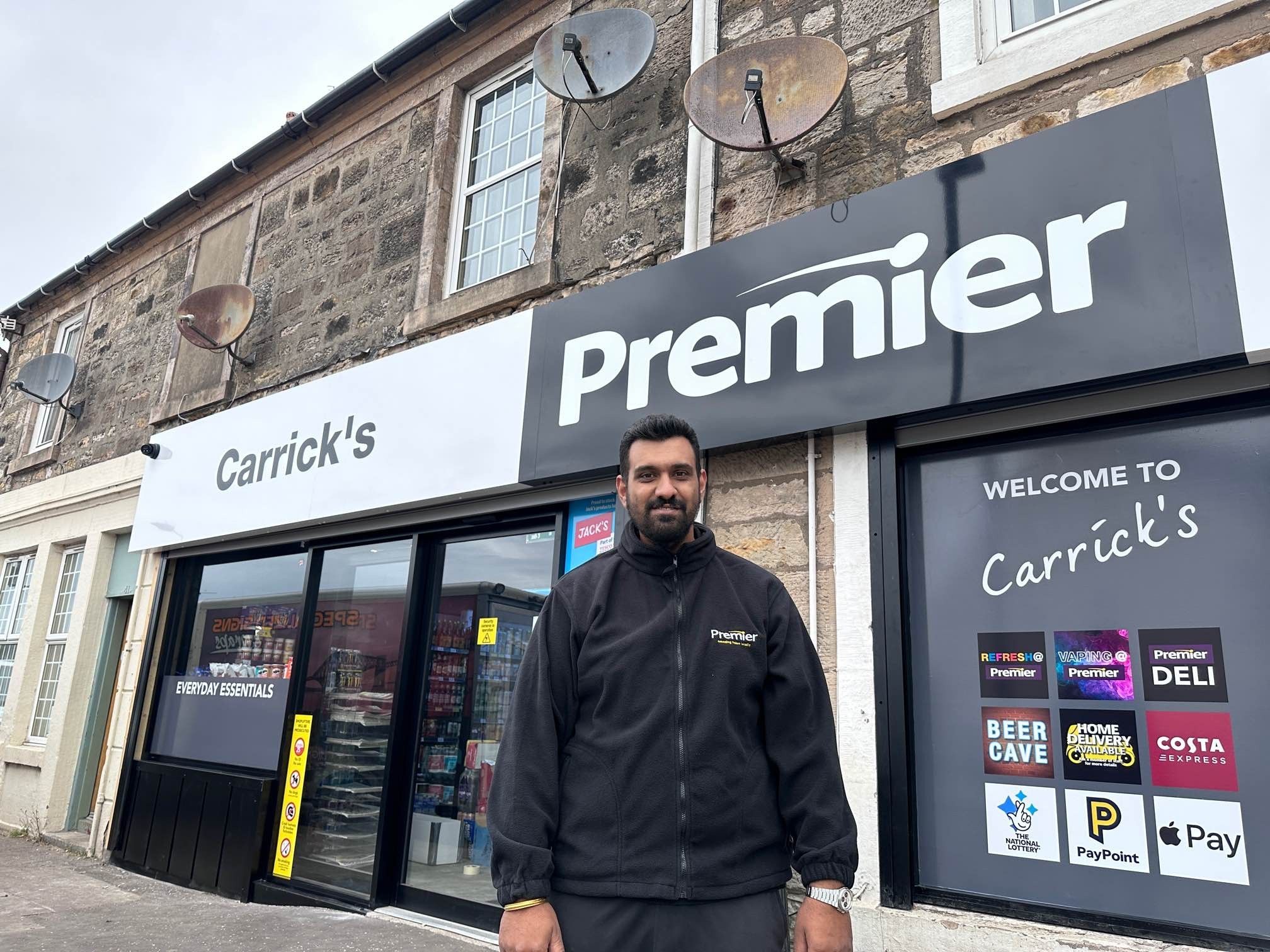 The retailer also called on companies to invest more in the permanent movable stands which are lightweight, but robust to hold the stock. Not only are they more sustainable, but they also appear better than cardboard stands which only last two or three weeks in store, he said.
To sum it all, a combination of creativity, innovation and technology can go a long way towards catching shoppers' attention and gaining more foot fall.
Stating that the store has seen a massive uplift in certain areas especially frozen foods, Binning said that he is proud of what he has achieved.
"I love retailing. While everyday is a challenge, this project was a massive undertaking for our family both financially and practically. I think people depend on their local stores and we depend on the communities we are in. We really wanted to provide a very accessible, bright open store with the range and pricing the customer expects and this project has delivered the exact store which people can be proud of," he concluded.