Ultrafast grocery delivery start-ups came with a bang but seem to have fizzled out in a jiffy. Their apparent debacle however has somewhat created a little gap in the market which local independent stores are best placed to cater to.
Instant or quick grocery delivery firms burst onto the UK market during the pandemic, becoming the poster child of tech start-up world, their so-called "golden egg".
Between 2020 and 2021, companies promising to bring essentials to your doorstep in 15 minutes or less collectively raised more than £5.34bn.
This gigantic level of investment gave birth to many new and revamped some existing speedy grocery delivery brands like Gorillas, Zapp, Jiffy and Getir. They hired en masse and expanded into new markets at breakneck speed. Established food delivery brands, notably Deliveroo and Just Eat, also jumped in, venturing into the space, alongside the big supermarket giants themselves.
Usage of rapid grocery delivery apps quickly soared with heavy discounting and attractive introductory offers encouraging rapid customer uptake. These companies were typically marked by flashy branding, aggressive marketing and steep discounts.
During its peak in 2020 and 2021, it was often said that quick or rapid grocery delivery services would eventually change the grocery-buying habits of Brits, thus potentially threatening independent convenience stores. However, in less than two years, the landscape has changed back dramatically. As the threats of Covid subsided and fears of inflation and recession took over, changes had to be made again, this time to cut down on spending. As a result, convenience took a back seat as focus shifted to save extra costs.
Delivery eats itself
Some of the start-ups that enjoyed instant fame during the pandemic have since been acquired by the more successful players while some are barely surviving.
Mergers, closures and a funding slowdown have reshaped the rapid delivery space, leaving fewer players standing. Many of those remaining are scaling back operations and pulling out of geographical markets. One indicator that consumer desire for speedy delivery is slowing down is the reduction of downloads of the apps. All the major speedy grocery apps have seen year-on-year dips in their download rates.
British startup Zapp has seen the biggest drop in downloads between Q3 2021 and Q3 2022, with 91 per cent fewer downloads. Getir dropped 45 per cent, Flink 47 per cent and Gorillas 61 per cent. Only GoPuff saw a less than double-figure drop – with just a 6 per cent fall.
Fleets of drivers to fulfill the promise of speed, the rising cost of fuel, and the running costs of office space, wages, advertising and discounts sucked up the funding. May 2022 is deemed as the crunch month in the industry. In the space of two days, German grocery app Gorillas, Turkish app Getir and British app Zapp laid off workers, closely followed by news of market exits.
Getir delivers groceries in cities in as little as 10 minutes from so-called "dark stores" – city-centre depositories – charging a mark-up on supermarket prices.
Though it secured a £410m cash infusion recently, media reports say the company bleeds an estimated £80m per month. Getir has lost 80 per cent of its valuation since spring 2022.The company recently laid off 2,600 people and shuttered operations in Italy, Spain, and Portugal. The Turkish firm, which has 23,000 staff in markets such as the UK and Germany, said the cuts would improve "operational efficiency".
Today, Getir is said to be "nowhere near" in establishing a clear path to profitability. Quick commerce industry experts like Sujeet Naik, an analyst at Coresight Research, has cautioned the company to "fix its model first".
Berlin-headquartered Gorillas launched in London in 2021, with an aggressive marketing campaign and fast-paced establishment of dark store locations that quickly cemented it as a major player in the UK rapid grocery delivery scene.
Gorillas, fueled by millions of dollars of venture capital, soon reduced its UK workforce and withdrew from five British towns and cities. It was later acquired by Getir.
Even the acquisition of two of the largest players in the sector saw cuts to their valuations in the deal terms. Experts even state that Gorillas had no other choice but to sell, as despite the rapid head count reduction, the path to profitability was going to take a lot longer than the burn rate.
While Getir's acquisition of its rival Gorillas was widely seen as a victory, those who came from Gorillas point to systemic challenges they were facing that suggest Getir too is cutting corners. Riders often raise issues like faulty batteries, pressure to hit faster delivery times, against computer-generated estimates that fail to account for traffic, stairs, or a failing battery on a poorly maintained bike.
Buzz on social media was that Getir's UK arm was reportedly auctioning off motorbikes, helmets and even fridges in an attempt to mitigate cash flow issues. Staff were also asked to go door-to-door offering discounts and free merchandise to boost sales.
Now the Turkish startup once valued at almost £9bn is chasing growth by making its service available via Uber's platform in a bid to tap a larger user base. Getir says it's drawing on Gorillas' network of dark stores to power the grocery delivery partnership with Uber Eats.
It's not only about Getir and Gorilla. Several instant grocery delivery apps have fallen like a pack of cards over the last 18 or so months.
Founded in London in 2019, Weezy picked up more than about £16m funding in less than two years. It never made a profit, however, its acquisition by Getir spared it from facing the bursting rapid delivery bubble.
London grocery delivery upstart, Jiffy nabbed £23m in Series A funding around half a year after initial £2.6m seed raise. Jiffy had all the typical features of archetypal rapid grocery delivery startups- sending supermarket products straight to consumer's homes in minutes from dark store locations.
In 2021, Jiffy made just under £2m in revenue compared with pre-tax losses of £9.5m. Jiffy has now changed paths and has pivoted away from its consumer-facing delivery business to focus more on providing software to other ecommerce brands.
Zapp is trying to be unique with a premium model in which it focuses on serving more affluent areas. Costs for consumers are also higher, based on the idea that the products being purchased are of a better quality. It reported losses of £76.2m on turnover of £11.5m in 2021.
Zapp has now realigned all its resources solely to London after exiting markets such as the Netherlands and other British cities like Manchester.
The rise of Locals
Providing last-mile or home delivery to its customer base was not a new concept for local stores and corner shops. They have been doing this for decades, majorly through orders placed through phones and mobiles.
At the time of the pandemic, most local retailers further rose to the occasion while several of them started offering quick and instant grocery delivery in their communities. While many maintain their own fleet of vehicles, including electric bikes and electric cars, with some also coming up with their own independent apps for placing delivery requests, a lot many more resort to third party delivery services like Snappy Shopper.
Snappy Shopper partners with thousands of small business owners who have been serving their communities for years, some for generations, enabling them to not only serve their customers better but grow their own business reach geographically as well.
Dundee-based Snappy Shopper has raised a seven-figure sum to invest in the convenience store home delivery platform's growth plans and core technology.
The company has achieved triple digit average annual revenue growth since its inception in 2018, hitting the 50 million products sold and more than five million orders placed through the platform milestones during 2022.
Noteworthy here is that the Scottish firm charges the same amount for products as in store, while competitors impose a significant mark-up.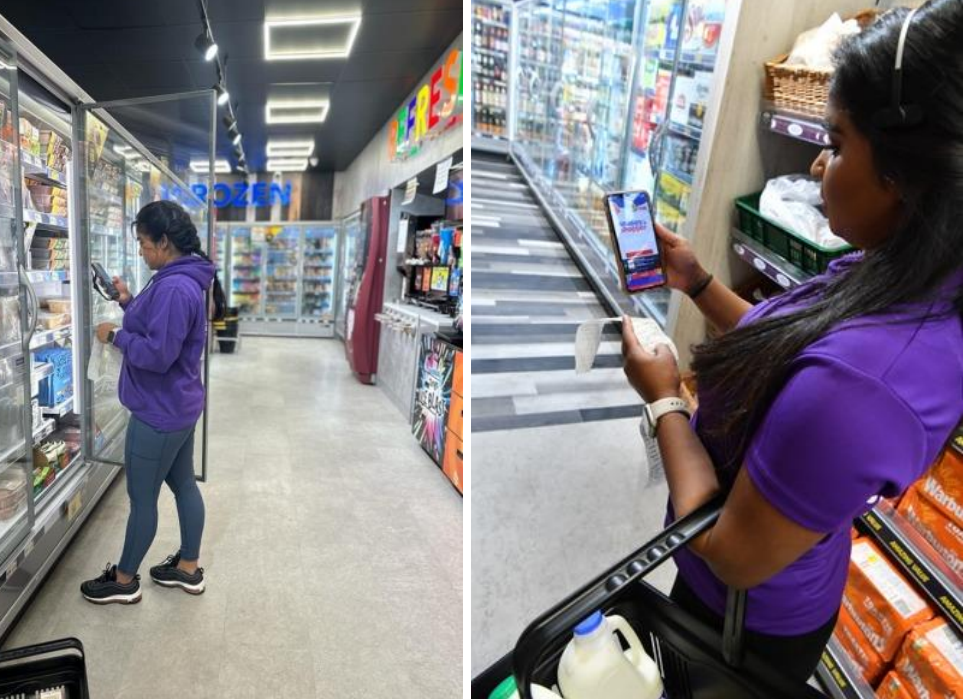 For retailers like Glasgow-based Premier store owner Girish Jeeva, home delivery through Snappy Shopper adds another funnel of extra sales.
"When we first started on the Snappy Shopper platform, we were only doing £500 weekly sales but this has increased majorly reaching £10k- £13k and is still growing to this day," he says.
"This requires us to have at least 2-3 drivers on shift each day as well as having backup drivers to cover busy periods such as our 1p deals run in tandem with Snappy Shopper. These deals help us to help our customer base during times when a lot may struggle, such as the holidays. We have reached 500+ deliveries weekly and this is increasing week in and week out thanks to the service and experience we provide," he adds.
For retailer Imran from Londis Kings Park in Glasgow, £8,000 a week comes from Snappy Shopper with 80 per cent coming from new customers who otherwise don'tcome to the shop.
Retailer Raj from Premier Rawmarsh in Sunderland states that the Snappy Shopper sales account for 20 per cent of its overall store sales and over half of them are new customers. The basket spend is really good and Snappy Shopper also gave him a lot of support with the launch with Facebook ads and leaflet drops.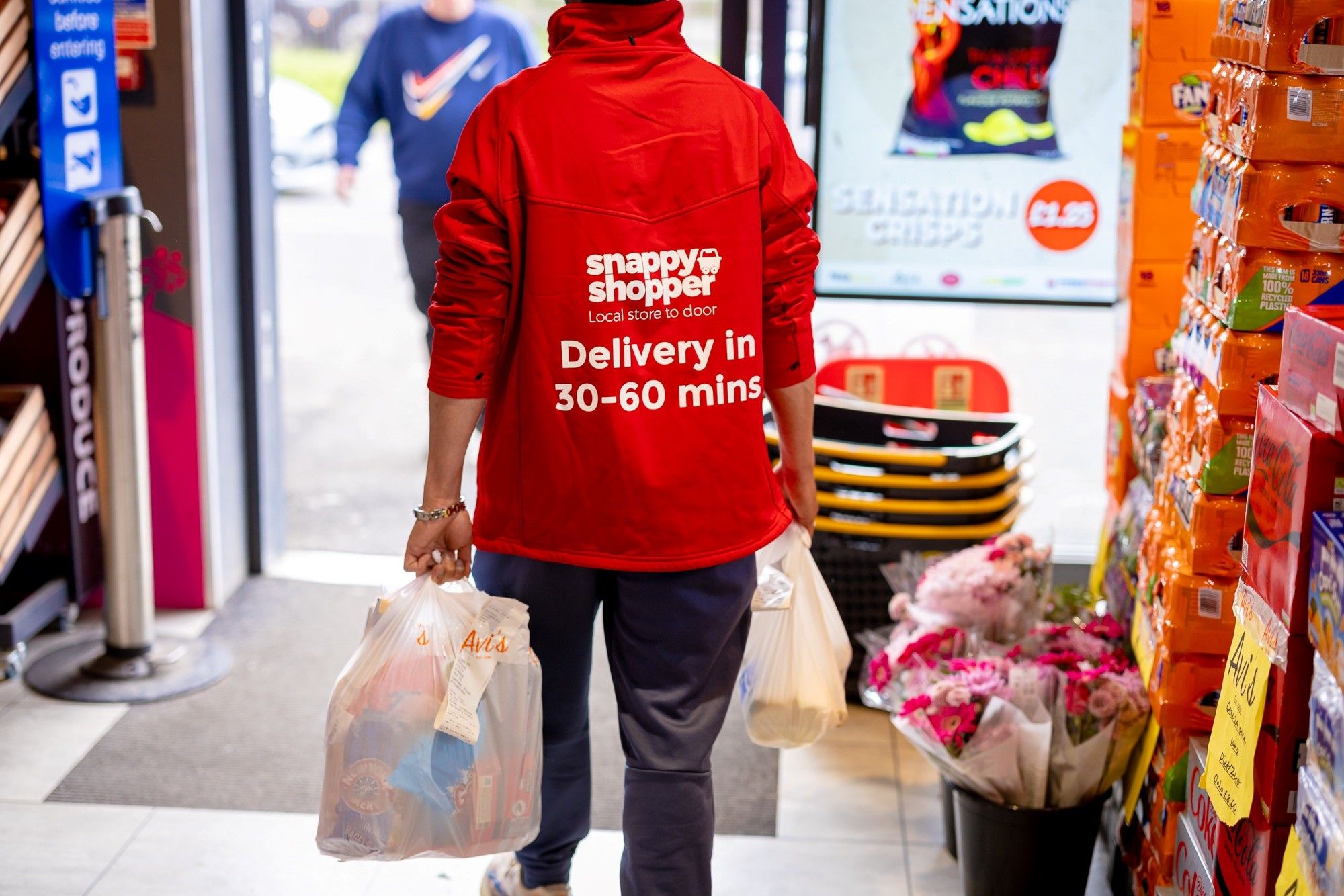 It was reported recently that Snappy Shopper's partnership with Nisa has delivered £12m in sales since they joined forces in 2020. With a total of 77 Nisa stores across the UK, the number of orders hit nearly 500,000, with an average order value of £26.70.
So far, Snappy Shopper has been focused on the UK convenience sector but plans to expand to other high street retailers.
The business is now planning to capitalise on the slowdown of the dark store operating model and capture consumer demand by enabling existing local shops to offer a quick e-commerce service.
24houralcohol is another innovation that maps all the stores, supermarkets as well as independent stores on a map, and allows shoppers to place order from any through third party services like GoPuff and Beelivery.
These are simply some excellent examples of how e-commerce can work in partnership with local retailers to the benefit of customers- a complete win-win solution for everyone.
Going for it
Q-commerce and food aggregator partnerships are also hot. It allows grocery delivery firms and food aggregators to receive some of the benefits of a merger without actually having to go through a merger, almost like they are dating to test whether a closer long-term relationship can help them reach profitability.
Back in 2020 when instant delivery apps were in boom, concerns were also raised overgrowing number of dark stores, saying they would drain life from the public spaces and eventually create a society of homebound consumers. However, seeing the debacle of instant grocery delivery apps within three years, that forecast seemed to be too far-fetched and a borderline exaggeration.
Brick-and-mortar stores are here to stay for a long time to come though it is always wise to up the game with changing times to give the add-on services to those who desire.
Since consumers are now open and warmed up to this idea of ordering groceries at home, it is need of the hour that indie stores too take the trust that they have earned over decades to the online world and capture their fair share in instant delivery.