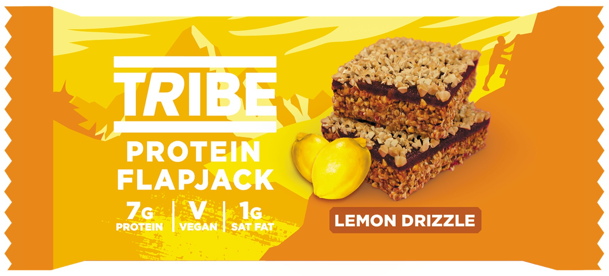 Healthy snack wholesaler Epicurium has expanded its ranges with Warrior, Tribe, The Gut Stuff, LoveRaw and Yumma.
With summer seeing consumers spending more hours outside and on-the-move, Epicurium has added to its protein offerings to provide that convenient and tasty boost with expansions to its Warrior and Tribe ranges.
Epicurium has added 10 flavours of Warrior Crunch bars to its range. A multi-layered, low carb bar packed with flavour, they contain 20g of protein with just 2.3g of sugar per bar, making them the ideal option to meets shoppers' demand for that balanced, tasty, and healthy snack.
TRIBE's Lemon Drizzle is the latest addition to Epicurium's Protein Flapjack range, boasting an oaty base, soft date layer and crunchy peanut topping. Containing 7g plant protein while being vegan and gluten free, they are the perfect pick-me-up for the active and plant-based-conscious consumer.
As consumers are continuing to be more conscious of their dietary choices, Epicurium has expanded its The Gut Stuff and LoveRaw ranges to offer more choices to the healthy-minded shopper.
Sea Salt & Caramel is the latest addition to Epicurium's The Gut Stuff's high fibre bar collection, being gluten free and vegan, while containing 10g of that all-important dose of fibre that 9/10 of us aren't getting enough of. Snack smarter with The Gut Stuff's gut-loving high fibre and nut bars.
Epicurium has added LoveRaw's Peanut Caramel Bar to its range. Packed full of soft nougat, chewy caramel, and roasted peanuts, while being plant-based, containing no palm oil, and no artificial additives, they offer the perfect option to satisfy those cravings without the guilt with a snack you'll go nuts for.
Epicurium has also added three new Yumma products to its range in the form of Yumma Cups, Peachies, and Strawberry Fizz. Redefining the sweets aisle, Yumma candy comes in natural flavours, contains real fruit juice, is palm oil free, gluten free, fat free, and contains no artificial sweeteners. Made from 100% recyclable packaging, they are the perfect option for the eco-conscious shopper looking for a sweet treat.