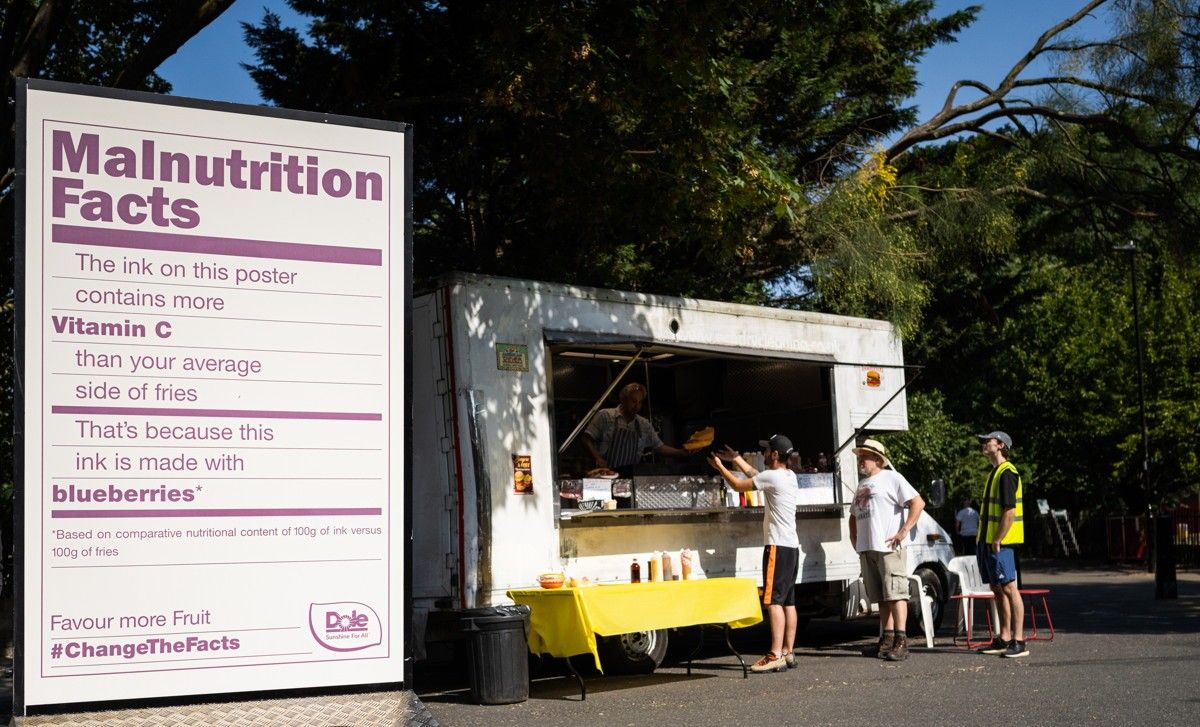 Dole Sunshine Company, the global leader in packaged fruit products, has launched a new campaign, Malnutrition Labels: Nutritional Ink, taking poor snacking habits to task.
Designed to spark conversation and action, the campaign calls attention to the low nutritional value in some of Britain's favourite snacks and on-the-go food options by printing ads using ink made almost entirely of fruit.
A launch film captures the campaign's innovative approach to communication and consumer education, showcasing posters across London printed with ink containing more nutritional value than many of the snacks consumed daily in Britain – think fast food, sweets and more.
"Our Malnutrition Labels campaign series shines a light on issues related to nutrition from obesity and food insecurity to the effects of food waste," said Anna Kovaleva, senior marketing manager, Dole Packaged Foods Europe.
"We are excited to bring this innovative series to London in an effort to increase awareness of the critical nutrition gap and help educate consumers."
Dole Sunshine partnered with London-based St. Luke's Communications and Bompas & Parr, leading experts in multi-sensory experience design, to create a range of printing inks made almost entirely of fruit and natural ingredients – containing more nutrients than many not-so-nutritious snack choices. Testing was led by food scientists and went through various rounds of experimentation, using a variety of fruit waste and scraps, from pineapples to grapefruit, to create optimal colours and nutritional formulation for printing.
The integrated campaign will be deployed across OOH, social, and digital elements.
As part of the campaign Dole Sunshine donated products to FareShare, the UK's largest charity fighting food waste and hunger.
"Fruit is at the heart of everything we do at the Dole Sunshine Company," said Isabelle Spindler-Jacobs, European MD of the Dole Sunshine Company.
"Too often we see consumers making poor snacking choices, which ultimately may impact on their health. We hope our Nutritional Ink ad campaign will start to inspire the crucial conversation and systemic change that our food system desperately needs and show that even a small amount of distilled fruit contains more nutrients than the usual unhealthy packaged snacks. This campaign is all about educating consumers and making them think twice about their food choices."