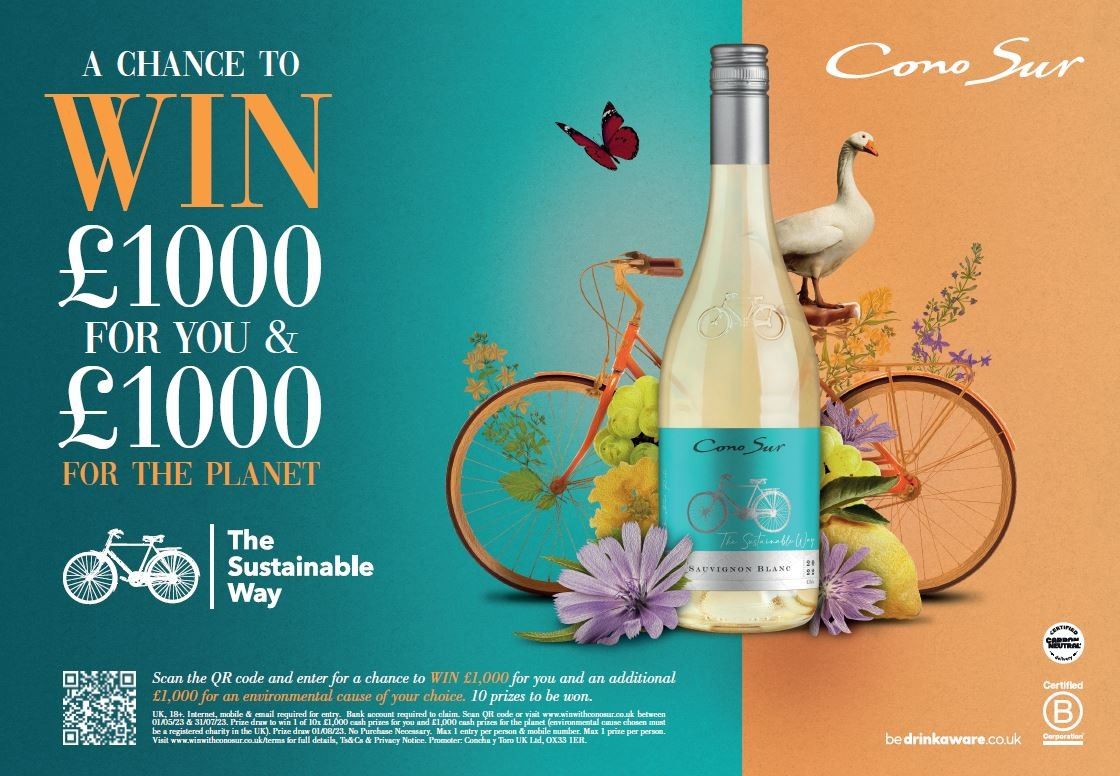 Cono Sur, one of Chile's leading and most innovative wineries, has launched a major marketing campaign offering 10 cash prizes which are designed to also benefit environmental causes.
The brand, which has recently unveiled a new look for the Bicicleta range, is ramping up the visibility and awareness of its well-established sustainability credentials via this on-pack activity. Shoppers can enter the competition via an on-pack QR code which will feature on every bottle of Cono Sur Bicicleta wine between 1 May and 31 July. Codes will also be featured on point of sale and general advertising around the country. 10 prizes, which each comprise £1,000 for the winners and £1,000 each for a nominated environmental charity of their choosing, will be awarded at the end of the competition.
"We're so pleased to launch this great-looking campaign to help build awareness of the brand to follow the recent launch of the fantastic new packaging to the UK market," said Cono Sur Brand Manager in the UK, Javiera Moller.
"Cono Sur is well-respected as an innovative and environmentally conscious wine brand, one of the few certified B-Corp wineries globally, and our marketing campaign backs this up by making a positive contribution to good causes whilst building awareness and trial amongst wine shoppers."
The campaign has many visible elements:
Out of home: Bicycles featuring the campaign on mobile posters touring London and Leeds over 3 weeks.
Social and Digital: reaching younger adult treaters with a new UK website and UK instagram account, aided by amplified influencer support.
In store: Driving rate of sale and trial through several point of purchase touchpoints
Trade and Consumer PR: Amplifying Bicicleta's new look and the full campaign through key trade and consumer publications.
The Bicicleta Range available in the UK comprises:
Bicicleta Pinot Noir 2021 – the number one branded Pinot Noir in this country by value
Bicicleta Sauvignon Blanc 2022
Bicicleta Viognier 2022 – the number one branded Viognier in the country by value
Bicicleta Malbec 2021
Bicicleta Sauvignon Blanc Blush 2022