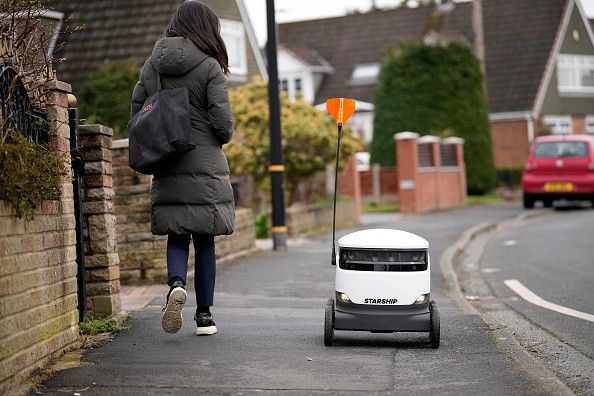 Robots are heading to the streets of Greater Manchester from today (15) as Co-op partners with Starship Technologies and Trafford Council to bring autonomous grocery deliveries to residents across Sale.
Already a familiar sight in Milton Keynes, Northampton, Bedford, Cambridge and Leeds, orders are made through the Starship food delivery app with groceries picked fresh in local Co-op stores and delivered to customers in the community on-demand, quickly and conveniently.
The service in Greater Manchester will initially be available to 24,000 residents across 10,500 households. Orders are made through the Starship food delivery app, which is available for download on iOS and Android.
The groceries are picked fresh in local Co-op stores in Sale (located in Washway Road and Coppice Avenue).
Customers choose from a wide range of grocery items, schedule their delivery, then drop a pin where they want their delivery to be sent. They can watch the robot travel in real-time via an interactive map, and will receive an alert when it arrives, and can meet and, then unlock the robot's lid through the app to retrieve their groceries. Delivery fees start from just 99p.
Chris Conway, eCommerce Director, Co-op, said: "Co-op stores are well placed in the heart of local communities to provide quick, easy and convenient home deliveries – whether a full shop or last-minute top-ups. We are committed to exploring new and innovative ways to increase access to our products and services, and delighted to be able to roll-out autonomous robots to provide additional online flexibility and choice in Greater Manchester."
Andrew Curtis, UK Operations Manager at Starship Technologies, said: "We are very pleased to offer the benefits of autonomous delivery to thousands of residents in Greater Manchester from today and continue our expansion in the north of England. The robots provide ease and convenience for people, while also making a positive contribution to reducing congestion and carbon emissions. We are confident that the service will be well received and look forward to a long-standing relationship with Trafford Council to hopefully roll the service out further in the months ahead."
Starship's robots are battery powered, lightweight and travel at the speed of a pedestrian. They use a combination of sensors, artificial intelligence, and machine learning to travel on pavements and navigate around any obstacles. To deter thieves the little robot has a loud alarm which sounds if tampered with plus they are too heavy to pick up.