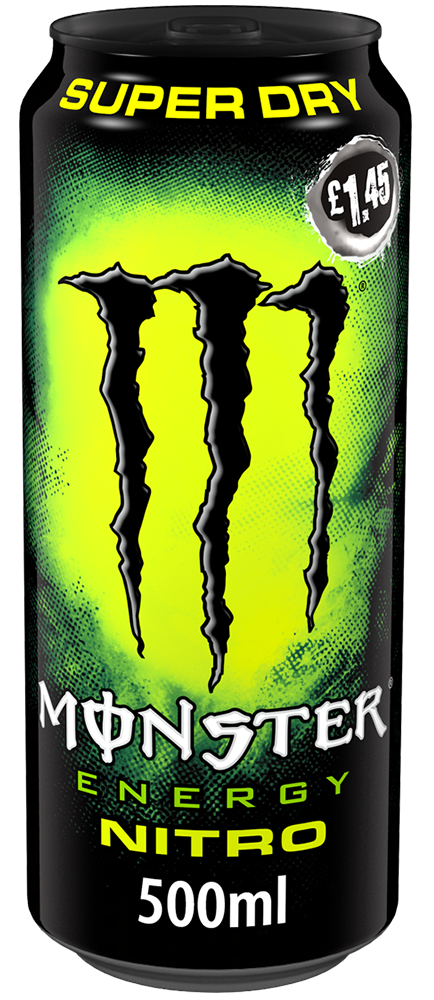 Coca-Cola European Partners (CCEP) has announced the launch of Monster Nitro, which uses blended gas technology to give consumers an uplift, in a technical first for the category.
Designed to appeal to seasoned energy drink fans, Monster's signature energy base has been supercharged with a blend of nitrous oxide and carbon dioxide gas, to deliver a uniquely light, dry carbonated texture.
The new 500ml variant contains 32mg of caffeine per 100ml and delivers a satisfying citrus taste.
POS materials are available to support the roll-out from May, emblazoned with the strapline, 'BRING THE N2OISE', to create theatre in-store and online. These can be requested via CCEP's trade website My.CCEP.com.
Now worth more than £321m, Monster is the fastest-growing energy drinks brand in GB, and has delivered more than half of the sector's £148.2million growth over the last two years.
Monster Nitro is the fourth new product from Monster this year, following the launch of Monster Mule, Monster Ultra Fiesta and Monster Juiced Monarch in January – all of which have been well received by retailers and consumers alike, says, Gemma Nicholas, Associate Director, Commercial Development at Coca-Cola European Partners GB: "Energy drinks continue to grow, and much of this is down to the success of the Monster brand. In fact, more shoppers are buying more of Monster's drinks, more often than ever before.
"With the launch of Monster Nitro, we're giving our fans something they've never had before. We're confident that along with our other recent launches across our Core, Juiced and Ultra ranges, and the high-impact marketing, promotions and sponsorships Monster is famous for, this will help to drive sustained growth throughout 2021 and beyond."
Monster Nitro is available in plain and price-marked packs*. Monster and CCEP's new retailer support platform, www.salessupercharged.co.uk, has tips to help convenience retailers make their energy fixtures work as hard as possible, including the role PMPs can play in delivering visible value.
*The recommended prices on CCEP PMPs are intended only as a guide for retailers, and they are free to set prices as they wish. Plain packs are also available.