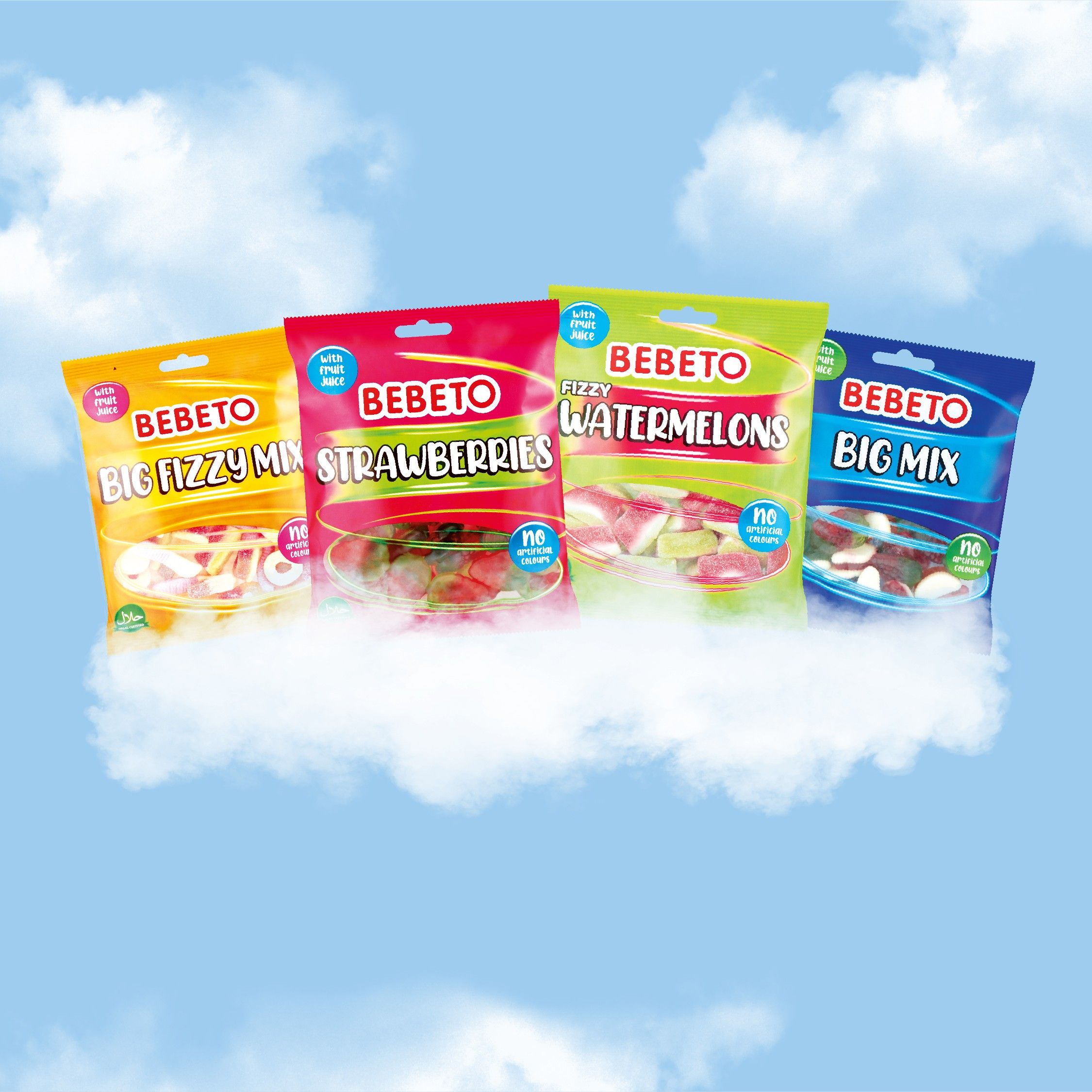 Bebeto, the leading confectionery challenger brand from Kervan Gida UK, is appearing in homes across London and surrounding counties this autumn in its first ever TV campaign. "Everything's Bebetter with Bebeto!" promotes Bebeto's delicious new Gummies range, made with fruit juice and no artificial colours.
The new advert runs on Sky for four weeks from 10th September. The significant six-figure investment is part of a nationwide marketing campaign, including out-of-home advertising, PR, social media marketing and consumer sampling. Bebeto's TV debut is a core element of Kervan Gida UK's growth plan, which has seen sales jump +38 per cent in the last year.
The focus of the ad is the four-strong Bebetos Gummies 150g sharing bags range, with Fizzy Watermelons, Big Fizzy Mix, Strawberries and Big Mix, which launched in this popular format in April 2021. The hero flavour in the advert is Gummies Fizzy Watermelons.
"We're very excited about our new campaign," says Stuart Johnston, Managing Director, Kervan Gida UK Ltd, "Bebeto is all about enjoying the little things in life and providing moments of happiness for consumers. We're making a major marketing investment in our vision for the brand, which is to drive it into the worldwide sugar confectionery top five by 2023. This autumn's UK TV debut is a central part of the plan."
The Bebeto UK range includes Laces, Soft Candy Pencils, Gummies, Marshmallows and Bubble Gum lines, says Stuart. Range developments are an important element of the strategy:
"In April we launched our new Gummies 150g range, made with fruit juice and no artificial colours. We took our best-selling shapes and flavours, Big Fizzy Mix, Strawberries, Fizzy Watermelons and Big Mix, and mixed, matched and repackaged them in a bigger sharing bag format, in line with the strong growth in sharing bags seen during the pandemic. And now we're putting them up front in our first ever TV campaign, backed by out of home and social media support."
52 per cent of confectionery occasions are shared with other people, says Stuart. And in the last year multipacks and sharing sweets' sales value grew 3.9 per cent.
Bebeto Gummies 150g range is available via wholesalers and in retailers including Spar, One Stop and WHSmith. MRRP £1 per pack plus available in PMP too (£1). The four strong range is Halal certified.