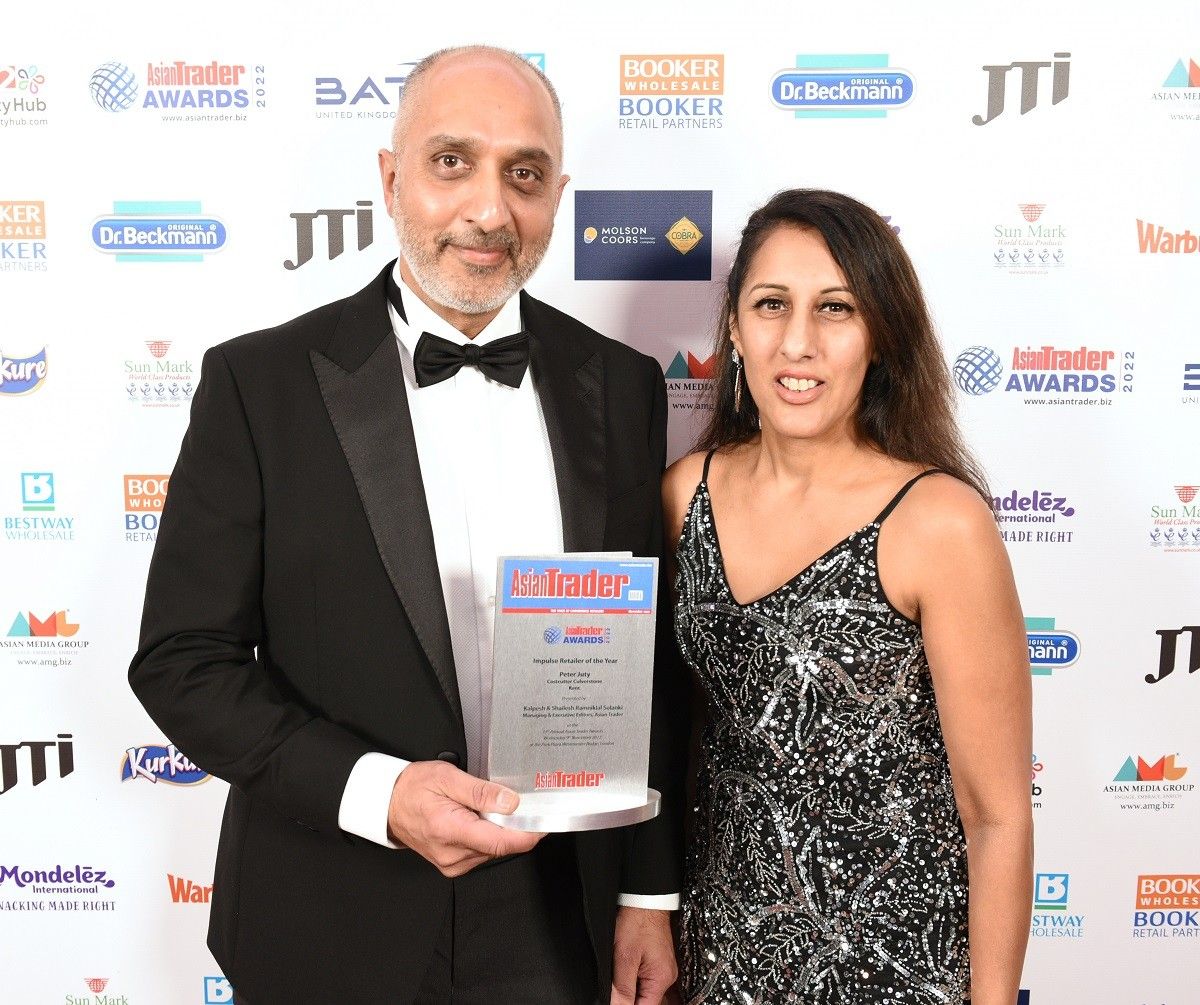 Retailing is a bug, and when you've been bitten it's hard to give it up. Peter Juty, who runs a Costcutter store in Culverstone, Kent, only meant briefly to help out his parents but has been in the trade ever since.
Last year he invested £300,000 on a massive remodelling to make the store totally impulsive, and took home the Impulse Retailer of the Year Award 2022 at the Asian Trader Awards!
Visitors first see a wall of beautiful trellis boards featuring fresh flowers and plants, followed by no less than six Cook freezers. Peter's fresh and chilled sections are outstanding, and they come from miles around just to smell his baguettes.
"We had front doors in the middle of store and we put them to the side of the store," he says, explaining the changes. "We put new chillers in, new flooring, new ceiling, everything brand new, total comfort. And we've got electronic labels, which push out all the special promotions that we are running."
Peter is a consummate retailer who puts the customer first and foremost in his thinking, and this includes children who pop in on their way to school to buy snacks and drinks. "We are very mindful of health and wellness, we have carefully built our displays to encourage fruit with snacks and healthier eating and less sugar in drinks," he says. "This is all done through careful display."
At the heart of the refit has been the zoning approach, aided by Costcutter's shopper insights programme, which gives its retailers a full breakdown of the demographics of their customers.
"We're in a village. We've got a lot of elderly people who want to shop in a smart location, easy to use. Costcutter looked at that and then rezoned everything and gave us a new layout, which we designed with them for the shop," he says.
The store now offers zones of irresistible displays that talk directly to customers, driving impulse sales. His zoning approach puts products together that excite and drive engagement with customers.
"If you pick up a ready meal, then there is a selection of drinks next door. If you pick up a sandwich, then there are crisps and fruit alongside. If you want a snack, then the Costa Coffee machine is right there by its side," he continues.
The merchandising around these shopper missions, and the opportunity to drive impulse, ensures that many people call in more than once a day. "Families, workers and children will call in during the morning to get their snacks and food to go – often coffee on the go, too. Lunchtime, they will come in for the chilled, sandwiches and food-to-go offer and then they may pop back in for something to eat – or a bottle of a wine in the evening," he says.
And the results were indeed rewarding, with weekly sales going by 20 per cent following the refit. Even the lingering cost-of-living crisis has not affected him much.
"Customers are still looking for bargains. But they still want to treat themselves even in the cost-of-living crisis," he says, adding that they are now doing many more promotions with the help of electronic labels. "It helps us put them in, rather than changing the labels, all done electronically. So we've got the power to do a lot more promotions, and customers have noticed that."
'Way of life'
The Jutys share a special relationship with the community. Pete's parents first bought a small store in 1984 in the village.
"And it quickly became a way of life for us all. We were the hub of our community, and still are, where everyone in the village came to shop with us, and use the post office services that we provided in store," he says.
"I was still at school at the time and at the weekend, I used to help them. And then after I left the school, because they just bought the store, I went in for a year. And I was going to go university. But I never ended up in university and ended up staying in the store!"
Over the course of time, they had three smaller stores, and then in 2006, they got an opportunity to buy a premises on the main road, and to expand in size, from 800 sq ft to 2400 sq ft. His Mum and Dad both retired in the same year, and Peter, now 55, has been in the front seat ever since.
The store is actively involved with the community and raises money for its needs. "We got private roads and the roads aren't good and they need repairing. At the moment our Easter egg raffle is to provide money. Last year, we raised £2000 just on the Easter eggs. So everybody knows that we give back wherever we can," he adds.
Peter also stresses the need to delegate, especially with retailing taking more and more responsibility. Whether it's the home delivery service or handling social media, he thinks the importance of staff training is something that can't be taken for granted anymore.
"You give them more responsibility, it makes them feel part of the story, it makes them feel like it's their store as well," he notes. "Once you make your staff feel that the store is theirs as well, they put more effort into it. Whereas if you don't involve your staff, then they just turning up doing the work going home. But now they talk to you, they say, 'Oh, look, customer is asking for this'. They give you feedback. So staff training is very important, getting the right staff who are helpful is very important in your store."
And, his staff just received a pay rise last month, above the minimum wage, as he always implements the pay increase before it takes effect in April.
Peter also maintains excellent relations with local suppliers whose products attract repeat custom for the store.
"We have a lot of local suppliers," he explains. "We got a local supplier for bread, one for eggs, meat comes from the butcher very close which has a fabulous reputation and that's why people keep coming back for it, because they trust this meat supplier. We've got local made pies, Kent-made sausages. We try and keep a lot of local produce as much as we can get, fresh produce like strawberries from a local farm in the summer, anything we could get local."
Just across the road, they face competition in the form of a forecourt with Southern Co-op's Welcome franchise store inside. Still, Peter says food to go is his best-selling category!
"They kind of complement our business," he says, "because they're the only petrol station in the area. People fill up with petrol there and they know their prices are not as comparable with ours, so then they walk across the road. And because we do the local produce, we've got a point of difference from them."
And, they bake on the premises, and have a hot food cabinet and some drinks machines as well, but he says they don't go too much into food-to-go machines, as the Welcome store houses a lot of them. "We haven't duplicated anything," he says.
As Costcutter makes the Co-op range of products available to the store, that also helps them to lure customers and stay ahead of the competition, especially with the backdrop of the financial squeeze experienced by the customers.
"I've noticed more and more people going away from certain branded products, and they're buying more and more own-label products – and Co-op is a very good, trusted range," he says.
Smart stores
Last year's refit was the big major investment they have done after 17 years in residence, though they have done several small ones in between. Peter says retailers need to "smarten up their store" to tackle the challenges of today and to be fit for the future.
"There's so many stores around and competition around, and if you're not smart, the customers will go somewhere else. So I think it's a no-brainer that anybody should really invest in their store and make it look really good and give the customer what they want," he says.
Even a year later, they are still tweaking the store. "There's couple of things we put in that didn't work. We've taken them out and are putting in new products. We're trying new local suppliers all the time. We're now looking at media screens to advertise a lot more promotions and products to the customer," he explains.
Retail is challenging, but he feels the key is to enjoy what you're doing. "It's a changing situation. It's not going to be stable for the next 5-10 years. And at the moment it's changing every six months. So you've got to be keeping up to date with all the new products, new items that are coming out," he says, adding:
"But retailing is a nice, good job to get into. I've enjoyed it. I'm still doing it 38 years later."
---
Peter July shares three key tips that helped him win the impulse sales
The "zoning" approach: I know this is not unique, and to a degree it is common sense, but when I go into other convenience stores, very few shops seem to do this in a way that puts the shopper first and foremost in their thinking. If you put impulse products together that "excite" and drive engagement with the customer, then you will win impulse sales and if you make it easy to make those purchases, then even better.
Special offers drive impulse: This also links to our approach above in terms of pairing the right products together and putting these under special offer. Again, this is not rocket science, but I am always amazed how few retailers tend to do this and really put together products that work together that if you buy one, of course you want the other. And if it is on special offer, the displays and point of sale really catch attention as the customer is walking through the store.
Customer service and relationships with customers: I believe our team is the best in the business! We always recruit from our community and employ a diverse mix of people from different cultures and ages. Everyone follows our values of cleanliness in store and is selected for their friendly, people-facing nature. As a result, every day I see my team guiding customers to new products, highlighting special offers and making suggestions. We host events for customers including wine tastings and food pairing (which leads to impulse purchase), and also for children – we invite them in to bake biscuits and cakes, which has become increasingly popular and also supports our impulse sales.
---