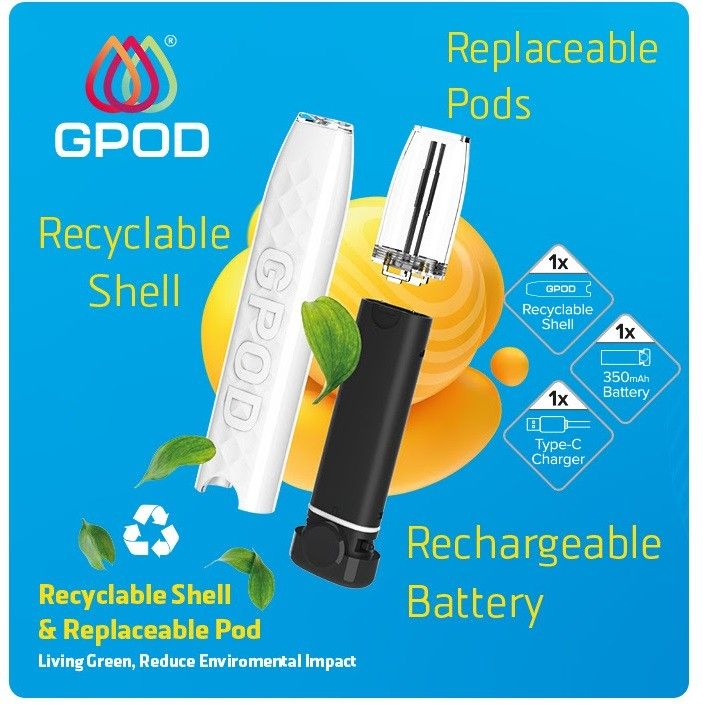 Aquavape has launched a new disposable vape product GPOD, that unlocks and improves long term sustainability.
With tons of disposable pens being thrown away after a single-use, GPOD addresses the environmental concerns with its pre-filled replaceable pods and rechargeable devices.
Alongside attracting climate-conscious consumers, c-stores can also benefit from up to 40 per cent margins on the product. 
GPOD offers the simplicity of a disposable device, without the need of throwing the whole device away when deplete, with pre-filled replaceable pods. This lessens both the environmental impact as well as consumer cost.
"The Aquavape R&D team has been working on the GPOD as an evolution to disposable vapes. Our focus was to address the environmental issues, plastic wastage, carbon emissions, and cost savings," Ebrahim Kathrada, Director at Aquavape told Vape Business.
"The current disposables on the market are exactly that, 'disposables'. Single-use plastic which needs disposing once used. That's a lot of plastic and batteries."
The company teamed up with one of the largest vape disposable manufacturers and developed a POD kit that looks familiar by using the same outer shell but had the function of recharging the battery and replacing the liquid tank inside when needed, thus reducing the amount of wastage considerably and ensuring the device can function again and again. 
"The pods are more cost-effective to purchase than a conventional disposable vape and better for the environment too," Kathrada added.
GPOD is available in 2ml prefilled pods of 2% Nicotine salt-infused e-liquid in 10 distinct flavours. Each box contains three pods that are equivalent to three disposable vape pens, with up to 600 puffs per pod.
The GPOD kit comes in four colours, Azure, Carbon, Nardo, and Vermilion and retails at £6.99. Disposable pods come as a 3pack in 10 popular flavours – Blueberry Sour Raspberry, Passion Fruit, Sour Apple, Blueberry ice, Strawberry Ice Cream, Sweet Strawberry, Peach Ice, Watermelon Ice, Grape, Mango Ice – and retails at £9.99.
"GPOD offers up to 40 per cent margin for the retailer," Kathrada says. "Disposables are this year's hot products, and my suggestion would be to allocate prime space for this either in a dedicated unit on the shop floor or on the counter where the range can be easily viewed and purchased. This will increase basket spend in your stores and add incremental growth to your vaping category."
Kathrada reveals that his firm's market strategy revolves around the convenience and grocery channels.
"Most suppliers were focusing on supplying products into vape stores but our route to market was always grocery and convenience. The convenience sector is challenging, and we knew our strategy was one that would take longer and need strong commercial support," he says.
"Retailers can find the category overwhelming at times, and we recommend retailers partner with a supplier they can trust to manage the category for them. We are developing and improving products, systems, display solutions, and partnerships. Together these strategy changes will play a major part in retail and consumer engagement maintaining the growth the category has seen in convenience retail."
Aquavape has secured partnerships with SPAR wholesalers AF Blakemore and Appleby Westward Group, Nisa, and Bestway Retail, which includes Bargain Booze and Costcutter facias, to supply its products direct to store. Stores can contact them directly to place an order and receive their invoice via their symbol group. For more details, see: wholesale.aquavape.co.uk