Asif and Abada Akhtar, who run Premier Smeaton Stores in Kirkcaldy, think what they do locally is 'normal', but for the community, it has been extra ordinary, and fetched them the Local Hero Award at the 2021 Asian Trader Awards.
The Asian Trader Local Hero Award, supported by Walkers Sensations, acknowledges the role played by store-owners during the pandemic and beyond, shining light on the most innovative and magnanimous manner they responded for their customers and community.
The Smeaton Stores was always in the family, and as a child, his parents would take him to the store – "how Asian families usually do," he remarks. So he grew up helping out in the store, but he was in fact planning a career away from retail, going to Aberdeen University to study architecture.
Then, unfortunately, his father died of cancer, as he finished his degree.
"At that time, I just felt that I had to take over the business. I've not got any other siblings, and it's just my mum left. So yeah, I just took over and have been, you know, 21 years full time now," he says.
He admits that he didn't had the passion for retail when growing up, and the initial plan was to give a couple years to sort it out and then go back to architecture. "But no, 21 years, I'm still here. So of course the passion grew during that time," he says, with a smile.
He was engaged to Abada at the time, and they tied the knot as his father wanted to see him married before he passed away. Since then, it's a husband-and-wife team at the Smeaton store.
Of little things
Spending so long in the same community – "you kind of really know almost everyone by name, and not just as customers, you become friends too," Asif says – had a huge impact on what role the store plays in Smeaton. When they took the store over the family store, the area wasn't in good shape at all.
"Once the Scottish Government did a survey and it was described as one of the top five most deprived areas in Scotland," he says. "So you can imagine problems that bring- antisocial behavior, drug abuse, alcohol abuse, domestic abuse, racism, everything like that."
Asif recollects that he didn't even like going to the store, when he was growing up, adding "those were the reasons why, may be."
"In fact, for the first year or two we couldn't even open the shutters because the windows would just get smashed and we had graffiti everywhere," he went on.
They quickly decided they had a responsibility to do what they could to help push the community forward and bring them together.
"You just kind of educate yourself on how to handle certain situations. But I think the key was integrating ourselves into the community even more than what we already were," he explains.
The Scottish government started pumping money to rejuvenate the place, and the store also started doing their little bits.
"Just by doing really small things, like sponsoring local football teams, but from the small stuff, the larger stuff naturally came, it just naturally got more integrated into the area," he says.
"Initially we didn't have a playground here. So the council gave some funding, we put in some funds as well. Things like that and you've got the playground up and running, small things that accumulated into bigger things."
Indeed, it's not without reason they say that great things are made up of little things!
They work with local council to provide temporary accommodation for vulnerable families, and the last three properties they handed in to the council are being used to house Afghan refugees.
"That came completely by accident," Asif explains.
He owned another building in the area, which housed a pub. The venue closed during the pandemic, but it has been attracting lots of complaints from the residents.
"So when the lease was up for the pub, we consciously decided that we weren't going to renew the lease, to tackle this problem, and not to have that as a pub anymore," he says. "But then that left us with a problem as what we do with that empty building."
He initially offered the building to the council, hoping they could use it as a community centre of sorts, but they didn't have the funding to do that. So, he converted it into two 3-bedroom houses, which the council used as a temporary accommodation for vulnerable families.
"I gave those houses at a minimum rent, and gave those two houses to the council to use that for temporary accommodation for families, like those who are struggling to pay the mortgage, that they could use it as an in between before they could find them a permanent solution," he says.
"That's what I started from. From those two houses, I went to three to four to five, and that's what we use them for. We hand them to the council and the council use as temporary commendation."
They also work closely with local schools, and have been instrumental in addressing the persistent absence, after they observed children coming in and out of the store all day, every day, not just at lunchtime or before or after the school.
"And we're thinking, why aren't you at school and one of the reasons was that the local high school had a really strict uniform policy, that if you don't have a school uniform, then they sent you home, which was kind of a bit too strict," he says.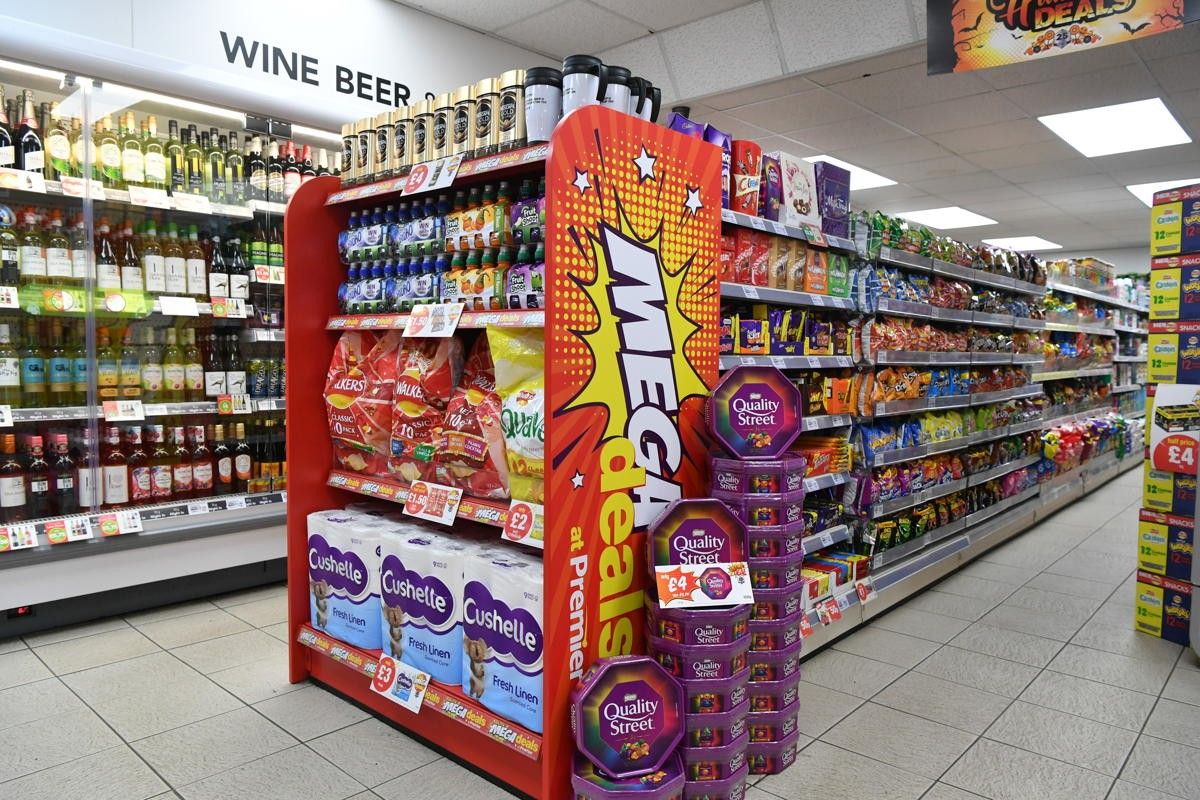 They decided that they could do something about it and set up a uniform initiative at the Balwearie High School. "We piled in, donate some money to buy stock. So if they were short of a tie, they will be sent to the office and they would get that tie to wear," he says. "The sole purpose was they don't get sent away from school back home."
The initiative took off very well and soon they found themselves increasingly involved with the school, starting a breakfast club, which is a rarity for a high school.
"The high school in particular that we were talking about has a quarter of the children live on the child poverty line, and so they are going to school without breakfast. That's why we thought we can maybe do something here too," he says.
Last year the school won Scotland's best breakfast club recognition, awarded by Kellogg's. "That was another great achievement," Asif says.
They also work with Kirkcaldy High School, donating ice cream and refreshments annually for their end of year awards.
"We are just trying to integrate as much as possible. And we enjoy doing that," he says. "We were thinking, when we do finally go into retirement, that's the type of work that we kind of do, maybe to go into volunteering, or charity work. That's our aim at the moment and we'd like focusing on just now."
Fundraising push
In fact, they have their own officially registered charity and raised in excess of £75,000 to date. Two schools, four children's homes and a mental health unit in their vicinity have been beneficiaries of their various initiatives, among others.
"That again kind of just started by accident," Asif reveals. "There was a regular customer who came in all the time, but then he got diagnosed with a cancer. Then all he really wanted was – because he has never been on holiday with his family – all he really wanted was like a family holiday."
They did a small fundraising to try and raise the money, so they we could just send them on holiday. But that fundraising wasn't really small, and they were able to raise over £3400.
"That's when we started this fundraising thing. We thought we could do that for other local good causes, so we would do another fundraiser. And that reached like£ 8000, then like £15,000. But when you start hitting that kind of figure, I was advised that you need to like have something official. That's why we then set up that charity, so that everything's legit, and black and white," he explains.
And, if they ever doubted how much the local community appreciates what they do, then a special day last year brought it all home. At the time when people would stand outside their houses and clap the NHS staff, their community gathered outside the store one evening and clapped them. "There were no dry eyes that night. It meant the world to us – and our community means the world to us," he says.
Always up to date
For them, integrating into the community also meant maintaining a top-notch store. When he took over, it was an unaffiliated store, and he joined a symbol group and refurbished it over the years. Even during the pandemic, they continued to develop the store with more refits, totally overhauling the counter area, adding more refrigeration, developing the food to go are and so on.
"At the end of the day, it is a store after all and it's important that it's the best store it can be for our customers who relied on us more than ever," he says.
"Every year, we just try to keep it fresh and up to date and kind of future-proof. Plus it creates that excitement for the customers and ourselves too."
He adds that nowadays retailers need to seriously look at the energy efficient chillers and the LED lights to reduce the outgoings. And, these are the next steps he plans for the store, as utility bills, which has more than doubles, is one of the most worrying things for him now.
"I think I'm going to be replacing my soft drinks chillers with more energy efficient chillers next, and see how to reduce some overheads and [improve on] sustainability," he adds.
His favourite approach to re-investing in the store is talking to retailers around him. "They might have already tried something that you're thinking of trying and just get feedback from them. Tango Ice Blast machine, things like that, for example, might not work everywhere. But if you know retailers around you, go and speak to the retailer, and they are usually more than happy to talk to you," he suggests, stressing the importance of investing in store even amid the current cost of living pressures.
"Things are getting harder for retailers, so I can understand why people might not want to make any sort of investment. But then as you become stagnant, you may not progress," he warns. "Add something onto your offer."
He, however, notes that availability is a key issue just now, "sunflower oil is becoming a bit of a problem" and more significantly finds consumer confidence falling.
"I think consumer confidence just isn't there. This past year, especially seasonal activities, for example, Christmas, Mother's Day, Valentine's Day was quiet for me," he rues. "It's a worrying situation just now, but you keep competitive, you offer what people are looking for."
Retaining custom
In fact, it's this attitude that held him in good stead during the pandemic – "when the independents everywhere tend to shine" – and helped him maintain sales even after the restrictions eased.
"We source products from multiple wholesalers, multiple people, multiple companies, and I was sourcing product all over from Aberdeen, Glasgow, Edinburgh. Toilet rolls, for example, I was going to Aberdeen for ordering them. You could source toilet paper from everywhere at that time where the supermarkets weren't able to do that. We made sure that the product that the customers needed was in-store ready for them," he tells of his pandemic experience, adding that he has been able to convert a chunk of those lifeline shoppers to regulars.
"I've got people who aren't actually regulars, who aren't from my area, who still now visit the store," he says.
On the other side, he has also retained his relations with local suppliers developed during those days.
"Things like eggs and bread, it's difficult to source from the main wholesale supplier, so you've got the local people on board and they never let you down," he says. "So, when supplies came back to normal a bit, we consciously kept those local suppliers, along with other suppliers."
Talking on another big pandemic trend, he feels that convenience retailers should be thinking about doing home deliveries, opining that the pandemic has just accelerated what was going to be the 'next big thing'. .
"Because everyone else is going to be doing it and if you're the only one that's not doing it around your area, you should be thinking about introducing it," he says. "I think that is the way forward, like an add-on business to your store."
Social media is already a big thing in retail, but he observes that the phenomenon has drastically shifted the field of competition for local stores.
"Before maybe you used to compete against the shop around you. But now you're kind of competing with the entire town with social media," he says. "So jump on that fast, early enough, and promote that."
And, he would like to stress on the fact that there's no short cut to success in the convenience retail.
"I think retailers sometimes expect too much too quick. And it doesn't work like that, especially in our current climate," he notes.
"We've been there for like 21 years now. And it takes a very long time to make your business successful, and perseverance and hard work."