Alpen is shaking up snacking this autumn with the introduction of its indulgent new Alpen Delight bars, an update to its popular range of Alpen Light bars.
The brand will be supporting the relaunch with a national sampling campaign to encourage trial.
Available in six seriously tasty flavours, including the new Chocolate, Caramel & Shortbread, Raspberry Rocky Road, and Chocolate Honeycomb, the bars generated rave reviews during extensive taste tests. The decadent range has undergone a major makeover, with updated packaging, while also boasting strong nutritional credentials, with all bars containing less than 100 calories.
With the cereal bar market as a whole having been in decline for several years, a shift in focus is aiming to reinvigorate Alpen Light Bars, with Alpen Delight uniquely positioned to cater for consumers wanting a moment of permissible indulgence, over 'cutting back'.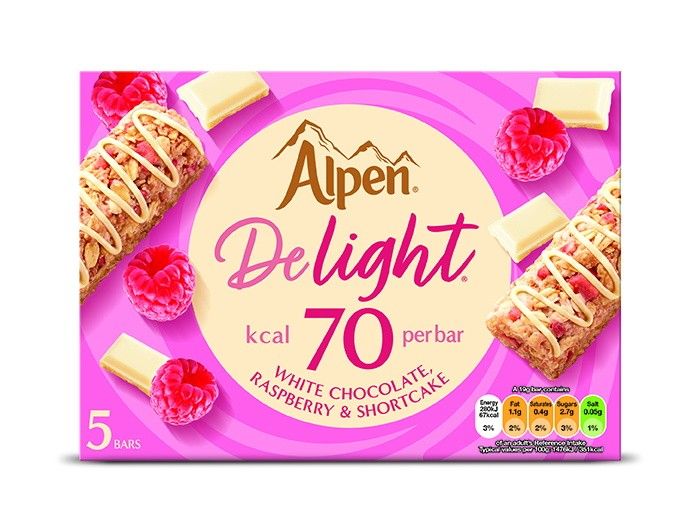 "Alpen Delight is an exciting, modern, and delicious addition to the Alpen portfolio, which we expect will welcome a new audience of snack lovers to the brand, boosting sales for Alpen and the overall category. We're dialling up the taste and pleasure cues with this launch, offering an indulgent but affordable product that meets the needs of today's consumers," commented Lou Vickers, head of challenger brands at Weetabix Food Company.
The launch will be bolstered by a major sampling push throughout the autumn, both in-person and via the Triyit platform, allowing over 40,000 people to trial the bars. Alpen will also partner with a well-known TV personality to run a national PR and social media campaign, 'Moment of Delight', whilst there will be significant investment within the snack bar aisles across grocery, convenience, wholesale, and foodservice.
"With budgets more squeezed than ever, we know there must be a clear reason to add a new item to the shopping basket, which is why sampling is a central part of this launch, helping us get the bars into the hands of shoppers across the country. We're putting our money where our mouth is and the 'Moment of Delight' marketing activity, which encourages everyone to take a moment to themselves every day, will also increase awareness of the innovation and support sales for retailers," Vickers said.
Alpen Delight Bars are available across grocery, convenience, wholesale and foodservice from October, with a RRP of £1.99 (multi-pack x 5 bars).