Eid ul-Fitr is one of the two main, equally important, Eid celebrations of Muslims (the other being Eid ul-Adha, which begins following the annual Hajj pilgrimage). Commencing at the end of Ramadan, the month of fasting, Eid ul-Fitr is a festival that celebrates the breaking of the fast.
It is celebrated by family and other social gatherings, with traditional sweet dishes, feasting, wearing new clothes, shopping and gift-giving. In the UK, the festival is expected to start in the evening of Monday, May 2 after Ramadan and will conclude in the evening of Tuesday, May 3, subject to the official moon sighting. Muslims celebrate Eid ul-Fitr traditionally over the first three days of Shawwal, the tenth month of the Islamic calendar.
This year, Eid ul-Fitr will be extra special for British Muslims, coming after two years in the shadows of the Covid-19 pandemic restrictions. In 2020, the festival came during the first national lockdown, and last year, it is celebrated during the phased exit from the third national lockdown.
"Eid ul-Fitr is one of the biggest festival celebrations of the Muslim calendar – built around sharing wonderful food together at large community events. Now such events are back on we expect to see a positive uplift in sales," says Harry Dulai, managing director of Surya Foods.
In London, where the festival is celebrated in a big way, the 'Eid in the Square' celebrations at Trafalgar Square will be held on Saturday, May 7. This year will be the Mayor of London's 17th Eid in the Square and the Main Stage will be hosted by award winning actor, filmmaker and BBC Asian Network presenter Mistah Islah alongside former teacher and trailblazing broadcaster Mehreen Baig.
The festival will feature a mix of traditional and contemporary acts including Baha Yetin Sufi Ensemble, Qalandar Qawwali's, Dur Dur Band, Star Children's Choir and the Original Mummy's Boy, spoken word poet Hussain Manawar, plus a special guest star. Also, comedy sketch favourites The Halalians will be live on stage for the first time here at Eid in the Square.
Eid, in fact, will be also marking the return of major festivals, with several lined up in London. These include hugely popular London Eid Festival at Westfield during the May 7-8 weekend, 1Eid festival, which is in its 16th year, at Ilford on 2-4 May and Chaand Raat event by Grand Sapphire Hotel and Banqueting in Croydon on Sunday, May 1. So, expect a week of festivities to entice shoppers.
Ramadan, culminating with Eid, is already being counted as Britain's biggest economic occasion after Christmas and Easter – worth an estimated £200 million to the UK economy; £100m of which is spent in supermarkets and stores, according to a 2018 report by advertising firm Ogilvy. The report, titled 'The Great British Ramadan', also found that Muslim consumers are disappointed in current engagement by brands and retailers, with 62 per cent saying that they are not being served well.
A 2020 survey commissioned by creative agency Mud Orange has also confirmed this, with 63 per cent of British Muslims responding that supermarkets continue to deploy outdated activations across stock, content and design.
"Unlike Christmas and Easter, when supermarkets effectively build a distinct brand role during the cultural moment, Ramadan efforts across supermarket chains follow a homogenous design and product approach which often feels imported, ethnic specific and culturally disconnected from modern British Muslims," the report states.
Discussing this issue in our Ramadan feature, Kenton Burchell, trading director at Bestway Wholesale, has noted that independent stores can make use of this gap and increase their engagement with the community.
"Independents have an opportunity to beat the multiples by offering better range, value and promotional activity," he said, adding that the pandemic-driven trend of shopping locally will also help local stores attract more Muslim shoppers.
"A Barclaycard survey found that over 9 in 10 people who shopped locally said that they will continue to do so, meaning Independents -who are able to offer a much more personal touch to the shopping experience – can really capitalise on this trend," Burchell said.
With the UK's Muslim population growing – an estimated 3.37 million identify themselves as practitioners of Islam, making it the second largest religious population in Britain – there are obviously huge opportunities for retailers to capitalise on.
In fact, the term 'Ramadan Rush' has been in vogue for almost a decade now, denoting the spending by this demographic before, during and after Ramadan. While smaller stores could do well by tailoring their range based on the ethnic makeup of the area, bigger ones can display the full range to target this phenomenon.
Ranging into Eid
Dulai of Surya Foods reveals that maintaining a healthy supply chain of Ramadan staples into the UK has been "particularly challenging," given the impact Covid-19 has had on shipping and ports around the globe.
"Despite supply challenges, we have been working hard, for some months, to ensure popular Ramadan and Eid staples are well stocked," he said.
Surya Foods is behind several of the UK's leading world food brands, including dry rice brand Laila and the rapidly expanding frozen food brands Humza and Shazans.
While foods that sustain and are quick and easy to prepare would be in focus during Ramadan, towards Eid ul-Fitr the mood shifts to more indulgent and celebratory fare.
"Eid ul-Fitr is one of the biggest festival celebrations of the Muslim calendar. It is affectionately called 'Sweet Eid' because of the delicious array of sweet dishes served up to celebrate the end of Ramadan," Dulai says.
"During Eid there are a lot of community events all built around sharing wonderful food together. As such running promotions on popular Eid staples, like biscuits and rusks for instance, are great sales drivers."
Surya Foods represents Indian biscuit giant Britannia, which is steadily picking up UK market share. Dulai said they have been working to bring the high profile brand to the forefront of consumer's minds and shall be pushing incredible offers at independent retail to further improve visibility.
Kelly Wyld, senior brand manager for East End Foods, adds that their ingredients like ghee and speciality flour are key during Ramadan and Eid timings, highlighted by an estimated 15 per cent increase in sales last year.
"It's our job to celebrate food and feasting that lives at the heart of British-Asian culture.  Our ingredients make people feel connected to their heritage and want to celebrate it through cooking," Wyld says. "Specialising in ghee, spices and seeds to name a few, East End Foods has all the special festive ingredients for Eid ul-Fitr to mark the end of Ramadan."
Other popular East End Foods' products include cardamom and turmeric, two spices essential to many Iftar dishes.
"It's essential for the independent trade, where stores will be flooded with all the key lines including some Price Marked Packs (PMP) on lines such as East End Foods' Brown Lentils 2kg £2.99 and East End Foods' Yellow Gram 2kg £2.69," she explains.
"The versatility of the range ensures consumers can cook up their favourite Eid dishes; everything from savouries, curries to mouth water sweet dishes.  Cardamom seeds, for example, can be used in making Phirni or Kheer before leaving for Eid Prayer."
And, East End Foods Semolina is a must have, she adds, as this speciality flour can be used in a variety of ways including within a light South Asian breakfast such as Upma, Suji halwa or Rava dosas.
Events such as Eid offer a perfect opportunity to tap into the surging in popularity of ethnic food, partly driven by the growing multiculturalism of the UK.
Mainstream supermarkets are cashing in by selling some ethnic foods, while more and more ethnic stores and supermarkets are appearing. The marketing of specific ethnic ingredients and spices in new blends and multipacks, as well as suggesting recipe inspirations for new customers, can help convenience store open further paths to sales and profits.
It is through personal knowledge of their customers and access to cash and carries that supply the ingredients and delicacies Muslim communities are looking forward to, that puts indie store owners at a big potential advantage over the supermarkets, whose "ethnic aisles" might still rely on national purchasing and big standard skus for bulk sales, when the best margins are in the minutiae and detailed knowledge and of traditional and regional tastes and dishes.
Rice, all the way
Jonathan Calland, head of external affairs at Tilda, reminds us that rice remains at the heart of the vibrant dishes around which families and friends come together to celebrate the end of the Ramadan fast.
"Eid provides a great opportunity to highlight the convenience and versatility of the rice category as a base for many festive meals that are often enjoyed with family and friends," he says.
"This year, we expect to see sales recover to pre-pandemic levels. As such, it's important that retailers are prepared and are well stocked with popular rice brands such as Tilda, in a variety of key sizes – from 500g to 20kg – to cater for varying demand."
Calland also notes that brands that resonate well with consumers during Eid can particularly help independent retailers to stand out, adding that Tilda enjoys 83 per cent brand awareness amongst consumers from an ethnic background [System1 Research, Jan 2022].
"[This] makes the brand a top choice for retailers in the lead up to and during the festival," he says.
Touching on the theme, Surya Foods' Dulay notes that their popular dry rice brand Laila is a "great heritage brand trusted by Muslim communities."
Latest figures reveal Laila continues to deliver year on year growth holding its position in the  UK Top 3 rice charts for a fifth year running [Nielsen 2021].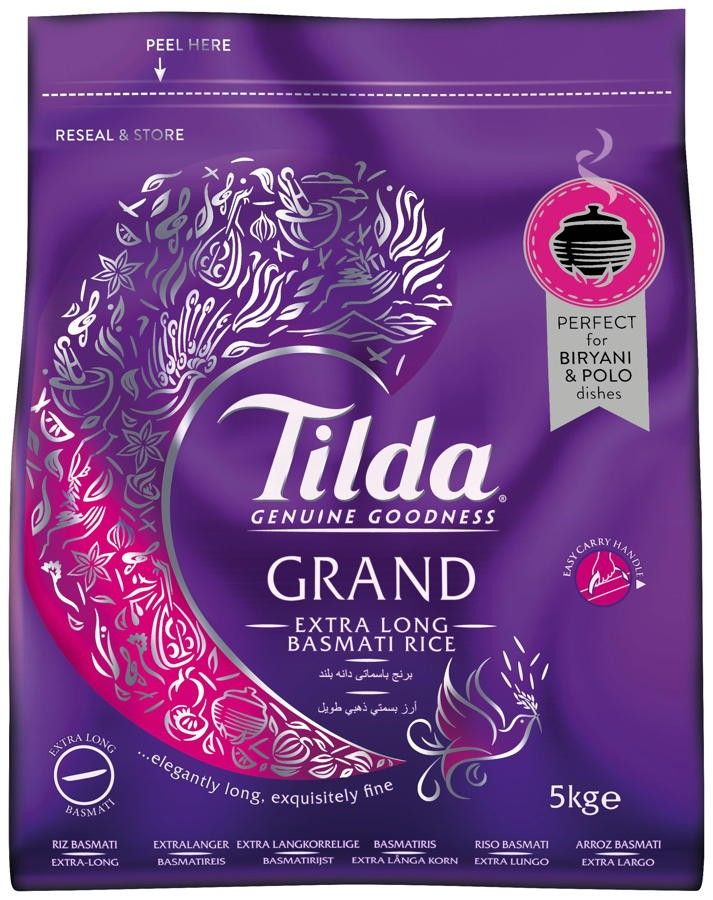 In 2019, the brand has expanded into lentils, beans and flours with the launch of 19 new skus, ranging from chickpeas and kidney beans to semolina, polenta and rice flour. This year, it added Laila spices to its ever evolving line up of products. The range spans classic store cupboard, spice staples including tumeric, coriander, chilli and cumin powders, together with crushed chilli flakes, providing a wholesome offer to prepare the Eid feast.
Calland suggests that stocking larger packs of dry rice is key to maximising sales, particularly for retailers with stores located in large Muslim communities.
"Used by the vast majority of communities, Basmati rice plays a particularly central role because of its natural versatility and ability to complement a variety of different flavours," he says. "Sales of larger formats, such as Tilda Big Bags, traditionally peak during key celebrations throughout the year due to the excellent value-for-money they represent for those feeding their family and friends."
During Ramadan and Eid, consumers prepare rice dishes like Biryani. Within its wide range of products, Tilda offers Tilda Grand Extra Long Basmati rice which has elegantly long and exquisitely fine grains.
"The grains look incredible on the plate and always stand out regardless of the ingredients you combine them with. It's a grain that adapts well to any recipe but is particularly suitable for biryanis where rice is at the heart of the dish," he explains.
The product is available in 5, 10 and 20 kg packs, and Calland's advice is to consider stocking a range of formats, in order to cater for a range of varying demands.
"For Eid, shoppers usually trade-up to larger pack formats like the 5kg, 10kg and 20kg. However, it is also worth keeping Ready to Heat (RTH) options available to provide convenience, exciting flavours and versatility over the fasting period," he says.
Tilda is currently running a 360-degree campaign on relevant Asian channels, covering TV, radio, print, shopper marketing, partnerships social media. Over the Ramadan period, Tilda has also a special offer, offering free saffron inside the bag for every 5 kg, 10 kg and 20 kg bag of Tilda Pure Basmati.
Showcasing brands
Dulay emphasises the importance of retail display fixtures during busy festive periods.
"During Ramadan we always showcase the Laila brand with merchandising to cement our relationship with our loyal customers and attract new customers to the brand," he says. "Creating bespoke fixtures for Ramadan products is a fantastic sales driver as consumers can easily locate the products they need in one place, which saves them time and creates opportunities to encourage further spend on additional items."
He added that Surya Foods will be working with independent retailers to deliver POS materials, electronic advertising and eye catching displays across the UK for Eid 2022.
Souheil Haddad, managing director of authentic Lebanese food specialist Dina Foods, which is a big supplier to Muslim communities, says they always see a spike in sales of its ranges of savouries, sweets and breads as families prepare for Ramadan and Eid.
"Ramadan is a great sales opportunity for independent retailers, particularly if attractive merchandising displays are used to showcase new or special offer items, to cash in on impulse sales," he comments.
Haddad recommends a Ramadan/Eid area in store which serves as a destination point. "Shoppers need to be able to find this easily and need promotions to encourage them to stock up.  A Ramadan sign above the fixture will help shoppers locate the products and stop to shop."
The London-based company works with customers to devise Ramadan/Eid ranges and look at how to feature these in store.
"Our customers come to us to ask how we can help during Ramadan and we create seasonal packs of Medjoul dates and Baklawa as well as running promotions on chapati, naan and our trademarked Paninette range of Lebanese Khobez," Haddad explains.
Their products are made to authentic recipes that have been handed down through the generations. All are highly popular during Ramadan and of course during Eid festivities at the end of the month, he adds.
There are some mainstay products in the Dina Foods range which Haddad advises independent retailers to stock up on at this time of year.
Their authentic flatbreads, which can be served to complement meals or used as a sandwich carrier, are always in huge demand at Ramadan. Dina Foods supplies wholemeal, white and seeded flatbreads, pitta breads and its Paninette flatbread.
They also have an array of sweet products, including Medjoul dates, either enrobed in chocolate or stuffed. Their Lebanese savouries such as Falafel, Vine Leaves, Kibbes, Sfiha, hummus and Baba Ganoush, all Vegan Society certified, also hit the mark during the month.
Dates are the number one product eaten during Ramadan as they are an excellent source of fibre and carbohydrates, are rich in protective antioxidants, as well as high in natural sugar to keep you going. Dina Foods has launched Chocolate Coated and Filled Dates for Ramadan as well as some more luxurious Baklawa variety packs that can be shared.
Haddad also recommends adapting the Ramadan offering to cater for Eid celebrations when the fast is over and people want to treat themselves. Baklawa, a layered pastry dessert, can be shared with family and friends during the Eid celebrations and also makes an excellent gifting box.
"With most of the coronavirus measures now in the past, shoppers will be more inclined to make the most of Eid celebrations this year with family and friends, in a way they couldn't last year due to the restrictions in place," Haddad says, adding that retailers should be prepared for a particularly busy period this year, with the independent sector likely to see a particular uplift in sales.
"Independents can operate with speed and offer greater variety than the multiples, providing a welcome platform for innovative suppliers over Ramadan and all year round," he notes.
With Eid fast approaching, now is the time for retailers to capitalise on the feel-good factor by stocking up on all the festive favourites so enjoyed by families and friends celebrating the end of Ramadan with the traditional breaking of the fast.