Last September Jessica Markowski departed Budweiser Brewing Group UK&I where she had been Sales Director for Convenience and Wholesale. She was replaced by Sunny Mirpuri, who was Commercial Director before taking Markowski's place, where he has overseen several of the business's key grocery accounts.
Sunny joins at an interesting time – the world is slowly emerging from a two-year long period of pandemic restrictions that have damaged the on-trade while boosting the c-channel as far as alcohol sales are concerned.
Both pubs and shops are open again now and economic life is returning to normal, but with added inflation and government debt/higher taxes that could signal hard economic times ahead.
Despite this, Asian Trader met up with a man brimming with ideas and enthusiasm for Budweiser Brewing Group. In his new role Sunny will focus on delivering continued growth and distribution across the brewer's portfolio in the convenience and wholesale channel, increasing the presence of Budweiser Brewing Group's portfolio of beers, including Budweiser, Stella Artois and Corona.
"My father owned and ran a wholesale company, so I have first-hand experience of how important convenience and wholesale stores are within local communities," says Sunny. "I'm excited to step up to the plate and expand on the strong foundations Jessica has built during her tenure. Listening closely to customers and understanding their needs will be a key focus of mine as stores continue to adapt to post-pandemic conditions and beyond."
Sunny has been with BBG since 2008 and knows all the nuts and bolts of the company. "I started off as an account trainee, having studied accounting and finance at university," he says, "so I had a number of roles across finance before I moved into the operations side. Then I moved a little bit into operations and sales in the on-trade, and then off-trade sales. And then after having a few roles there, mainly in retail, I moved into strategy, Category Management, and then came back into sales, it was March 2020, just two weeks before the lockdown. And everything just went crazy, as you know."
Crazy is exactly the right word – but the grocery trade proved adaptable and managed to keep the nation fed and watered. How did it all look from BBG's vantage point?
"We did see a seismic shift towards the off-trade in the short term. About 30 to 40 per cent of the entire beer volume was being transferred into the off-trade, which meant that the number of occasions at home had gone sky high. And what we've seen is even in the in the recent data, that there is still a high amount of these at-home occasions – about 87 per cent of occasions occur at home."
Sunny believes that there's still going to be a benefit to the off-trade in the long term. "But to be honest with you, it's quite difficult to predict because there's still a degree of uncertainty. If we look at the last quarter of 2021, it unfolded in a strange way, where the on-trade sales were down by about 40 per cent in the wake of Omicron. But because of so many people self-isolating or choosing to self-isolate because they didn't want to catch it before Christmas, we didn't see as great portions into the boost for the off-trade sales. So we just need to continue to remain flexible enough to support our customers in the channel, no matter what the futures holds."
There have been many knock-on effects of the economy gearing up again, not least the recent supply chain problems and HGV driver shortages – how is that working out?
"What we're doing, as a business, is continuing to work with our wholesale partners and our retail partners to ensure that the availability of stock is there," Sunny answers. "We've been shoring up our supply chain, shoring up our stock – and our network of stock as well. We've had a lot of investment within our business over the last few years, and operationally, we're in a strong position due to the fantastic work of the team. With logistics, we're working more efficiently with customers. If we have a problem, we make sure that we do deliver quickly, but that's more due to where the stock's being held, rather than us not being able to provide it – it's much more a location problem."
Best friends
Budweiser Brewing group is one of the great friends of the c-channel. Beer is a mainstay of independents and chilled drinks are a big attraction the multiples don't offer. How does Sunny see the relationship going forward?
"We are the biggest brewer in convenience and fully invested in the channel for our success, and I don't think that's changed because of what's happened in the last couple of years," he says. "We need to continue to invest in this industry. It supports a huge amount of jobs and is integral to the economy, and we are supporting it in the best way possible. For example, not only within the beers that we provide, and the availability of those beers, but in 2020, at the height of the pandemic, we did a retail drop for PPE, and also an awareness campaign around GroceryAid and what they were doing to support people within the industry. We work regularly with category management advice in in the form of pamphlets, tools, or resources. We plan to step up the support actually, and hope to be sharing in the future a little bit more information on how we'll continue to step up that investment."
That is good to know, but how does he see the situation "on the ground" as we head into spring and commuters emerge from their homes in greater numbers? Is local shopping on the decline now?
"Independents saw a slight decline during the second half of 2021, as shoppers returned to the larger format stores," Sunny says. "However, the segment value has remained higher compared with pre-pandemic, and we continue to expect that to continue. Also, when you look at the urban cities and the travel complications, convenience multiples and also independents that are quite high in urban areas were more exposed than others, and lost the benefit while people were working from home."
Sunny's belief is that it is out of town, in the suburbs and shires, where convenience retailers can really benefit – through last-mile shoppers. "It's hugely important that these kinds of operators are working their partnerships with digital platforms and delivery services. We've been working with a number of different last-milers or 'quick commerce' as they like to be called now. We worked with UberEATS in 2020 to help independents to tap growing trends of online shopping during the pandemic. We were able to create a Budweiser store, which was only available on UberEATS to receive free delivery when adding one of our beers into their order and spending over £10."
Local delivery from store – and delivered food-to-go from independents – looks like a great development, but a big strength of the channel is PMPs, which retailers love – but which are under pressure from the push-and-pull over margin as inflation starts to bite, to the extent there is a danger that indies might fall out of love with them. What are the plans?
"PMPs, we love them!" Sunny enthuses. "They are hugely important to the independent channel. And more so this year. A legacy of the pandemic is that consumers were paying much attention to the help and display in stores, and the way they get around the store. Yet price remains the second most important factor when consumers were choosing products to purchase, and particularly in a high-inflation environment.
"I totally understand the concerns of retailers," he continues. "I'd be worried about my margins in their position as well. So more specifically, our team have been collaborating with our suppliers to minimise the impact of cost increases. As a standard practice, we'll continue to review our product portfolio cost to ensure we're being fair on the supply chain. Premiumisations and strategy and strong market plans ensure that our brands remain market-leading in terms of value. But like other businesses, we have seen record increases over the last 12 months. And therefore, as a result, there's an upward pressure on our prices. But we do see the full chain, and for the sustainability of the category, we recognise that businesses within our supply chain need to grow their margins in order to cover their increased costs. Any PMPs that have the existing prices, before the changes, we'll be holding those prices until the changes to the new prices."
It appears the best producers are following Budweiser Brewing Group's strategy of surveying the whole supply chain and spreading the load (or the pain) such that each participant retains an incentive and profit.
In the pipeline
But moving onto happier matters, it's time to talk about NPD, because the brewer seems to be fizzing with upcoming releases – one of which, a massive new launch for Stella Artois Unfiltered, is in progress right now.
"There are lots of exciting new things happening and we're super, super excited about it. If we didn't bring innovation and excitement to the category, we wouldn't continue to stay relevant. We're always looking for ways to innovate to meet customer and consumer needs. And we're pleased to announce that we're launching lots of new products this year: there's Stella Artois Unfiltered, Corona Zero, and Corona Tropical as well," Sunny reveals.
"I'll start off with what I'm most excited about –" he says, before correcting himself. "I mean, I'm excited about all of them, but Stella Artois Unfiltered is first. The new beer is unfiltered, meaning nothing is removed, allowing for more complex flavour and aroma. The absence of filtration gives the beer a golden haze."
I remark that it certainly looks beautiful in the glass, and flatters the notion that as a nation we are growing a lot more sophisticated about our beers.
"We're keeping almost the same recipe," he explains, "but not filtering it gives it that hazy sort of colour and allows for fresh flavours to burst through. We have also added in some other hop flavourings as well, because they're a more fruity and citrusy taste."
Sunny says that the unfiltered lager category is actually highly popular on the continent – a massive growth opportunity and an untapped area in the UK market: "We're confident the power of the Stella Artois brand will offer consumers a super-premium option that will drive awareness across the category."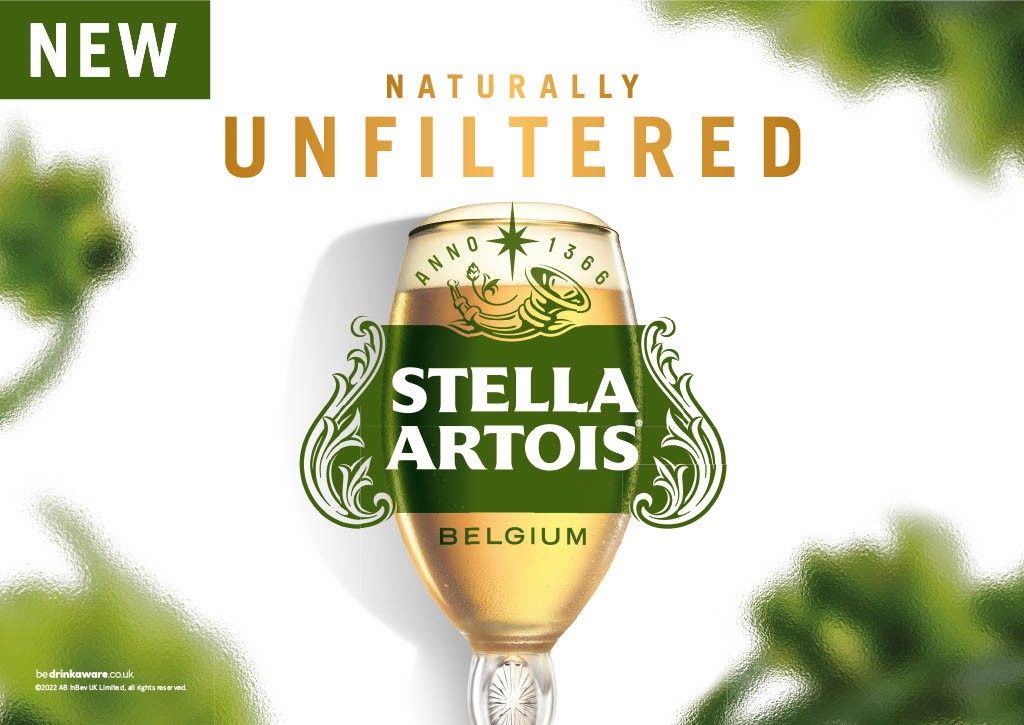 Stella Artois Unfiltered will be launching in the 330ml bottle and cap packs from March. "And also we'll be launching in keg formats later, in June. We've recently launched in the per six litre kegs for a perfect draft, which is the draft system which I've personally been enjoying a lot."
Kegs, you say, like back in the 1970s?
Sunny laughs. "When I was working in in the retail side, there was a small little blip where these kegs came back in around 2016-2017, and we created a few that people were able to take home and put in their fridge to chill down. There was a bit of a craze but they have died off.
"But in terms of the perfect draft," he says, fetching one for me to admire, "we've been investing in that for many, many years. And the fact is there are now more perfect draft machines in homes than there are UK pubs. There's just so many and we've seen a huge demand over the last few years not only for the machines but also for the kegs as well, so there was a again a supply and demand situation there."
Next up is Corona Zero, an alcohol-free version of Budweiser Brewing Group's best-selling Corona. "It's 100 per cent natural ingredient, and what we've seen is the no-low category continuing to grow as more beer drinkers looking to moderate their alcohol consumption." Corona Zero will launch in March as well.
"So that's a very similar time to Stella Unfiltered, and then finally we will be bringing out Corona Tropical," announces Sunny.
"You've got to try this," he says directly. "It's a very exciting, very tasty hard seltzer. It's coming out in three flavours: Guava and Lime, Raspberry and Lemon, and Grapefruit and Lemon Grass. It's very synonymous with the Corona brand and is made with quality ingredients for refreshment. That's why we believe it has the potential to help the seltzer category grow and reinforce the credentials.
I remark that Budweiser Brewing Group is targeting all the potentially big growth areas – premiumisation, no and low alcohol ("nablab" as Jessica brilliantly termed it), and the phenomenally popular hard seltzer category
"The no low category is currently worth about £196m. Moderation is no longer a trend but a lifestyle choice. People are choosing to have less alcohol in their consumption and what we've seen is that one in ten beer drinkers now more readily opt for an alcohol-free alternative, which is actually a 16 per cent increase versus the previous year as well."
That is excellent news, but it's interesting how little low and no alcohol beers one sees in c-stores even now – there is very little choice (although Budweiser Zero and Stella Artois Alcohol Free seem to be very widely distributed).
"I think the limited fridge base is clearly a reason why we don't see a wide range of it yet," says Sunny. "But I think it's an area that they can't ignore and referencing craft beer stores, you need some people like that who are going to become a little bit more famous within their local community for stocking something that isn't available in their local, grocery multiple convenience stores, like nablabs."
Premiumisation as well is a big part of the picture. Are consumers really, permanently choosing quality over quantity?
"I think have you seen a lot more acceleration of that over the last few years, and it's a big bet for us, for the future. Currently, around 61 per cent of the category value is driven by premium and super premium and we forecast that to grow to 70 per cent."
That means the landscape really has changed, with a majority of beer sales already at least premium brands.
"Also," Sunny nods, "we are seeing that super premium is growing twice as fast as the category. So it's already happening as people are trading up a lot quicker than we've ever seen it before. That is why we're launching these new innovations in within this sort of range. So Corona Zero, and then Mahou, which is a partnership we have with San Miguel. We've taken over the distribution of that product recently and we're going to be expanding it out further into this year as well. People are trading up a lot quicker than we have ever seen before," he repeats – something to really bear in mind.
"So, we're forecasting premium and super-premium to grow even more and believe we have a very strong portfolio for the future. Standard lager is declining in a big way, and there's no money in it.
Merchandising BBG brands
"Your retailers will know their business and know their customers better than anyone else," says Sunny, when I ask what he recommends indies to take advantage of Budweiser Brewing Group brands and the raft of upcoming NPDs.
"I'm not going to preach to them about how they should be merchandising it, but you know, a few tips from my side would be having the right range and the right location – which is important when we look at the data.
Craft and speciality beers are doing really well in urban areas across the country, particularly in London, but also over indexes in Scotland a lot, Sunny reveals.
"I think that's also driven by the MUP pricing that they have in Scotland and therefore retailers should be more accessible in a way and stock the right range of products for your area. A great example for us where we can support that is within our Camden range and within Leffe as well," he says.
"Format is another way of maximising sales: cans and bottles have different shoppers and different missions as well. Budweiser is a great example of that, where a brand works in both formats. So we have the Budweiser pint can for on-the-go consumption or for consumption that's within the few minutes because it's cold. But then also you have the bottle packs as well, the 12 x 330 ml bottle Max, which do really, really well for us as well. Over the past few years we've seen the rise of mid packs and smaller formats as well, as shoppers reduced the frequency that they're going in, but they're increasing their basket spend."
On the basis of what Sunny says, it's a good opportunity to stop mid packs as well. "Our Corona 12-pack has been a great example of driving incremental sales into smaller format stores has been in growth of over 20 per cent
And lastly, he advises, using secondary space is also important for beers. "My local store has kept its additional secondary space and it's helped their sales, but it's also helped their availability and takes the pressure off the fridge," he says. "From the analysis that we've done, beer shoppers are more likely to buy on impulse when it features in secondary space, and it's especially true with premium beers."
Despite everything, then, it looks like a good year for beer in 2022 for independents, then?
"It's a great opportunity to get customers to trade up and spend more money in your store – and hopefully some of that will help. I know that these guys are living it day in, day out," concludes Sunny – a man who really has his finger on the pulse of the trade.