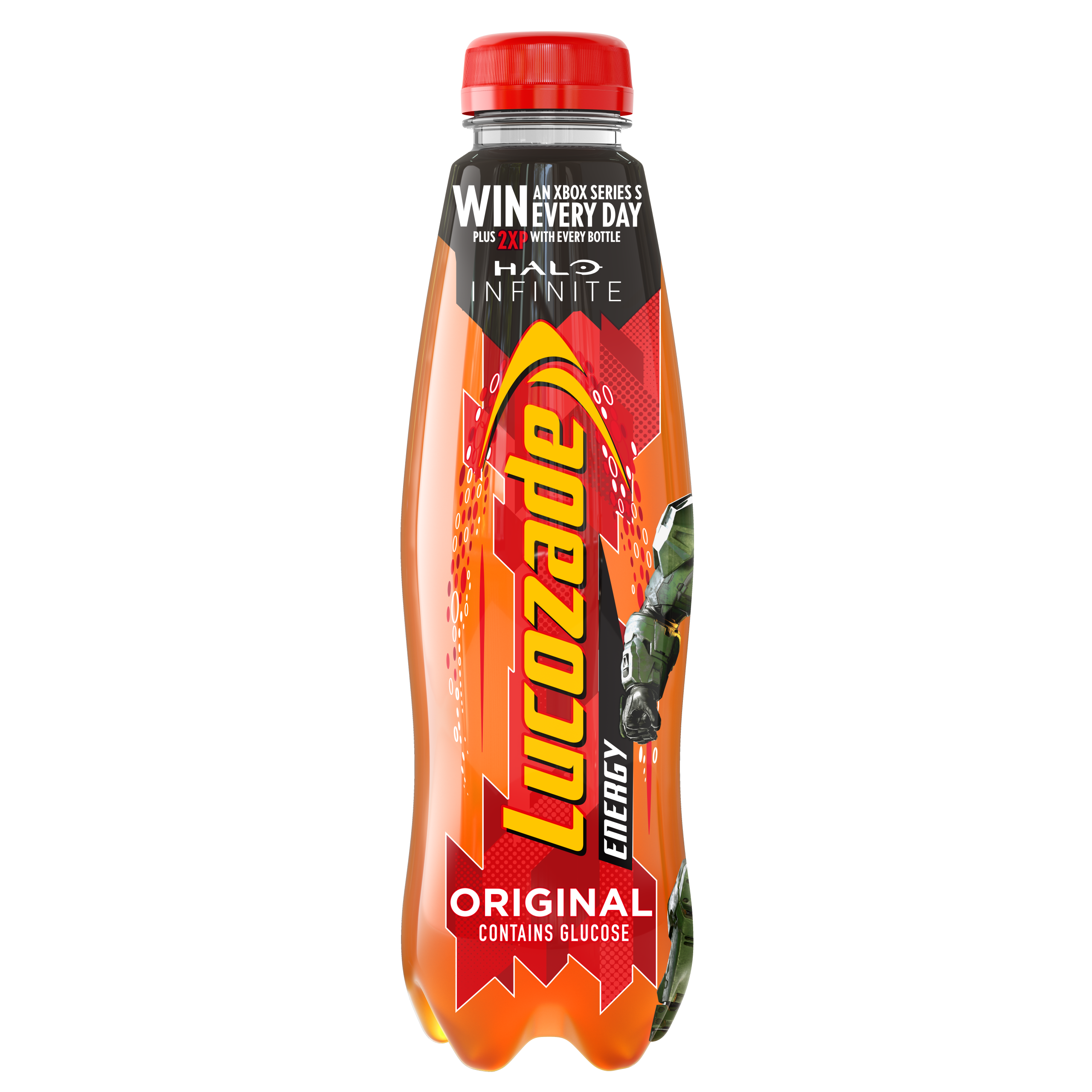 Lucozade Energy has teamed up in the UK with one of the world's biggest video gaming brands, Xbox, to give shoppers the chance to win big with a new on-pack promotion landing in stores from early May.
By scanning a QR code on pack, Lucozade Energy drinkers will have the chance to win a host of prizes to meet all of their gaming needs – including Xbox Series S consoles, complete with Xbox Game Pass Ultimate 12-month subscriptions. But it doesn't stop there, to celebrate the Season 2 launch of Halo Infinite, shoppers can redeem exclusive in-game bonuses with every single promotional bottle purchased, making every shopper a winner.
Lucozade Energy will be bringing the partnership to life in-store by giving convenience retailers the chance to win an exclusive Xbox prize pack, including an Xbox Series S console to raffle off to their shoppers. The winning retailers will receive a full toolkit to run the competition, consisting of posters, entry cards for the till, and point-of-sale materials to create a buzz in store and encourage shoppers to enter the raffle. To be in with a chance of winning, retailers should email [email protected] with their name, store name and address by the 27th May 2022.
The Lucozade Energy portfolio, is worth a massive £318M and has seen strong growth over the past year, making it the perfect partner for Xbox.
Targeting Gamers was a big opportunity for the brand – and this new partnership from Lucozade Energy and Xbox will allow retailers to take advantage of this opportunity. The promotion will see the bottles of Lucozade Energy, Orange, Original, Apple and Cherry  transformed with limited-edition Halo sleeves that feature the much revered Master Chief – driving shoppers towards the packs and promoting the partnership.
"Over two-thirds of people play video games in the UK, and with the rise of Twitch and esports , it's become a major form of entertainment," said Zoe Trimble, Head of Lucozade Energy at Suntory Beverage & Food GB&I. "Xbox has an exciting year ahead after the launch of Halo Infinite to its platform. Halo Infinite has had over 20 million players jump into the game, making it the biggest launch in the Halo franchise history. Lucozade Energy has a history of gaming and we're excited to be teaming up with the brand to bring gamers one of our biggest promotions of the year, making every shopper a winner."
"Every single bottle included in the promotion has a guaranteed prize for shoppers to redeem, so this is undoubtedly one of our biggest promotions yet. As well as this, retailers can get involved in our raffle competition to create even more fun in their stores by rewarding their shoppers with an exclusive prize pack!" concludes Trimble.
The promotion will be live on pack from May until August across multiple pack formats: 380ML (standard & PMP), 500ML, 900ML, and 4X380ML multipacks. The partnership with Xbox will be supported by £2M total spend, which includes a high impact out of home plan to drive awareness in close proximity to store and help retailers boost sales, this includes bus t-sides and 6 sheets. There will also be a Snapchat lens, a webpage take over on gaming fan website Fandom and an exciting partnership with Twitch, to amplify visibility of the campaign and drive shoppers into store.