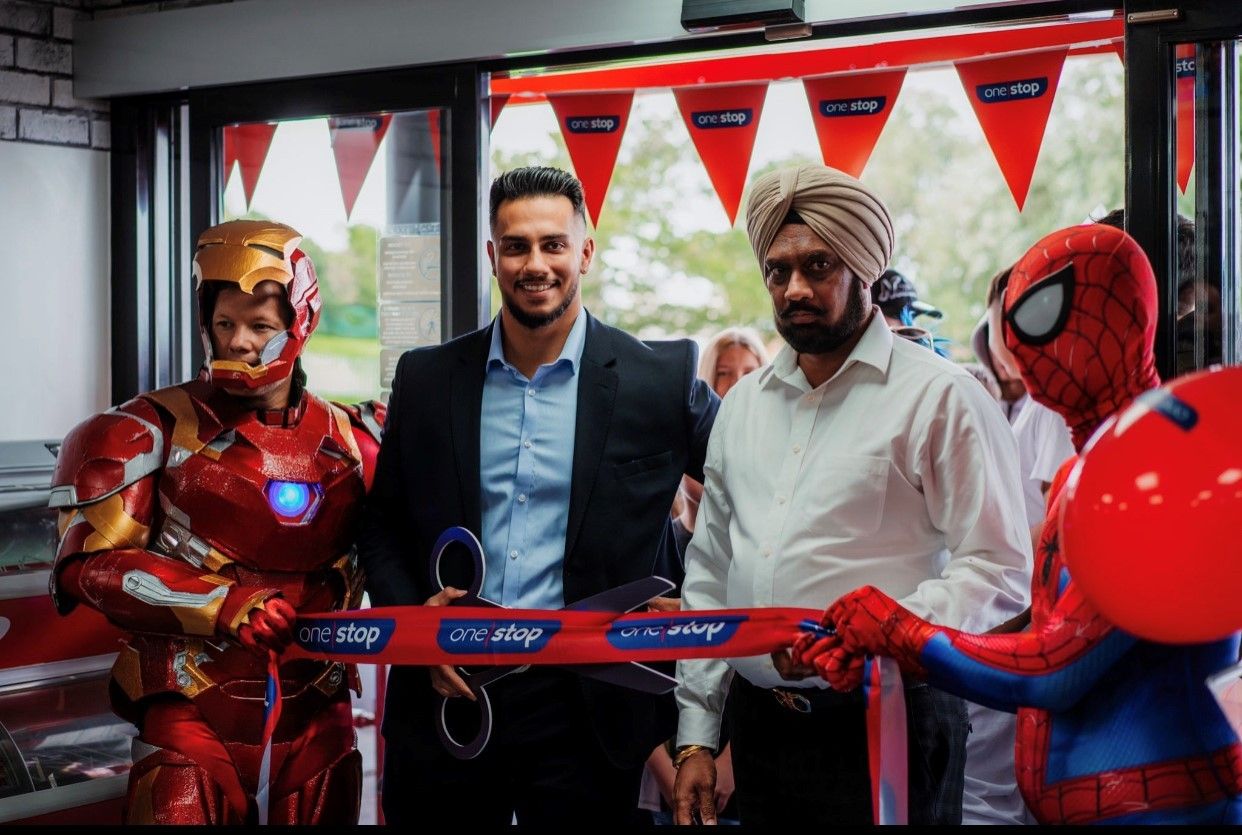 A 22-year-old entrepreneur, Harman Basainty has converted a derelict pub in Swansea into a state-of-the art 2,000 sq ft One Stop store. In doing so, he is paving the way for other franchisees to reap the same rewards he is experiencing, as the convenience store retailer continues its successful expansion into Wales.
The former Carriage House pub a well-loved local venue but closed down about 15 years ago. Whilst the Basainty family has owned the property for many years and rented it out as a café and takeaway they could never really make it work as a successful venture. This was until Harman found out about the One Stop offering and has never looked back.
On launch day, Harman had an exceptional party equipped with hundreds of guests there to enjoy the disco DJ, a surfing machine, bouncy castle, food, raffles and an appearance from Iron Man and Spiderman.
Harman and his family are no strangers to retail, having already run convenience stores for many years. However, the new One Stop at Rheidol Avenue, Swansea is his first foray into the One Stop offering, as he explains: "The offers and promos are superb for our customers and things are much simpler for us to manage as everything runs through the EPOS system. We know where each product is and what's on the shelf and it's proving to be a much more efficient way to run a store.
"What we're able to offer the local community now is amazing. We've never been able to get such a huge range of products before and customers can actually do a full shop. The chickens for £5 look really appealing and taste amazing and are so reasonably priced. I just never thought we'd be able to stock this much. I looked at my sales from my old store and we'd take around £1,200 a week on chilled and fresh items. We're now already selling over £700 a day!"
The new One Stop takes full advantage of its position which is minutes away from the DVLA Head Office, near to three local schools, next to a busy housing estate and in close proximity to a new house development. Subsequently there is a lot of passing trade form teachers getting their lunch to builders popping in for their £3 Meal Deals. Harman continues: "We've got so many great things to attract all our different customers including a fully-fledged open plan 300sq ft Beer Cave, which offers space and range in a fully chilled environment. It's actually less labour for us as we don't need to refill it multiple times like the chiller and of course customers love it as they can pick up beer, wine and multi packs all chilled.
John Miller Head of One Stop Franchise comments: "Hats off to Harman and his team who are driving such strong sales and have brought life to what was an iconic building for the local community but had fallen into disrepair. During the building's major refit into a store, Harman worked closely with One Stop to get all the right ingredients for what the area needed. This has proved very successful and is now evident in the short time he has been open.
"We currently have 21 One Stops in Wales, but we're set to roll out more in the coming months, so I'd urge potential franchisees to get in touch, so they can see what some of the opportunities are."