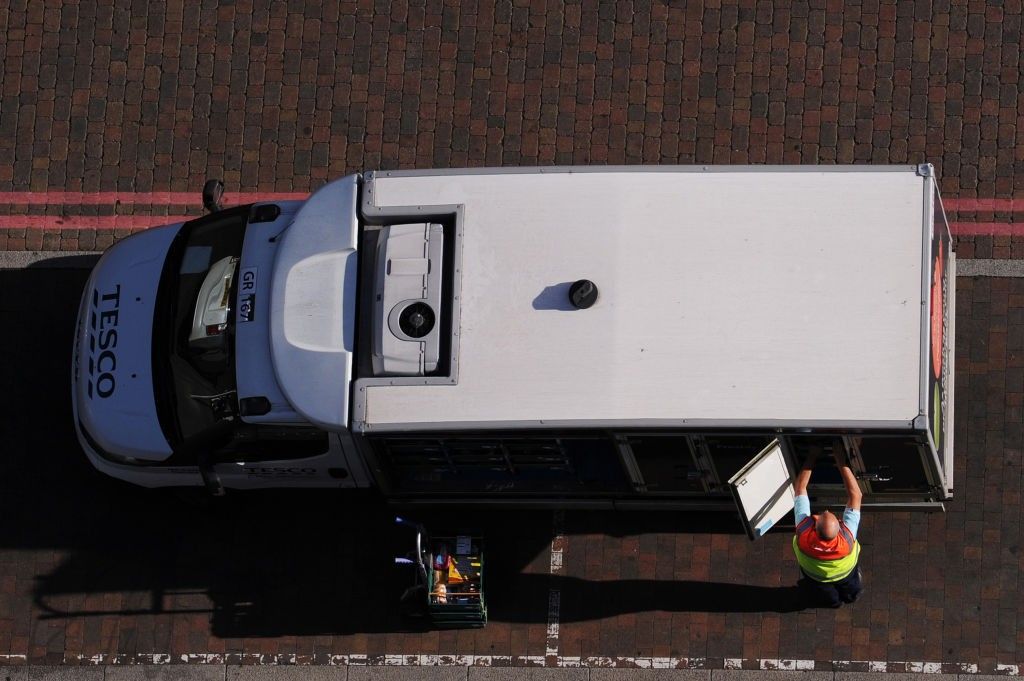 Tesco is experiencing a shortage of HGV drivers but has a plan to deal with it and product availability in stores remains strong, its boss said on Friday (18 June).
"In terms of labour availability, we've seen some shortage specifically in HGV drivers, but we're working really hard to address that," Ken Murphy told reporters after Tesco updated on first quarter trading.
"We've already got plans to address the shortfall and we're working closely with the suppliers," he said, adding that the product availability in stores remains "really strong".
On Wednesday the Road Haulage Association (RHA) and trade bodies representing the food industry met government to highlight a "growing peril" to UK supply chains from a worsening driver shortage.
Factors leading to the current shortage, which the RHA puts at 70,000, include reduced access to labour because of Brexit and Covid-19, and the loss of about a year of driver training and testing.
"The driver shortage in the food supply chain is at crisis point, leading to massive waste and empty shelves. Today we told @transportgovuk they need to operate on a crisis footing. They are not and we're sleepwalking towards disaster," the Federation of Wholesale Distributors tweeted after the meeting.
Meanwhile, Tesco said they are "very keen" for the UK government and the European Union to resolve a dispute over whether chilled meat products such as sausages, produced in mainland UK, can continue to be sold in Northern Ireland.
"We're clearly very keen for the government to find a sustainable solution for the Northern Irish protocol with the EU and we're waiting with interest … we're looking forward to a resolution," Murphy said.
He said product availability at Tesco's 50 stores in the province is currently "really good".
"Where we have had challenges in terms of bringing product into the north we have been able to switch to local supply," he said.
Murphy said that even if the UK and the EU failed to find a solution, Tesco would still be able to service its business in Northern Ireland.
"We'll be able to supply the vast majority of what we supply today at competitive prices," he said.
Under post-Brexit trade rules agreed last year, Northern Ireland is effectively treated as part of the EU for customs purposes under a protocol to avoid politically sensitive border checks with the Republic of Ireland.
Britain has not committed to follow EU food safety rules after Brexit, which according to the EU means chilled meat from mainland Britain should no longer be sold in Northern Ireland.
On Thursday Britain asked the European Union for a further three months to resolve the dispute.
Rising Sales
Tesco posted rising first-quarter sales on easing virus curbs and solid online demand, a year after posting strong figures during the first pandemic lockdown.
Total sales advanced 1.3 per cent to £13.4 billion during Tesco's first quarter, or 13 weeks to late May, as Covid-19 restrictions eased.
However, the retailer had experienced soaring sales in the same part of 2020, as people switched to online grocery deliveries during the early stages of the pandemic.
Tesco sales during the current first quarter were up 8.1 percent compared with two years ago, before the health crisis struck.
And online sales were up 81.6 percent on pre-pandemic levels, as consumers placed 1.3 million orders per week.
Tesco's performance was particularly strong in March, but eased off in April and May as the economy reopened.
"We delivered a strong performance in the first quarter, even as we lapped the high demand of last year due to the pandemic," Murphy said.
"While the market outlook remains uncertain, I'm pleased with the strong start we've made to the year."