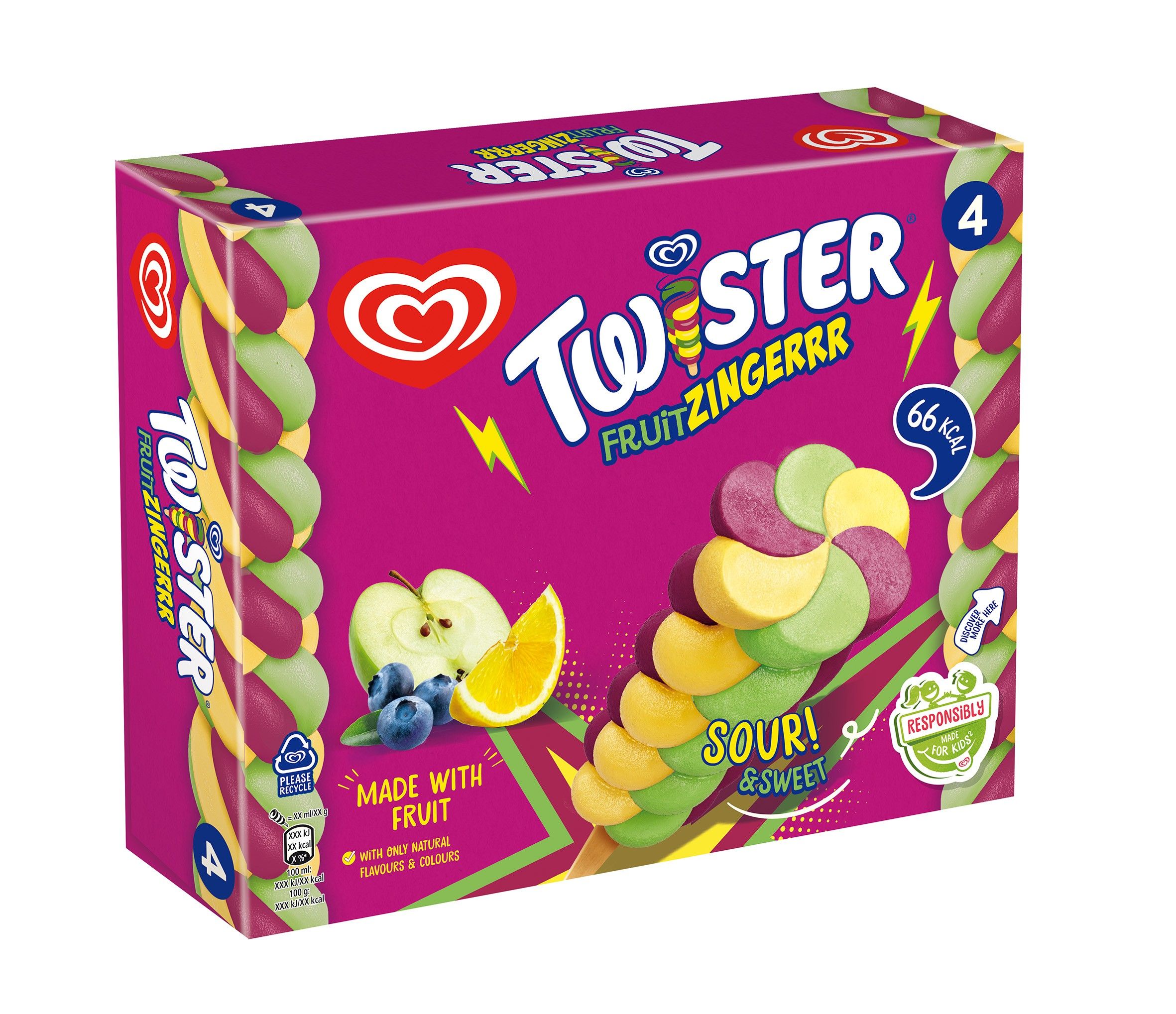 Unilever is introducing Wall's first ever sweet and sour ice lolly with the launch of the Twister Fruit Zingerrr, bringing a zesty sensation to freezers across the UK.
Made with real fruit juice, no artificial flavours or colours, and containing just 65kcal per serving, Twister's zingy innovation is unique to the kids segment, with a combination of tangy apple, sour lemon and sweet blueberry expected to drive category growth in 2023.
The Wall's Kids' portfolio, including Twister, Mini Milk and Calippo, is now 100 per cent HFSS-compliant following reformulations, with no compromise on the taste the brands are renowned for.
Family favourite, Twister, is known for its new, innovative shape and flavour combinations, leading the way with top trends to excite the ice cream category. Twister Zingerrr is responding to a growing demand for new flavours within the category, with Google searches for lemon and apple ice cream up by 55 per cent and 49 per cent respectively and sour flavours, such as lemon, already a big trend within confectionery.
Twister Zingerrr joins Unilever's "Responsibly Made for Kids" range, with a logo on pack to communicate its commitment to ensuring all products within this range are responsibly communicated, sold and developed.
"In a competitive marketplace, sometimes you've got to twist things up to stand out from the crowd and the Fruit Zingerrr, with its bold and vibrant flavour profile and bright colourful look, does exactly that," said Jennifer Dyne, Head of Ice-Cream UK & Ireland, Unilever. "We're in no doubt that this striking innovation will have huge stand out on shelf – it's bright, fun and hard to ignore!
"Ice cream and lollies is a special category as they can bring real moments of happiness and joy to people's day-to-day. By offering an entirely non-HFSS kids portfolio, we're providing an even easier choice to parents for those treat and dessert occasions.
"Twister was the number one kids brand in absolute value sales growth in 2022. We know it's a product with positive consumer sentiment; it's loved by kids and adults alike, who are looking for a fruity and refreshing option when choosing an ice cream. Our 'Responsibly Made For Kids' initiative also gives retailers confidence that we're committed to creating ice cream that is better for their customers."
Twister Fruit Zingerrr is available in a x4 multipack and OOH single, across grocery, wholesale and convenience.