Walkers MAX is teaming up with Pizza Hut to launch two new permanent, non-HFSS crisp flavours- Walkers MAX Pepperoni Feast and Walkers MAX Texan BBQ. Both the flavours are available from Aug 7.
Alongside the launch, Walkers will be running an on-pack promotion across both SKUs, giving consumers a two-for-one pizza deal at Pizza Hut with every pack purchased. Walkers MAX is also rebranding its entire range to create a punchy new look which highlights the intensity of the MAX flavours and is set to stand-out on shelves.
Consumers enjoy snacking on crisps and indulging in a pizza – so why not combine the two? The crisp experts at Walkers MAX and pizza creators at Pizza Hut could not agree more and are giving retailers a slice of the action with the launch of two new permanent flavours: Walkers MAX Pepperoni Feast and Walkers MAX Texan BBQ.
Available from Aug 7, the two new flavours tap into the growing demand amongst younger consumers for pizza flavours within the savoury snacking space.  Both SKUs are packed with MAX-imum flavour while remaining non-HFSS and are tailored towards Gen Z consumers looking for more intense flavours from their snacks.
The launch will be supported by an on-pack promotion from Aug 7 and will run until Dec 31, offering consumers a two-for-one offer on Pizza Hut pizzas across both SKUs which will run until the X million promotional packs are no longer available. Consumers will be able to redeem the offer on promotional packs via an on-pack QR code and purchase two pizzas for the price of one from Pizza Hut delivery franchises, with no restriction on size, or the time of day. The on-pack promotion aims to create a buzz around the collaboration, driving consumers to stores– and then onwards to Pizza Hut to redeem their offer.
Lynn Grant, marketing manager for Walkers MAX said: "We know that Gen Z in particular are snacking three times daily and seeking the types of intense flavours that can be found in their favourite fast food. Pepperoni is Pizza Hut's number one flavour and its Texan BBQ is iconic with a loyal following. By offering younger shoppers the indulgent taste of these flavours on the well-loved ridged crunch of Walkers MAX, we hope to create excitement, and offer younger consumers maximum flavour."
"We have a long track record of exciting partnerships that deliver those much-desired intense flavours to shoppers aged 18-28. Given just how popular Pizza Hut is amongst Gen Z, it made absolute sense to work together to deliver these new flavour experiences," Grant continued.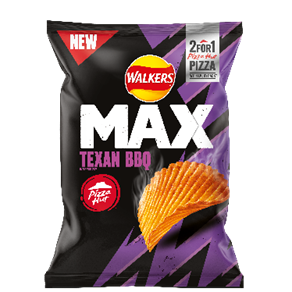 Hamish Borsboom, head of sales and marketing at Pizza Hut said, "Our partnership with Walkers MAX is truly a match made in heaven. Younger shoppers look to both of our brands for punchy, irresistible flavours, and now they can enjoy the taste of our well known and loved pizza flavours on the ridged crisp of Walkers MAX. With shoppers able to get a great deal through the on-pack promotion, we're so excited to be able to offer consumers great two-for-one offer – on any day of the week, any time of day and on any size pizza!"
The new flavours will roll out in grocery and convenience stores from Aug 7 and both Pizza Hut flavours will be the first SKUs to sport an entirely new pack design which will roll out across the wider Walkers MAX range from the end of August. The redesign aims to visually highlight the intense flavours of the range and will allow for a single coherent design across the portfolio.
Changes will include the addition of vivid chevron patterns to catch the eye of shoppers, along with visual cues to indicate the taste, spiciness, and intensity of flavours. The refresh aims to make it simpler for consumers to see which products are part of the Walkers MAX family, and where they can find their favourite bold flavour profiles.
The Walkers MAX Pizza Hut flavours will also be launching in a PMP format, ensuring that this NPD is available in the format that drives the most growth in the convenience channel. PMPs have for a long time been of importance to the savoury snacking category in the convenience channel, so the launch of these two new flavours in PMPs from Walkers MAX will help to reassure both shoppers and retailers alike.