Walkers is expanding its RRP PMP range with the addition of Wotsits Giants' best-selling flavours, Wotsits Giants Really Cheesy and Wotsits Giants Flamin' Hot. The latest RRP PMP launch takes the brand's total number of RRP PMP launches this year into double digits, as part of Walkers' ongoing support for independent retailers and their snacking offering.
RRP PMPs continue to be the growth engine of the Savoury Snacks Category, with the format remaining the number one contributor to crisps and snacks growth in value. Walkers' RRP PMP portfolio is currently growing at +21.4 per cent, and the new addition will help offer retailers a strong opportunity to grow sales. Wotsits Giants have delivered £9.3m in value sales over the last year, so the combination of two of Wotsits' best-selling SKUs with the popular RRP PMP format will offer shoppers reassurance and an accessible price point.
"We're excited to be investing in our RRP PMP portfolio through these latest additions," said Mike Chapman, head of wholesale at PepsiCo. "Wotsits Giants have been hugely popular since launch, with shoppers loving the fact that they are twice the size of regular Wotsits. Given the strength of RRP PMPs currently in delivering growth for retailers and the Savour Snacks Category, it just makes sense to make these in demand SKUs available in a RRP PMP sharing format. By stocking best-selling flavours like Wotsits Giants RRP PMPs, retailers can capitalise on existing shopper demand and drive snacking sales.
"For a long time, RRP PMPs have been of crucial importance to the convenience channel and to the Savoury Snacks Category, acting as the engine driver of growth. This year, we have continued to support retailers in growing their snacking sales through backing RRP PMPs across the nation's most loved crisp brands, investing through NPD and line extensions. The new additions to Wotsits Giants are our latest step as we work with retailers to offer accessible price points for shoppers."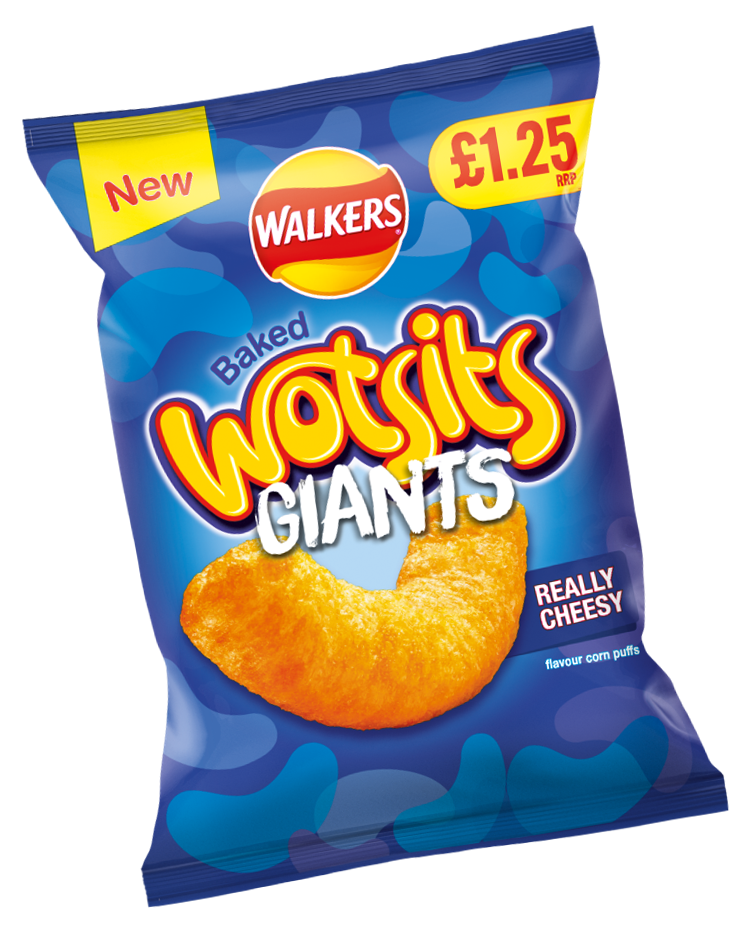 Bobby Singh, owner of BB Nevison Superstore & Post Office, added: "Our customers love to see the latest NPD and their favourite flavours as they come into store, so we love getting in the latest innovation from Walkers. RRP PMPs are really important for our store, particularly for driving crisps and snacks sales. Having the latest Wotsits Giants and Walkers MAX x Pizza Hut products available in RRP PMP format too will really help us to appeal to those customers who are managing their spend a little but still want to enjoy their favourite flavours and brands."
The additions to Walkers' RRP PMP portfolio will be available from the start of September. Walkers' ongoing RRP PMP support for retailers and driving their sales marks the 10th and 11th RRP PMP launch from the business – with other launches this year including:
Walkers MAX x Pizza Hut | Walkers MAX recently teamed up with Pizza Hut to launch two new permanent, non-HFSS flavours: Walkers MAX Pepperoni Feast and Walkers MAX Texan BBQ, both available in RRP PMP. Pepperoni is Pizza Hut's number one flavour and its Texan BBQ flavour is iconic with a loyal following. Offering younger shoppers the indulgent taste of these flavours on the well-loved ridged crunch of Walkers MAX, launch aims to create excitement, and offer younger consumers maximum flavour.
Walkers Prawn Cocktail | In June we rolled out our Walkers Prawn Cocktail into a PMP format. Walkers Prawn Cocktail is our third bestselling Walkers single flavour, and with Walkers the no.1 PMP crisp brand, it just made total sense to make one of our most popular flavours across the core range available in a RRP PMP format too. Prawn Cocktail as a flavour is rapidly growing in demand amongst shoppers at +11.6 per cent in singles, so we're hoping retailers will see this demand translate in increased RRP PMP sales too.
Doritos Burger King Flame-Grilled-Whopper flavour: Since launching, the new flavour has delivered £6.5million RSV YTD, making it the fourth bestselling flavour launch for the brand.