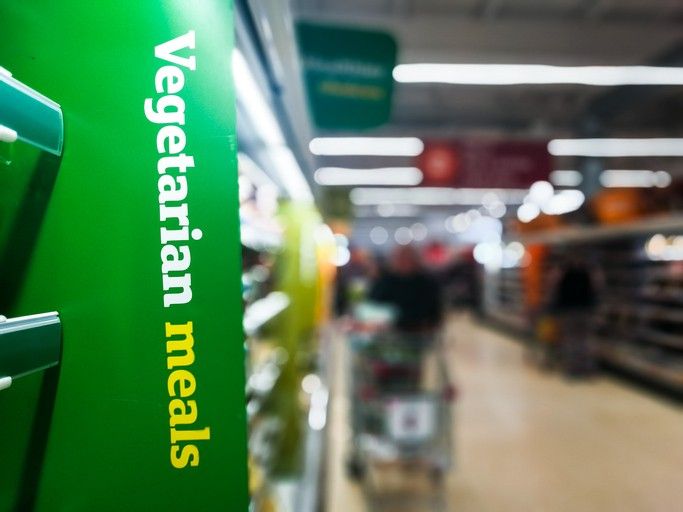 Change is the only constant. While the food and drink sector may appear a slow-moving segment, it is in fact an ever-evolving one. The latest development creating waves in the food market is plant-based meat alternatives.
With four times more vegans now than there were four years ago, veganism is having a moment in the UK. Data says that vegans and vegetarians could make up a quarter of the British population by 2025.
According to the recently-released figures in Science of the Total Environment, the proportion of Britons eating and drinking plant-based alternative foods (PBAFs) such as plant-based milk, vegan sausages and vegetable burgers have "nearly doubled" between 2008-2011 and 2017-2019, from 6.7 percent to 13.1 percent.
Similar observations were echoed by PETA which claims that the past five years have been "monumental".
"The past five years have been monumental for the vegan movement. Interest in animal-friendly foods has skyrocketed as more and more people are looking for healthier options that are better for the environment and that no one has to suffer or die for," Dr Carys Bennett, Senior Corporate Projects Liaison, at PETA, told Asian Trader.
About 7.2 million Britons currently follow a meat-free diet, says another market report. Going meatless is gaining momentum each passing day.
No wonder that sale of meat-free foods have grown an impressive 40 per cent from £582 million in 2014 to an estimated £816 million in 2019, says recent data from Mintel. Such is the popularity of meat-free food that sales are expected to be in excess of £1.1 billion by 2024.
The Vegan Society cites the Smart Protein Project (which uses Nielsen data) to state that the sales value of plant-based foods grew 73 per cent in the UK between 2018 and 2020 and "plant-based meats are helping to drive this category forward".
Store owner Alpesh Shingadia, who stocks a wide vegan range in his Budgens store in Southwater, reveals that he has seen a spike in the demand for vegan meats in the last few years.
"I see an uptick in the demand for plant-based meats and proteins. To cater to the constant demand, we now have a dedicated space in the store for these foods," Shingadia told Asian Trader.
Similar sentiments were echoed by Kirtan Patel, the owner of Londis Ferme Park Road store in Finsbury Park in London.
"In our chiller, we have about two and a half meters of just vegan foods. And then throughout the rest of the shop, whether it is biscuits, or food to go, we stock vegan sausage rolls, vegan biscuits, gluten-free biscuits. We even stock gluten free mince pies …", said Patel, winner of the Independent Retailer of the Year accolade at this year's Asian Trader Awards.
Clearly, it is time every retailer and store owner shuffle and make more space for plant-based meats in their store, making sure to stock the best-selling brands in their freezer section to cater to the changing needs of the ever-evolving Britons.
What is plant-based meat?
Veggie meat or vegan meat may be the latest buzz word but interestingly, it goes back to the late 1800s when US-based nutritionist and health activist John Harvey Kellogg developed the peanut-based & meatless meat & called Nuttose.
In simple, plant-based meat is a term that is used to describe foods that mimic meat products but are made from plants. Most of the time, plant-based alternative foods (PBAFs) tend to use soya or soya beans as their base – think tofu, tempeh – but one can also find meat alternatives made from fruit and vegetables like jackfruit or mushrooms or more recently, peas.
Coming in the form of nuggets, sausages, burger patties, and much more, PBAFs are created and manufactured to appear, feel, and taste like conventional meat. Some companies even claim that it offers the same cooking and eating experience as of traditional animal meat. Health, environmental concerns and ethical beliefs are the prime factors pushing the rise in popularity.
Since animal-based meats, especially red meats, were feared to be a cause of diseases such as obesity, type-2 diabetes, heart ailments and certain cancers, plant-based meats are now touted as a healthier choice owing to lower amounts of saturated fat and higher amounts of fibre.
Another major factor is the environmental. Half of British consumers overall (48 per cent) believe reducing consumption of animal products is a good way to lessen humanity's impact on the environment, says Mintel data.
"Large numbers of Brits say they are removing or reducing the amount of animal products in their diets – whether that is for animal rights, environmental concerns or personal health," Francine Jordan from The Vegan Society told Asian Trader. She calls for more government help to support a shift towards more sustainable diets.
"Amongst many other initiatives, we propose government backed funding to support research and development in crop production (such as lentils and chickpeas), and campaigns that show vegan diets can be 100 per cent healthy and nutritionally adequate."
As storeowner Shingadia pointed out, shoppers are aware and are consciously making healthier choices, drifting towards products that they see as environment friendly. Going for plant-based meats over traditional range is one such lifestyle change shoppers are making: "They know exactly what they want when they enter the store", he said.
Overall, there is a strong "feel good" factor associated with plant-based meats. Especially after battling Covid-19, people are now paying closer attention to their diet and increasingly adopting "flexitarian" diets – cutting down on meat and dairy while eating more plant-based foods.Documentaries, news coverage and celebrity influencers are acting as further catalysts in this movement which, interestingly, is largely driven by younger generations.
Must-stock Brands
As the number of vegans in the UK continues to spike, it is no wonder many businesses – big and small – are moving into the plant-based meat industry to tap into this booming market.
The Linda McCartney range of vegetarian and vegan products has been manufactured since 1991 and that makes it the oldest plant-based meat company in the UK. The brand is still doing well and is very well imprinted on shoppers' minds.
Businesses excelling in this space seem to be innovative, with imaginative marketing campaigns and creative branding inducing clever play of words.
THIS is one such brand, which is also seen as the UK's best-selling alternatives to chicken and bacon, and whose products are said to mimic meat in taste, texture, appearance and even smell.
Heura is another brand which claims to make super-realistic chicken alternatives in two versions – chunks and strips. Made from soy, olive oil, salt, and spices sourced in Europe, Heura's product is one of the healthiest options available on the market owing to a short list of ingredients and high nutritional value.
Quorn is by far and away the most well-known vegetarian/vegan food brand with about 50 per cent of respondents in a recent survey by Attest mentioning Quorn on being asked to name meatless meat brands. Fillets, fajita strips, burgers, smoky ham, chicken slices – Quorn most likely has every possible vegan option.
US brand Beyond Meat has also been a winner and game-changer when it comes to innovation in realistic imitation meat. Their "bleeding" burgers arrived in the UK in 2018 and are now available in most of the stores and are quite a hit among foodies. Attest also claims that most UK consumers are most likely to have tried Beyond Meat and enjoys a good brand loyalty.
VBites also has plenty to offer. The vegan company has been dishing out beef, chicken, pork, lamb, and turkey made from plants for over two decades.
Other noteworthy ones in this market are Meatless Farm, Vivera and Heck. Dutch brand Vivera has recently announced a £25 million investment to double the size of their production facility.
Unilever has also been expanding its plant-based meat and dairy alternatives business for several years. Its brand, The Vegetarian Butcher, offers plenty of vegan options including vegan mince, chicken shawarma, smoked sausage, and teriyaki chicken.
What the future holds
Apart from the current brands, constant research and development in this area is ongoing, giving rise to newer ranges and even newer brands each day.
According to Mintel, almost a quarter (23 per cent) of all new UK food product launches in 2019 were labelled as vegan, compared to just 17 per cent in 2018. With more and more Britons developing a taste for meatless meat, the market of plant-based brands is evidently hotting up.
"Leading companies are making significant investments to help shift their strategy towards plant-based for the long term, while more start-ups are striving to repeat the success of Beyond Meat. We are also seeing investment funds placing greater emphasis on plant-based innovation, which should enable even greater growth in 2022 and beyond," Jimmy Pierson, Director- ProVeg UK, told Asian Trader.
UK based Atura Proteins also highlighted in a recent interesting survey that 56 per cent of UK's food companies are likely to invest in plant-based products in 2022, with 41 per cent believing that vegan meats such as mince will be the biggest growing category in the plant-based space.
Social facilitation and beliefs about the importance of meat in the diet are still seen as barriers in plant-based foods becoming a part of the staple UK diet. While the meat-free market is thriving, a market report claims that 38 percent of non-users would prefer to substitute meat with other ingredients such as cheese or pulses, rather than buy meat substitutes.
Price is another major restraining factor in the meatless meat market. Plant-based meat is uneconomical when compared to animal-based meat, which is likely to impact its growth in price-sensitive markets. The prices of plant-based meat products are further expected to increase due to trade barriers, disruptions in the supply of raw materials, and inefficient distribution channels due to Covid-19.
To counter that, many stores and supermarkets are now trying to lower their prices. Both Tesco and Co-op have reduced the price of their vegan products in order to make them accessible to more people, and the launch of Co-op's GRO vegan range in Nisa stores has been helping boost its frozen-food sales.
The segment holds promise of huge untapped sales potential, food firms are constantly experimenting to find the right taste and texture to ride on this wave.
After soy, pea-based PBAFs are emerging as a popular choice. Since pea serves as an alternative for consumers with a soy allergy it seems more appealing and is perceived as a clean-label ingredient with added benefits of being soy-free, gluten-free, and lactose-free.
Among the products, burger patties have dominated the market in past years and the same trend is projected to follow as well due to faster production, taste, convenience, and abundance in supply.
Vegan seafood is another new kid on the block.
"We are now seeing attention turned to vegan "seafood" – with vegan tuna, fish fingers, "shrimp" and sushi increasingly available on the market," informed Jordan from The Vegan Society.
"With increased innovation happening in the category, costs are also coming down and taste/texture profiles are improving. Many high street retailers and food-to-go operators are now offering these once niche products. With this in mind, we expect this category to explode in the coming years."
Vegan seafood is definitely the new buzzword with exciting new options like vegan fish cakes, plant-based scampi, fish-free tuna, and "fish" fingers, which are expected to propel huge sales in the coming times.
"People around the world are rethinking their eating habits after the hit Netflix documentary Seaspiracy exposed that sustainable fishing is a myth and that the oceans are on the brink of ecological collapse because of the relentless killing of fish and other marine animal," said Bennett from PETA, who vouch for "Wagamama's vegan chilli squid made from mushrooms, which won a 2021 PETA Vegan Food Award".
It's a wrap
Well, the shift is happening and the change here is definitely led by demand. With meat consumption in the UK dropping by 17 per cent from 2009 to 2019, as per PETA, vegan-meat consumption will definitely surge in the coming times.
Alpesh Shingadia, however, advises retailers to know their customers well- their demographics, their priorities and preferences- and try to stock the range accordingly since the demand and sales may also vary depending on locations and local population.
While some retailers stock plant-based options in a separate section, most often in a "healthier for you" area, some of the creators of vegan and plant-based alternatives to animal-based food products across the pond are encouraging retailers to sell their range in the meat case, or alongside meat products in the frozen section.
Their logic is that shoppers should be offered plant-based options right where they are seeking proteins.
While placement may vary, it is high time to green-sweep the grocery store and make some space for a wide and good range of bestselling brands of plant-based meat alternatives.
Any convenience store that is not or insufficiently stocking plant-based meats may end up losing majorly on potential shoppers, who might just consider moving to "greener" pastures!