With the UK still in the throws of the cost of living crisis, it's no surprise shoplifting has increased, with the British Retail Consortium (BRC) estimating that there were eight million "theft incidents" in British shops last year, costing £953 million.
Money.co.uk shop insurance experts have extracted crime data for England & Wales to see which areas have been the worst victims of shop theft, and the results are below:
Ranked: Top 25 shoplifting hotspots in the UK
The tables below show the 25 local authorities with the highest number of shoplifting crimes per head per year: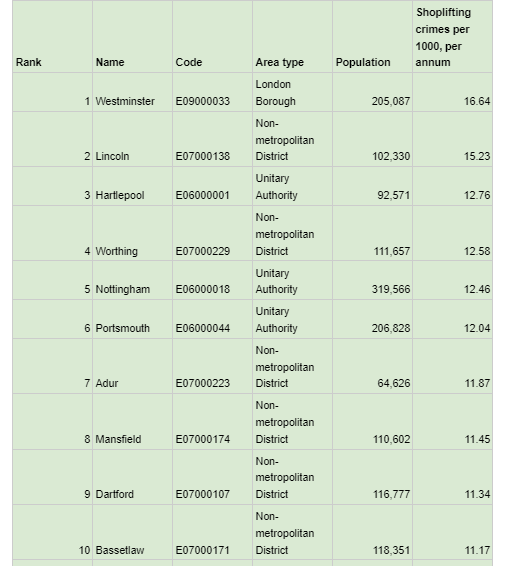 The North East has been hardest hit by the rise in shoplifting out of a list of hotspots in England and Wales. Middlesbrough, Redcar and Cleveland, Wakefield, Stockton-on-Tees, Newcastle and north-east Lincolnshire all appear in the top 25, drawn from three years of data.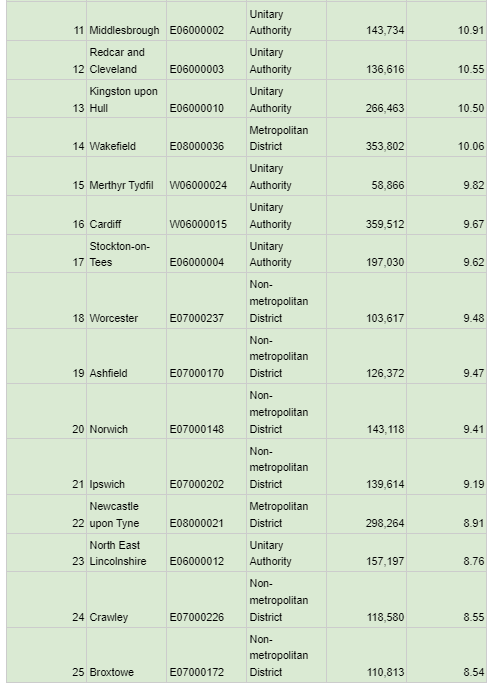 Analysis by the insurance experts shows that locations in the area feature disproportionately in the 25 municipalities worst impacted by the wave of retail crime.
"The cost of living crisis is affecting us all," said money.co.uk's business insurance expert Cameron Jaques. "With the cost of food and basic necessities continuing to rise, it's not surprising that shoplifting is on the rise as well, as large segments of UK's population struggle to afford essential everyday items.
"With the North East of England having the highest poverty rate of all the regions, and Middlesborough, Hartlepool and Newcastle upon Tyne being in the top 25 UK shoplifting hotspots, it's safe to think there's a correlation there. And if the cost of living crisis is here to stay, it's likely that supermarkets and retailers will have to deal with shoplifting as a regular occurrence."
Ranked: Top 25 safest places to own a shop in the UK
The table below shows the 10 local authorities with the lowest number of shoplifting crimes per head per year.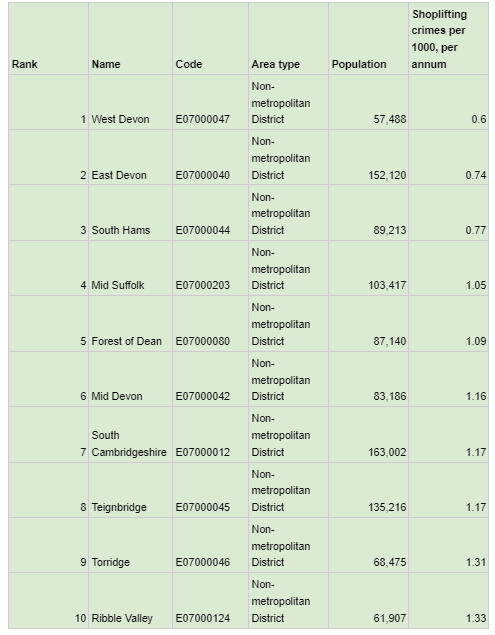 With West Devon, East Devon, Mid Devon, South Cambridgeshire, and Teignbridge all featuring in the top 10 safest places to own a shop, the correlation between shops situated in the south of the UK and low numbers of shoplifting crimes is clear.
Expert tips on preventing shoplifting
Preventing shoplifting in your store is crucial for maintaining profitability and a safe shopping environment.
Cameron Jaques said: "In the world of retail, it's not a matter of 'if' but 'when' theft or shoplifting will occur. These unfortunate events can strike any business at any time, causing significant financial strain and disruption. Shop insurance acts as a guardian for your store, providing essential protection when you need it the most. It's the safety net that ensures your business can withstand the challenges posed by theft and shoplifting, allowing you to focus on serving your customers and growing your enterprise."
Cameron's top tips for preventing shoplifting in your retail store:
He also gives his top tips for preventing shoplifting in your retail store:
Employee Training: Ensure that your staff is trained to identify suspicious behaviour. Teach them to approach customers with a friendly greeting and offer assistance, as this can deter potential shoplifters.
Maintain Records For Shop Insurance Purposes: Keep detailed records of your inventory, including photographs and receipts. This documentation can be invaluable when filing a claim with your insurance company in the event of theft or vandalism.
Assess Your Coverage Needs: Before shopping for insurance, thoroughly assess your store's specific needs. Consider factors such as the value of your inventory, location, and the potential risks associated with your business.
Compare Multiple Insurance Quotes: Don't settle for the first insurance quote you receive. Obtain multiple quotes from different insurers to compare coverage options, deductibles, and premiums. This can help you find the most cost-effective policy.
Visible Staff Presence: Maintain a visible staff presence throughout the store. This not only makes customers feel more secure but also discourages shoplifters who are less likely to steal when they know they are being watched.
Use Mirrors and Cameras: Install mirrors and security cameras strategically to eliminate blind spots in the store. Display signs indicating the presence of surveillance, as this can deter potential thieves.
Organised Store Layout: Keep your store well-organised and clutter-free. This allows staff to have better visibility and makes it harder for shoplifters to conceal stolen items.
Limited Access to High-Value Items: Restrict access to high-value or easily pocketable items by placing them in locked display cases or near the checkout counter. Customers can request assistance to view these products.
Electronic Article Surveillance (EAS) Systems: Invest in EAS systems that attach security tags to merchandise. These tags trigger alarms when tampered with or taken out of the store without being deactivated.
Bag Checks and Receipt Verification: Implement a bag check policy at the store exit and ask customers to show their receipts. This adds a layer of security and sends a clear message that theft will not be tolerated.
Engage with Customers: Engage customers in conversation when appropriate. A friendly and attentive staff can make potential shoplifters uncomfortable and less likely to steal.
Collaborate with Local Law Enforcement: Establish a relationship with local law enforcement and report thefts promptly. This can deter habitual shoplifters and lead to their apprehension.
Educate Your Customers: Use signage and announcements to educate customers about your store's shoplifting policy and its consequences. This can deter theft by making individuals aware of the potential legal and financial ramifications.