Summer is always cool for alcohol sales as life takes on a more leisurely pace and shoppers enjoy relaxing and having a good time in the sunshine. Lauren Priestley, Diageo's Head of Category Development, Off Trade, says that "This summer, we can expect consumers to enjoy outdoor dining including barbecues as people have become more accustomed to hosting events at home. Retailers can tap into this trend by stocking drinks that lend themselves to summery, food-led occasions."
The on trade may be back on now the pandemic is over, but people have become used to enjoying themselves at home, and the developing economic situation  also commends this cheaper option,  so let's uncork a bottle and dive in.
Time for wine
Wine is a year-round pleasure, but it comes into its own at sunny garden parties and BBQs – and the wine companies are all helping the C-channel with their summer season sales drives.
Ben Smith, Head of Communications at Concha y Toro UK, notes that wine market overall is showing decline versus a year ago, but that this is mainly due to the reopening of the on trade, and generally wine sales in retail are still positive compared to the same period pre-pandemic. "There is plenty of evidence that many new shoppers came into the wine category during that period, and so it's a great opportunity for retailers to ensure shoppers remain engaged and have a good choice of wines to enjoy," he says.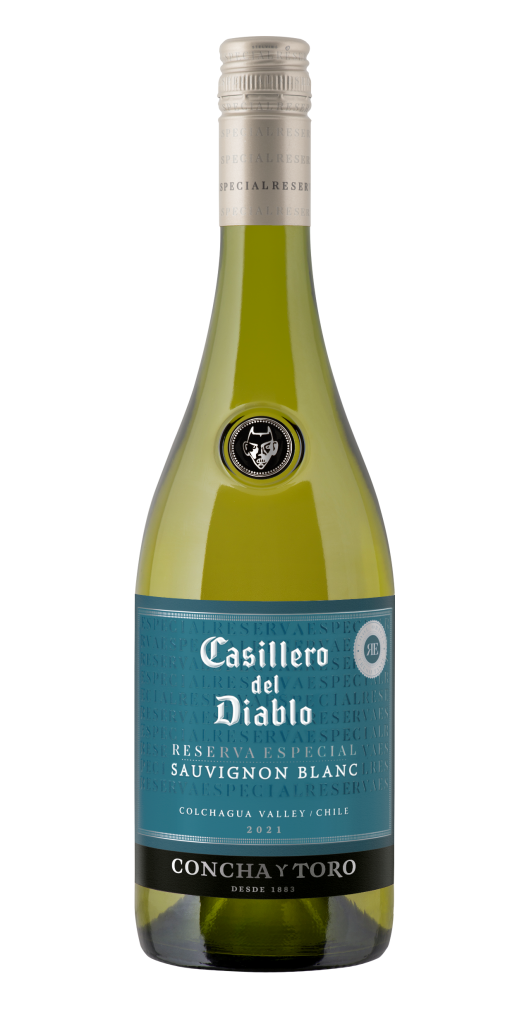 Smith says that in white wines, Sauvignon Blanc continues to be the most popular grape variety, and with the recent vintage shortages in New Zealand, white wine fans are seeking out Chile as a great alternative source of quality Sauvignon Blanc. "Our recently launched Reserva Especial Sauvignon Blanc from Casillero del Diablo is one of a range of great options for retailers," he says.
"Malbec continues to lead the red wine varieties, and Trivento Reserve Malbec is not only the best-selling Malbec, it's the best-selling single wine sku in the country! It continues to pick up lots of awards and should be a must-stock for every wine shop, especially in the barbecue season. We've released it in a price marked pack, (with an easy to remove neck label), to give more reassurance to the shopper that they're getting a great price for the wine, whilst delivering great POR for the retailer."
Ben Blake, Head of Marketing – EMEA – Treasury Wine Estates, says that "Summer is a key sales period for Rose, with 28 per cent of sales accounted for during the season. "White wines including Sauvignon Blanc, Pinot Grigio and Chardonnay are also top sellers over the warmer months. Whilst people have missed socialising with friends and family, the at-home occasion remains important to customers when shopping for wine – especially in summer and for outdoor eating/drinking occasions."
Smith stresses that retailers need to ensure they have good quality examples of the leading grape varieties – Sauvignon Blanc and Pinot Grigio in the whites, and Malbec and Shiraz for the reds.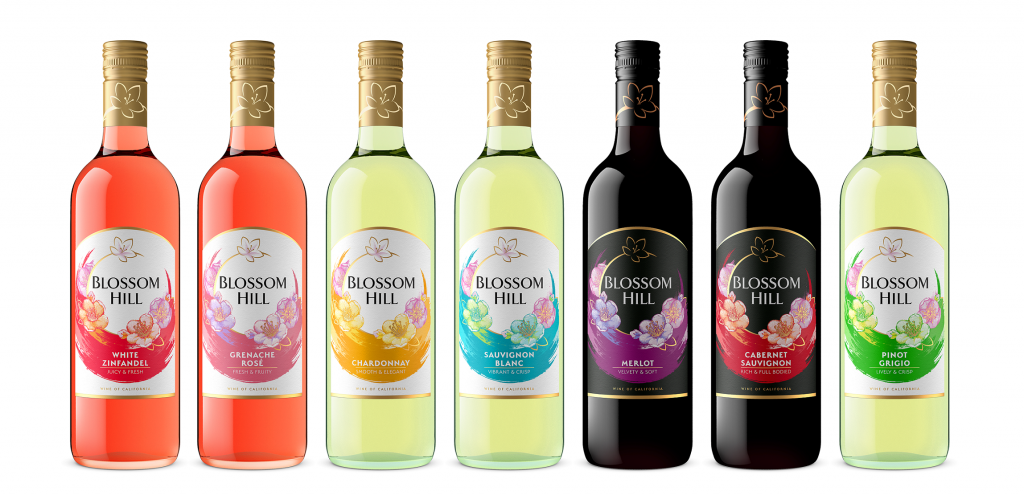 Blake says, "Indies must recognise the importance of brand loyalty when it comes to purchasing decisions in the wine category as well as an increased focus on experiences," TWE's 19 Crimes brand continues to go from strength to strength, he says, and "Blossom Hill is one of the best-known wine brands in the UK and the #1 Rosé wine choice for refreshment."
Concha Y Toro's Smith adds, "We continue to support our market-leading brands with strong marketing campaigns. Trivento's campaign on Channel 5 has been super successful in driving awareness, whilst Casillero del Diablo's long partnership with Sky continues to deliver great results. Casillero's recent campaign starring Hollywood actor Pedro Pascal as 'the World's Greatest Thief' is a really good example of this."
Accolade Wines' South African wine brand, Kumala, has returned for a second year with its successful competition in partnership with premium barbecue manufacturers, Napoleon Grills.
The brand's "Bring on the Braai" summer activation aims to epitomise the fun and flavour of the South African "braai", a "no excuse needed" tradition that takes your standard barbecue to a whole new level.
Shoppers will have the chance to win a Napoleon Freestyle grill worth over £750 as well as five portable grills. Ten pairs of tickets to CarFest 2022, the biggest family fundraising festival in the UK, are also up for grabs, as well as ten cases of wine.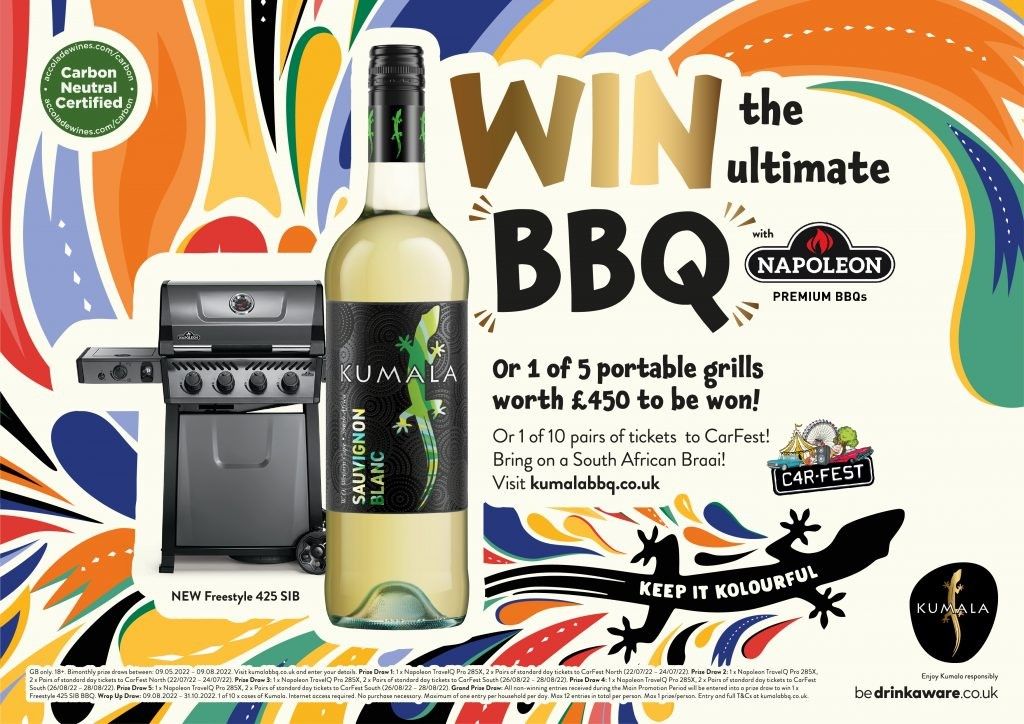 Running until 9th August, the competition is available across multiple SKUs, including Kumala core and Kumala Reserve. Over 285,000 bottles will each feature a colourful and vibrant on-pack neck collar, for impactful shelf-standout in-store and consumers can enter via the dedicated microsite, www.kumalabbq.co.uk.
"Kumala is proud to be from South Africa, a nation that is all about variety. Our wines are the perfect partner to summer barbecues, so we're looking forward to bringing sunshine vibes to the wine aisle over the next few months," said Alexandra Colson, Marketing Manager for Accolade Wines.
Beer is here
"The beer category lends itself to summertime socialising and is a must-stock this year," says Diageo's Lauren Priestley. Retailers may want to consider leveraging well-known beer brands to help drive sales. Guinness, for example, is a high-quality and trusted beer choice and is the no.1 selling stout in convenience. We suggest leveraging the Guinness brand recognition and stocking a variety of different products within the portfolio, as well as formats. For example, Guinness has a new 538ml 'pint can format' option – also available as a PMP – which can help retailers drive incremental sales, by encouraging people to trade up from a 440ml can as well as recruiting those adults who enjoy Guinness in the on-trade to enjoy the iconic stout at home."
Alexander Wilson, Category & Commercial Strategy Director at Heineken UK, says that it is important to pay attention to younger beer drinkers. "We recently introduced Heineken Silver to respond to new and emerging demands from younger adult customers, who are now looking for more subtle, refreshing and accessible beers to suit their tastes," he says. "Heineken Silver, an extra-refreshing lager at four per cent ABV, is made using an ice-cold brewing process at -1°C for a crisp flavour and subtle finish, with a low bitterness of 10 IBUS offering a lighter drinking profile. Heineken Silver will deliver a premium offering and a more accessible taste that will drive appeal and sales among younger adult drinkers."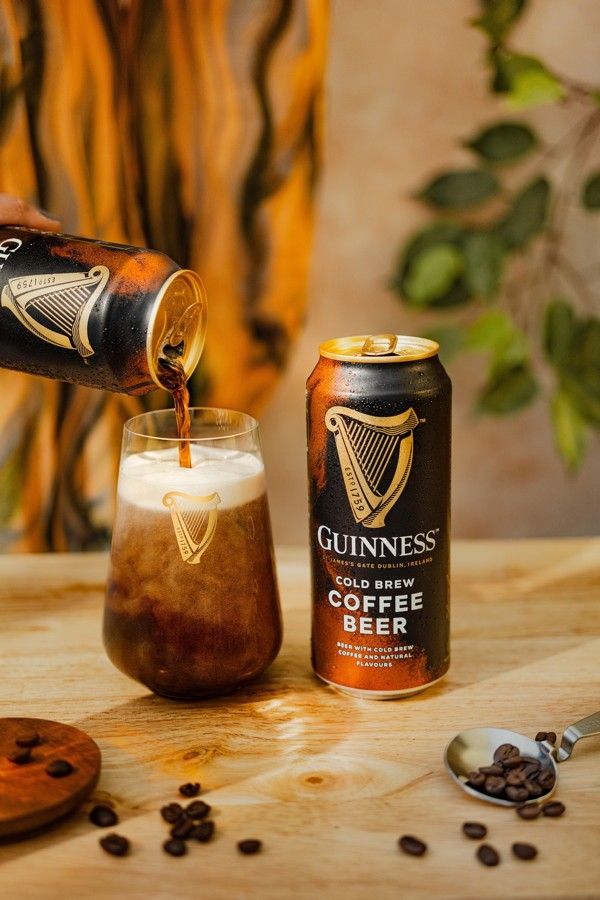 Priestley is likewise keen on encouraging new tastes and departures in the beer category: "We also recommend stocking new product launches and clearly signposting them to encourage customers to try something new. The latest addition to the Guinness portfolio is Guinness Cold Brew Coffee Beer (four per cent ABV). Where ice cold Guinness meets cold brew coffee, the latest NPD boasts the perfect balance of bitter and sweet roast coffee tasting notes, this rich, smooth, and creamy brew creates an elevated experience for beer and coffee lovers alike."
The beer category is in a state of creative flux right now, it seems, with many new tastes and forms being tried as the industry attempts to secure young and future consumers, who relish the new and not only the traditional. This implies that your ranging should be open and imaginative to capture new sales and customers.
Heineken's Wilson notes that we're seeing signs that no & low alcohol is being purchased and consumed more frequently. While January used to be the high watermark for no/low alcohol shopper penetration, the participation in this category now effectively mirrors total beer and cider throughout the year. "The brands winning in this sector are ones that are well-known and trusted by consumers and are meeting their needs for moderation while also delivering on taste," he says. "Heineken 0.0 is the number one and fastest growing no & low alcohol brand, accounting for a third of the growth in no & low beer in 2021."
Cider for all seasons
Cider is sometimes regarded as a subset of beer, but that is a mistake, the same as assuming that cider is solely a summer drink (when it is actually a perfect autumn and winter tipple, too). In fact cider has its own fully evolved culture, spectrum of taste and flavour, and developed sense of occasion.
"Cider is the impulse drink of choice during summer months so having a 100% chilled range is ideal," says Calli O'Brien, Marketing Controller at Aston Manor Cider. "If a store has limited chiller space, then it's worth at least ensuring there are a good selection of flavoured ciders available chilled alongside top selling ciders.
Aston Manor has been enjoying great success with its Crumpton Oaks brand, and this reflects a trend for the younger consumer to choose flavoured cider. "Consumers of flavoured ciders tend to traditionally be a younger audience who like to know the ingredients of what they're drinking and see flavoured cider as an easy to drink beverage," says O'Brien.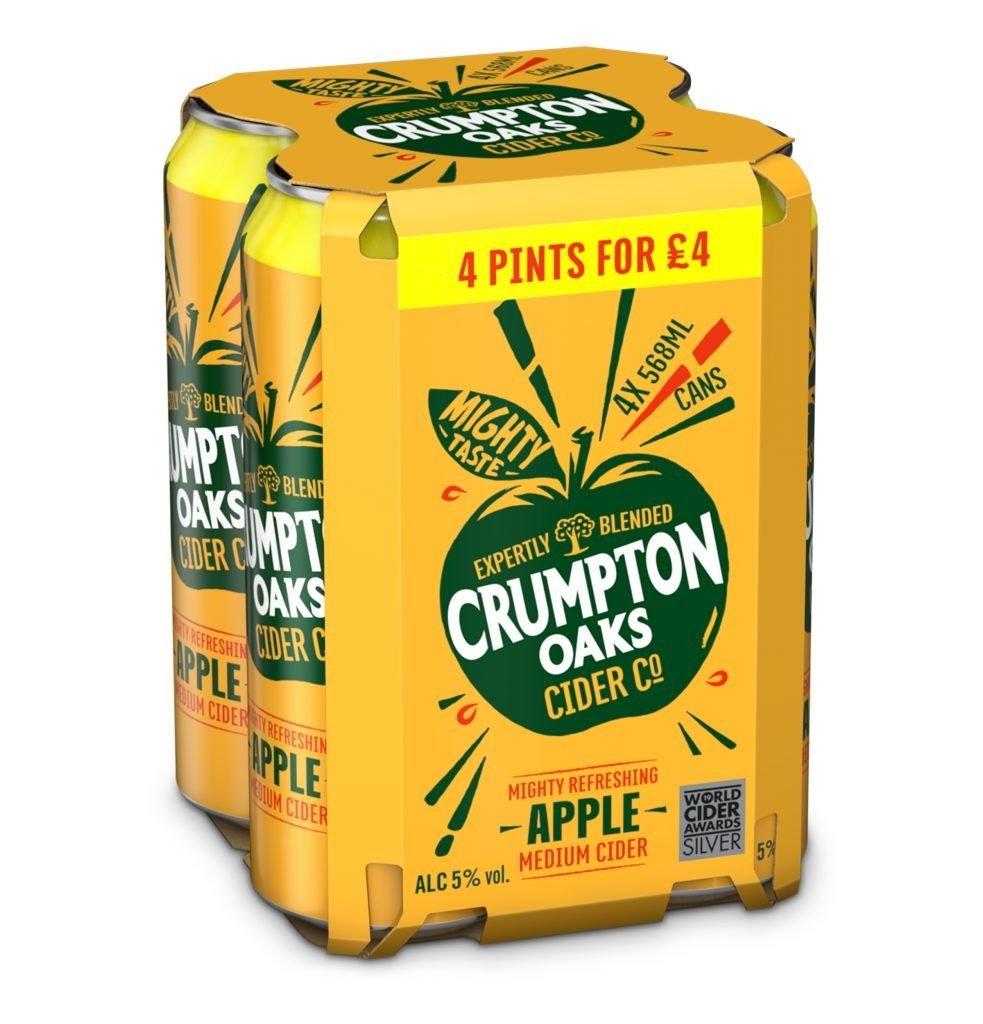 Crumpton Oaks Cherry & Berry Cider is a first-to-market launch across multiple retail, convenience, and wholesale channels, taking cues from traditional British fruit favourites within the juice and squash market. "Cherry & Berry is a well-known flavour combination in soft drinks, but completely new to the cider category. The cider market over-indexes with older consumers, but we know from our data insights that Crumpton Oaks is increasingly attracting a younger consumer."
Aston Manor's perry brand, Chardolini, is also a summer favourite, as is the refreshing stalwart Frosty Jack which, like the Crumpton Oaks ranges, now comes in 100 per cent recycled PET bottles. "We have also removed plastic ring carriers from our full can range, including Frosty Jack's and Knights cider," adds O'Brien, who notes that they are launching a £4 price-marked pack of four 568ml cans, as well as a non-price marked version for Crumpton Oaks.
PMPs are increasingly important sales-drivers. As Wilson observes, Cider shopper penetration is at its lowest level since 2013. In particular, shoppers have been leaving the flavoured cider category in the last few years.
"This is why we're investing so heavily in innovation that meets consumers changing needs, this year with a £12million marketing support for the launch of Strongbow ULTRA Dark Fruit and multi-million-pound investment in Old Mout Strawberry & Apple in order to offer more choice and win back consumers to the sector," he says. "We'll also be providing further support to our 2022 Product of the Year, Inch's, and 2021 Product of the Year, Strongbow Rosé, which make up two of the top five innovations in beer and cider introduced to the market in the last three years."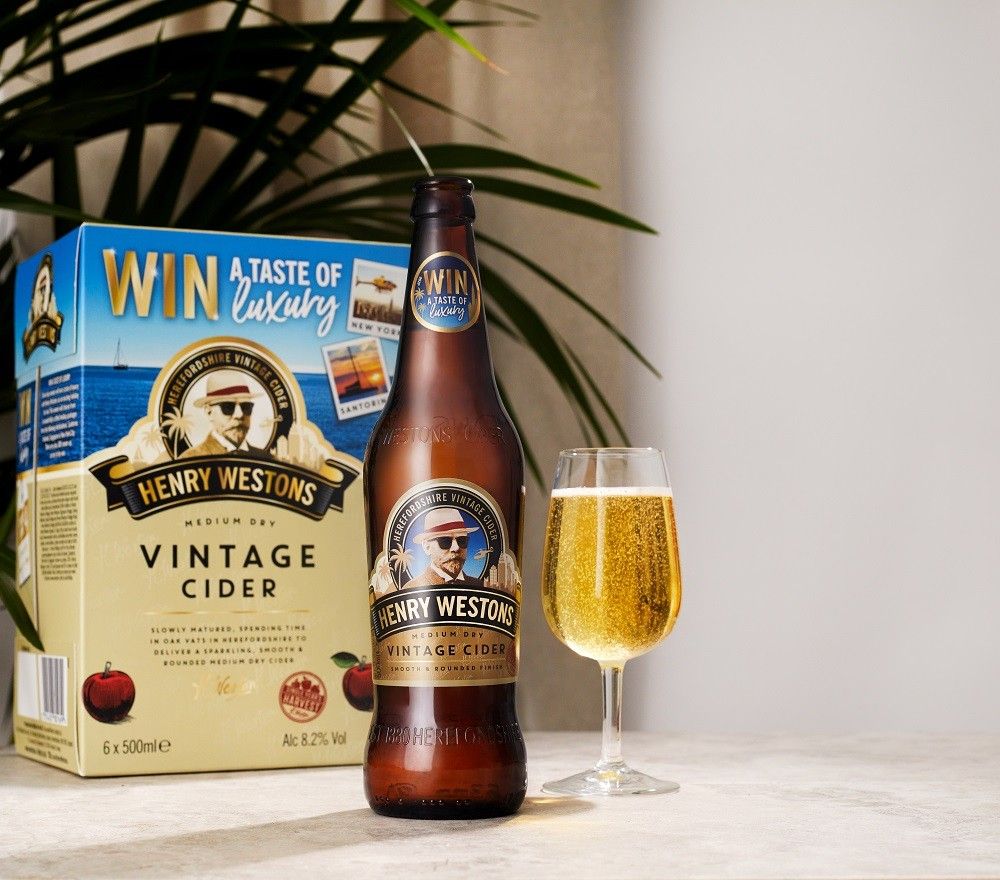 Darryl Hinksman, Head of Business Development at Westons Cider, notes that overall, cider sales in the convenience channel were down 15.3 per cent in value and this represents a larger decline than total market (-11.9 per cent YOY). That, though, is post-pandemic readjustment – "a tapered return to 'normal' levels from a high, and, quite frankly, unmaintainable, baseline".
So he is in fact extremely optimistic for the cider market – especially the craft end of it.
"Looking at trends specifically, crafted cider was the only segment of the cider market in growth, and we anticipate this will continue throughout 2022. Our Henry Westons brand continues to be one of the most important in the category and Henry Westons Vintage is now the biggest cider SKU. Ultimately, it'll be these cider sub-categories which continue to lead the charge into 2022, so independent retailers would be wise to stock up on the bestselling crafted, apple ciders."
Even in harsh economic times, premiumisation remains an important element of merchandising and sales. And he agrees with O'Brien, saying that, "When looking more specifically at Summer, it's clear that fruit ciders – which are far more seasonally reactive than apple ciders – are a must-stock.
"Therefore, whilst apple ciders continue to dominate and should remain on any cider fixture year-round, retailers would be wise to flex their ranges in Summer to cater to the surge in demand for refreshing, fruity serves."
The spirit realm
Take the "i" out of "spirits and you almost get "spritz", which is an increasingly popular way to enjoy liquor in the hot weather.
"Spritz serves have been popular for some time and we can expect people to continue enjoying them during the warmer months," says Lauren Priestley. "There are many brands within the Diageo portfolio which can be used as a base to create high-quality spritz serves – such as a Smirnoff Raspberry Crush Spritz – made with Smirnoff Raspberry Crush, which is the best-selling flavoured vodka of the last six months in the off-trade. Alternatively, encourage customers to purchase Haig Club or Johnnie Walker Black Label with lemonade to create high-quality spritz serves for those who already enjoy gin or vodka-based spritz serves."
The gin revolution continues, as it has done for years, but catching up fast in the outside lane is the next upheaval in the spirit world: rum. Rum has opened onto a new world of flavours and innovations – just as gin did, so long ago – and is commending itself to a new and much wider clientele, not least among both the young and the sophisticated crowd.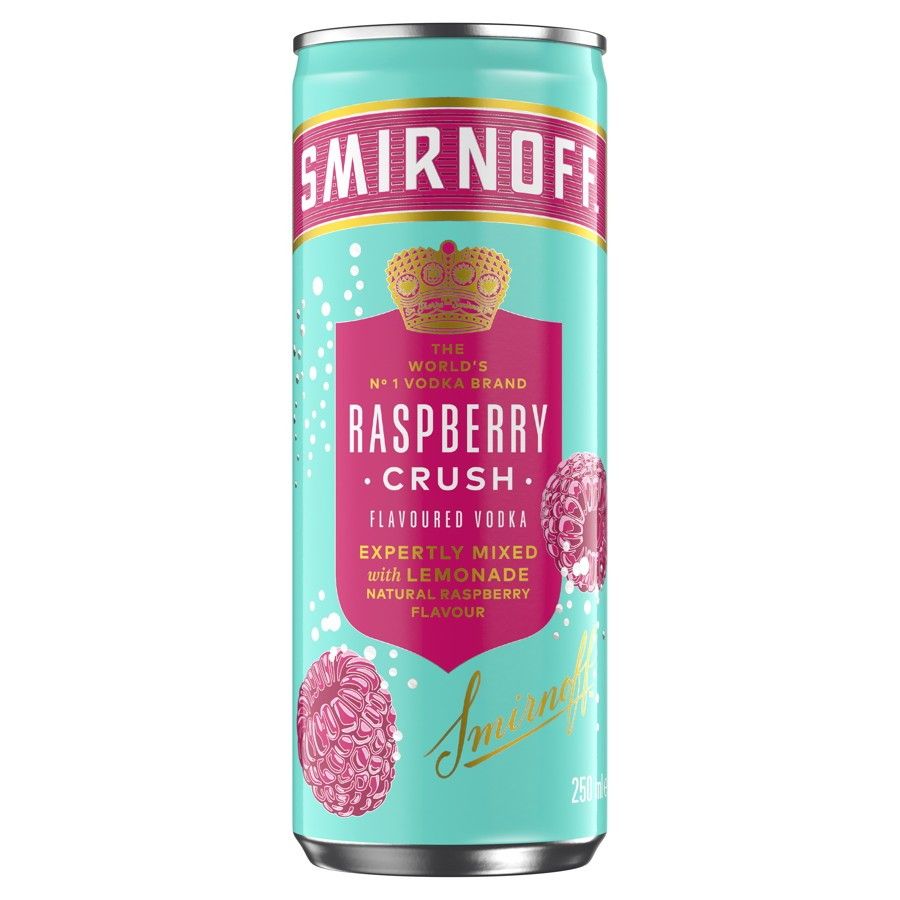 "Rum-based spirits are a great all-year-round option, but are particularly relevant to summer outdoor dining occasions," says Priestley. "As the base of popular summery cocktails such as a Pina Colada cocktail and a Daiquiri cocktail, it's important to maintain classic rum staples as well as spiced variants to encourage customers to try new drinks and explore the wider category. Captain Morgan is the number one driver of growth in rum-based spirit flavour innovations [Nielsen], therefore stocking the likes of Captain Morgan Original Spiced Gold (40 per cent ABV), alongside newer varieties such as Captain Morgan Tiki (25 per cent ABV) and Captain Morgan Sliced Apple (25 per cent ABV), can get people excited about a spirits range."
Dark liquor is certainly on the rebound from its years being viewed as an older person's drink, with whisky as the quintessential golfer's tipple. Now, on the contrary, young urbanites are seeing the sophistication and artisanry of brown liquors as an extremely alluring image – and they are willing to pay to enjoy the fine tastes of matured spirits. Together with that goes the recent appreciation of spirits as meal-time drinks, and not just cocktails or aperitifs.
As Priestley explains, "A burgeoning diversity within the category makes it even easier to appeal to a broader range of consumers, as well as provide incredible serves that are perfect for a summer barbecue." There are now many ways to enjoy whisky, as well as neat or on the rocks. She says that research has shown that whisky and food occasions are growing [Nielsen data L26wks to w/e 24.4.21], with whisky becoming more accessible to a wider range of consumers as people explore pairing whisky and food. "With this in mind, we recommend stocking high-quality whisky options that pair well with barbecue food. For example, Bulleit bourbon pairs well with a steak, burger or vegetarian alternative. Alternatively, a glass of The Singleton can be enjoyed with chocolate or a dessert as afters, which can add something special to a barbecue occasion."
Summer in a can
Convenience has never been more popular, and RTDs can be seen as economical compared to buying ingredients separately. Partly for that reason (and partly as well because of the incredible range of flavours and concoctions), RTD market is burgeoning, its cans everywhere, especially in the summer, as Priestley says:
"RTDs are key to the summer barbecue occasion as they are convenient to carry and if chilled, ready for immediate consumption."
Again, choosing products that can sell into economic headwinds is key to maximising revenue, and  RTDs are a very good bet.
"In fact, the category is continuing to grow slightly ahead of the current off-trade BWS market at 28.7 per cent," she reveals. "We recommend stocking a variety of RTDs which span across different spirit categories, enabling retailers to appeal to a wide range of customers, for example PIMM'S No.1 & Lemonade in a can (5.4 per cent ABV), Captain Morgan Original Spiced Rum & Cola (5 per cent ABV) or hard seltzers such as Smirnoff Seltzer Orange & Grapefruit (4.7 per cent ABV) and Smirnoff Seltzer Raspberry & Rhubarb (4.7 per cent ABV), as well as the recently launched Smirnoff Raspberry Crush & Lemonade Premix RTD."
RTDs hit all the right notes for variety, the tastes of the young impulse buyer, and practicality for BBQs, parties and picnics. Keeping a good supply  and choice in the chiller will prove a killer sales scheme this summer.