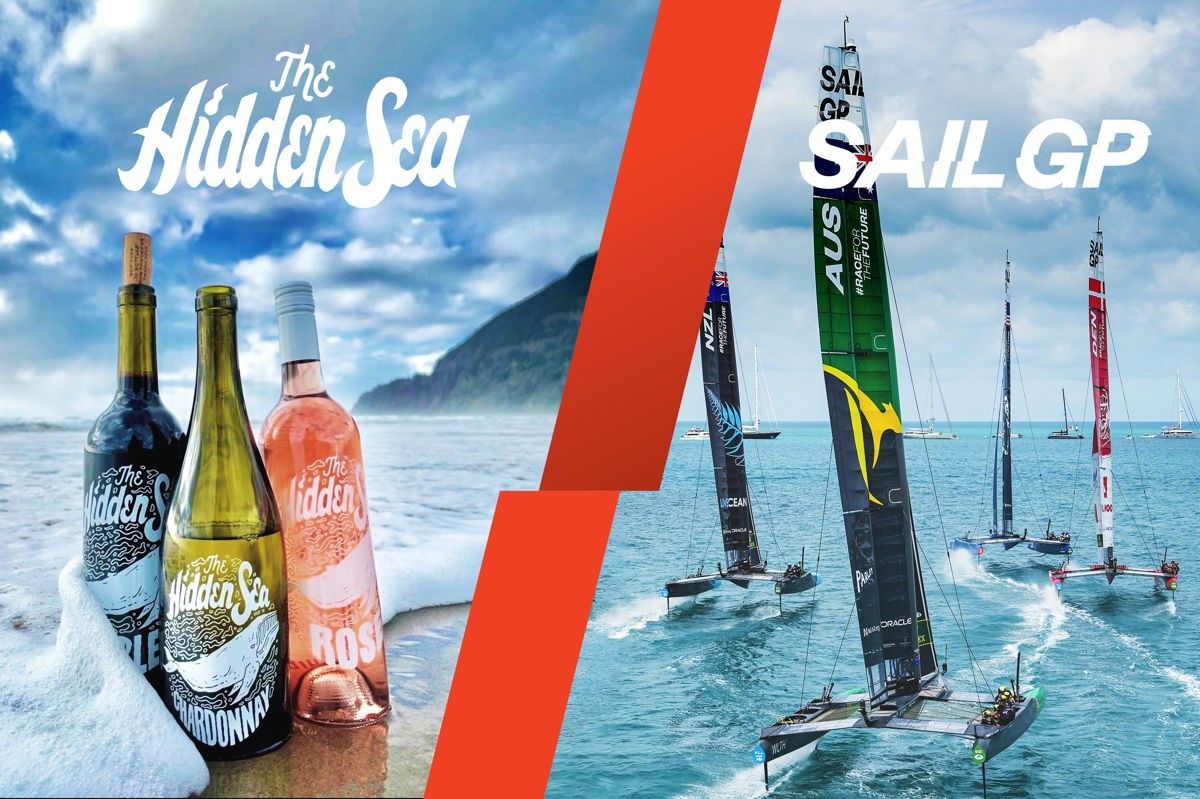 The Hidden Sea wine and SailGP, the purpose-led global racing championship, have joined forces in an eight-year partnership to raise awareness of climate change and ocean health, and remove plastic from the ocean.
As part of the eight-year collaboration, the Australian wine brand will drop into iconic coastal locations around the globe as SailGP's exclusive, like-minded wine partner.
In partnership with ReSea Project, The Hidden Sea removes the equivalent of 10 single-use plastic bottles from the ocean for every bottle of wine sold globally. The Hidden Sea has already removed over 14 million plastic bottles, and aims to remove one billion by 2030.
SailGP, which champions a world powered by nature, features national teams battling in short, intense races at iconic stadium-style venues across the globe. At the end of the season, two champions are crowned—one for the racing championship, and one for the planet, named the "Impact League".
Together, SailGP and The Hidden Sea will aim to remove over one million single-use plastic bottles from the ocean during their global, multi-year partnership.
"This is the coming together of two companies that are driven to affect real change," Justin Moran, co-founder of The Hidden Sea, said.
"If we do not take drastic action, plastic waste will outnumber fish in the oceans by 2050. There is no Plan B, we must act now to save the sea. Teaming up with an organisation that shares the same ethos of inspiring people worldwide to take action, will boost our mission and help save the sea."
The Hidden Sea will co-host hospitality experiences around the world with SailGP, including sustainable branded bar areas and VIP packages and wines for SailGP's Adrenaline Lounge, Race Village, and Media Centre.
Additionally, at several events world-wide, The Hidden Sea has sponsored an incredible and thought-provoking art installation – created by artist and activist Benjamin Von Wong- that depicts a giant tap spewing out single-use plastic waste.
Rob Colegate, head of hospitality at SailGP, said: "SailGP and The Hidden Sea's partnership is a perfect coming together of two deeply like-minded organisations to raise awareness of climate change and ocean health. Guests across all of SailGP's hospitality areas—including the prestigious Adrenaline Lounge and Event Villages around the world—will now be a part of our shared mission. We are confident this collaboration will be both educational and fruitful."
Now in its third season, SailGP sees teams from Australia, Canada, Denmark, France, Great Britain, Japan, New Zealand, Spain, Switzerland, and the United States racing at eleven iconic venues around the world. After opening in Bermuda last month, the league's next competition took place in Chicago over the last weekend. From there, they'll travel to Plymouth, Copenhagen, Cádiz, Saint-Tropez, Dubai, Singapore, Sydney, Christchurch and San Francisco.