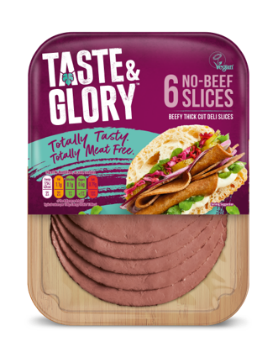 Taste & Glory has announced Deli Slices, its newest plant-based venture in the meat-free category. The Deli Slices range will be available in three flavours to tempt shoppers looking to reduce their meat consumption. Launching in indies later this year, the new products will help retailers diversify their chilled lunchtime fixtures in-store.
Available in smoked No-Ham, succulent No-Chicken and delicious No-Beef thick cut deli slices, Taste & Glory's newest innovations have been crafted to mimic their meat-counterparts and allow retailers to tap into the lunchtime occasion, historically under-represented in the meat-free category. At present, plant-based lunchtime options under-deliver on both taste and texture according to consumer sentiment. Taste & Glory's new Deli Slices recreate the sensory experience of meat, with a textured protein replicating its natural chew. The slices' familiar and well-loved flavours mean consumers get all the taste but with none of the meat.
"Lunchtime is such an important part of the day, when we often need something quick but tasty, but when it comes to meat-free options, there's not much to get excited about. We're here to give shoppers something delicious to look forward to and to make plant-based sandwiches, wraps and salads something to shout about!" says Beth George, Brand Manager for Taste & Glory. "Taste & Glory delivers on taste and texture, so we're thrilled to launch our new meat-free Deli Slices range to give retailers opportunities for under-served occasions in the meat-free category. Consumers are crying out for delicious, meat-free lunchtime options and we're here to shake up sandwiches like never before."
The brand-new SKUs will be supported by a substantial shopper and PR campaign, designed to cement the new Deli Slices in the minds of both consumers and retailers. A dedicated shopper campaign is due to go live this month and October with additional marketing support during Veganuary.