It was the best of times, it was the worst of times. Food-to-go and impulse, especially in town centres, were shattered by lockdown but somehow sales of drinks in convenience kept bobbing happily, kept afloat by demand from families stranded at home, and suppliers responded with PMPs and larger pack sizes. The overall effect was positive, and fine food distributor Cotswold Fayre now reports that their sales of soft drinks (not to mention the enormous uplift in alcohol demand ) have increased by a huge 34% YoY. As soft drinks account for 16% of all ambient convenience store orders, the admittedly broad category represents a major boost to independent store revenues and is universally treated by storeowners with tender respect and outright pride in their ranges.
Laura Strapp, Ambient Buyer at Cotswold Fayre says: "Soft drinks is an incredibly buoyant and important category for retailers. It is without doubt the category seeing the highest number of new products and brands coming to market. In terms of shoppers, we see two main types of behaviour – those who remain loyal to a particular brand, and those who are looking for something new and exciting to try!"
Soft drinks, worth £2.5 billion annually for convenience and £9 billion across grocery as a whole – convenience wildly outperforms other sectors in this category – is one of the most profitable categories for retailers during the summer months. It is an ever-vibrant and optimistic category, and the "summer drinks" classification, which takes in alcohol neat and diluted, and anything that does well in hot weather, is worth a lot more and is bursting with NPD, new flavours, styles and entirely new concepts, chief among which is Hard Seltzers (and which, being fizzy, we are looking at in the Wine and Bubbles feature – there is already plenty to talk about in this one).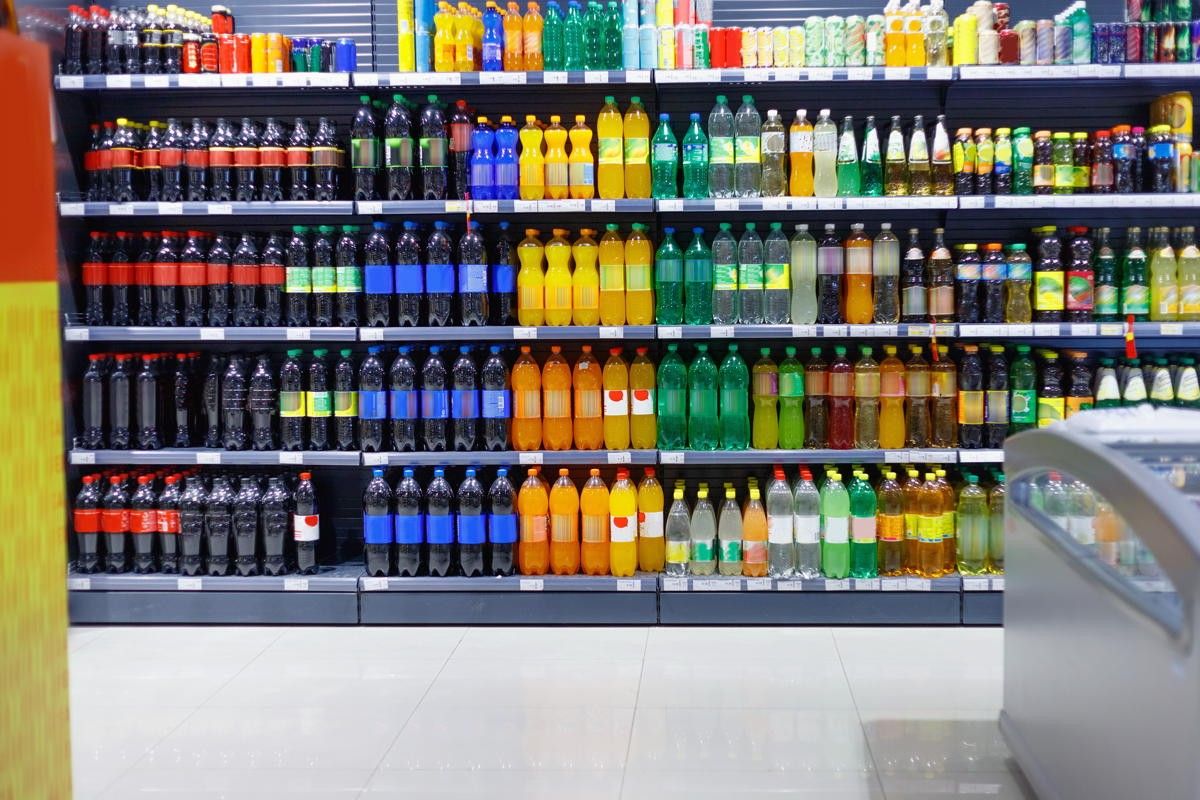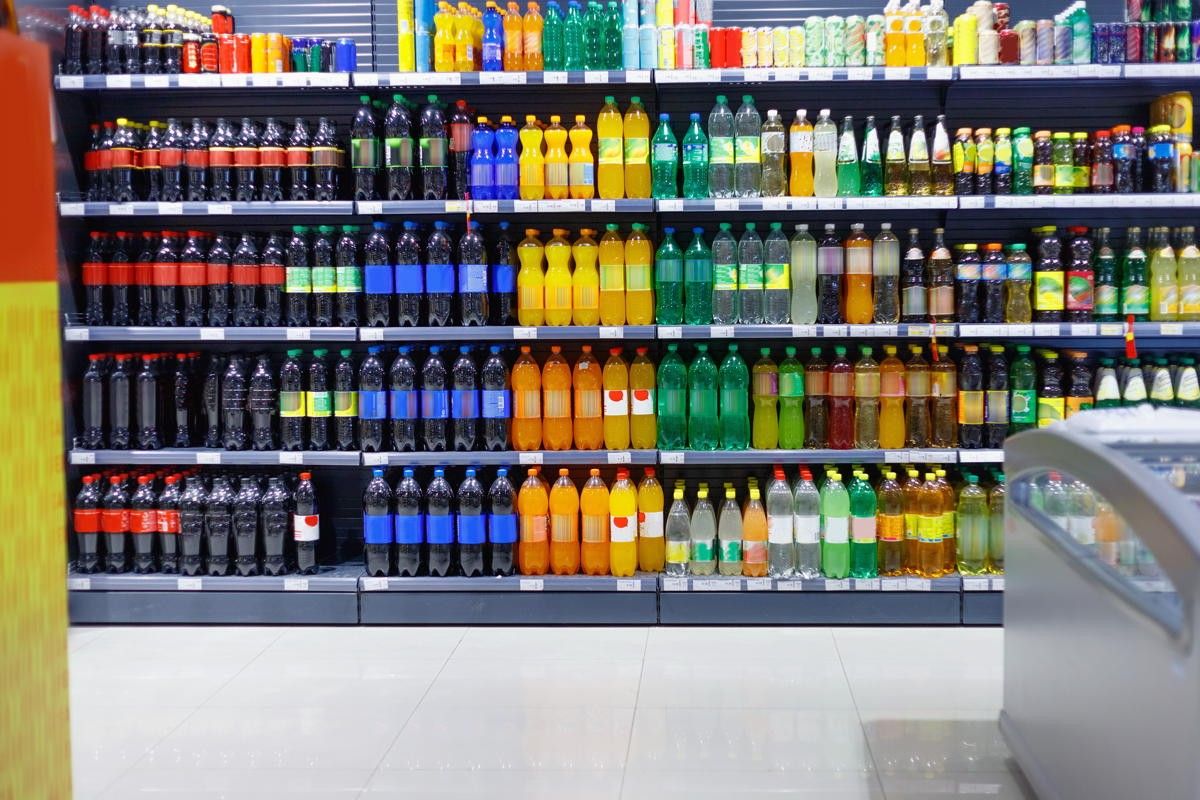 But to start with soft drinks, which are the typical on-the-go thirst-quenchers, Adrian Troy, Marketing Director at Barr Soft Drinks, describes the market features: "From June to August – the crucial period for soft drinks sales – shoppers purchase 15% more soft drinks than any other time of the year," he says, "with water, flavoured sparkling water and other flavoured carbonates seeing the most benefit." So retailers need to ensure that their fixture is balanced to reflect seasonal category uplifts in order to generate maximum profits.
Troy is very optimistic for summer 2021 (despite current weather patterns), noting that throughout Covid restrictions last year the UK saw a 44% increase in BBQs, with 100 million of them taking place between April and August. "And with 73% of the population expecting to have a UK staycation in 2021, retailers can expect this trend to continue," he adds, saying that although on-the-go sales are returning this summer, there remains great scope for at-home sales of all kinds of drinks. The sporting calendar, long lazy evening as and habits learned through lockdown will encourage home entertaining (and will boost the Big Night In).
As far as sales of larger packs go, Coca-Cola European Partners' (CCEP) Senior Trade Communications Manager, Amy Burgess, points out that Coca-Cola multipacks are up 25.8% in independent and symbol stores [Nielsen Indies & Symbols MAT Value Growth w/c 27.03.21] as consumers look to stock up in a single shop. She says that with on-the-go occasions to returning, it is finding the right balance between on-the-go and at-home formats, and keeping space for both, that is the trick for retailers.
Softly, softly
To begin with soft drinks is the obvious place – perhaps the widest and most colourful element of the summer drinks spectrum in terms of seasonal uplift. "Soft drinks – and sparkling drinks in particular – help to bring social summer occasions to life," says Burgess. "Colas, flavoured carbonates, mixers and energy drinks all have an important part to play – especially those from leading, trusted brands, which represent guaranteed quality at time when many consumers remain focussed on affordable treats."
She points out, as does Adrian Troy, that retailers should pay special attention to ongoing trends such as low and zero-sugar options, and healthy consumption in general is a concept that the category is drenched in right now. CCEP's zero sugar flavoured carbonates are worth more than £107 million, highlighting the popularity of brands like Fanta Zero amongst consumers, including Fanta Zero Raspberry, which was launched in January 2020. "We also continue to offer more choice for those looking to experiment with new flavours through our Light Cola flavours portfolio, including Coca-Cola zero sugar Cherry and Coca-Cola zero sugar Vanilla," says Burgess.
"Last year we expanded the range further with the launch of Diet Coke Sublime Lime, combining the much-loved taste of Diet Coke with a refreshing citrus twist." Diet Coke is worth £500 million, according to researcher Nielsen, while Coca-Cola zero sugar is worth more than £300 million and is in 12.8% growth (Home Channel Value MAT total GB to 27.03.21], and Coca-Cola zero sugar, worth more than £300 million and in 12.8% growth.
Flavoured cola is streaking ahead in sales. At Britvic, Pepsi MAX is adding Lime to its flavour portfolio this summer, aiming to help retailers continue to capitalise on that growing popularity (the flavoured cola category is in +6.5% growth with zero options up +15.2% in the last two years).
Pepsi MAX Lime started out as a Tesco-Booker exclusive but will soon be available everywhere. Pepsi MAX Raspberry, which launched in 2019, has already become a £20m+ flavour extension that Lime aims to build as part of a three-strong flavoured cola range which also includes Cherry.
At Nichols plc, makers of Vimto, Brand and Innovation Controller Angela Reay notes another huge influence on consumers: flavour, a demand that needs constant quenching with NPD.
She says that when it comes to subcategories, flavoured carbs have experienced a 6.6% increase in value sales whilst the total squash sector value sales have increased +7.4%following the pandemic.
Another long-lived and much-loved brand, Ribena, has brought its unique taste and vitamin C to the flavoured carbonates category with the launch of new Ribena Sparkling, in two flavours. Ribena Sparkling Blackcurrant and Ribena Sparkling Raspberry are both available in 500ML and 2L bottles and – newly available – 330ML single cans. Designed to sit alongside retailers' flavoured carbonates range in the chiller – separately from Ribena's core juice drinks – Ribena Sparkling is ideal for shoppers looking for new flavoured fizzy-drink options for BBQs and other summer occasions.
"Ribena is also helping retailers capitalise on the growing demand for interesting and great-tasting squash options with the recent launch of a new flavour," says Matt Gouldsmith, Channel Director, Wholesale, Suntory Beverage & Food GB&I. "Ribena Raspberry & Rhubarb squash is available in 600ML bottles which are perfect for sharing." He notes that squash sales have experienced +25.8% growth in independents and symbols with raspberry flavours growing at +10%.
Nichols plc's Levi Roots brand began on Dragon's Den as a BBQ sauce but is now proudly making tasty soft drinks. "Encourage customers to try something new," Reay says, "such as Levi Roots Tropical Punch – a mix of pineapple and sweet mango launched in 2020." She reports that Levi Roots has seen exceptional growth in the Impulse channel, growing +20% in value during the last 12 months, outperforming the category sector by +18% points.
Vimto has undergone a highly successful refresh (as it were), with the zero version squash skus now the no.2 squash brand and the fastest growing brand in the UK, having increased sales in Scottish Impulse stores by +48%,YoY. In addition, Reay says that, "We recommend retailers are stocking a variety of on-the-go formats, such as our Vimto carbonates and stills range. The total Vimto carbs range, which includes Vimto fizzy and Vimto fizzy zero, has grown 8.7% in volume sales within the off-trade YTD." Vimto has been growing strongly for a decade, now, and is worth "a staggering £98 million [with] brand sales up +7.4% year-on-year," says Reay.
Barr's IRN-BRU XTRA, delivering extra with zero sugar, delivered £20 million of sales nationally last year and offers even more choice within the fast growing low-calorie carbonates sector.
Get healthy
It is officially high times for low-cal – and along with the lean and healthy look for summer drinks goes the sustainability profile, abhorring the slob aspect of production and polluting packaging in favour of an eco-conscious attitude that companies think will win with thirsty consumers.
"Sustainability remains a key focus in retail, with a 'green recovery' from the pandemic at the top of the agenda for many," Burgess says. "Dedicating space in store to products with the strongest sustainability credentials is becoming more important – especially for a young adult audience [IGD ShopperVista, May 2018], and it's an increasingly important factor in consumers' buying decisions, even more so post-Covid." She says that since last September, as well as being 100% recyclable, all plastic bottles across CCEP's core GB brands are now made with 50% recycled plastic, and their Glacéau Smartwater bottles 100 per cent.
Britvic, which has been talking about sustainability for a long time, has transitioned 7UP from green bottles into clear rPET bottles, and promises to be 100% rPET by this October. There are studies to back up the commercial soundness of this approach: Britvic's research has found that 40% of consumers would be more likely to recycle 7UP in a clear bottle, and a third of consumers think it tastes better, too! "As our greenest 7UP bottle yet, the move should increase the likelihood that people will recycle the bottle effectively, and the updated design also brings the sustainability messaging front and centre, so consumers are confident in their recycling decisions," says Tom Fiennes, Britvic's commercial sustainability director.
He goes on to say that fruit juices was a category that suffered under lockdown: "Traditionally strong in on the go formats and transient channels and locations like high street and travel, both of these have been hit hard by lockdown restrictions." That, as we have said, is expected to reverse somewhat, and Britvic is preparing for it by making its Drench fruit juice available in a 79p price-marked pack (PMP) across its 500ml PET bottles. He says the new format will support retailers in enticing shoppers back to the chillers for on-the-go products.
Meanwhile, Britvic is bringing back its bringing back its 'Fruit Shoot for the Moon' on-pack promotion for its kids' juice brand following the success of the campaign in previous years. The promotion will help retailers offer "something fun and different to their customers" and Fiennes promises that there will be numerous supporting across TV, video on demand, social and digital. The campaign kicked off last week and will run until the 30th of September.
This is also the season for Robinsons, which has grown at +13.5% in the past year, equivalent to £24.8m in additional sales value. Phil Sanders, out-of-home commercial director at Britvic, says Robinsons is the UK's number one squash brand,and that there is a large proportion of existing shoppers to be enticed into on-the-go formats as the nation slowly starts to return to lifestyles outside the home. "Since Robinsons has already proven itself to be widely trusted and recognised, stocking up will ensure that retailers are catering to a wider audience and helping them drive soft drink sales this summer," he says. "We encourage retailers to take advantage of the available branded point of sale to attract customer attention and encourage impulse purchases." (More on RTDs below.)
Totally tropical
There is a distinct tropical vibe around soft drinks this summer. Old Jamaica's Senior Commercial Manager, Terri Cooper, calls it "Sunshine Vibes", saying that "Our Old Jamaica Ginger Beer 330ml (made with authentic Jamaican root ginger) provides a real impulse opportunity as restrictions begin to ease and retailers can capitalise on summer sales – whilst our Old Jamaica Ginger Beer Light provides the same hit of Jamaican Root Ginger, but with zero sugar – a 'guilt free' alternative, which has seen a 23% value growth YoY versus our regular."
Cooper underlines that sharing formats are also important as occasions such as BBQs and picnics encourage spikes in demand for larger formats. For shoppers looking to reduce the number of in store shopping visits, our Old Jamaica Ginger Beer take home format 1.5ltr has seen 8.5% YoY value growth, with all retailers seeing growth on this format."
In addition, Old Jamaica are also launching a new Tropical Fruit Soda flavour, adding interest and excitement to their range, supporting retailers to grow category and provide a point of difference. And for the first time in five years Old Jamaica is back on TV screens following a £1.5 million investment in its new TV, digital and social advertising campaign, the biggest ever consumer campaign for the brand.
"'Get the Sunshine' is all about bringing the sunny, carnival spirit and feel-good attitude of Jamaica to streets and towns all over the UK – the campaign celebrates the real essence of Old Jamaica," says Cooper.
Wanis's popular Tropical Vibes brand is also set to expand on its success with the launch of its highly anticipated Sours range (sour flavours are bursting out all over this summer). Building on the success of their Originals and Lemonades ranges, there will be three candy-inspired juice flavours– Kawaii Kiwi, Crazy Cola and Cheeky Cherry– aimed at the growing market of sour confectionery consumers who prefer their sweets with some added zing.
Still in its infancy, Tropical Vibes is expected to reach £11 million in sales this year, thanks to 75% YoY growth driven by the wholesale market who have eagerly embraced the brand thanks to attractive margins of up to 35% and a consumer-friendly price point of just £1. Carrying on the sustainability theme, Sours are packaged in fully recyclable 300ml impulse glass bottles.
Barr Soft Drinks is also bringing retailers a summer sales opportunity, with a new range of limited edition flavours sours flavours. Sour Berry and Sour Apple will be available from July for a limited time only. Troy says Barr Sours will boost the already popular Barr carbonates range, which is currently worth £44.2m, offering a unique taste that will intrigue and excite shoppers in affordable price marked packs, along with "unmissable" PoS.
"New flavours in the category have delivered more than £50m worth of sales over the last two years," says Troy, "and consumer research has shown us that Barr lovers will be excited to try the Sours range, so retailers should make the most of this seasonal sales opportunity, before it's gone."
Meanwhile, Rio Drinks are also enjoying the tropical vibes with their Rio Tropical  range, and MD Adrian Hipkiss believes this is a great time for exuberant, flavoursome drinks. "Unlike past trends that saw consumers prioritise price over flavour, in recent years the rise in more premium products is spreading across all drink categories, as consumers value quality over quantity," he says.
"Tropical flavours are hugely popular at the moment, and the tropical flavour profile is the fastest growing flavour within the soft drinks category. Rio, which is inspired by the lively Brazilian capital, allows consumers to be transported to the vibrant city through the distinct tropical taste; Both Rio Tropical and Rio Tropical Light use natural spring water to enhance the fruit flavours and provide the ultimate refreshing beverage."
Hipkiss explains that Rio's core messaging is around "Release The Sunshine" which encourages consumers to live by the Rio ethos and live life on the sunny side. "We believe this positive and vibrant messaging is something consumers can relate to and allow some escapism through our authentic tropical flavours," he concludes.
A buzz in the air
As a sub-category of soft drinks, Energy is also enjoying itself in sales terms in the summer. John Luck, CMO at Carabao, says that Energy continues to grow and remains the #1 category within impulse, with a 30% share of Total Soft Drinks and up 39% recently.
"The summer period represents around a £65m opportunity for Sports and Energy drinks within Independents, with traditional Energy making up over £58m of that prize," he reveals,"as consumers potentially look for non-alcoholic, lower sugar alternatives to stay refreshed."
He explains that although we are beginning to see a route out of the restrictions related to the pandemic, "the reality is that many UK workers have not yet returned to the office. This presents an opportunity for independents as the energy mission, one of the most common within total drinks, can appeal to home workers seeking a top up." Luck says that retailers need to ensure they're stocking the right type of single product, such as Carabao's 'only 69p' cans in order to benefit.
"We know that PMPs only work if the price point is attractive to shoppers," adds Carabao UK&I MD David Butcher. "After all, 18% believe that energy drinks are too expensive. Consumers that see a price-marked can from the market leader for £1.29 are going to feel that this is not good value when making their selection. By stocking Carabao's 'only 69p' cans, retailers can provide their customers with the option of purchasing a great product at a fantastic price."
Carabao's stand-out on shelf is enhanced by the familiarity of the long-sponsored Carabao Cup, which the company has just announced has been extended for a further two years.
Red Bull, too, is enjoying continued success: with the overall Soft Drinks category in modest growth at +2.9%, YTD [Nielsen Value Sales YTD vs YA weeks ending 27/03/2021], the Sports & Energy category has outstripped this at a faster pace of +7.7% YTD. According to the latest insight, the category growing fastest is Functional which is up +17.9% YTD. That is Red Bull's half of the pitch, so to speak, and explains why overall, the brand is growing even faster than all other Soft Drink categories with +18.8% YTD in value.
"Understanding the formats shoppers want most has always been central to Red Bull," said a spokesperson. "Red Bull Energy Drink 250ml is not only our most familiar and best-selling SKU but it's also the single most valuable soft drink in the UK. Red Bull Energy Drink 250ml is worth over £137m to the category and the number one single serve soft drink in the UK."
They call it "the perfect product" for Summer Drinks consumption: it fits most consumers' energy needs, containing the same amount of sugar as a glass of apple juice and the same amount of caffeine as a cup of coffee. "Despite reduced shopper missions in the last twelve months, Red Bull has continued to resonate with consumers with single formats still in growth of 12% YTD."
In March Red Bull launched its latest Summer Edition, Cactus Fruit, with an "invigorating burst of berry that blooms into an exotic fruit and violet flower taste". Red Bull Editions grew +83.7% in value last year,and the Red Bull Summer Edition in 2020 proved so popular with shoppers that it has now become a permanent SKU known as the Red Edition. It is quite possible that the 2021 Cactus flavour will join it.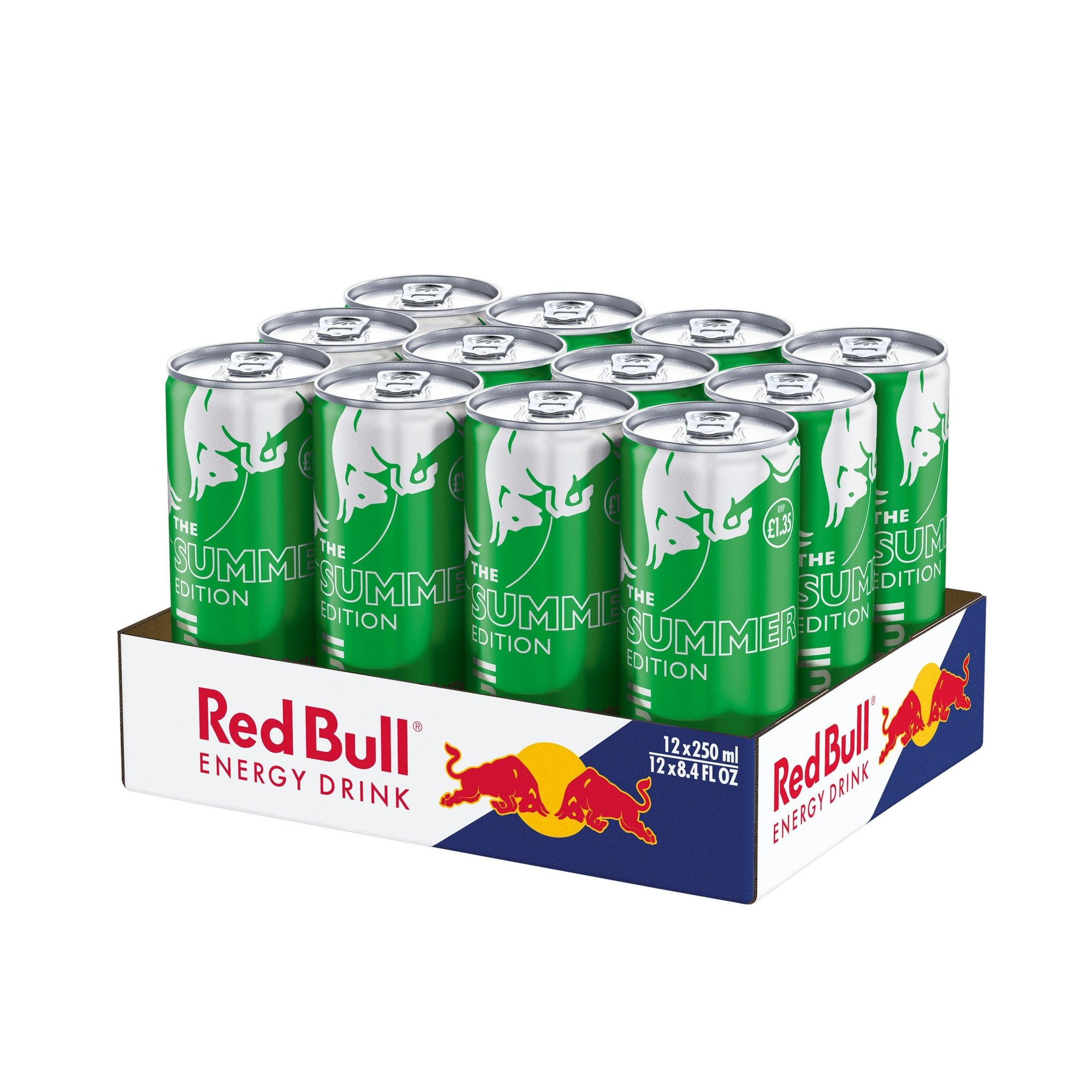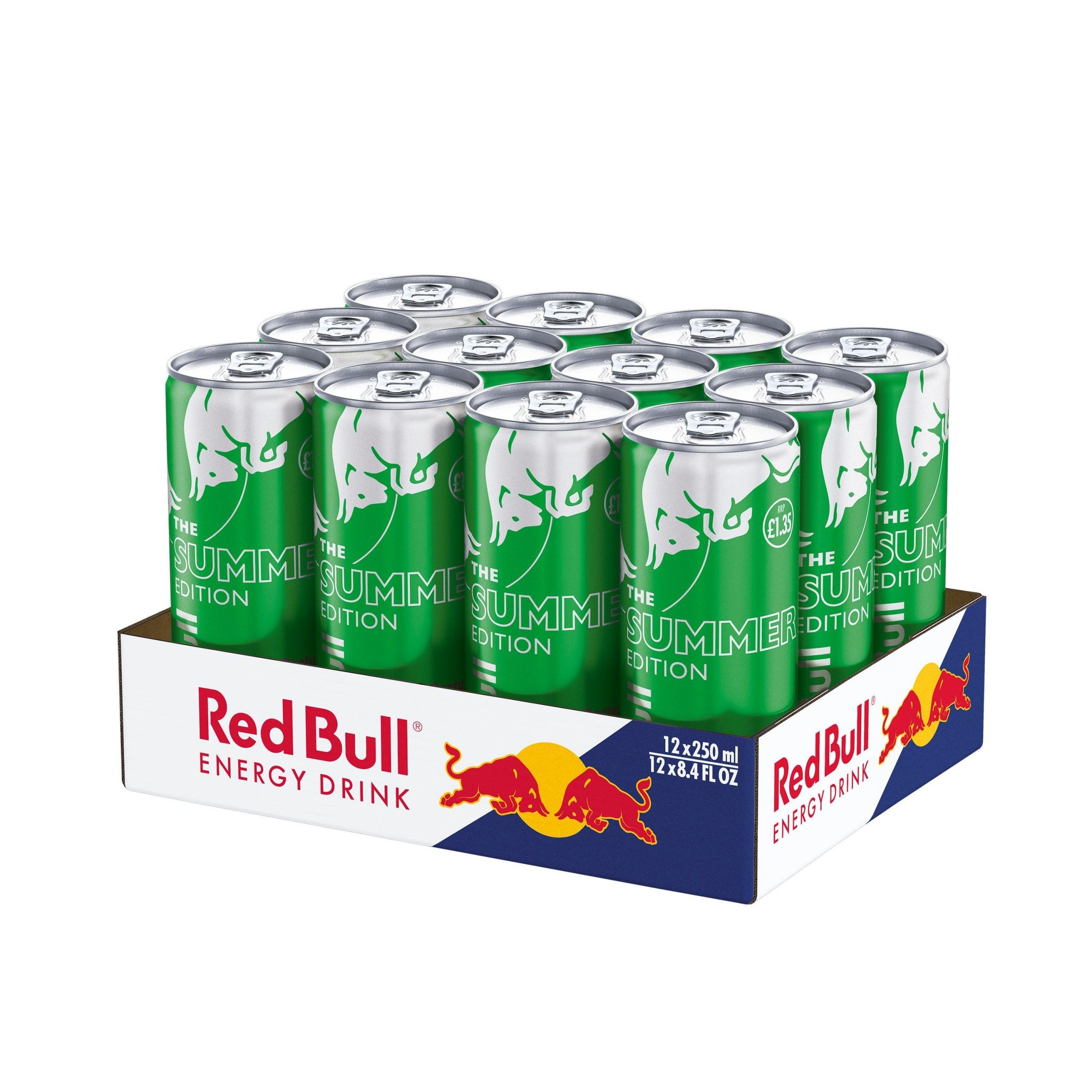 At Suntory Beverage & Food GB&I, makers of Lucozade, Matt Gouldsmith also notes the long-term trend towards energy drinks with lower sugar. He says that with 45.8% of soft drinks shoppers agreeing they "try to lead a healthy lifestyle", retailers should ensure their chillers are stocked up on lower-sugar soft drinks.
"Lucozade Zero – now worth a combined £45.7M –capitalises on the ongoing trend towards lower-sugar choices this summer," he says. Now Lucozade Zero has expanded its range with the brand's first ever flavour launch – Lucozade Zero Tropical (tropical again!)– available now.
Gouldsmith explains that the Lucozade Energy range has already contributed a significant £60.7M worth of sales to the energy category, and last year introduced a new edition: Lucozade Energy Citrus Chill. The lemon & lime flavour is perfectly positioned for the summer months, and is available in 380ML PMP and standard packs. And with sports getting underway again at last, the Lucozade Sport range is warming up to cool everybody down through a £2.5M advertising spend across social, digital, television and in-store marketing – meaning 75% of all adults, approximately 36 million consumers, will see the brand throughout the warmer months (the brand saw a 39% sales uplift during the 2018 World Cup – so stock extra in anticipation of tournaments and events).
Monster, of course, carries on monstering the market."Our Monster Ultra range is number one no sugar energy drinks brand in GB and is in 27% growth," says CCEP's Burgess. The range includes seven fruity flavours all with zero sugar, including Monster Ultra Fiesta, launched at the beginning of this year.
"Monster Ultra Fiesta blends a juicy mango flavour – which we expect to be popular during the summer months – with the renowned Monster energy blend, giving consumers a delicious energy boost with no calories and no sugar."
Added to that is the latest innovation to start sweeping across the energy category: Nitrogen -infused drinks for extra fizz: "We recently expanded our Monster portfolio with the launch of Monster Nitro, which uses blended gas technology to give consumers an uplift, in an exciting first for the category," says Burgess.
"Designed to appeal to seasoned energy drink fans, Monster's signature energy base has been supercharged with a blend of nitrous oxide and carbon dioxide gas, to deliver a uniquely light, dry carbonated texture."
Purity of water
Water sales partly dried up under lockdown as so many were on-the-go purchases, although this was offset by larger formats being picked up for home consumption, according to Head of Marketing for Nestlé Waters UK, Warren Plaskett. There was a notable growth in larger 1.5L and multipack formats and multipacks outperformed the bottled water category by +2.2% in 2020, he says, and now accounts for almost half of total plain water category: "With this new era of flexi-working and increased working from home, it is forecast that a good proportion of this growth is set to be retained even after lockdown restrictions ease."
He adds, though, that the smaller bottle impulse trade will pick up again as we get back to normal, and recommends that retailers make the most of the consumer preference for recycling – an ambition that matches the purity of bottled water's message.
"When merchandising their water range, retailers should ensure that formats with a smaller environmental impact – such as those made from recycled plastics (rPET) – are displayed in prominent positions, either at the end of aisles outside the chiller or as part of larger displays within Chilled sections, to signpost customers to the more sustainable options available and ensure they have standout instore," he advises, adding that last month, Buxton released a new greener multipack of 8 x 50cl pack contains bottles made from 100% rPET and is encased in film made from 50% recycled PE (starting in Tesco Express but soon across all convenience).
In terms of demand for larger formats, Highland Spring water earlier this year launched its 10L dispense unit – a first for UK retail, it says.The 10L "bag-in-box" offering (RSP: £4.75) taps into an emerging consumer trend for alternative packaging solutions and "safe" refilling, as a direct result of the COVID-19 pandemic. It has a much longer shelf-life than other formats (around four weeks), and provides a flexible and plastic-free bulk water solution for use in and out of the home.
At Nestle, Plaskett's colleague, Shopper Marketing Manager Severine Hemms, points out that in fact the water segment continues to be the biggest in the soft drinks category for wholesalers and convenience retailers, accounting for 26% of all soft drink volume sales.
In addition to the best-selling Buxton brand, she says that with shoppers looking to add some variety: "We've also seen the sparkling water become the best performing segment within the water category. S.Pellegrino, the number-one plain sparkling water brand in convenience, has helped to drive much of this growth, making it an important part of the water fixture in convenience stores."
The plain sparkling segment has seen growth of 5.4% during lockdown and she recommends stocking up on multipacks and 1.5L bottles as this trend is not going away even though impulse on-the-go is re-upping speedily. And smaller packs need to be on display:
"69% of total plain water value sales come from on-the-go formats, so it's essential that retailer stock the right products, whether that is for instant refreshment or consumption on the move. Buxton 50cl, 75cl and 1ltr sports cap bottles are winning formats for retailers, with the 50cl format the biggest pack format in convenience."
Flavoured waters are also a big thing recently. Barr's Adrian Troy saw  shoppers switching their spend during lockdown from plain to flavoured sparkling water when looking for healthier options. "Flavoured sparkling water delivers 50% more value through retailers' tills," he says, "so retailers need to ensure they have the right balance of products in their stores to meet shopper needs and maximise their sales."
Rubicon, the Barr's brand known for its bold flavours, has built on its track record of innovation with the launch of two new products, including its first sparkling flavour launch for over 30 years.
The new Rubicon Raspberry & Pineapple Sparkling and Rubicon Spring Pineapple Passion provide a refreshing water experiences with an added fruity twist andthe low calories alternative that shoppers looking for. A bridge between the healthiness of water and the taste of carbonates and fruit drinks, Troy says that Rubicon Spring sees sales double in Summer months, being especially popular with younger 16-34 year old consumers. Meanwhile for older drinkers, Rubicon Stills provide a perfect summer cocktail mixer during summer months and can be used as a key ingredient in the UK's No.1 cocktail – the Pornstar Martini.
Flavoured water cand are increasing in popularity as part of the single serve/RTD trend (see more below), and in late March Highland Spring launched a new range of flavoured sparkling water cans – just in time for the summer season beginning. They come in three different flavours and at under 35 calories,in individual 330ml cans and 4 x 330ml multi-packs. The new format is a first for the brand, and will sit in the burgeoning "water plus juice" segment and the flavours are based on ingredients grown in Scotland, to reinforce the heritage of the Highland Spring brand:Pear & Elderflower, Blackberry, Plum & Hibiscus, and  Rhubarb & Ginger.
Time for a beer
Beer as we know has been even more massive than usual – and "nablab" ("no alcohol beer/low alcohol beer" or plain "zero") has come into its own as a category as a nation tried to watch its waistline under lockdown.
With the off-trade closed, convenience has been a major and disproportionate beneficiary of the changing pattern of beer sales – last year, 25% of Brits shopped more at their nearest local store, according to Jessica Markowski, Convenience Sales Director at Budweiser Brewing Group UK&I.
And the build-up to Sunday's Euros final at Wembley could see record-breaking beer sales.
The convenience channel is likely to retain traffic even after things return to normal, so adept have independent retailers been at turning themselves into alternative publicans (right down to supplying pints on tap, along with craft beer caves and fabulous ranges). And of course the chilled advantage over supermarkets counts double in the summer, so prospects for great sales go good to "Cheers!"
"There's a real opportunity for retailers to consolidate the increased footfall seen in 2020 and expand their customer base this year, by capitalising on lasting changes to consumer behaviour and encouraging a long-term shift towards shopping locally," says Markowski, pointing out that Stella Artois and Budweiser are the number one and two most valuable beer brands in the UK Off Trade and a must-stock for convenience stores – and both now available in vital PMP, which a significant 81% of shoppers think are less confusing and more transparent than their non-priced counterparts.
Markowski says the big change is that beer has become a mealtime drink at home as a result of pubs being shut – three out of five beers now consumed with food, which is a major shift in drinking culture – and that as such, "beer and food pairings present an opportunity for independents to appeal to a new audience. Ready-made bundles, such as beer and pizza meal deals proved popular last year and are a great way for independents to maximise shopper spend."
Lager (although not just lager) is the magic word for summer, and BrewDog's Head of Customer Marketing, Alex Dullard, reveals that last year, "World/Discovery Lager sales were up +60% over the core summer period, outperforming total beer at +41%. BrewDog Lost Lager, which originally launched in 2018, was the star performer in the BrewDog portfolio, reaching growth of 119% YoY."
Alongside this, he said it was notable that larger formats held sway and that BrewDog multipacks were the most-sold format in convenience last summer. It's not just lager, either: BrewDog Punk IPA is the number one craft beer with its 4-pack format valued at £37m. BrewDog Punk IPA is also available in a 12-pack, and an 8-pack which is exclusive to the convenience channel.
Added to that are the BrewDog Hazy Jane and Elvis Juice brands, selling very well: the Elvis Juice 4-pack is valued at £7.6m, growing at +38.7%. BrewDog's ecological Lost Lager (buy a beer, plant a tree) is available in a 660ml glass bottle, 4 x 440ml and 10 x 440ml can multipacks.
Another cold and refreshing summer solution is Diageo's perennial favourite, Guinness. Hannah Dawson, Head of Category Development for the off-trade, says that the Guinness portfolio offers a range of formats and pack sizes which can be enjoyed all year round. "We recommend stocking 4packs and 10packs which cater to planned social occasions such as BBQs," she advises. "Alongside this, retailers can encourage customers to explore all that the Guinness portfolio has to offer by stocking Guinness Original single 500ml bottles and 4x440ml cans as well as Foreign Extra Stout in 650ml bottles which allows for easy trial."
Heineken has "gone large" on the soccer as an Official UEFA EURO 2020 Partner, and the at-home food and drink opportunities around it and other fixtures this summer should be made the most of, says Toby Lancaster, Heineken UK's Category and Shopper Marketing Director.
"There will be an increased need to cross-merchandise alcohol and food. Cider and beer food pairings have become increasingly popular as consumers discover new flavours and types of beer and cider. Matching drinks with food relies on 'the four Cs' – contrast, complement, cleanse and cut. With huge variety in the Cider and Beer Category, there is a drink match for every type of food, and an opportunity for retailers to capitalise on this trend."
It is not only Heineken – Heineken the fastest growing (+89.5%) mainstream premium lager brand in Impulse – but also the zero version, Heineken 0.0, that retailers should be sure to stock up on. "0.0 is the largest value-sales growth No Alcohol lager brand in Impulse and total market in the latest year," says Lancaster.
To that must be added chilled facings of Heineken's other top brands: Old Mout and Strongbow ciders, and international beers Sol and Birra Moretti – flavours of the month in tournament times.
Old Mout's Pineapple & Raspberry variant was a great success, worth £13m in 2020,and now joined by Watermelon & Lime – gluten free and vegan friendly – while the new Strongbow Rosé taps into the trend for pink and rosé drinks: Premium Apple cider has experienced +257% value sales in the Impulse channel, with Rosé ciders the main contributors to growth.
Summer means cider, of course, and Magners is supercharging the season with its first above the line TV campaign in four years. The new brand ad, When Time Bears Fruit – which features the care and craft involved in producing the cider (and the quaffing it) – will be supported by a six-figure multi-channel advertising spend across TV, video on demand, digital and social media.
"Summer is always an exciting season for cider and it's the perfect time to bring When Time Bears Fruit to the market," says Godelieve Crawford, Magners Senior Brand Manager."After four years, it's exciting to see us back on TV with a bang and a strategic channel plan.
An on-pack promotion is underway, giving consumers a sneak-peek of the new campaign, and is available across Magners Original 10x440ml can pack, 8x500ml bottle pack and single pint bottle.
Molson Coors' Aspall Cyder continues the summery theme, and added to that is the related new flavour of its European-inflected wheat-beer brew (which actually reached the UK from American shores):Blue Moon Mango Wheat.
"The Aspall Cyder range is well placed to help retailers make the most of this growing opportunity," says Kevin Fawell, Off-Trade Sales Director. "It has been produced at the original Aspall Cyder House for almost three hundred years with a crisp flavour that is unique to East coast ciders."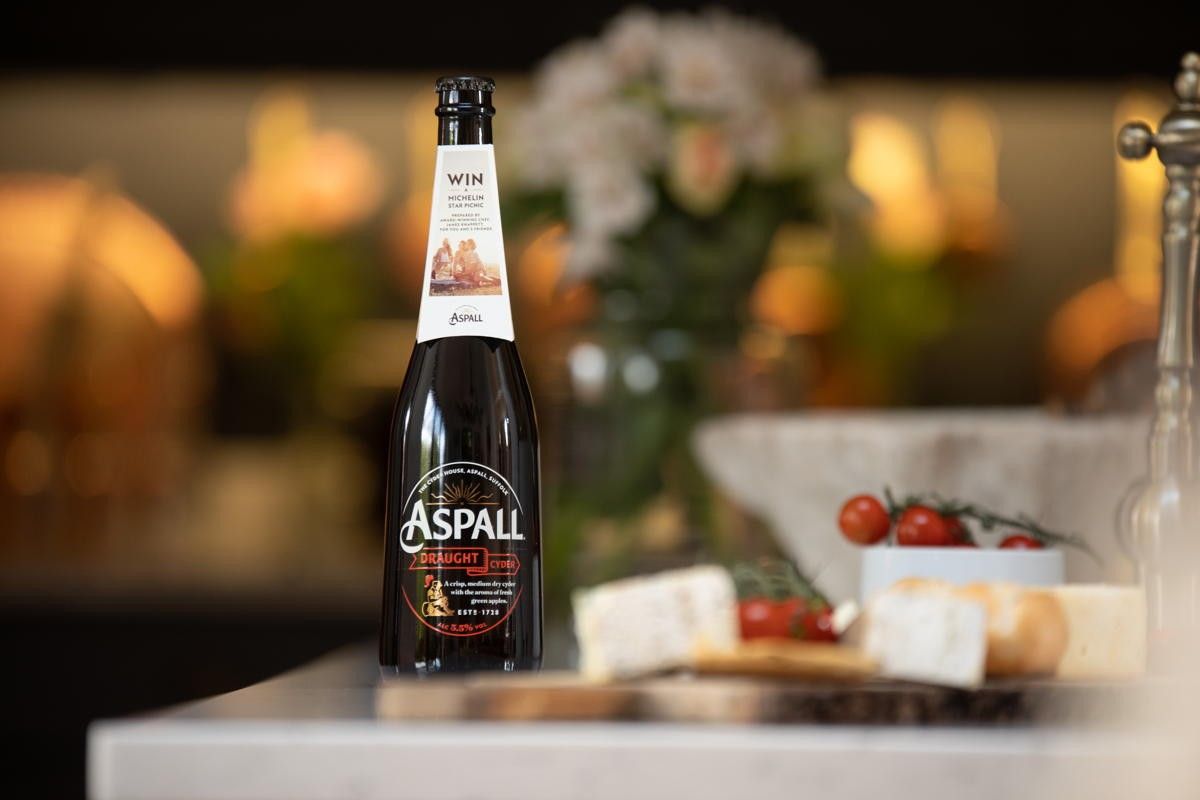 Continentally-speaking, Molson Coors' Rekorderlig brand fruit cider is coming forward with a new Pink Lemon variety: "It has a light, crisp citrus flavour with a hint of raspberry, reminiscent of a summery pink lemonade and perfect as a refreshing drink to enjoy as the warm weather approaches," says Fawell.
Its iconic Staropramen lager brand is in +40% growth in the off-trade, and has recently launched a new 6x330ml can multipack. Cobra is also benefitting from the ongoing premiumisation-at-home trend: "Cobra has a distinctive character and smoothness that makes it an ideal accompaniment for a range of different cuisines and a host of different occasions."
Another Molson Coors innovation was the recent Doom Bar fridge pack – an ideal summer innovation, and Fawell recommends looking after core ales and lagers, especially this season. "Core lager remains the engine room of the category, accounting for 31% of total lager sales, and remains in growth," he says. "Carling is the number-one lager brand in Great Britain, that can be enjoyed across a host of different occasions. Therefore, it is important to strike a balance between inspiring shoppers with a wide selection of more exciting premium options alongside best-selling core lines."
RTDs are A-OK!
Cocktails and increasingly RTDs are particularly popular now. Not only cocktail skus but all kinds of ready-to-drinks, from sparkling flavoured waters to wines and wine-spritzers to iced coffees are selling like hot cakes.
RTDs have the dual attractions of the single-serve advantage – making them on-the-go suitable as well as deliciously self-indulgent – and also the convenience of having something pre-prepared, and if it is from an indy, then chilled as well.
Certain spirits and mixers are perfect for the summer and Nick Williamson, Marketing Director at Campari Group UK, points out that pairing food alongside cocktail essentials in-store is a great way for retailers to capitalise on this occasion. In fact, cocktails enjoyed alongside food is a growing trend, whereby 48% of consumers now choose a cocktail to accompany a meal. The demand for Spritz serves is also growing, he says. A third of consumers are opting for sparkling cocktails, while more refreshing cocktails such as the Aperol Spritz are now the preferred choice for 43% of cocktail drinkers. He recommends the Campari Gin & Tonic,"A delightful reimagining of a quintessentially British classic, it brings an air of Milanese style to every occasion."
Diageo's Hannah Dawson notes that the RTD category holding its own in the off-trade, growing slightly ahead of the current off-trade BWS market at 28.7%, fuelled by innovation and brands catering to the consumer preference for high-quality and convenient drinks. "We saw hard seltzers enter the RTD category in the UK in summer 2019, following success in the US, where they are forecast to grow in volume by 20.9% (2019 to 2024)," she said."During summer we expect this growth in hard seltzers to fuel further growth in the UK RTD category, alongside the key areas of pre-mix, including non-alcoholic pre-mix, cocktails and flavoured alcoholic beverages (FABs), such as Smirnoff Ice. Now is the perfect time for retailers to think carefully about how to maximise the profitability of their RTD range and include hard seltzers to appeal to even more people and occasions."
Fawell recommends Molson Coors' Rekorderlig Premium Cocktail range,launched last year  and combining fruity cider flavours with a dash of the spirits. The range comes in three varieties of cider and spirit combinations – Strawberry-Lime Cider and Vodka; Wild Berries Cider and Rum; and Pear Cider and Whisky – available in 250ml cans.
"We've also teamed up with Miami Cocktail Company to roll-out their range of award-winning, hand-crafted organic cocktails," he adds. "The range includes Margarita Spritz, Paloma Spritz, Mimosa Spritz, Sangria Spritz and Bellini Spritz, and each 250ml can contains 110 calories, with no added sugar."
Funkin Cocktails has been leading the charge in the cocktail industry for over 21 years. Its Pina Colada RTD has won Double Gold award in the ISC and Gold Great Taste Awards and Funkin's Passion Fruit Martini has won Silver in the International Spirits Challenge, crafting top quality tasting cocktails has also largely contributed to the brand's growth.
Funkin has now  announced the launch of its Spiced Rum Zombie Nitro Ready-To-Drink Can, anew addition to the brand's Nitro range – rum is now in 37.6% of cocktails by share of serve.
"We're really excited to be growing our award-winning Nitro can range, with the addition of the UK's fastest growing Top 10 cocktail," said Ben Anderson, Funkin's Marketing Director.
The RTD category has seen good growth with the category now worth £400 million over the last 12 months and this is set to continue to grow. With this in mind, Continental Wine & Food Limited (CWF), have launched the Paradise Bay Cocktail Co.brand – a range of RTD premixed cocktails packed in shareable and resealable 70cl bottles. "Inspired by some of the UK'sfavourite cocktails, the lightly sparkling range comprises a Pina Colada, Mojito and Strawberry Daiquiri with an abv of 4%," explains Amy Giacobbi, CWF Marketing Manager, predictingthe new range will be a hit this summer as the Available now, Paradise Bay Cocktail Co. has a SSP of £2.99.
WKD Cocktails have likewise turned to pre-mixed 700 ml bottles as a new avenue in RTD delivery for the take-home market – building on the nation's lockdown habits and looking forward to future BBQs and Big Nights In. "Our new launches bring all the fun and enjoyment of cocktails from the bar into the home," said Alison Gray, head of brand – WKD at SHS Drinks.
Presented in striking 700ml fully sleeved sharing bottles and offered in two varieties – Blue Lagoon and Tropical Sunrise – WKD Cocktails will deliver convenient, fuss-free popular cocktails to an 18 to 24-year-old target market. With premium packaging, pre-mixed ingredients and 5.5% ABV, the inventive new products will be available across take home in standard packs, with £4.99 PMP versions also available exclusively to independents.
But summer RTDS are not only alcoholic – iced coffee is also a big winner with impulse customers. Molson Coors recently teamed up with Jimmy's Iced Coffee to roll-out its entire plastic-free range including Jimmy's Iced Coffee Original and Mocha in 250ml cans and their Iced Flat White line up, also in 250ml cans, (with Oat, Skinny and Extra Shot varieties). Also available is Jimmy's Coffee Cola, in 275ml glass bottles.
At coffee maestros Jacob Douwe Egberts (JDE), the Kenco Iced Latte range, launched last year, comes in with four flavour variants: Original, Vanilla, Salted Caramel and Coconut. Kenco Iced Latte allows the consumer to conveniently create a perfect Iced Latte in the comfort of their home, just by adding cold water.
Hannah Morris, JDE's Category Team Leader, explains that cold coffee is one of the fastest-growing trends within out of home coffee consumption. "Within retail, the 'cold coffee' category is becoming increasingly important in home, as well as out of home +52% vs. 2YA," she says."Last year, total cold coffee was valued at £156MRSV, suggesting there is still an opportunity for retailers to get onboard."
CCEP's Burgess also points out that the sector is the fastest-growing segment in soft drinks. "Within this, Costa Coffee RTD has doubled in size over the past twelve months, growing ahead of the segment and adding almost £4m to the segment in 2020."
Britvic's Phil Sanders says that the Robinsons Refresh'd RTD is relaunching this month to Robinsons 'Ready to Drink' in two full tasting flavours – Raspberry & Apple and new Peach & Mango. "It will sport a brand-new look while delivering full taste with real fruit in every drop but with no added sugar, providing consumers with a refreshing and hydrating drink without compromise."
He says that they are available in cases of 12 and 24 in 500ml bottles (RRP: £1.45), and that the launch will benefit from the "Let There be Fruit" Robinsons masterbrand campaign, running throughout the summer,
Rather than a type of drink, the RTD delivery system is really taking the category by storm. With so many new suppliers, who knows what the next barnstorming brand will be – but at Cotswold Fayre's Laura Strapp advises retailers to keep their eyes open for future winners such as the Savyll Beverage Company with their elegant range of award-winning, ready-to-serve, alcohol-free cocktailsincluding G&T, Mojito and Bellini (available now from Cotswold Fayre in cases of 12).
Here's to long summer nights and probably the best available summer drinks in the world.