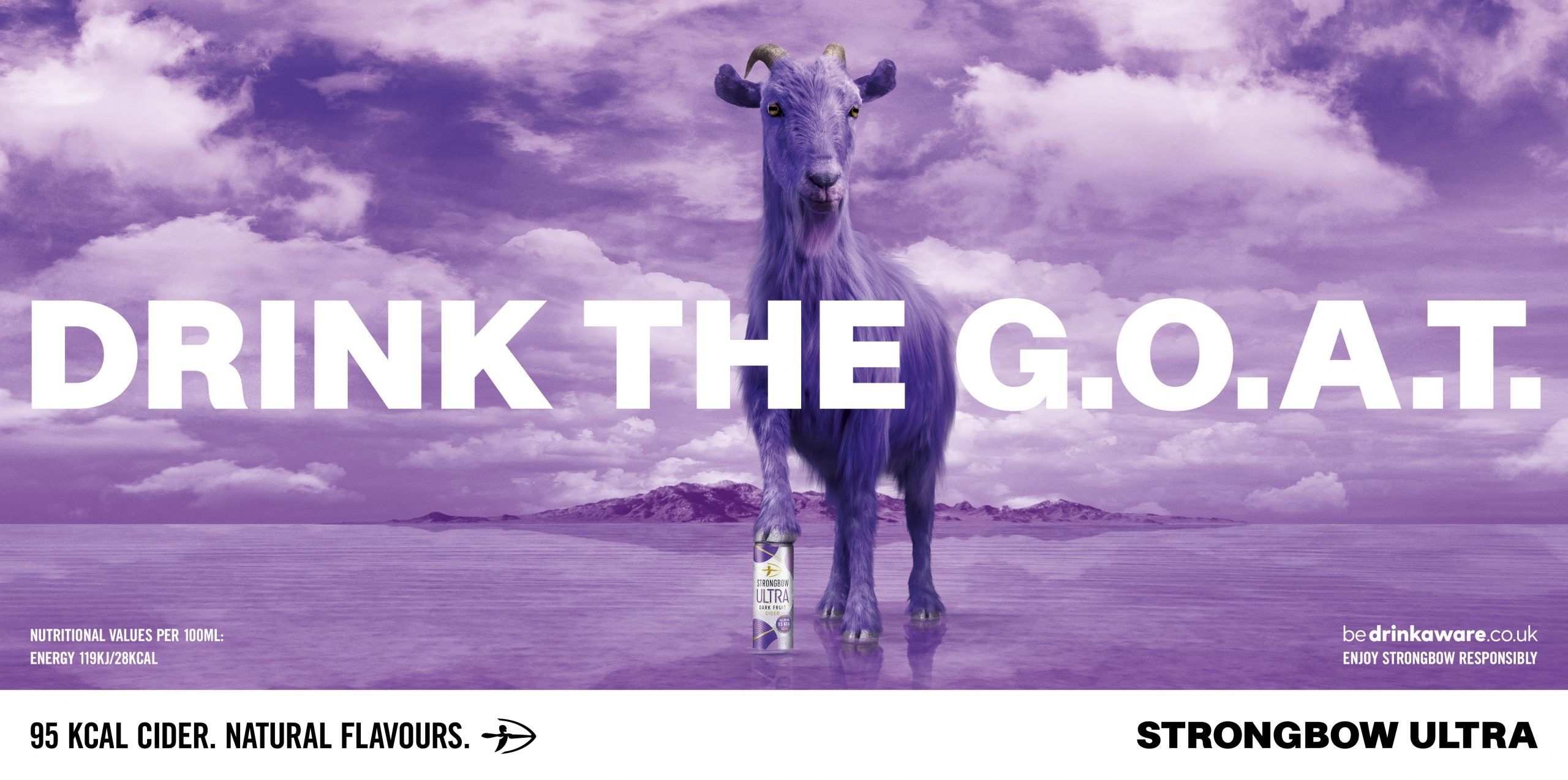 Heineken UK is breaking from traditional cider marketing etiquette with the launch of its bold "drink the G.O.A.T" campaign, featuring a purple goat to attract a new generation of cider drinkers to the recently launched Strongbow ULTRA Dark Fruit cider.
Strongbow ULTRA Dark Fruit began rolling out to grocery and convenience channels in March and will be supported by the brand's biggest ever marketing campaign. The creative for Strongbow's latest campaign centres around the G.O.A.T. Strongbow has always had a sense of humour, so it seemed only right to launch ULTRA with a huge personality. The purple goat, which casually nods along to garage music, moves cider advertising out of the traditional heartland of orchards and the West Country.
"We are all obsessed with being the first to trial a new product, brand or experience and report back to our friends – this is what creates social currency," said Heineken UK Cider Brand Director Rachel Holms. Attracting a new generation of cider drinkers to Strongbow ULTRA Dark Fruit, the G.O.A.T marketing campaign will launch on 25 April with an Oxford Circus Tube Station takeover, dominated by the unmissable purple goat.
"This is Strongbow's latest innovation and we are being more daring and disruptive than ever before to drive awareness and show that Strongbow ULTRA Dark Fruit is worth the hype. There is a heavyweight nationwide out of home campaign, which features some iconic takeovers of Oxford Circus Tube Station and Manchester Piccadilly. The campaign will spread across television, social media, video-on-demand and through a 500,000 mini can sampling drive and will also see the famous Strongbow Yard at the Isle of White festival have an Ultra makeover."
Strongbow is the UK's favourite cider brand and Strongbow ULTRA has been launched to grow cider penetration from its current 45.4 per cent level and flavoured from 30.9 per cent. The refreshingly light cider is a four per cent ABV fruity cider and is sold in slimline 330ml cans at 95 calories and with natural berry flavourings. It is targeted at 18–40-year-old men and women and ranks in the top 10 per cent of all alcohol concepts tested among its target audience.
Opening a new segment within the cider category, the campaign's aim is to encourage people to discover a different way of drinking cider and is designed for a generation of drinkers who love the excitement of trying something new. ULTRA is perfectly positioned to target those consumers who are unwilling to compromise on great taste for a lower calorie drink.
ULTRA's cutting-edge £12m marketing campaign plays into strong market desire for lower calorie drinks from Generation Y and Z drinkers and provides a huge opportunity for retailers to grow cider sales.
Holms continued: "With 59 per cent of consumers looking for lighter choices when shopping and 60 per cent of Brits saying taste is the most important factor when buying a drink, there is a clear gap in the market for a lower calorie, flavourful cider, which ULTRA fills as a market pioneer."