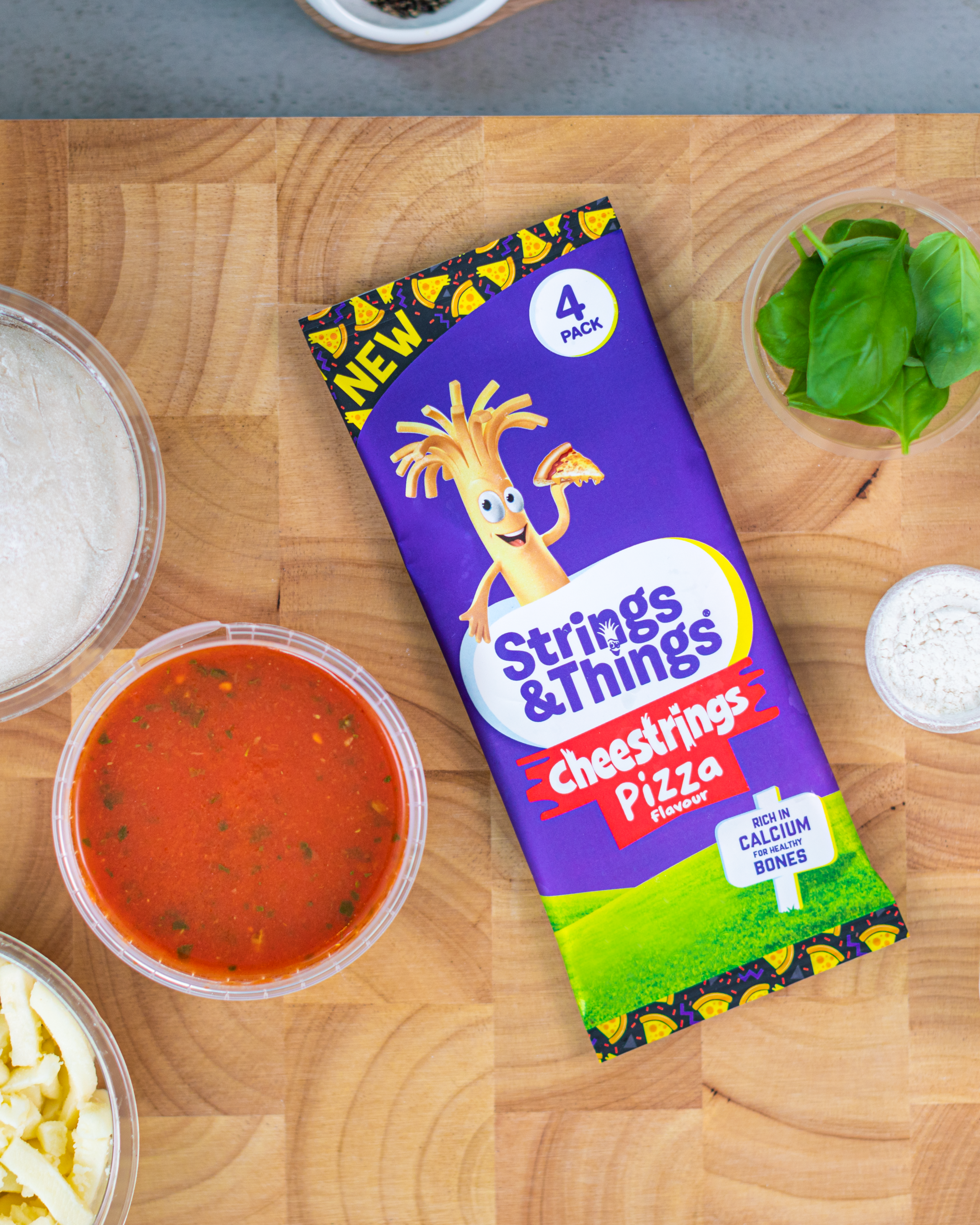 To celebrate its 25th anniversary, Strings & Things has brought back its Cheestrings Pizza. First introduced in the '90s, the relaunch aims to create nostalgia among parents buying for their own children's lunches. To promote the return of Cheestrings Pizza, the brand is launching a limited-edition DIY pizza kit that allows consumers to create pizzas from scratch, featuring the ultimate stuffed crust – a Cheestrings Pizza.
As more consumers turn to at-home snacking since the initial lockdown, the overall snacking category has seen an 8.1 per cent increase in sales this year. As part of this, cheese remains an essential fridge snacking item, with total cheese snacking growing by 44.7 per cent. The Strings & Things portfolio allows retailers to tap into this growth with the brand's RSV up 2.5 per cent compared to last year, an increase of £1.3 million. Since its relaunch Cheestring Pizza is already over-indexing with the pre-family shopper, increasing Strings & Things' relevancy within the home. The product is set to hit a rate-of-sale performance in line with the popular Twisted Cheestring range, demonstrating the capability of limited-edition SKUs to drive sales for retailers.
"We know adults and kids are loving this relaunch. One in three Cheestrings Pizza shoppers are new to cheese snacks and 40 per cent of shoppers have added the SKU to their baskets already!" said Melissa Sargeant, Brand Manager at Strings & Things. "Retailers can join the nostalgic celebrations this summer by stocking up on a '90s favourite."
Cheestrings Pizza 'N' Things kits are on sale now until 18th July exclusively on www.doughreme.co.uk. Kits start from £19.50 for a two-person treat, and £2.50 of every kit purchased will be donated to FareShare (Registered charity number 100051) via WorkForGood. FareShare is a charity that supplies surplus quality food to almost 11,000 frontline charities and community groups.