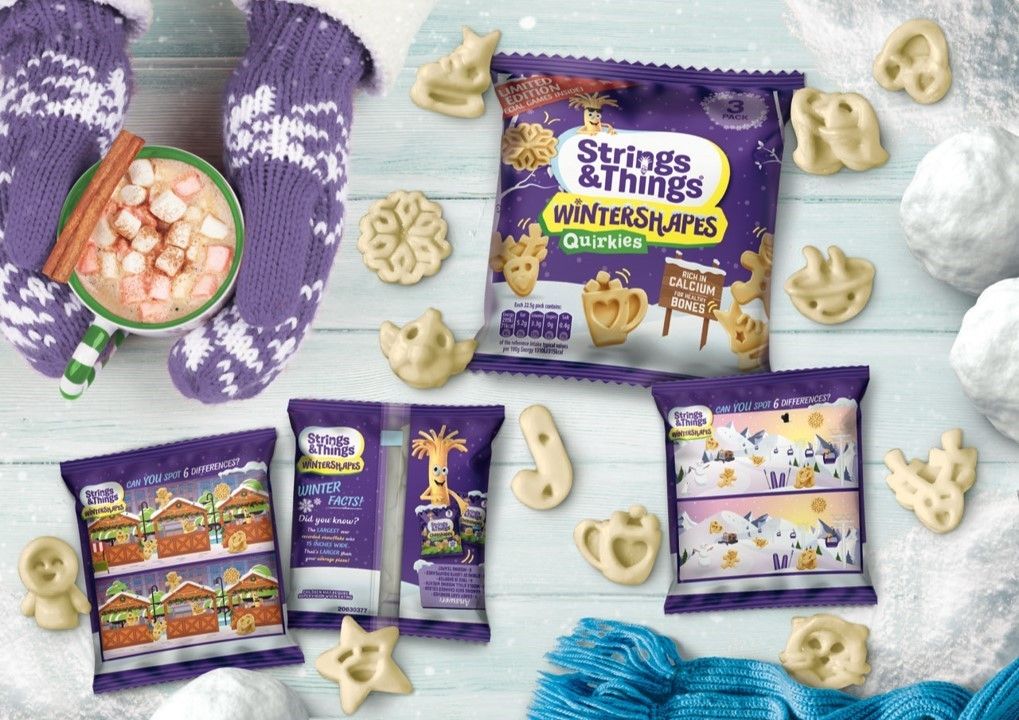 Kids' snack brand Strings & Things is bringing back its popular limited-edition Hallowe'en and Winter-themed packaging across its portfolio. Available to the convenience channel, the new launches allow retailers to tap into key moments with a brand shoppers know and love.
Available across Cheeshapes, Cheestrings and Yollies, the range is helping retailers drive sales across the full portfolio. The launch includes 18 new Cheeshapes designs, 16 fun Yollies motifs as well as 48 limited-edition collectable Rare Scare Cheestrings characters. The packaging helps retailers tap into the Halloween occasion which has grown in popularity in the UK, with spending steadily increasing to £473 million by 2019.
The limited-edition packaging has proven a hit with consumers in previous years with four pack Scarestrings seeing a 9 per cent increase in sales while the eight packs saw a 19 per cent increase. The limited-edition Scareshapes also saw a +50 per cent return rate compared to 2019, showcasing consumer loyalty and brand recognition for the Strings & Things range.
In November, Strings & Things will also be bringing back its Winter-themed Cheeshapes, made with 100 per cent real cheese, which includes an array of festive new shapes, allowing retailers to drive excitement throughout the festive season. Novelty products, such as themed packaging or seasonal-flavoured items, are consistently popular at Christmas, creating an easy way for retailers to get in the festive spirit and boost sales. Set to launch 2nd November, the new range will be an extension of Cheeshapes Quirkies with the new shapes including festive favourites such as a snowflake, cuddly penguin and a winking reindeer. The range first launched last year and proved a hit with consumers, with sales in 2020 reaching £258,000.
"We are so excited to be bringing back our limited-edition Hallowe'en and Winter packaging this year to give retailers more opportunity to tap into these important cultural occasions and drive excitement amongst shoppers" said Melissa Sargeant, Brand Manager at Strings & Things. "Hallowe'en and Christmas are such important occasions for kids and their families so we wanted to ensure we're providing them with eye-catching and fun snacking options that would excite them. The limited-edition reimaging of the classic Cheeshapes also builds excitement for consumers and helps retailers maximise their in-store opportunities this year."
Launched in September in convenience:
Strings & Things Scarestrings – 8 pack RRP £1.95 / 4 pack £1.50
Strings & Things Scareshapes Quirkies – RRP £1.50
Strings & Things Halloween Yollies – RRP £1.75
Launching in November in convenience:
Strings & Things Winter Cheestrings – 8 pack RRP £1.95 / 4 pack £1.50
Strings & Things Winter Yollies – RRP £1.75
Strings & Things Wintershapes Quirkies – RRP £1.50