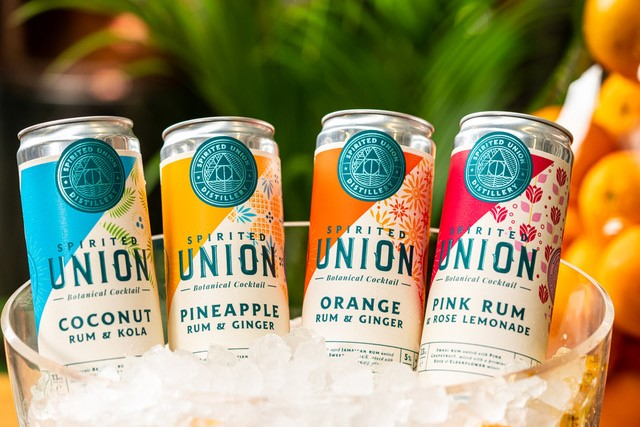 The Spirited Union Distillery in Amsterdam has launched four botanical rum canned cocktails. The s are already available in the Netherlands and will now roll out in the rest of Europe. The cocktails are 100 per cent spirit-based, made with no artificial preservatives, sweeteners or colouring, and have been created using Spirited Union's botanical rums.
Over the course of the pandemic, The Spirited Union Distillery has created their own premium mixers to be used in bottled and canned cocktails, using fresh Ginger and Kola nut syrups to create their own Ginger Ale, Ginger Beer and Kola.
"With our Botanical Rum range at their heart, we've spent the best part of a year developing a range of canned cocktails that unite natural botanical extracts and juices with single-origin rums without the use of artificial preservatives, sweeteners, or colours," says Spirited Union Founder, Ruben Maduro. "In other words, we've created a range of canned cocktails that are 100 per cent spirit-based 100 per cent natural, with less sugar and full of flavour.
"By working with the finest natural botanicals and producing botanical rum in the spirit of sustainability, we've created these well-balanced and skilfully blended refreshing botanical rum cocktails. Whether sipped in the park, at a dinner party, or after a long day at the office, we've put in all the work for you to enjoy a delicious cocktail on the go."
Pineapple Rum & Ginger is made with Spirited Union Queen Pineapple & Spice Rum. Its complex fruity notes combined with tropical freshness unite perfectly with its base; a cask-aged Panamanian Rum. To add-to its refreshing tropical taste Spirited Union Distillery has balanced the natural sweetness of pineapple by infusing this botanical cocktail with ginger, cassia wood and sweet spice. RRP: £30 for 12 x 250ml cans | £60 for 24 x 250ml cans. ABV: 5%
Orange Rum & Ginger is created with Spirited Union Sweet Orange & Ginger botanical rum and mixed with a refreshing premium ginger mixer. This botanical cocktail is made by re-distilling a cask-aged Jamaican rum, with bright citrus notes coming from a selection of Valencia & Curaçao oranges. These hand-zested oranges add a rich citrus aroma and delicious, sweet taste. For a touch of spice and heat, the cocktail is infused with fiery ginger root. RRP: £30 for 12 x 250ml cans | £60 for 24 x 250ml cans. ABV: 5%
Pink Rum & Rose Lemonade is made with Spirited Union Pink Grapefruit & Rose botanical rum and mixed with a refreshing premium rose lemonade mixer.  This botanical cocktail begins with the re-distillation of blush-pink grapefruit skins for a pleasingly semi-sweet taste, balanced out with a slightly sweet infusion of blood oranges, creating a rounded bitter, sweet and sour taste. The cocktail has an intense floral aroma which comes from a vapour-infused fragrant garden rose. RRP: £30 for 12 x 250ml cans | £60 for 24 x 250ml cans. ABV: 5%
Organic Coconut Rum & Kola is a combination of Spirited Union Organic Coconut botanical rum and a refreshing premium kola mixer. This organic cocktail starts with the tropical flavours of Belizean rum, infused with sun-dried organic toasted coconut flakes, creating a slightly nutty sweet and creamy flavour. For a rich texture and well-rounded taste, organic coconut water is added to reduce the rum to perfect mixing strength, along with a touch of Madagascan vanilla and Peruvian cacao. To add a burst of nuttiness, a Kola nut syrup acts as the base of the premium Kola mixer. Its unprocessed flavours create a lovely complex finish. RRP: £30 for 12 x 250ml cans | £60 for 24 x 250ml cans. ABV: 5%
Stockists: Spirited Union Distillery
Trade enquiries: Barrie Sly: [email protected]