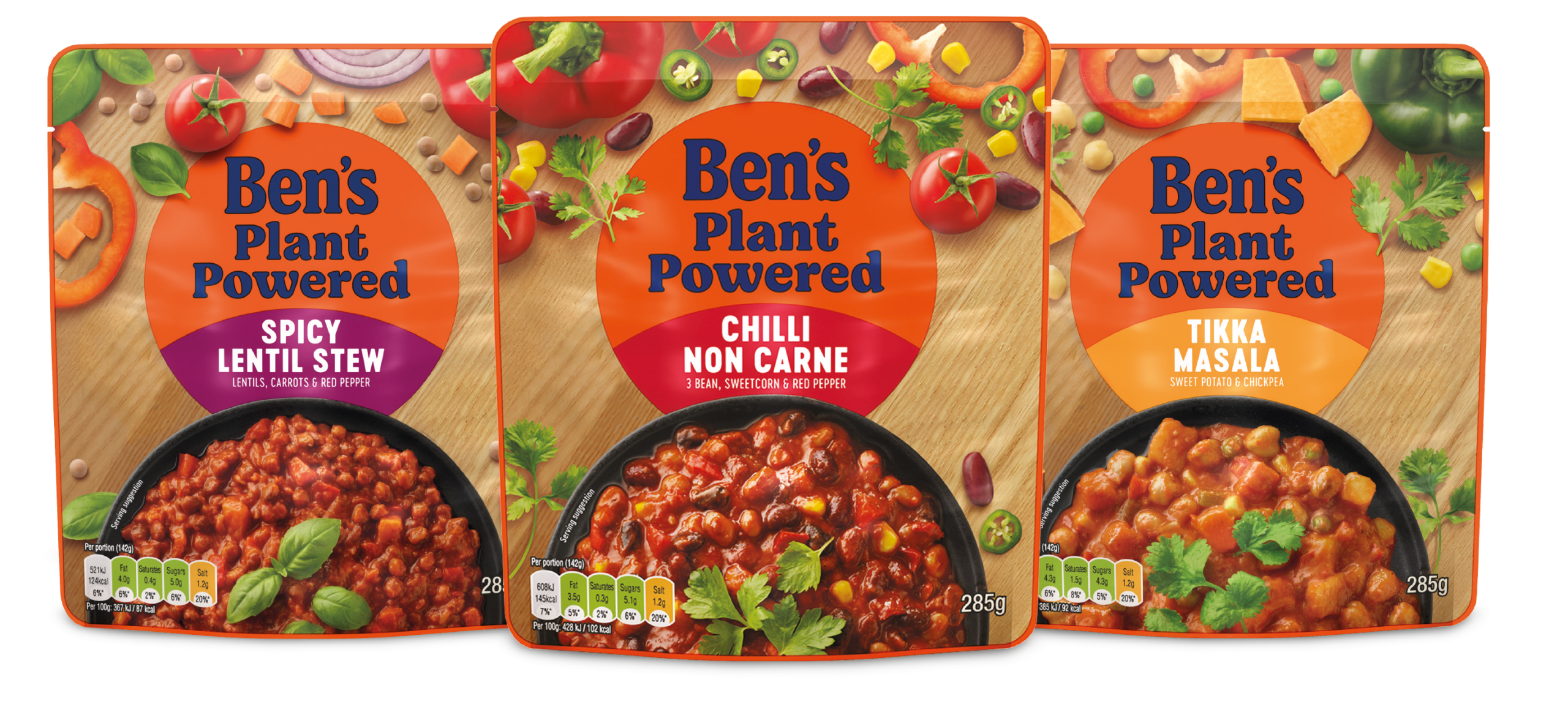 Mars Food UK has announced two new innovations from the UK's number one rice brand Ben's Original this summer.
Ben's Plant Powered is a new plant-based meal to help aspiring flexitarian consumers, available in three delicious flavours – Chilli Non-Carne, Spicy Lentil Stew and Sweet Potato & Chickpea Tikka Masala.
The plant-based versions of some of the UK's favourite meals will be microwavable and ready to enjoy in just 90 seconds. Each recipe is a good source of fibre and protein, and contains no artificial colours, flavours or preservatives.
Health is a major trend affecting the Foods of the World category, and a plant-based diet is an established trend within this. According to a YouGov poll, over one-third (34 per cent) of Britons are interested in trying/plan to try a plant-based diet. Since the start of the pandemic, 1 in 4 UK shoppers have reduced the amount of animal products they consume.
"We're seeing a permanent shift in eating habits in the UK with shoppers increasingly looking for 'Health'," said Gareth Williams, Ben's Original Marketing Manager. "While this is a broad definition, plant-based diets are a critical part of this for many and here to stay. This Veganuary, over 500,000 people took part globally, and 75 per cent said they would reduce the amount of animal products in their diet by at least half."
For many shoppers this isn't about eliminating meat completely but eating less of it. However, consumers also don't always feel they have the time or confidence to make the move to plant-based meals. Ben's Plant Powered is here to make it easier for them.
"When consumers decide to eat without the meat, they still want their favourite meals rather than to cook something new. Our Ben's Plant Powered meals have been co-created with consumers to help make it easy to prepare delicious meat-free versions of best-loved recipes. Ben's Plant Powered pair perfectly with our microwaveable rice range because we know that when people eat plant-based, rice dishes over-index as their meal of choice."
Ben's Plant Powered will be available from June for an RRP of £2.49
Ben's Original Korean BBQ includes gently steamed long grain rice with red peppers,  infused with fiery hot chili, sesame oil and Korean BBQ inspired spices. Ben's Original Katsu Curry is made with steamed long grain rice with a Japanese katsu curry inspired blend of soy sauce, curry spices and a gentle coconut aroma.
These two delicious new flavours are already popular with UK consumers. 2021 saw a 90 per cent year-on-year increase in social media mentions for Korean BBQ, and 23 per cent increase for Katsu Curry.
New flavours and on-trend cuisines have appeal for all shoppers but are especially strong in bringing younger shoppers into the category by driving trial.
"As brand leader, Ben's Original has a role to play in bringing excitement, innovation and new shoppers into the rice category," Gareth continued. "This is why we're also launching our two on-trend flavours of Limited Edition microwavable rice – Korean BBQ and Katsu Curry.
"Flavoured rice adds value for shoppers by offering choice, variety and taste. While plain rice is more often used for meals with a lot of sauce (for example, 30% of plain microwavable rice meals are curry meals), flavoured rice is more often used when cooking something with less sauce like a rice-based stir fry meal. Our new Limited Edition flavoured rice will be a great addition to any summer cook-ups."
These new Ben's Original Limited Edition microwavable rice SKUs will be available from June for an RRP of £1.76