Special Olympics Great Britain (GB), the largest provider of year-round sports training and competition for people with intellectual disabilities, has joined forces with Coca-Cola Europacific Partners (CCEP) to create a Christmas gift box campaign led by some of its athletes.
The "Unified Business" project brought together Special Olympics GB athletes and staff with volunteers from CCEP. The initiative saw three athletes, who also have thriving businesses, come together and showcase their skills to help develop, contribute products to, and successfully pitch the Christmas gift boxes, all with the aim of championing and raising awareness of the achievements and potential of people with intellectual disabilities. The campaign was celebrated at an event in London on 7 December, where it was announced that all 100 limited edition gift boxes had been sold, raising money and awareness for the athletes' businesses and Special Olympics GB. Currently, 94 per cent of people with an intellectual disability are not in paid employment. To help change this, Special Olympics GB is actively supporting athletes with opportunities to showcase their skills and talents beyond the world of sport.
The three athletes who took part in the project were Marcus Mason-Williams, Michael Beynon and Niall Guite.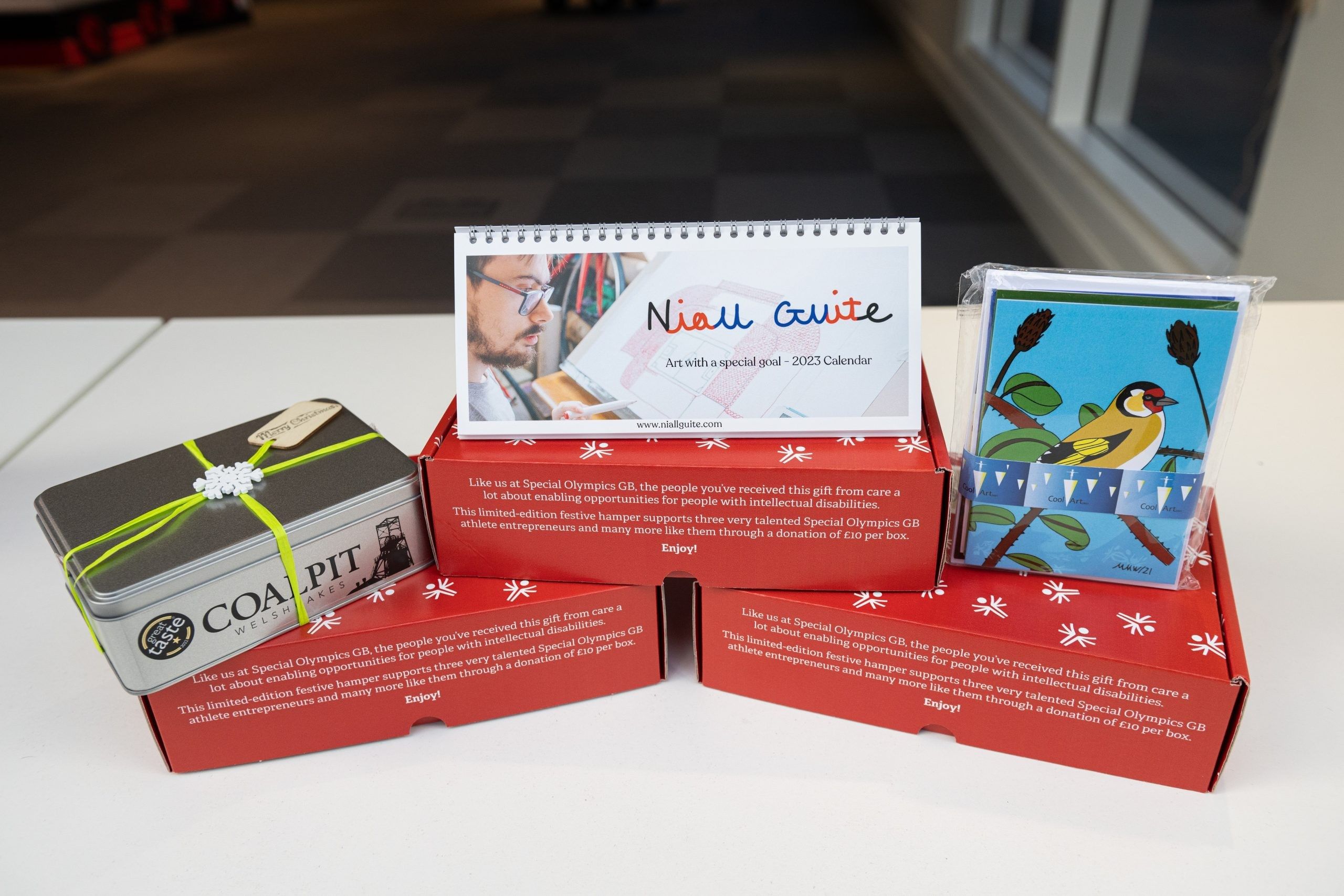 Colin Dyer, CEO of Special Olympics GB, added: "This wonderful project has brought together a wealth of experience and expertise across the many facets of business with sheer entrepreneurial spirit and ambition. And it has all been to raise awareness of what people with intellectual disabilities can achieve when given the right opportunities. A massive thank you goes to the team of volunteers, and of course our inspiring athletes, for helping to make this happen, and to the recipients of the gift boxes who have hopefully been brought some extra joy this Christmas."About the athletesMarcus is a skilled skier, and also runs his own greeting cards business, CoolArt2021, which is inspired by his love of art and design, wildlife and the natural world. He draws inspiration from famous writers, illustrators and one of his heroes – Sir David Attenborough – to design a range of colourful and imaginative animal-themed greeting cards to suit all occasions. Marcus contributed a selection of his favourite CoolArt2021 greetings cards for the Christmas gift boxes.Michael is a multisport athlete and the proud owner of Coalpit Welsh Cakes. He creates innovative, sustainably produced and delicious treats, which have earned recognition from the likes of this year's Great Taste Awards and Wales Food and Drink Awards, and appeared on BBC One's Saturday Kitchen. Michael combines his love of cooking and history, putting his own twist on his great grandmother's Welsh Cake recipe to develop a unique black Welsh cake in a variety of flavours. For the gift boxes, Michael prepared a special edition Coalpit Welsh Cakes afternoon tea box.Niall is a basketball player turned cyclist, who also has a social enterprise, "Art with a Special Goal". He draws sports stadiums from across the world to raise money for Special Olympics GB. To date, he has sold more than 100 of his felt-tip illustrations – raising over £6,000 for the organisation that transformed his life. And earlier this year, having caught the attention fellow artist, and writer and broadcaster Grayson Perry, Niall was invited to have two of his pieces hung at the prestigious Royal Academy of Art's Summer Exhibition. He also contributed an Art with a Special Goal 2023 calendar for the Christmas gift boxes. For more information about the Unified Business project, the work of Special Olympics GB and how you can support, go here. 
They were supported by Special Olympics GB staff and CCEP volunteers throughout the four-month project. This involved face-to-face planning and creative sessions, pitch practice and pitches to several of the two organisations' key partners and stakeholders to sell the gift boxes. CCEP is a long-term corporate partner of Special Olympics GB, which offers 27 different sports, all delivered by a team of more than 3,500 volunteers who support over 6,500 athletes, and many CCEP staff regularly volunteer at their events. Michael and Niall have also been selected to represent Team SOGB at the Special Olympics World Summer Games in Berlin in June, when they will compete in the bocce and cycling events respectively. "It's been fantastic for our volunteers to be involved in this campaign, which has been both an enjoyable and educational experience for all involved," said Holly Firmin, Senior Community Partnerships Manager at CCEP. "At CCEP, we believe in fostering a culture where everyone's welcome, valued and able to be themselves, and we'll continue to work with the team and athletes at Special Olympics GB to help ensure that living with a disability doesn't act as a barrier to a person thriving, in the workplace or in our communities."